10 Hyperlocal Business Ideas for eCommerce Beginners
In current times, hyperlocal delivery has made a comeback. People are now looking at fast delivery options that can help them procure things they require in the comfort of their homes.
Be it grocery, medicines, etc. customers are now actively looking for home delivery options and that can help them avoid going out and practice social distancing. Most of the population that earlier relied on neighborhood brick and mortar stores or standalone shops are also looking for online alternatives that provide home delivery.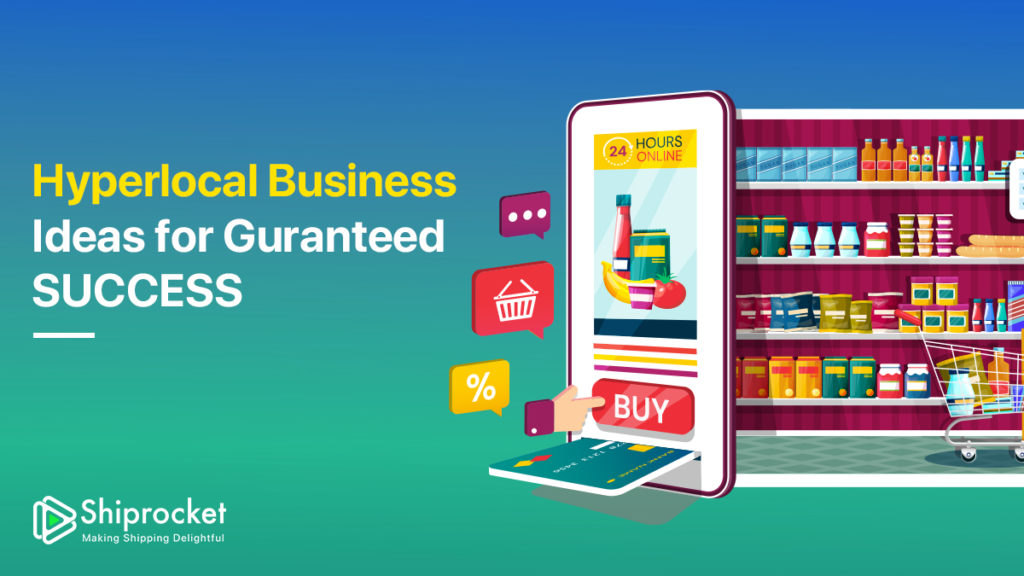 For sellers who are looking to start their business, the COVID-19 outbreak has hit like a storm. Even though eCommerce is doing good, the traditional process of standard deliveries is no longer the norm. Expectations have increased and if you want to start a retail business, you need to adopt a slightly different approach.
Hyperlocal businesses that provide delivery of products within a short geography kill range can be a successful option to consider. They have all the key requirements that you need today to start a business. Express delivery, a relevant niche market, and a targeted audience are a few prerequisites, to begin with.
But, a hyperlocal business cannot encompass everything. With the increasing competition, you need to figure out one niche that you will fulfill with your business. With this article, let's take a deeper look into several hyperlocal business ideas that you can explore for your venture to get started.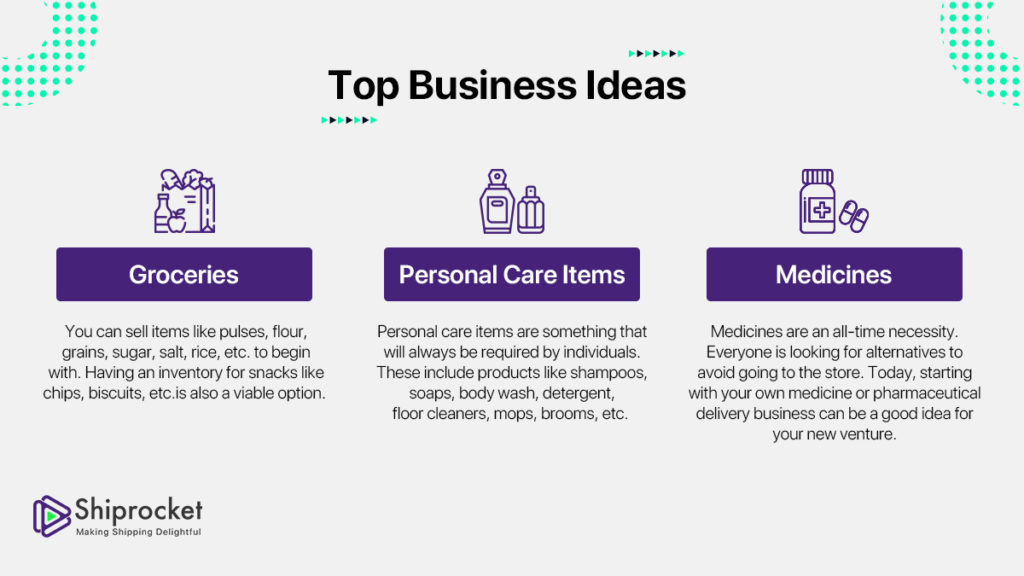 Groceries
Every household requires groceries as it is an essential requirement for daily life. At such a time open in a grocery business or a Kirana shop can be beneficial as the demand for this will never go down.
You can sell items like pulses, flour, grains, sugar, salt, rice, etc. to begin with. Having an inventory for snacks like chips, biscuits, etc. is also a viable option.
Furthermore, you can run surveys online to find out more about people's requirements and the brands they prefer in the area you want to sell. Based on the response, you can expand your inventory.
Personal Care Items
Personal care items are something that will always be required by individuals. These include products like shampoos, soaps, body wash, detergent, floor cleaners, mops, brooms, etc.
If you want to sell far and wide, personal care items are your pick. The only drawback is that they come with a huge variety. There are different products for men, women, and children, and several brands.
You will need to conduct a trial or experiment to understand your audience and figure out which products are most required.
The choice of products will also depend on the area you choose for setting up your business. For instance, if you sell in a metropolitan city like Delhi, you can also get a little experimental and consider selling niche products. For example, you can sell products like organic items, paraben-free products, etc. and understand the response of buyers. As the urban audience is getting more and more away today, their preferences are also changing. Whereas, if you sell in tier two or tier three cities, you might have to stick to selling budget products so that most people can reach out and buy them.
Therefore, you will need to adapt to the changing trends and take forward your business accordingly.
Medicines
Medicines are an all-time necessity. Everyone is looking for alternatives to avoid going to the store. Today, starting with your own medicine or pharmaceutical delivery business can be a good idea for your new venture.
E-pharmacies have become a common concept in India in the past few years. Now, the need is greater than ever. With a vast population of elderly people and individuals with chronic diseases, you have a chance to set up a local market and provide your customers with essential medicines. Unfortunately, in India, over 20% of the population suffers from chronic diseases. With medicine delivery, you can make life-saving drugs accessible to millions.
As some medicines like insulin and other hormone-based drugs require you to maintain temperature-controlled storage, providing a hyperlocal delivery within a few hours is the best option.
Start by conducting market research and analyze which medicines are in most demand in your area. You can also opt in to sell nutraceutical and ayurvedic drugs to have a good reach. But make sure all these fall under the guidelines specified by the government.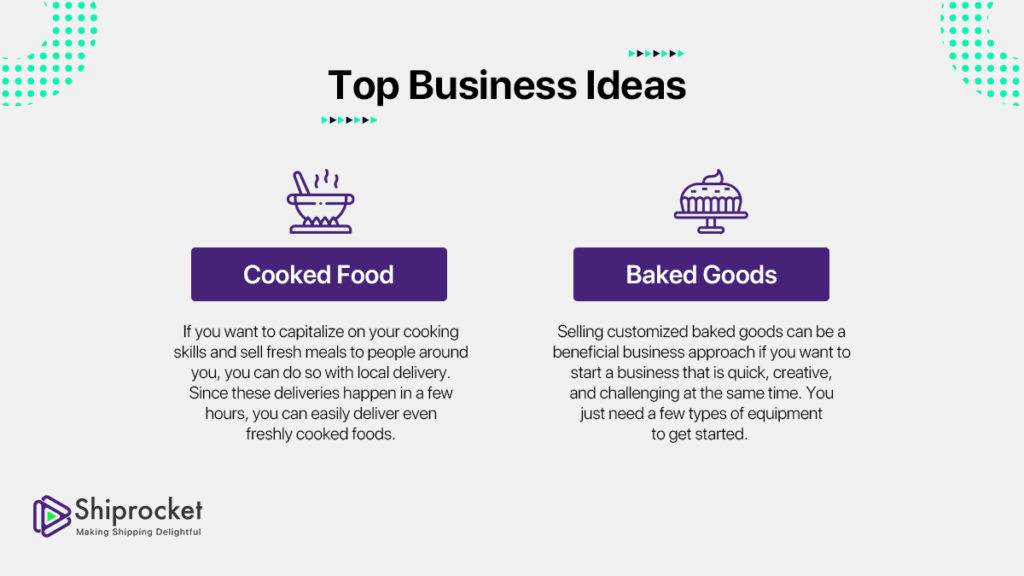 Cooked Food
Most Indian households have at least one terrific cook. But, due to the issue of perishability, it gets difficult to deliver delicacies to many people. With hyperlocal delivery, you have a solution to this problem.
If you want to capitalize on your cooking skills and sell fresh meals to people around you, you can do so with local delivery. Since these deliveries happen in a few hours, you can easily deliver even freshly cooked foods. Much like a hotel or restaurant. Many people run tiffin services for paying guests and office people, you could hop onto the same wagon.
The business model is beneficial as you can slowly build a large audience that will stay loyal to you. Also, it can help those who require it the most and get substantial returns. The best part is that the business is easy to start as you can do it right from your house.
All you need to have in place is a cut off time for taking & delivering orders so that you can prepare fresh. Moreover, when delivering, the contents must be packed properly to avoid any leakage or spills.
Baked Goods
Everyone enjoys biscuits, cakes, and assorted cookies. People always prefer if they have local bakeries around them as the products sold are fresh and tastier. Usually, bakeries tend to sell products that are sometimes stale.
Therefore, starting a hyperlocal bakery that delivers to short distances can be a boon. You can bake and sell all sorts of items like dry cakes, fondant cakes, pastries, cookies, etc. If you don't run a hyperlocal business, you are stuck with selling only dried products as they have a longer shelf life.
Selling customized baked goods can be a beneficial business approach if you want to start a business that is quick, creative, and challenging at the same time. You just need a few types of equipment to get started.
Having custom-made cakes is the trend these days, if you wish to start this business, it is important that you opt for a service that helps you deliver these with absolutely no hassles.
SARAL can be the app for you! All you need to do is download the app, signup with your mobile number, place your order and a rider will be assigned to you. This rider will pick up your order and deliver it to the delivery address. With such convenience, you can focus on your skills and growing your business.
Stationery
No child can study without basic stationery. Hence, it is useful if you start a hyperlocal business of stationery products. Since work from home is about to become the new normal, offices are also going to run from home. This means that along with schools, office stationery is also going to be equally important. Not to forget, art equipment.
So selling items like register, notepads, pens, staplers, paints, brushes, etc. The best part about stationery is that nobody pre-plans this aspect. Except for new school sessions, nobody plans on buying tape or scissors. Hence, stationery is usually required urgently. With a hyperlocal shop, you can deliver these products to customers faster than Amazon and this delivery service can help you provide an edge for your business.
Also, you can source these products from companies directly as they give you an option to place wholesale orders online.
Electronics
When the eCommerce lockdown started, electronics like pen drives, USB cables, etc. were in huge demand. So, when the lockdown was lifted, the sales surged. Since most activity is going to be carried out in homes, electrical appliances will be the need of the hour more than ever.
Tools like mobile phones, laptops, charging cables, adaptors, USB drives, printer ink etc. can be delivered easily with hyperlocal delivery. Moreover, if the store is close by, it becomes easier to trust the seller. Therefore, it will be a good option to start your hyperlocal business on these lines.
Fitness Equipment
Doing yoga, or fitness activities at home has become a common practice. People are finding ways to work out efficiently in their homes. If you see, products like foldable treadmills, dumbbells, etc.are being sold more now.
You can start your own fitness equipment shop that can help provide users with products like yoga mats, stretching ropes, etc. If these products are easily accessible, people will rely on shops that are closer to their house.
Household Items & Kitchenware
It is very difficult for a house to function without basic household items and kitchenware. Usually, every neighborhood has a standalone shop selling utensils like bowls, plates, spoons, knives, etc.
Today, People are more conscious about their health and are looking for products that help facilitate a healthy lifestyle. Therefore, you can start with the business that sells household items and kitchenware that is sustainable and also promotes good health. For instance, you can start selling copperware.
Also, if you are in a locality that has many new people moving in, this business can be extremely beneficial as people like to shop for household items online due to safety & lack of time.
Household items can also include furniture. Customers are usually interested in buying furniture from nearby shops as it decreases the chances of damage during transportation. With hyperlocal delivery, you can deliver furniture items easily to nearby customers.
Pet Supplies
Pet supplies are equally essential as groceries or medicines. Without necessary pet supplies like food, medicines, etc.it will be very difficult for domestic pets to stay healthy within the house.
Since many households today have pets like dogs, cats, or fish in their house, a pet supplies store is a profitable business. There are not many standalone local shops that sell a good variety of pet supplies.
There are many online stores coming up that help with these requirements, but sometimes the delivery of these products can be delayed. With the hyperlocal delivery of pet supplies, you can break this barrier of delayed deliveries and reach your customers within a few hours.
Quick Tips to Start your Hyperlocal Business
Since we've shared ideas about hyperlocal businesses, It is only fair that we give you a brief context about how you can start this business.
For any hyperlocal business to function it is important to find the right audience and to deliver the products correctly, everything else just falls in between.
Let's have a look at a few steps that you must follow to start and run your hyperlocal business successfully.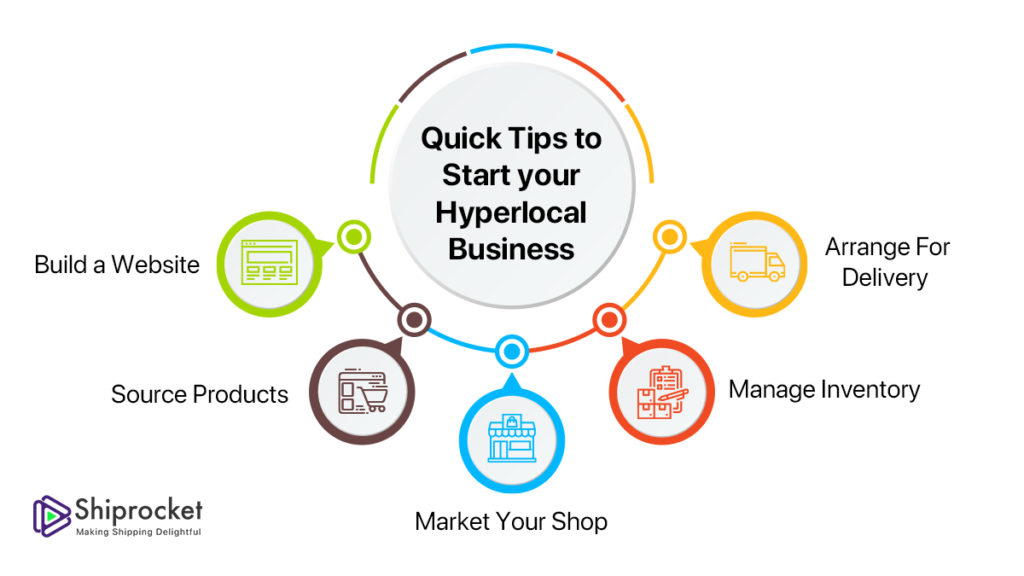 Build a Website
It is the era for eCommerce. Even though stand-alone shops have been the norm for buying products like daily ration, groceries, and other essentials, the trend is slowly shifting towards online shopping and faster deliveries.
Hence it is essential to build your own website so that you can target many people who are currently surfing the internet. You can try Shiprocket Social for starting your own website and a few clicks. The website doesn't need to be very elaborate and you definitely do not need a lot of technical knowhow to begin.
Shiprocket Social gives you a platform to start with your eCommerce store in a few steps and customize it according to your requirements.
Source Products
Your story is as good as the products you source. With this, I would like to say that choose your vendors wisely! Look for vendors online as you do not need to stock up many things but choose your products widely depending upon the audience.
Since most of these products like personal care items, fitness equipment, and electrical items do not come with an expiry date, try to look for wholesale retailers from whom you can purchase these in bulk. If you look carefully, you can find many on the internet who are waiting to connect with sellers like you.
As far as products like food and medicines are concerned, source the raw materials and products with utmost care keeping in mind the shelf life and viability. Do not overstock.
Market Your Shop
Hyperlocal marketing of your business is essential if you want it to be a recognized name. Formulate a strategy that helps you target local households. Set up a Google business account and list your local shop. Focus on local keywords so that you can be found. If you're running ads on Facebook & Google, make sure they are area specific. Eventually, when you get a few orders, try to get as many testimonials as possible.
These are a few tips to start with the hyperlocal marketing of your store. If you want more detailed insights into how you can start with hyperlocal marketing of your sure, click here.
Manage Inventory
Since your business won't be on a very large scale, you can start with self-storage and manage inventory by yourself. Eventually, when you understand the pattern and requirements of your customers better, you can buy your products accordingly.
Gradually, you can shift to using an inventory and order management software for your business that helps you automate operations and help you fulfill orders more seamlessly.
Arrange for Delivery
Like we mentioned before, having your hyperlocal delivery and place is the most important step. Like you're currently aware, many sellers arrange for local delivery boys who become the responsibility of the seller. But, this approach is not always viable.
With changing trends, you need to adopt a model that is more inclusive and gives you a wider reach whilst safely delivering your products.
To do so, you can bank on apps like SARAL by Shiprocket. Cheryl gives you the ability to ship products within an area of 50 km. Since 50 km is a large radius, you can reach out to people who might stay a little farther too. The best part is that you get the option of shipping with multiple delivery partners like Dunzo, Shadowfax, and Wefast.
So in a way, you are never short of staff who can deliver your products and they are also adequately experienced in handling and transport of the product.
Hence, with no strings attached approach, you can run your business on the go without having to worry too much about delivery. That takes care of a major chunk of your business!
Final Thoughts
Hyperlocal businesses right now I like the need of the hour. If you feel the charm of these businesses will die out in the near future, you might be wrong. Hyperlocal businesses have always been among us, but with the influx of increased demands, they have become a vital requirement. So, it is a good idea to get started today. With the ideas we have suggested, we can assure you that you will not face much difficulty. Along with apps like Shiprocket Social and SARAL available to facilitate the process, you will be able to take the leap of faith and jump to the eCommerce business with ease.
Calculate Your Shipping Costs Now