7 Tips for Safe & Efficient Hyperlocal Delivery of Groceries
In a fast-paced life, it has become a norm to shop online for almost everything. With a busy lifestyle leaving shoppers with less time in hand to purchase groceries and other necessities from shops, online grocery shopping has become extremely common in many metropolitan cities.
Online grocery shopping and delivery of essential items to the customer's doorstep have become the new normal, especially in today's scenario where the entire country is in lockdown. Before this, many sellers were not aware of the concept of hyperlocal shipments. But with the advent of social media, sellers are now reaching out to deliver products via various means.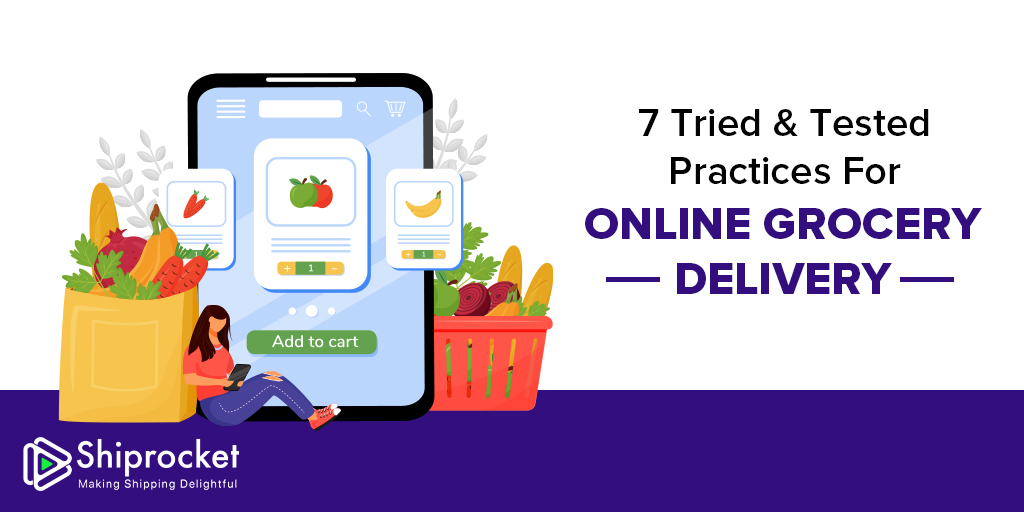 Since most sellers are new to this concept of medicine, essentials, and grocery delivery, they tend to skip out on the basic delivery preparations that are necessary for safely delivering the products. Therefore, to get you started, here are a few best practices for hyperlocal grocery delivery.
Sanitize Products & Workplace
It is vital to sanitize all your products before you ship them. Since the spread of the virus is widespread and it transmits through contact, you must ensure that the products you are sending out for delivery are disinfected at fixed intervals. Also, you must disinfect them once you receive the product at your store.
Along with sanitizing your products, ensure that the room or shop from where you are shipping your items is cleaned at least 2 to 3 times every day. This will help you eliminate any traces of the virus and help you keep your staff and buyers safe.
Train Your Employees
Educate your employees to process hyperlocal orders once they receive them on call or app. Teach them how to appropriately pack the products so that they can be transported easily on two-wheelers.
Give them demonstrations on liquid and tamper-proof packaging. If you are shipping products like fruits and vegetables, ask your employees to pack them properly so that the delivery agent delivering them does not face any mishaps on the way.
Also, owing to the current scenario, ask your employees to restrict movement within the shop or warehouse. Train them on proper sanitation techniques and ask them to always wear protective equipment like masks, gloves, etc.when dealing with the transfer of products.
Ship with Multiple Delivery partners
Instead of hiring a fleet with 5-10 courier agents or partnering with hyperlocal marketplaces to deliver your products, choose aggregators like Shiprocket that help you ship with multiple courier partners. This allows you to ship independently without depending on a third-party for getting orders. Also, you can plan deliveries at your convenience. If one courier company is unavailable to take an order, you will always have backup options.
Furthermore, you get courier partners like Dunzo, Shadowfax Local, and Wefast that help you deliver within a 50 km radius at the best rates. Grocery items are essential to any household, and more often than not, people need these deliveries to happen soon. Hence, you must have a resource like Shiprocket to help you deliver quickly.

To get started with Shiprocket's hyperlocal delivery, click here.
You can schedule pickups through the Shiprocket Android app and provide same-day and next-day delivery to your buyers.
Keep the Invoice Ready
When you schedule pickups with courier partners, take a printout of the invoice and keep it handy. When the executive arrives, they can directly pick up the invoice, tally the products with it, and proceed for delivery. So, if you have many shipments in a single day, the delivery agent can complete them faster if he leaves from your store on time.
Keeping the invoice ready can also help you check if you are delivering the right products in quantity to the buyer. This could help you reduce any returns and cancellations later.
Audit Inventory Regularly
Another critical aspect of online grocery shopping and delivery is inventory management. Analyze which products are being sold the most and try to stock them up every day. Products that are sold less can be stocked on special requests by sellers.
Keeping many products that do not sell regularly can be a waste of your storage and inventory. Since most products have an expiry date, you will have to dispose of them. Especially with grocery items like vegetables, oils, loose sugar, pulses, etc. there is a good chance for the product to get spoilt soon.
Hence, conduct regular audits and keep a close check on how much inventory you have. Remove any expired products and follow the first-in-first-out inventory management technique for maximum success.
Market Your Hyperlocal Delivery Service
If you are new to conducting hyperlocal deliveries, try to reach out to as many buyers as you can, and inform them about the deliveries you are doing. Use social media platforms like Facebook and Instagram to publicize the new service you are offering. Along with that, you can also print flyers and posters and distribute them to nearby localities.
Marketing your service is essential to make customers aware of your deliveries so that you can get in more orders for your online grocery business.
Setup a Website
This may seem a little out of context, but it is useful when you want to make more sales and schedule orders efficiently. Once you set up a website for your store and make your customers aware of it, you can directly import orders from the site and schedule pickups from your store. This reduces your manual effort by a large margin, and you can get more work done in a short period.
Moreover, people are well acquainted with technology, and ordering from a website is much more convenient for them. Listing your products online will also give you more exposure.
If you want to set up your website, you can do it at Shiprocket Social.
Final Thoughts
Online grocery shopping is no more an alien concept to people residing in cities. If you want to up your business game and be the first choice for people's grocery requirements, you must provide a fast grocery delivery service to your buyers. Follow these best practices to ensure that you deliver successfully and without any hiccups on the way. Use Shiprocket for hyperlocal deliveries and provide your customers with a safe and delightful delivery experience.
Calculate Your Shipping Costs Now