Online Pharmaceutical Business – Getting Essentials Delivered to Your Buyers Doorstep
Today, all essentials are being sold online. These include groceries, food, clothes, personal care items, and also medicines.
What used to be available only at chemist shops can now be found online also. Over the past few years, medicine delivery has become a common practice in India. Various medicine delivery apps like 1 MG, Pharmeasy, Apollo, Fortis, etc. have started their medicine delivery. They offer delivery of OTC medicines and other relevant medical equipment directly to the customer's doorstep.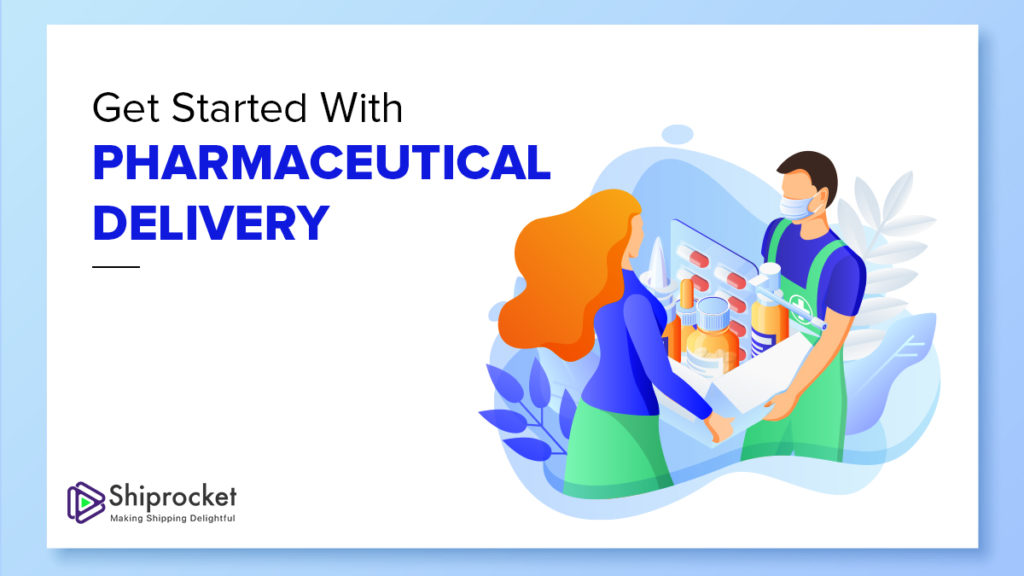 Does this mean local chemist shops have become redundant? Absolutely not. Local chemist shops are also coming up with their online stores or partnering with marketplaces to make their customers comfortable.
Let's have a closer look at medicine delivery, the requirements, challenges, and how you can do it.
Why is Medicine Delivery Important Today?
In our fast-paced lives, it can get challenging to visit a chemist every time we want to purchase medicines. Thus if you set up your medicine delivery store online, you can attract many customers.
Older people who cannot go out and purchase medicines can conveniently order them online and save effort. Also, they can ask someone to do it for them.
Individuals with chronic illnesses like diabetes and thyroid need medicines regularly. You can save time for them by scheduling a monthly or bi-monthly subscription that can be delivered to them directly.
Moreover, with COVID-19, it is necessary to practice social distancing. With the delivery of medicines, you can help reduce the spread of this deadly virus.
How is Medicine Delivery Useful for Your Business?
Arranging for delivery of medicines can help you give your business a boost in many ways. Let's see how –
No Additional Retail Investment
You are a business that is just starting with their pharmacy; you do not need to set up retail stores in different places. You can operate directly from your warehouse and deliver medicines to your buyers' doorsteps with the application of medicine delivery.
An Amalgamation of Delivery & Retail
If you are somebody who runs a chemist shop, you can also provide home delivery of goods like medicines, supplements, personal care items, etc.
You must already be doing it with a local fleet, but with a full-fledged medicine delivery system, you can expand this venture and grow your business.
Target a Larger Audience
With the medicine delivery process, you do not necessarily have to sell in a limited geographical area. You can even sell to people in different states. Only the delivery time will be more, but if you sell specific nutraceuticals or medicines that are only available with you, it can be a boon for your business.
Increased Revenue
With online medicine delivery, you will be generating revenue from different aspects. You can also expand your inventory based on your extended audience's requirements and move on to sell items like supplements, medical equipment, etc. Online medicine delivery can help you expand your business without a considerable seed investment.
Challenges Faced in Medicine Delivery
Licenses & Certifications
To begin with your medicine delivery business and ship medicines across the country, you need to apply for registration to the central licensing authority in form 18AA through the online portal of the central government. Along with this, you will have to deposit a sum of Rs. 50000.
Also, you will have to follow and comply with the provisions of the Information Technology Act, 2000.
Attaining such licenses can be challenging to start a business. With the online process coming into place, you can easily set up your store and run your e-pharmacy.
Prescription Drugs
Another challenge faced by new sellers is the sale of prescription drugs like insulin, anxiety, etc. You are not authorized to sell prescription drugs without a valid prescription. You can ask buyers to upload their prescriptions online, ask for it on email, or even Whatsapp. You can verify this and then ship the order.
Temperature-Specific Supply Chain
Maintaining the right temperature while shipping and delivery of certain medications are also important. People usually feel uncertain about ordering drugs online because they cannot be sure about the handling. To make sure you overcome this challenge, you will have to tie-up with cold chain warehouses where you can store medication at the correct temperatures. To gain the trust of your customers, you can upload videos or pictures showing them your procedure.
How Can you Setup Your Pharmaceutical Business?
Start With a Website
Begin with setting up your website in any quarter. Upload your inventory and list your products into categories. Optimize your product pages so that they contain all the right information about the medicines. Make sure you include the correct expiry date in the description and the specifications and compositions of each tablet.
You can create your store on Shiprocket Social. Here, you can create a store for free, list your products, and begin selling seamlessly—all for free.
Add a Payment Gateway
Next, incorporate a reliable payment gateway into your website. Offer multiple payment options like credit card payments, debit cards, net banking, UPI payments, and mobile wallets to your buyers. This will help you convert more customers.
Verify Prescriptions
A vital component of your store must be a process to verify prescriptions. You can hire a doctor for the same and send them the prescriptions at the end of a working day to check if they are correct.
Offer a Subscription plan for Repeat Medicines
On the checkout page, buyers can be shown subscriptions for medicines that are usually ordered repeatedly. For example, medicine for diabetes is ordered regularly, as the patients need to take it almost every day.
Settle Shipping & Delivery
Lastly, add a suitable shipping and delivery solution for your business. You can either ship in the traditional way or via hyperlocal deliveries. Standard delivery methods will help you gain visibility across the country, and hyperlocal delivery can be useful for shorter distances.
With Shiprocket, you can do these both. Shiprocket offers you a shipping platform, where you can ship to over 29,000+ pin codes with over 17+ courier partners. With them, you can conveniently schedule the pickups from the platform and ship anywhere in the country.
Shiprocket also offers hyperlocal delivery with their app SARAL, within a distance of 50km at rates starting from Rs. 37. You can ship medicines easily with the app and ship with multiple delivery partners like Wefast, Dunzo, and Shadowfax.
Conclusion
Setting up a pharmaceutical store will help you with medicine delivery and increase growth margins for your business. Delivery of essentials like medicines is a popular concept these days, and if you want to start a business in this domain, now is a good time to do so.
Calculate Your Shipping Costs Now