5 Leading Hyperlocal Delivery Services in Delhi
Delhi is one of the largest and busiest metropolitan cities in India. Most people migrate to the capital in search of jobs and other avenues to earn money.
There is a working population of about 5.31 million people in the capital city. This means that a large chunk of the population is working. Upon various accounts of interaction with the working youth, it is evident that these individuals do not have the time to go out and purchase groceries, medicines, and other essentials. They need grocery delivery, medicine delivery at their doorsteps.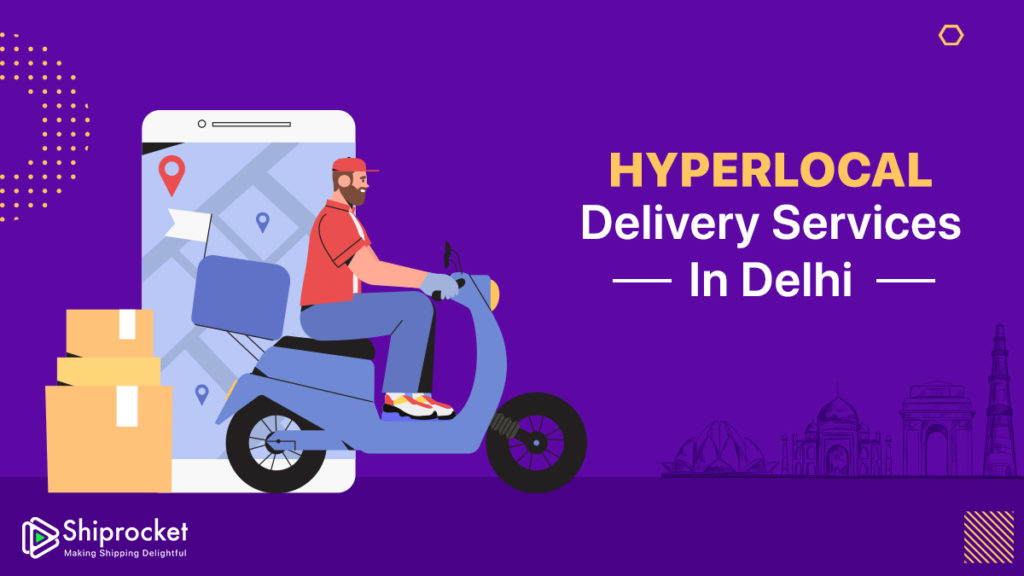 In such cases, hyperlocal delivery is the only option left with them. Usually, people resort to calling up the nearest grocery vendor, a chemist shop, food delivery place, etc. to order the items they need.
Sellers today are facing a huge setback because they are not able to accommodate the increasing delivery requirements by people. What can your business do to accommodate such spikes in orders? You need to adapt to the hyperlocal delivery mechanism to reach the maximum number of residents in the capital.
Researching about the best hyperlocal delivery partners can be a daunting task. Therefore, to ease the research process and make hyperlocal delivery a simplified job for the sellers in Delhi, here is a list of hyperlocal delivery companies that can help you with processing and fulfilling your hyperlocal order sooner.
Dunzo
Dunzo is a hyperlocal delivery provider currently serving around 27 areas of Delhi. These include places like Aerocity, Hauz Khas, Vasant Kunj, Lajpat Nagar, RK Puram, etc. They offer grocery deliveries, medicine delivery, delivery of meat and fish, health and wellness supplies, etc. Furthermore, they claim to deliver products in a few minutes to a few hours. Dunzo has become extremely popular for their service in the past few years and are also known for their pick and drop services.
Grab
Grab is an on-demand and last-mile logistics solution for businesses. They have an expansive fleet of bike riders that deliver products in a specific geographic area. They offer food, grocery, stationery, personal care, and medicine delivery. With over seven years of experience, they have proven to be one of Delhi's best hyperlocal solutions for businesses. They offer solutions like on-demand delivery, express delivery for hyperlocal orders like grocery delivery, food delivery, etc.
Shadowfax
Shadowfax is quite a famous name when it comes to last-mile delivery for eCommerce. They have established their brand for impressive delivery solutions for eCommerce, FMCG, pharmaceuticals, restaurants, and other relevant online deliveries. They offer delivery options for same-day delivery, next-day delivery, and hyperlocal delivery. Their operations are spread out across 500+ cities in India. You can deliver products across 8 km with a maximum weight limit of 15 kg.
Lalamove
Lalamove is a hyperlocal on-demand delivery company helping sellers deliver products across Delhi with the nearest available driver-partners. They offer deliveries 24*7 with an option to provide same-day or book in advance for later days. With Lalamove, you can schedule your rotational deliveries and optimize operational costs. You can conveniently pick a vehicle, enter the area on the map provided, and get an estimate for your shipments.
Wefast
Wefast is a hyperlocal service provider that offers same-day delivery service in Delhi. They claim to deliver in 90 minutes or on scheduled dates and times. They offer delivery of almost all day-to-day items such as food, grocery, medicines, etc. Wefast claims to match walking couriers in 7 minutes and deliver as quickly as possible.
When you have many orders flowing in, it is impossible to keep up with just one hyperlocal delivery provider. What if you want to ship your nearby orders with more than one of them?
We have an answer to this question – Shiprocket's hyperlocal delivery services.
Shiprocket's Hyperlocal Delivery Services in Delhi
Shiprocket is a leading name for eCommerce deliveries in India. We are a logistics aggregator that offers you a platform to carry out hassle-free eCommerce shipping in a few clicks.
Our hyperlocal delivery mobile app, SARAL, allows sellers to provide seamless hyperlocal delivery services for shipping orders to customers within a range of 50 km.
The best part?
You can schedule deliveries with not just one partner but choose from various partners. The list includes Dunzo, Shadowfax, WeFast, and others that will join the league soon.
Benefits of Choosing Shiprocket Hyperlocal Delivery (SARAL)
Experienced Fleet
With Shiprocket's SARAL, you get the experience and expansive courier fleet of multiple hyperlocal delivery partners that are one of the best in this field. You get the best partners without having to negotiate for rates, coverage, etc.
Same-day & Next-day Delivery
Offer seamless same-day and next-day delivery with hyperlocal services that can be accessed with a few clicks. Just select the drop Pincode, schedule a shipment, and get going.
Ship Essentials
In these trying times, it is vital to ensure safe and hygienic delivery to nearby customers. With Shiprocket hyperlocal delivery, you can ship essential items like food, medicine, grocery, etc. in the most reliable manner possible.
Reach Customers Faster
Reach customers sooner within a shorter distance with multiple delivery partners. Align pickups quicker and fulfill orders faster.
Conclusion
Delhi is a ripe market for hyperlocal deliveries. With a large population traveling for work daily, you can easily find customers who are ready to order products online. Adapt your store to the hyperlocal model and deliver faster with solutions like SARAL.
Yes, you can choose to get COD remittance within two days of order delivery. Visit here to know more.
FAQs (Frequently Asked Questions)
What is hyperlocal delivery?
Hyperlocal delivery is delivering goods to customers from local sellers in a small geographical area.
How can Shiprocket help in hyperlocal delivery?
You can log in to your Shiprocket account, add an order, and start delivering your products within an area of 50 KM at reasonable rates.
Which courier partners deliver hyperlocal deliveries?
You can choose to ship your hyperlocal orders with Shadowfax, Dunzo, and Borzo.
Which products can I deliver through hyperlocal delivery?
You can deliver any type of daily essential products like grocery, pharmaceuticals, and personal care products.
Calculate Your Shipping Costs Now