5 Benefits of Having an On-Demand Delivery Mobile Application
The on-demand economy is attracting more than 22.4 million consumers annually and $57.6 billion in spending globally.
This implies that the expectations of people are rising and they want their products delivered faster than ever. The on-demand ecosystem has given users an experience they only dreamt of and have connected local stores with every household.
So, how can you provide your buyers with the same experience and improve sales and customer satisfaction for your business? With the help of hyperlocal delivery.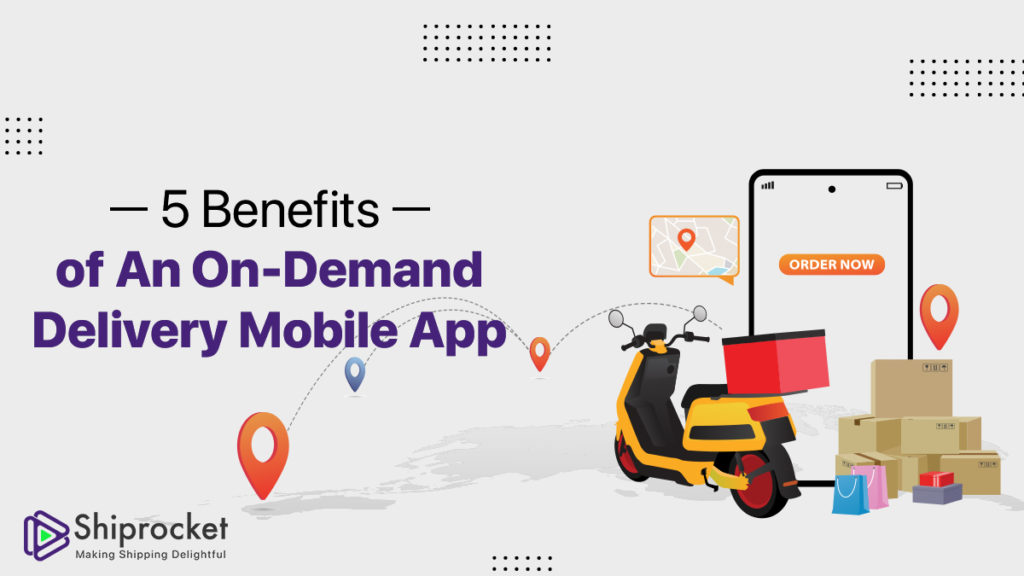 The concept of hyperlocal deliveries has been in the spotlight especially due to the nationwide lockdown and measures for social distancing.
Even Kirana sellers are now actively using hyperlocal delivery to deliver daily ration and other household items to their customers. But, accessibility is still from the picture. Let's understand the accessibility closely.
For instance, if you are sitting in a restaurant, and suddenly receive an urgent order for 20 shampoos that are best sold in your inventory, how would you proceed? Will you go back to your shop, accept the order, pack it, and then wait to handover it to the delivery agent?
Or will it be easier if you accept the order right in the restaurant, assign a delivery partner from a mobile application, ask someone in your shop to pack the order who will hand it over to the delivery executive, and carry on with business as usual?
Of course, the latter option will be more suitable any day. But, this is only possible if you have in place an on-demand delivery mobile application that can help you take care of these orders conveniently.
Importance of Mobile Applications in Retail
Mobile commerce has seen a paradigm shift in recent times. Businesses have started including mobile browsers and applications in their eCommerce strategies along with regular websites to enhance the customer experience.
According to reports, 49% of website traffic comes from mobile devices and mobile searches often lead to immediate action.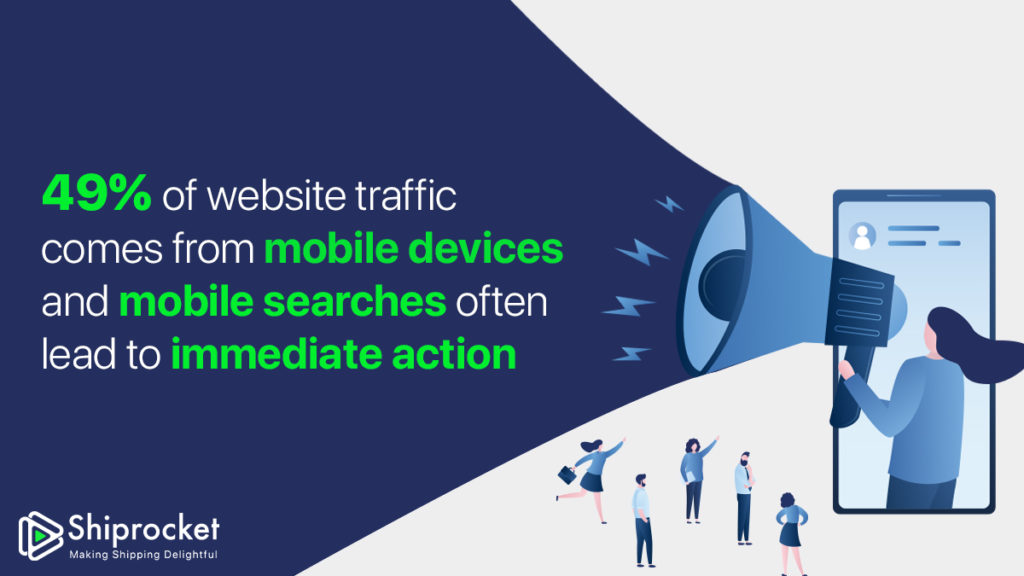 This means that mobile shopping is common among users and also has a significant impact on purchase decisions. This implies that mobile commerce is important and retailers as well as users are constantly using it to enhance their business.
Also, mobile applications make other aspects of retail extremely accessible. Therefore, it's time that your business also adopts mobile applications for easier fulfillment.
Read more about mobile applications and their relevance in eCommerce.
The Relevance of Mobile Applications in On-Demand Delivery
On-demand delivery means quick results. This means that buyers who resort to on-demand delivery are looking for deliveries in a few hours or maximum, the next day.
Since on-demand deliveries are the quick fix of retail and eCommerce, they should be easy to process for retailers as well. This is where mobile applications come in for scheduling pickups and deliveries.
Mobile applications make it extremely convenient for retailers to schedule deliveries for their hyperlocal orders. Since everyone has a mobile phone in hand at all times, the process of assigning a delivery partner becomes much easier.
Here are a few reasons why mobile apps for hyperlocal on-demand delivery can help you manage your order fulfillment much better –
Accessibility
Having an app dedicated to hyperlocal deliveries can make it extremely convenient to receive, process, and deliver orders from one place itself.
It eliminates the need for manual work and record keeping. The hyperlocal delivery apps can help you schedule pickups, assign delivery partners, and stay in contact with them for improved communication.
Since apps are always present on your phones, they make it extremely accessible to work on orders even outside of the business and you can delegate work easily in the shop or warehouse. Your business never shuts if you have an app for the most crucial aspects like shipping & delivery.
Faster Deliveries
When you have a mobile app dedicated to deliveries, you can assign a resource to work on it and not skip a single order.
You can also process more incoming orders quickly as it is through a mobile app that does not require much technical know-how.
If you schedule quicker for pickups, A delivery partner will be assigned faster, and you can deliver in record time. Thus, making deliveries faster is yet simplified.
Simplified Order Management
A mobile app helps you manage all orders from one place. This means you can avoid confusion about incoming and outgoing orders and keep sync with the inventory about how many orders are being processed.
You can link the app with your online store to keep track of incoming orders so that you don't miss out on any opportunity.
On-demand delivery requires quick action and you can only achieve that if you have the means to access orders quickly. With a mobile app, you can do so within a few clicks.
Uncomplicated Record Keeping
It can get tedious to keep a record of the transactions that take place for shipping. Since the list is long and you need to strictly keep a record, having a shipping passbook can be extremely beneficial.
The mobile app gives you a chance to track all the transactions in one place and see how many times you have loaded money and spent on different shipments. Along with that, you can also practice better funds allocation with a record of your transactions.
Order Tracking
Lastly, order tracking can be done quite easily through a mobile app as the interface is much more user-friendly.
Once you schedule a pickup, you can track the whereabouts of the delivery executive and after the order is picked up you can track it until it reaches the destination.
With live updates and tracking information, you can easily manage your work anywhere on the go.
Types of On-Demand Delivery Mobile Applications
B2B – Business to Business
B2B on-demand mobile apps are made to focus on connecting a business with another business. In this case, both the service provider and service taker are not the end-users of the end products, they are just facilitators. The service taker uses the service to produce the end products, which eventually reach the consumers.
B2C – Business to Consumer
In this type of mobile application, the businesses offer products/services to the end consumers. This model is very famous and is usually used by most of the businesses that deliver products directly to end-consumers, like Myntra, Dominos, and Amazon.
C2C – Consumer to Consumer
C2C is an on-demand delivery mobile application that connects end-users to the end-users. In this application, the users themselves create products and services to sell to other end users.
What a Hyperlocal On-Demand Delivery Application Must Contain?
'Add Order' Facility
The hyperlocal on-demand delivery application must have an option to add new orders. Without adding new orders, sellers will not be able to schedule pickups and deliver their products. In the add order facility, the seller must be able to add the order details like price, quantity, type of product, etc.
Scheduling Orders
Along with adding orders, sellers should also be able to schedule orders for the further date. This helps in better organization of incoming orders and no order is skipped.
By scheduling orders for later, sellers can free bandwidth and entertain more orders.
Order Tracking
Without appropriate order tracking, you will not be able to track the whereabouts of your shipment. Therefore, your mobile application must contain granular tracking details or live tracking of the order.
Payment Selection
Next, the seller must be able to select the payment mode chosen for the shipment. For example, if the seller wants to create a COD order, they must be able to select so while creating the order.
If they want to create a prepaid shipment they must also be able to mention the payment mode such as net banking, credit card, debit card, UPI, wallets, etc.
Geo-Location Tagging
Hyperlocal deliveries need to have a precise address as they cater to a short geographical area. Thus, it is extremely important to have a geolocation tagging option so that the seller can directly select the delivery location on the map. This will help in faster deliveries and increase the days as the address mentioned would be correct.
Help & Support
Help and support form an integral part of any mobile application. To facilitate a two-way communication and faster query resolution, the hyperlocal on-demand delivery application must contain a help and support section with help docs, live chat, and email. Adding a call number can also be helpful.
Saral – A Hyperlocal Delivery Application for Success
If you are running the hyperlocal business or planning to start one in the near future, it is essential to have a hyperlocal delivery application, especially in the current time. When social distancing is becoming the norm, you must plan a strategy to sell online to attract maximum customers to your store. With an on-demand delivery app, you can bridge the gap between offline and online and sell even when you have a small local store like a Kirana shop.
SARAL is Shiprocket's hyperlocal delivery application designed for small businesses to conduct hyperlocal deliveries in a few clicks. It is the best hyperlocal delivery application if you want to deliver food, grocery, medicines, flowers, documents, etc.
You can use SARAL to send anything in a 50 km radius with their pick and drop service and multiple courier partners like Dunzo, Wefast, Shadowfax, etc.
SARAL gives you a platform to conduct seamless hyperlocal deliveries without any complications or unwanted hassles.
Conclusion
A hyperlocal on-demand delivery application can help you accelerate your business and deliver seamlessly to a nearby audience without any additional hassles. If you want to make your business more convenient and accessible, it's highly recommended that you start with applications like SARAL, today!
Calculate Your Shipping Costs Now