How Do You Reduce Inventory Shrinkage?
In the times of pandemic, inventory management could be challenging. In 2020, the global value of inventory distortion was as high as $176.7 billion for overstock and $568 billion for out-of-stock.
While you're always trying to keep your inventory at the optimal level, issues like inventory shrinkage only add to your hassles. Here's everything you need to know about inventory shrinkage and how you can reduce it.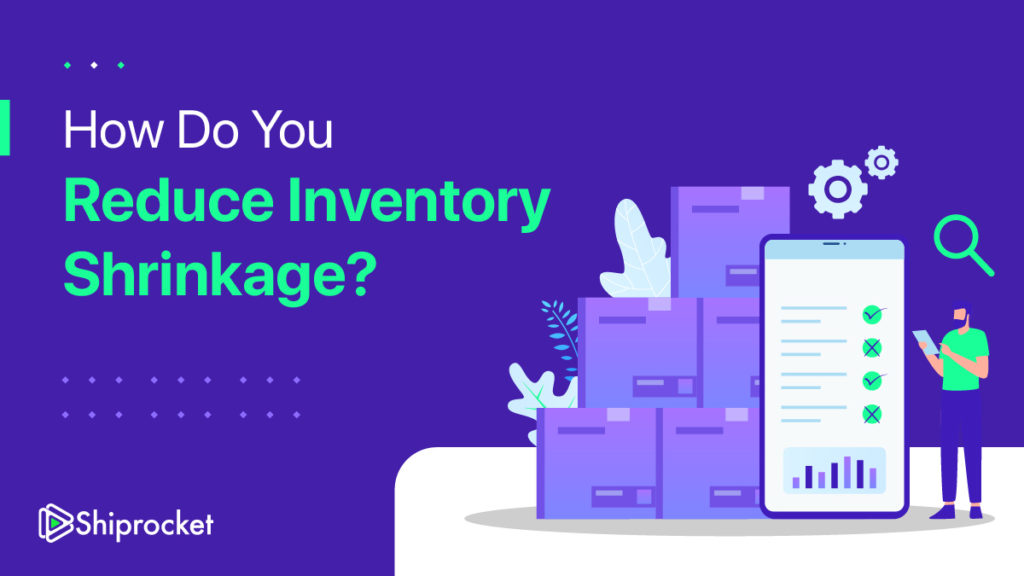 Meaning Of Inventory Shrinkage
Inventory shrinkage refers to the excess amount of inventory that is listed in your accounting records, but can no longer be found in your actual inventory. Increased levels of shrinkage could be due to stock theft, damage, incorrect counting, wrong units of measure, evaporation, or similar problems.
It is also possible that the shrinkage is the result of supplier fraud. It means your supplier has invoiced you for a specified quantity of goods shipped, but hasn't actually shipped all of the goods. That is why you have recorded the invoice for the full cost of the goods, but there are fewer units in your inventory. The difference between the two is the shrinkage.
Calculating Inventory Shrinkage
To measure the amount of inventory shrinkage, all you need to do is count your physical inventory and calculate its cost. Next, subtract this cost from the cost recorded in your accounts data.
Finally, divide this difference by the amount in your accounting records. The resulting value is your inventory shrinkage rate.
Lets understand this with the help of an example.
Suppose your business has ₹1,000,000 of stock listed in your accounting records. After conducting a physical inventory count, you find that the actual amount on hand is worth ₹975,000.
What would be the amount of inventory shrinkage? The answer is ₹25,000. Here's how:
₹1,000,000 book cost – ₹975,000 actual cost = ₹25,000.
Therefore, your inventory shrinkage rate turns out to be:
₹25,000 shrinkage / ₹1,000,000 book cost = 2.5%
4 Ways To Reduce Inventory Shrinkage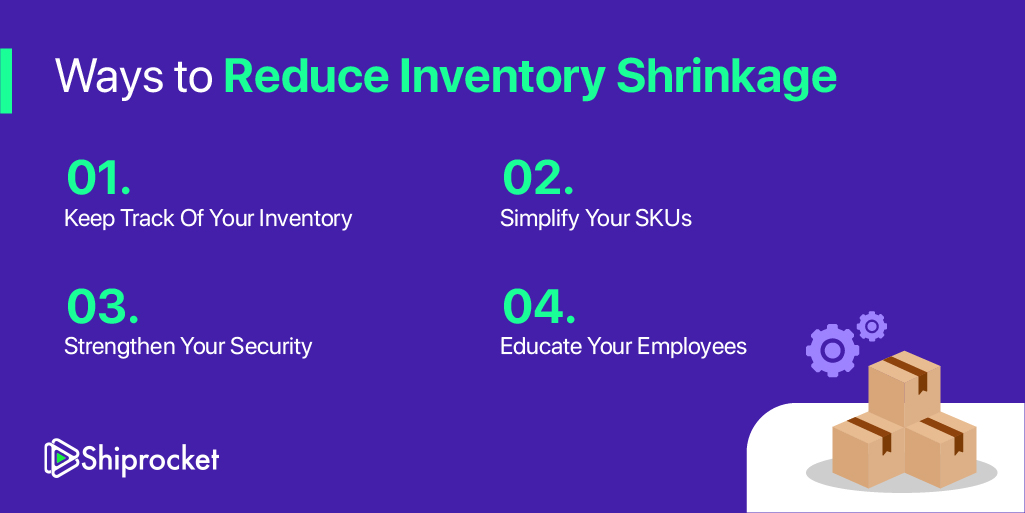 Keep Track Of Your Inventory
You can do this periodically to minimize the time required, but it is very important to track and manage your inventory. We recommend that you use technology that can keep inventory counts up to date in real-time rather than in Excel, which is static and difficult to keep in sync.
Simplify Your SKUs
Proper product SKUs and UPCs are essential to ensure that your recorded stock levels are correct and inventory shrinkage is minimum. Make sure that your product codes are as clear and straightforward as possible, and that they are part of a system that can easily be extended to accommodate new products.
Strengthen Your Security
If you have a single physical store, it could be useful to install cameras and security systems in your store or in your inventory storage system. You can also use clear trash bags to make sure no one pretends something is trash, but is actually putting the inventory in a bag that they take for themselves.
Educate Your Employees
Employees may not be aware of how inventory shrinkage is affecting them. Take the opportunity to let them know how inventory shrinkage is affecting them directly and indirectly, including how promotions, salaries, employee profit shares and more are going down.
Take The First Step
Shiprocket gives you complete control over centralizing your inventory across channels in a single platform. It allows you to efficiently manage your inventory by tracking your existing inventory systematically.
You can connect inventory from your existing channels and simplify selling on various marketplaces. You can also add new channels in just a few clicks.
We will let you know when you are running out of stock so that you can update your inventory on time. You can also keep your users informed about the number of quantities available. Whether your workstation is nearby or not, your inventory count stays updated.
Two-way inventory syncing in real-time ensures that the stocks are updated anytime a sale is made. It eliminates overselling and data entry errors.
This reduces the chances of inventory shrinkage and helps you manage your inventory like a pro. Get started today.
Calculate Your Shipping Costs Now