Top 10 Logistics Companies in Delhi NCR
Logistics plays an important role in the success of a company as it facilitates the movement and storage of goods or services from the point of origin to the point of consumption. Logistics success for any company translates to lower costs, proper inventory control, maximum utilization of warehouse space, increased efficiencies in production and delivery, and increased customer satisfaction. With a number of logistics companies in Delhi to choose from, it is advisable to do thorough research and examine which logistics company would be best suited for your specific business needs.
Best 10 Logistics Companies in Delhi/NCR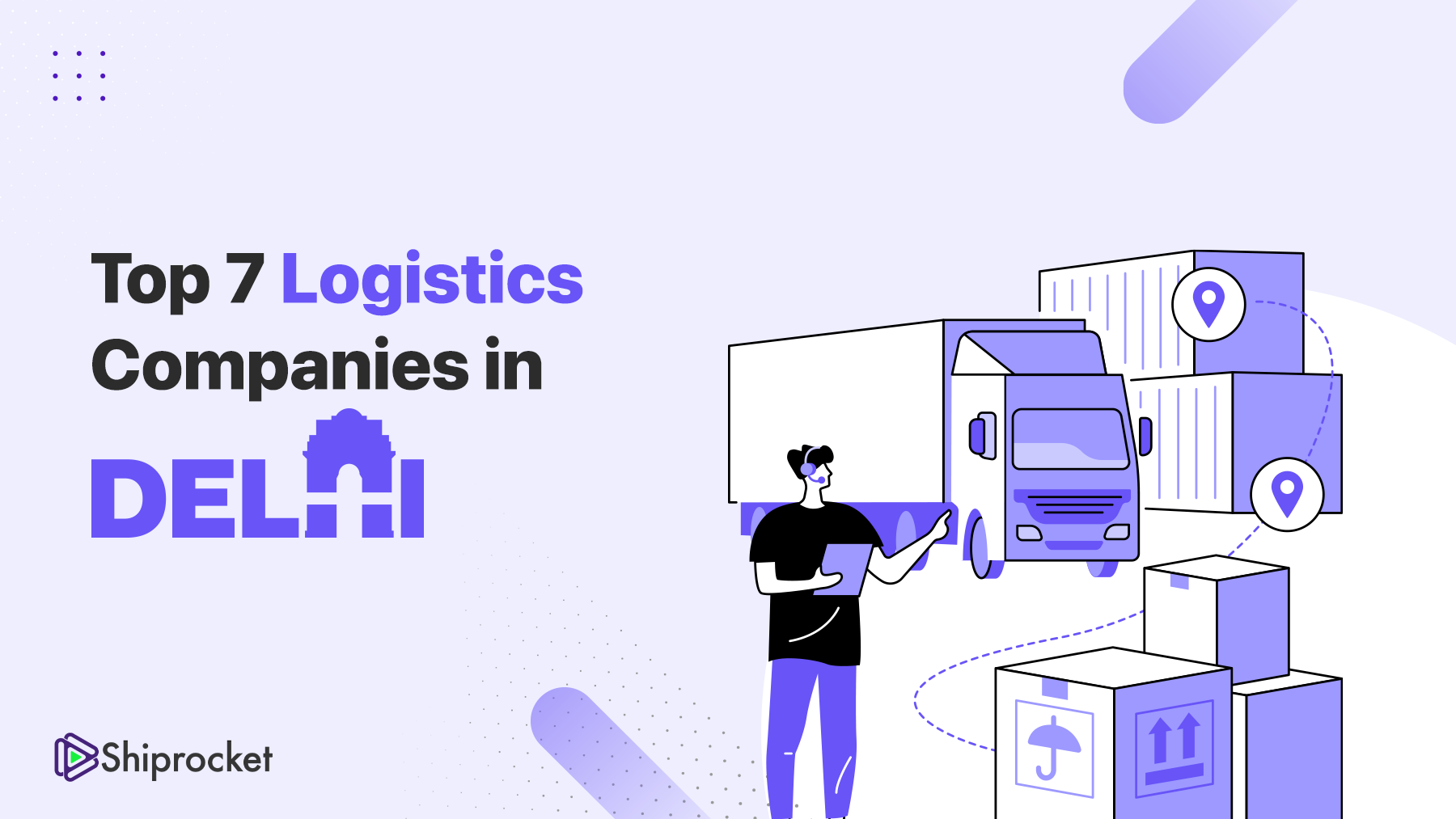 Apart from the basic criteria mentioned above, we have put together a list of the top 7 logistics companies in Delhi so you can make an informed decision. Choose the one best suited to your business requirements.
Top 10 Logistics Companies in Delhi NCR
1. Glaucus
Founded in 2015 by Vivek Kalra, their services include plug & play warehousing, operations management, domestic & international transportation, and value-added services like kitting, re-packaging, refurbishment, etc. They prefer to partner with small and mid-sized companies focusing on trading, retail & wholesale distribution. Their team has exhaustive experience in supply chain solutions, advisory, warehouse design, and technology product development.
2. AWL India Pvt. Ltd.
Founded in the year 2007 by Rahul Mehra, AWL India is a tech-based firm specialising in B2B supply chain management. They provide companies with customised solutions that include route planning, real-time tracking, and smart warehousing. They have transport and warehousing resources that span over 70 countries.
3. OmTrans Logistics Ltd.
Founded in 2008 by Ajay Singhal, they provide a complete range of services that include transportation services, brokerage and customs consulting services, warehousing, and distribution. They have offices and warehousing facilities across India. This includes both open and closed spaces that are equipped with state-of-the-art facilities in all major cities of India.
4. Jv Express Logistics Private Limited
JV Express is a logistics and supply chain company located in Dwarka, New Delhi. Founded in 2014, it provides its clients with reliable, time-bound logistics and supply-chain solutions. Their state-of-the-art technology platform and hands-on approach make them the fastest-growing teams in India.
5. Professional Logistics
Founded in 1998 by Rajkumar Poonia, they provide services like freight forwarding, warehousing, customs clearance, packing & moving, and supply chain. Their warehouses are equipped with advanced warehouse management technology, shop floor automation, world-class material handling equipment, sophisticated racking systems, and conveyor belts. Professional logistics have around 4.2 Mn warehousing space and 100+ large hubs to provide cost-efficient order fulfilment services to their customers.
6. Alpha KKC Logistics
Founded in 2004 by Krishna Chhabra, they have a strong worldwide network offering a multitude of services for in-bound & out-bound cargo. The company is a member of the ALPHA group, having its presence in Japan, Hong Kong & Mainland China for over 15 years. Their services include air and sea freight, intermodal freight, LCL consolidation, customs brokerage, warehousing & distribution, events & exhibitions logistics, and supply chain management.
7. Ocean Pride Logistics India
Founded in 2010 by Virender Verma & Chandan Sharma, their services include sea freight, air freight, transport services, chartering & ship broking, custom clearance, and RORO services. The company is client-focused and offers customized services.
8. Agarwal Packers and Movers
This Delhi-based logistics company specialises in custom packaging and transport. If you are a niche eCommerce business selling pottery, handmade home decor and other fragile products, they are the service provider you should work with.
9. Ecom Express
Ecom Express focuses on eCommerce logistics supporting small businesses, resellers, retailers and wholesale businesses in delivering orders to the best standards. Their services bridge the last-mile gap in delivering orders. They support reverse logistics and improve the overall capabilities of eCommerce businesses to engage customers.
10. Allcargo Logistics
This logistics company has a global footprint and helps businesses move their merchandise to any part of the world or local pin codes. A popular service provider, Allcargo Logistics enables businesses from industries such as FMCG to automotive with fast-paced delivery and shipping support.
Factors to Consider Before Choosing a Logistics Company in Delhi/NCR
Before choosing a logistics service according to your business needs, ensure the following basic criteria are met.
Expertise level
Every business deals with different types of goods. The methodology of handling, packaging, storing and transporting goods will also differ accordingly. A certain logistics company may specialize in handling only a specific type of goods. Therefore, for better efficiency in logistics, it is ideal to select the logistics company based on the type of cargo to be handled.
Coverage area
Various logistics companies may have different coverage areas based on their size and experience. It is desirable to go for a logistics company that will cater to the needs of the customer in an ideal way. Many times a large logistics company may not be able to customise to the needs of a smaller customer, thereby leading to dissatisfaction. Hence it is good to select the logistics company based on the coverage area and additional resources available with the logistics company.
Financial stability
Logistics plays an important role in the cost of the product of the company. It is important to assess the financial strength of the logistics company before partnering with them. If there are high costs involved in the logistics and the finances will be paid by the logistics company first and then reimbursed by the customer, it will be of benefit to the customer. Customers will choose such a logistics company as their preferred choice.
Customer service
The logistics company should be able to provide effective customer support throughout the process till the goods are received by the end user. It is important that the customers are notified about each step of the transport to improve customer experience and ensure customer satisfaction.
Insurance coverage
It is important that the cargo transported is insured in the event of unforeseen calamity or damage during transportation. Most logistics companies offer insurance coverage but ensure that they cover the entire value of the shipment and also cover damage caused to the cargo while moving through transit.
Adoption of technology
Logistics has evolved and become more digitised with the advancement of artificial intelligence (AI) and machine learning (ML). Real time of the various steps, right from pickup of cargo to delivery to the ultimate user, can be monitored using technology. This leads to effective integration of supply chain management to provide transparency and visibility of all steps in logistics operations. It is advisable to partner with logistics companies that have adopted new technology.
Price
One of the deciding factors for choosing a logistics company is its pricing. A pricing strategy that is transparent, easy to understand, and clearly explains what factors influence the final price of their services would help to make the best decision for your business.
Why You Should Partner With Shiprocket for Your Logistics Needs in Delhi
Founded in 2017 by Saahil Goel, Gautam Kapoor, Vishesh Khurana & Akshay Ghulati, Shiprocket is one of India's largest tech-enabled logistics and fulfillment platforms catering to the eCommerce sector of India. With their tie-ups with multiple courier companies, e-tailers can control their orders and day-to-day operations, optimize shipping, tracking, and much more from a single platform. With around 220k+ shipments daily, Shiprocket enables eCommerce businesses to make shipping easy with the best possible shipping rates, wide reach, and best customer service.
Conclusion
All the above-mentioned logistics services in Delhi have carved a distinct niche for themselves in the market based on their experience and expertise. Using the services of logistics companies, businesses can plan and execute their logistics well. These logistics services in Delhi enable businesses to optimise shipment, ensure the fulfillment of orders on time, attain a competitive edge in the market, and ensure customer satisfaction.
Frequently Asked Questions(FAQs)
What are the criteria affecting the selection of logistics companies?
Various criteria like expertise level, coverage area, financial stability, customer service, insurance coverage, adoption of technology, and best price without compromising on the quality of service need to be looked upon before selecting the logistic company that suits your business needs.
Which are some of the best logistics companies in Delhi/NCR?
Some of the best logistics companies in Delhi are Glaucus, AWL India Pvt. Ltd., OmTrans Logistics Ltd., Professional Logistics, Shiprocket, Alpha KKC logistics, etc.
What is the importance of insurance in the logistics process?
Cargo insurance is important as there is no guarantee that the cargo will not be damaged in the event of unforeseen calamity during logistics. Most logistics companies offer insurance coverage but ensure that they cover the entire value of the shipment and cover damage caused to the cargo while moving through transit.
Calculate Your Shipping Costs Now