A Closer Look at Inventory Control
According to a report by statista, 25% more retailers and manufacturers are investing in better warehouse management technology. In an uber-competitive eCommerce space, you must always be on the lookout for new techniques to optimize your fulfillment processes.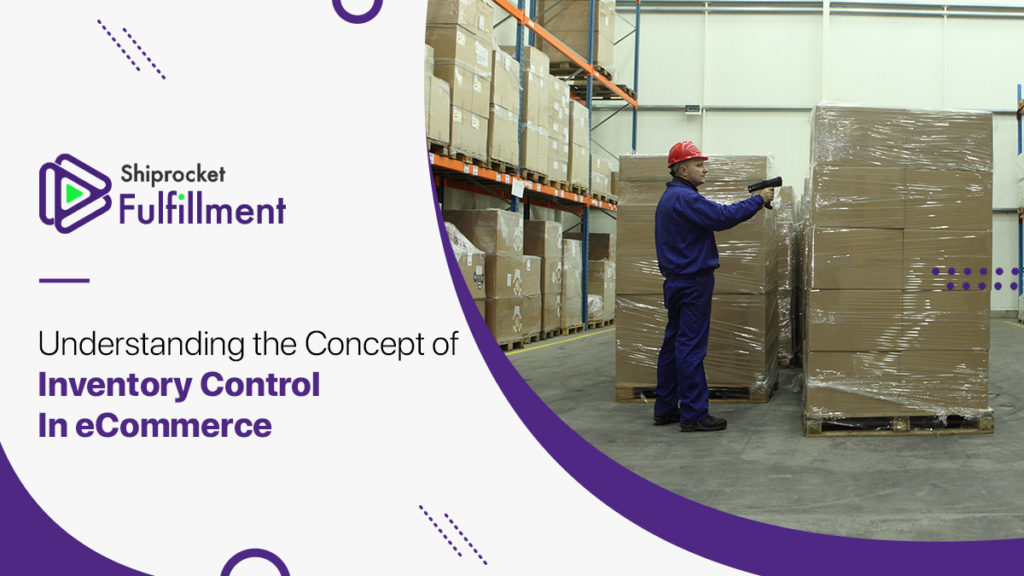 Most eCommerce companies are now investing in technology to ensure efficient operations. Inventory is a critical aspect of your fulfillment chain. Hence, you must invest in proper warehouse inventory management to ensure that your products are processed and shipped on time. To understand the better maintenance of warehouse inventory, let's look at inventory control.
Understanding the Concept of Inventory Control
Inventory control refers to the process of managing the entire warehouse inventory using extensive technology and techniques. You may wonder how inventory management is different from inventory control. Even though both terms are used interchangeably, inventory control is more specific to a warehouse. Inventory control of a warehouse makes use of techniques like barcode scanning integration, reorder reports, product details, histories, and locations, bundling and getting, order and inventory sync, etc. Inventory management refers to a more extensive process wherein details like inventory sourcing, storage, and processing are involved. Inventory control is a part of the more extensive centralized inventory management process.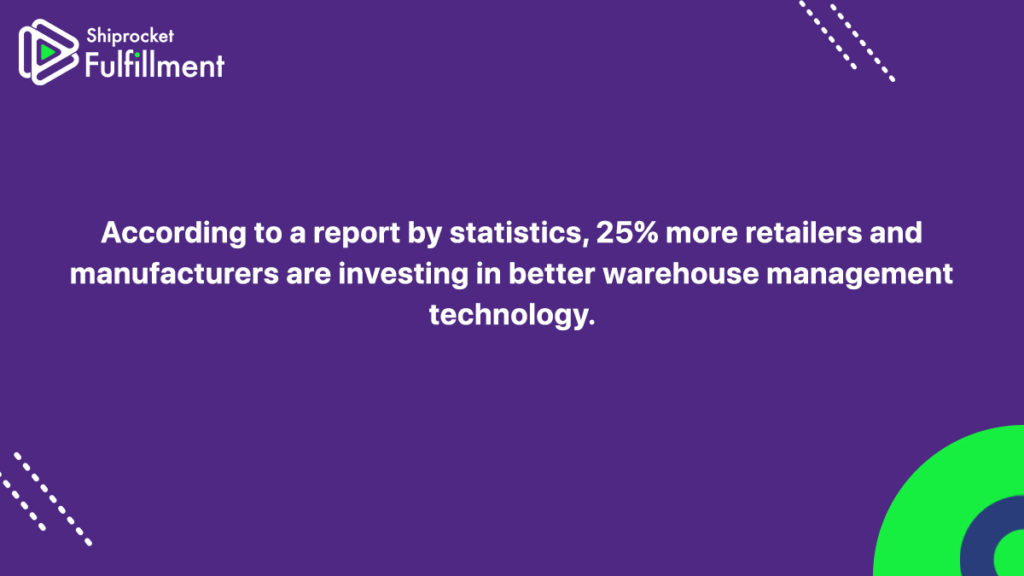 Why is Inventory Control Relevant?
Improved Cash Flow
Inventory control in a warehouse can help you prioritize your inventory and store fast-moving items, and bring in the most profits. You can buy your stock based on its pricing and sell it accordingly. This ensures that your cash flow is maintained, and you do not want to overstock inventory that causes you extra loss in maintenance costs.
Avoid Stock Out
It often happens that customers see the products out of stock while they're browsing for something on the website. And this leads to a bad customer experience, and it is a high probability that the customer will not return to your store or abandon it immediately. Inventory control lets you analyze the existing stock and reorder within time. This helps to avoid an inventory stock out so that your orders are not delayed, and your customers have a delightful shopping experience on your website.
Faster Order Processing
Optimizing inventory control in your warehouse will help you process orders faster as you will know the exact location, quantity, and other details of all SKUs. This will give you much better control over your inventory, and you will be able to pick, pack, and ship orders within half the time.

Optimized Resource Allocation
If you do not manage your inventory appropriately in a warehouse, there is a chance that you will be stocking up much more than what is required. This way, all critical resources like capital, labor, and time will be distributed between managing the overstock and incoming orders. With proper inventory control in place, you will optimize your resource allocation and prioritize the operations that need maximum attention.
Increased Profitability
As orders move out faster from your warehouse, you will make a more significant profit sooner and ensure repeat purchases from customers. They will have a positive shopping experience on your website. The entire fulfillment supply chain has a direct impact on the customer's experience. Therefore, inventory control being the first process of your fulfillment supply chain, you must practice it appropriately to ensure maximum profitability for your business.
Inventory Control Formulas and Processes
Economic Order Quantity (EOQ)
Economic order quantity or EOQ refers to the optimum amount of event inventory that must be purchased to minimize the storage and ordering costs.
The variables you need to know to calculate the economic order quantity or annual fixed costs(D), demand in units(K) and carrying costs per unit(H).
The formula for calculating the economic order quantity is as follows –
EOQ = √(2DK / H)
or the square root of (2 x D x K / H)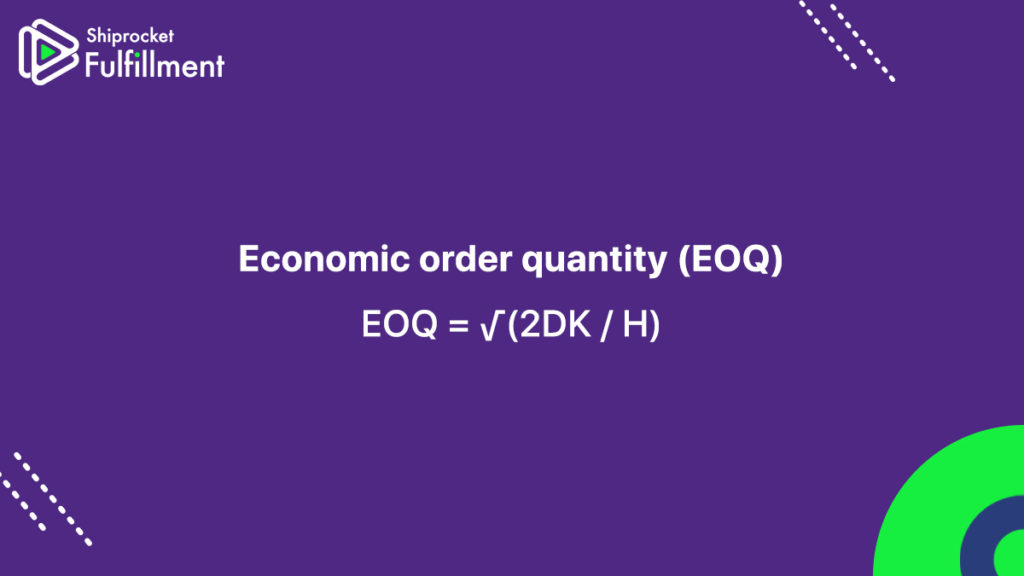 Reorder Point Formula
The reorder point formula refers to the right time to order more inventory. It is used to determine the correct point where you must restock your inventory. It requires the lead time demand in days and safety stock in days. The formula is as follows –
Reorder point = lead time demand + safety stock.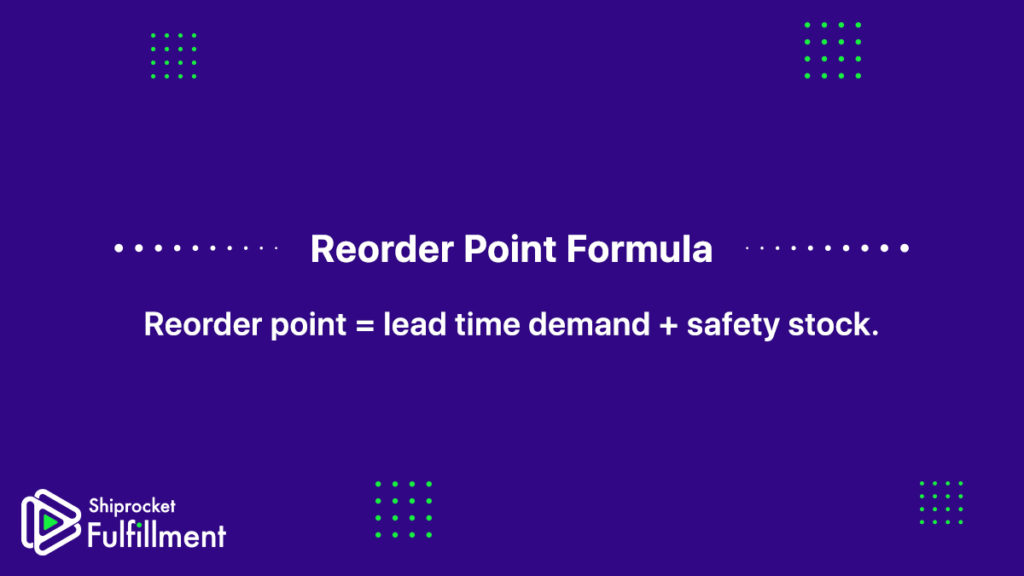 Quality Control
Quality control is an integral aspect of inventory control, as every process has an impact on the entire inventory control output. You must have quality standards set in place that match your suppliers to follow all the steps of quality control appropriately. This will help you ensure the long-term quality of your products and your operations and establish standard operating procedures with your suppliers and staff.
Organizational Control
Lastly, another critical prudent of inventory control is administrative control. You are in Mantri inventory must be appropriately organized to ensure that all the labels are understandable by every staff member. The stock's organization must be such that it is accessible by all. You must apply the correct inventory tracking system to keep track of all the movements within your warehouse. Organizational control helps establish a uniform structure concerning inventory control.
Best Practices for Inventory Control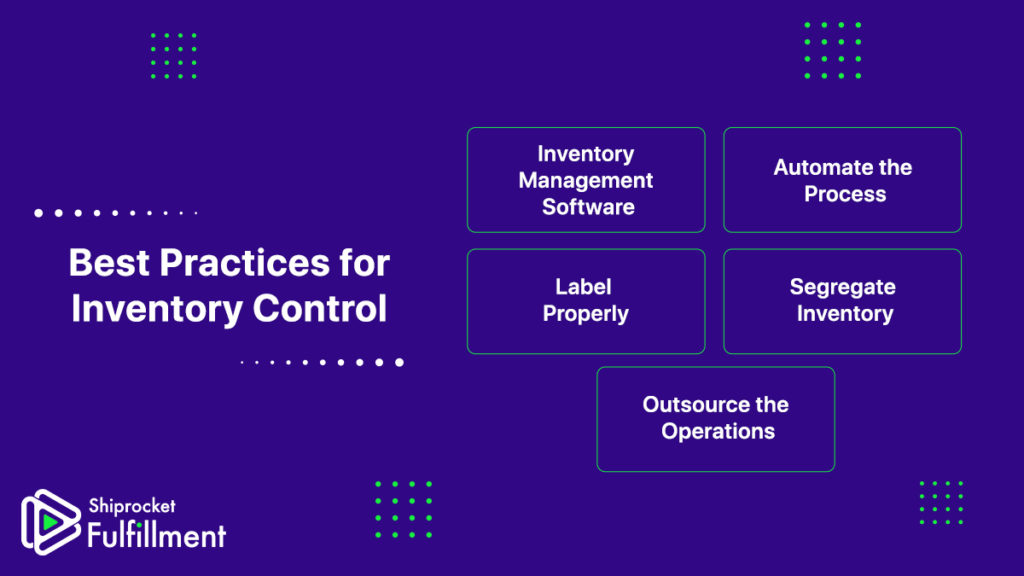 Inventory Management Software
An inventory management software can help you centralize the inventory control operations so that you can take care of the movement and track all your SKUs from one place. The inventory management software will also help you integrate and synchronize with order management tools and gives you greater control over your eCommerce business. It will also help you forecast your inventory demand based on sales and current trends.
Here is a list of inventory management software that will be ideal for your business.
Automate the Process
Inventory automation is being considered seriously in many eCommerce businesses. Since it is an exhaustive and time-consuming task, you must automate the process to save you time and resources. Once you automate the process, you will also get real-time analytics that will help you make much more informed decisions with rich insights.
Label Properly
Make sure that all SKUs are labeled with the correct barcode and codes. This will help in easier tracking identification, and you will be able to locate your inventory much faster with the correct labels. With the right labels and codes, you will maintain the sync between the warehousing system and inventory and process orders more quickly.

Segregate Inventory
Segregate your inventory based on priority and sales. This will give you an idea of the items that need to be prioritized and those being overstocked. Proper prioritization will help you restock and process orders faster.
Outsource the Operations
Inventory control can be a daunting task if you take up the entire responsibility yourself. If you feel your business is growing fast and cannot keep up with the inventory and warehouse management, it is time to outsource 3PL fulfillment providers. A 3PL full payment provider like Shiprocket Fulfillment will help you manage inventory, store products, and ship your incoming orders. It can help you allocate the right resources in time towards your business and be a cost-effective fulfillment option.
Conclusion
Inventory control is an integral aspect of inventory and warehouse management. Make sure you understand the process thoroughly to optimize it to the best of your business. We hope this article helped explain what inventory control is and how you can apply it to your eCommerce business management.
Calculate Your Shipping Costs Now