Definition of Inventory Stock Out and How to Avoid it
A customer visits your online store looking for a product he wanted to buy for a long time, only to find that the item in your store is OUT OF STOCK! While it is a massive disappointment for the customer, it will have grave repercussions for your eCommerce business. The customer will either choose another brand or decide not to make purchases from you in the future. Because, who wants to wait, right?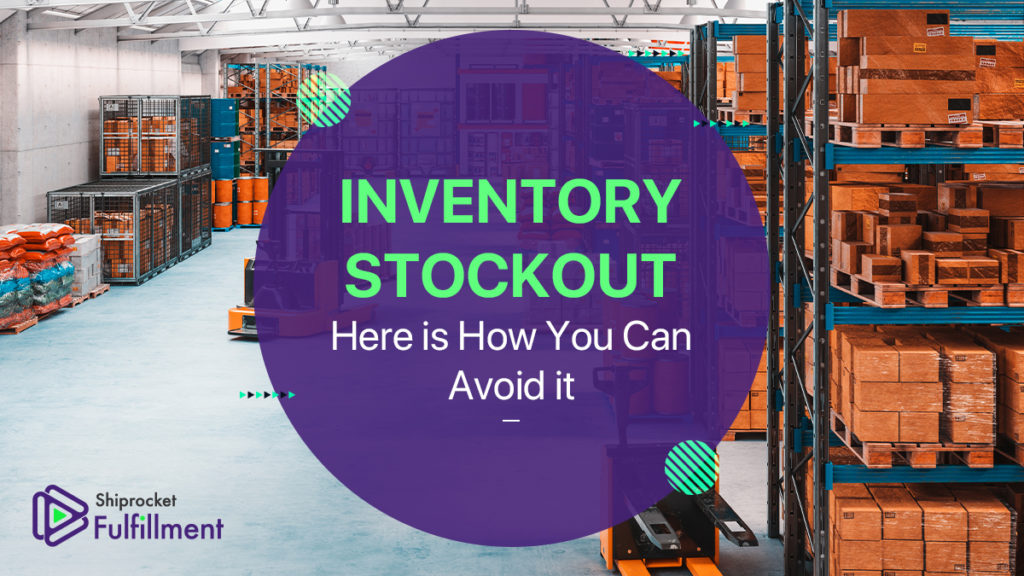 This is precisely why it is essential to avoid stockout situations for your business, as it harms your revenue and your brand's reputation immensely. When a buyer visits your online store, he often comes intending to look for a specific item of his choice that he can buy right away. By ensuring that the things are in stock, you save your brand image and boost your potential sales chances.
Let us dive deeper into the concept of stockout, how it can harm your business and the steps you need to avoid a stockout situation-
What is Stockout?
As it sounds, stockout is referred to as the phenomenon where business runs out-of-stock of its inventory. It is the term used to describe how the stock is currently unavailable for customers to shop. In physical stores, a stockout is missing inventory on the store's shelves. In contrast, in eCommerce stores, stockouts are much more frustrating for customers as there is no visibility when the items will come back in stock for them to purchase.
Causes of Stockouts
While the consequences of a stockout situation are customer dissatisfaction and sales loss, multiple factors can contribute to stockouts. Let us take a look at what causes stockouts in the first place-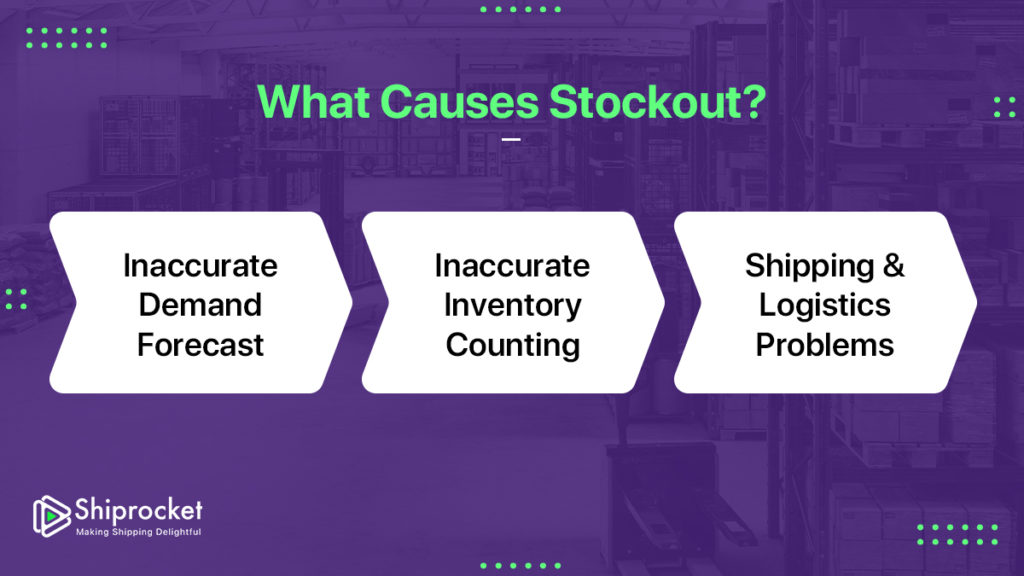 Inaccurate Inventory Counting
Inventory counting is monitoring what is in stock by taking an actual count of all the items. The primary purpose of inventory counting is to stay up-to-date on how much capital you have in hand and where it is located if you have multiple warehouse locations. Read more about inventory counting here.
Now, one of the most common causes of a stockout situation is inaccurate inventory counting that happens when the actual on-hand inventory is different from the count of inventory recorded in the inventory system. Some of the primary reasons causing incorrect inventory counting are-
Shrinkage – caused due to either shoplifting or theft, fraud from the supplier's end, damaged stock, or administrative mistakes.
Human error is one of the major contributing factors to inaccurate inventory counting, especially during festive periods when the eCommerce businesses' workload is much higher than the usual periods.
Misplaced inventory – Inventory gets misplaced when items are receipted into stock then placed in the wrong aisle, shelf, or bin in the warehouse or fulfillment center.
Inaccurate Demand Forecasting
Inaccurate demand forecasting or underestimating consumer demand is one of the major causes of stockouts. This situation mostly occurs in times of festive seasons, when customers buy practically anything and everything they want. While businesses will always keep their most popular stock in stock, many do not re-stock their popular items when most needed and allow those products to sell off because of improper demand forecasting.

Suppose a business is unable to forecast the demand for a specific product. In that case, customers will always end up returning from the store, disappointed when he comes across an 'out-of-stock' merchandise. Apart from inaccurate demand forecasting, inaccurate reporting is also another major cause of a stockout situation. Just imagine receiving wrong or missing data in your sales reports – it will lead you to wrong decision-making when repurchasing your stock.
Shipping and Logistics Issues
We all know how important shipping and logistics is for a business. Exactly how employees of a warehouse can misplace items, a wrong shipment can be delivered to a customer by your shipping and courier partner, ultimately leading to misplaced inventory.
Also, a shipping provider's manifest might say that the shipment is on the road for delivery, when, in reality, it is still waiting to be processed in a warehouse or fulfillment center. Just magnify this issue across lakhs of items that are due to be shipped, and it will become easier to see how important it is to have the right logistics partner who will ensure you never face any of these problems.
If these problems persist with your current logistics partner, it's time for you to switch to a 3PL like Shiprocket and reduce the chances of stockout situations caused due to shipping mishaps.

How Can Stockouts Harm your Business?
Stockouts can be extremely harmful to your eCommerce business, as it directly impacts your customers. Imagine your customer looking for a product that he likes in your online store, and finds out the product to be 'out-of-stock' at checkout. While he will be extremely frustrated, it will lead to a lost sale for your business and harm your brand's reputation in the long-run. Here are a few ways how stockouts can hurt your business-
Negative Reviews
We know how critical customer reviews are for a business. Nowadays, no one purchases an item without checking out the reviews first. Therefore, stock-outs-induced negative reviews from your customers can be extremely harmful to your business, as potential customers will see these reviews and make a wrong impression.
If your customers see your products to be out-of-stock almost regularly, they will leave negative reviews on either your website or on any other marketplace where you sell your items. Do you know who benefits from these negative reviews? Your competitors. They will get an idea of what is not working for your business and capitalize on the same. This takes us to the next point-
Customers Migrating to Competitors
In an ever-increasing online marketplace, customers are always bombarded with options to shop from if they do not find your online store reliable. If you have a stock out of the situation, your customers will most likely visit your competitor's store with the item in stock and probably will make a purchase.
Customers typically go through a poor shopping experience once they come across an 'out-of-stock' tagline for their favorite items. According to a report, around 91% of customers are no longer willing to engage with a store that caused them a bad shopping experience. This causes you to lose out on potential customers.
There is one way that can save you from losing out on potential customers – back-ordering. While putting up an 'out-of-stock' display for your items, provide your customers with an estimated time to return to your store to purchase the item again. You can read more on back-ordering and how to do it correctly here.
Missed Sales
When a business does not have what a customer wants, you lose out on a sale. A lost deal means lost revenue. A company is in business to profit and lose revenue because not having enough stock in hand is considered a sin in inventory management. The primary cause of stockouts is poor inventory management. Therefore, accurate inventory counting, precise demand forecasting are essential to avoid stockouts.
How to Prevent Stock Outs for your Business?
Avoiding a stockout situation is extremely important, especially for all the D2C brands. Given the behemoth of options, your customers can shift to your competitor within seconds if they don't find the desired products on your website. Therefore, you must prevent stockouts for your business.
Proper Demand Forecasting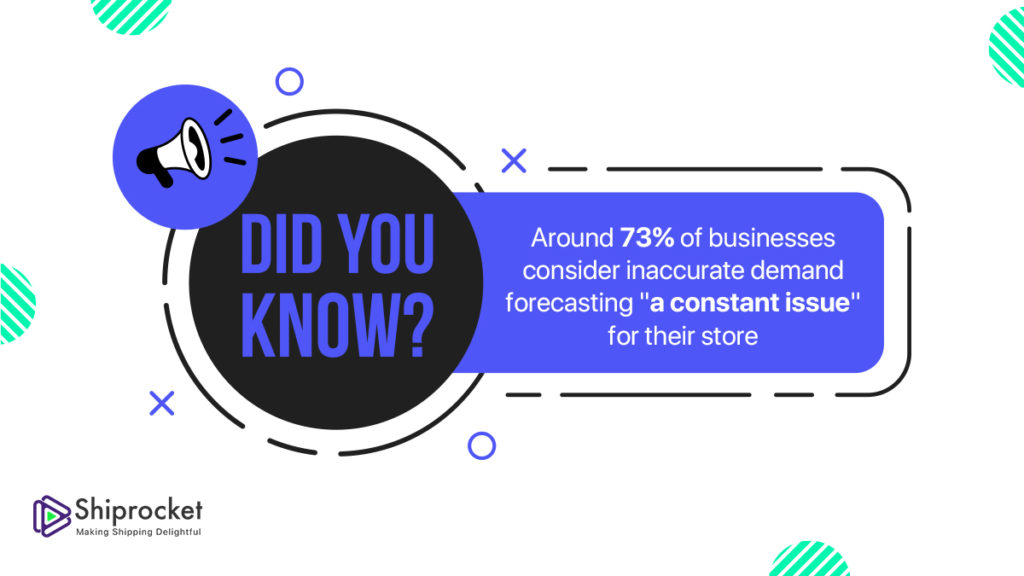 According to a report, 73% of businesses consider inaccurate demand forecasting "a constant issue" for their store. Therefore it's essential to predict customer demand accurately. One of the most important things for businesses to follow when preparing demand forecasting is the lead time or the time between placing an order for new products and receiving those items from a supplier.
Calculating lead time can help businesses plan for busier seasons, such as the festive seasons. However, stores run the risk of stockouts if they fail to take lead time demand into account. Lead time demand refers to the need for specific products during the lead time for a resupply order to arrive.
Calculating the lead time demand is quite simple. To calculate lead time demand, the business owner can multiply the average lead time in days by the average number of units sold per day. The result is the lead time demand.
Another factor for retailers to consider when predicting anticipated demand for specific products is "safety stock" or the amount of stock a retailer has on hand to act as a cushion against unexpected surges.
Inaccurate Data
Having inaccurate data is one of the most common reasons why most businesses have inventory stockout situations. Inaccurate data can occur due to the following reasons:
Physical count
Data entry
Receiving orders from vendors
Theft
All these reasons are preventable with the help of automation. One of the best ways is cycle counts. It is a proactive approach that helps you keep the inventory levels in check. It will also help you know in advance about the shrinkage and inventory theft.
Reordering on Time
Timing is everything in a business. So, reordering inventory at the right time is crucial. For this, you require data and historical sales report that provide you with an insight into the sales trends and spikes. Forecasting inventory is a crucial step where you must pay close attention to the sales trends within different product categories.
Employee Training
A lack of employee training can lead to errors during different steps of the inventory management process. Even a little mistake by your employee can lead to bigger blunders. Employees are the biggest assets of a business, and they represent your business. That is why employee training becomes all the way more important. Provide them training about your system works and all the processes and procedures involved in it. They must know how to overcome problems efficiently.
Invest in an Effective Inventory Management System
While forecasting the future customer demand is one aspect of inventory management, you also need to ensure that the right inventory levels are available to meet your customer needs. With the right inventory management system in place, you will positively impact your entire order fulfillment process, starting from lesser delays in order processing to happier customers.
You can either invest in an Inventory Management Software or store your inventory with a tech-enabled 3PL such as Shiprocket Fulfillment that will provide you with a highly efficient inventory management tool and secure and robust order fulfillment services business.
Final Say
It would help if you made preventing stockouts the priority for your eCommerce business. Focus on optimizing your supply chain, invest in inventory management, and, last but not least, partner with a tech-enabled platform like Shiprocket Fulfillment, where you will be given the right tools to support your business.
Calculate Your Shipping Costs Now