Why is Logistics India's Next Goldmine?
If there's one thing that we've learned from brick and mortar stores, customers love to shop. While customers continue to go to these stores and make purchases, the digitization wave revolutionized the industry. Entrepreneurs learned to leverage customer's purchase habits and bring the experience of retail to their doorsteps. This served two purposes- on the one hand, customers got a heightened level of shopping experience while on the other businesses could save the costs of setting up a store and hiring staff for its maintenance. This convenient digital shopping experience became so popular with time that the world witnessed nearly 1.8 billion people purchase goods online. Since then, this number has only been on an exponential rising spree.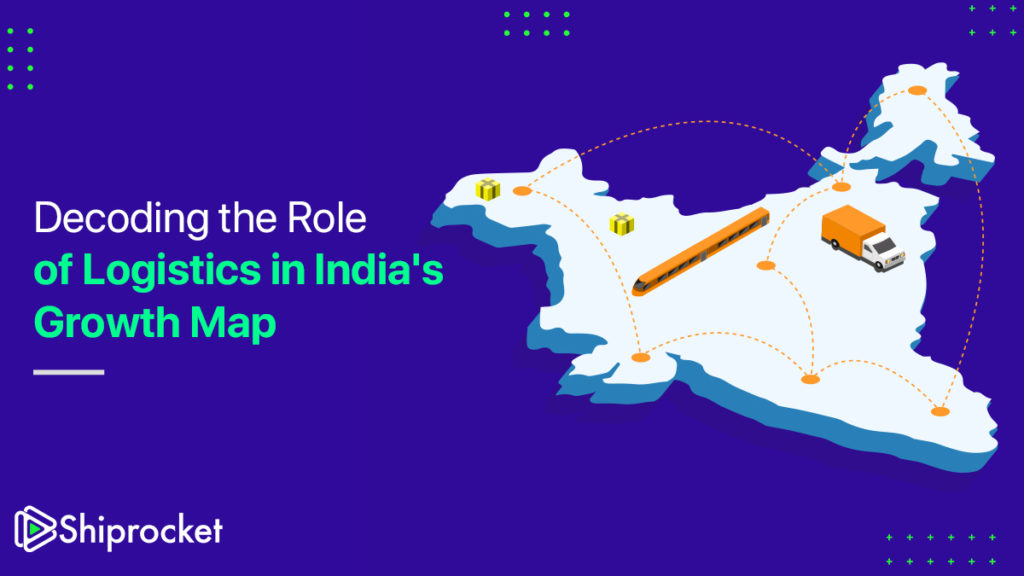 Businesses capitalize on this fact and use it to introduce themselves to their customers and reach out to even more customers. Put differently, a business today isn't constrained by a geographical area. They can reach out to potential markets anywhere across the globe and make the most of their business. Thanks to globalization, business ease has increased, drawing in several opportunities for small and medium eCommerce businesses.
In Indian eCommerce, there is one industry whose contribution towards globalization has been the greatest. We're talking about the logistics industry and the dynamic ways it has opened the doors for Indian eCommerce. Be it the emergence of local courier companies, expansion of services to greater pincodes, and the availability of various shipping services at low costs. The Indian picture of the logistics industry is on a never seen before growth trajectory.
While there are many factors responsible for this scenario, we can't ignore the underlying challenges. Let's take a look at all the elements and disruptors that are causing an impact on the logistics industry and, ultimately, the Indian economy.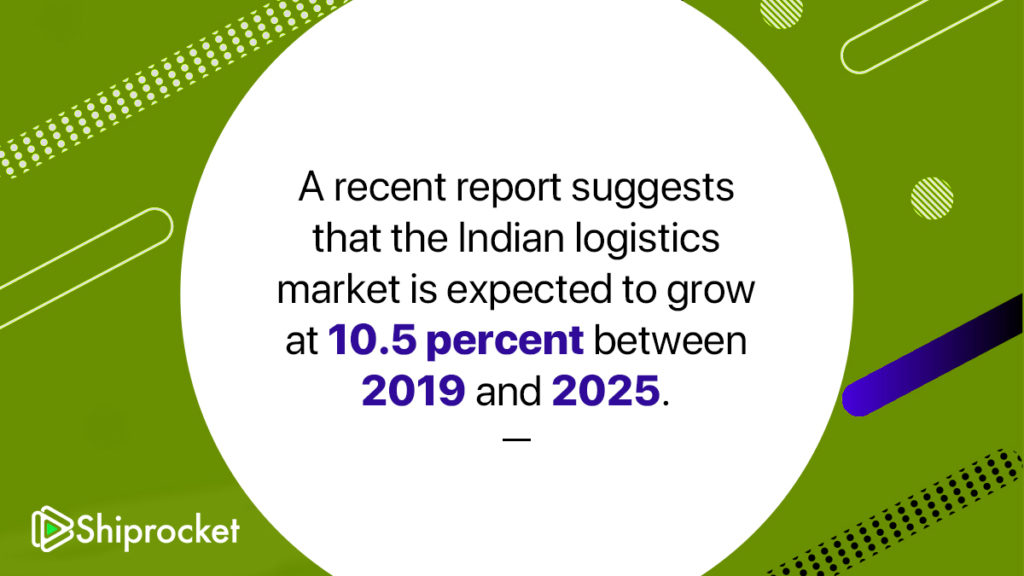 Growth Opportunities
Many factors have influenced the rise of the logistics industry for India. Be it changing customer behaviors, favorable government policies, new taxation systems, infrastructure provisions, and a paradigm shift in the service sourcing strategies. The Indian logistic industry has found numerous growth opportunities over the years, yielding some positive results for it.
A recent report suggests that the Indian logistics market is expected to grow at 10.5 percent between 2019 and 2025. This number is sure to get an impact, considering the current COVID-19 pandemic situation. Nonetheless, we can't deny the opportunities it brings with it. Before we talk about it, let's briefly take a look at the critical areas of growth opportunities-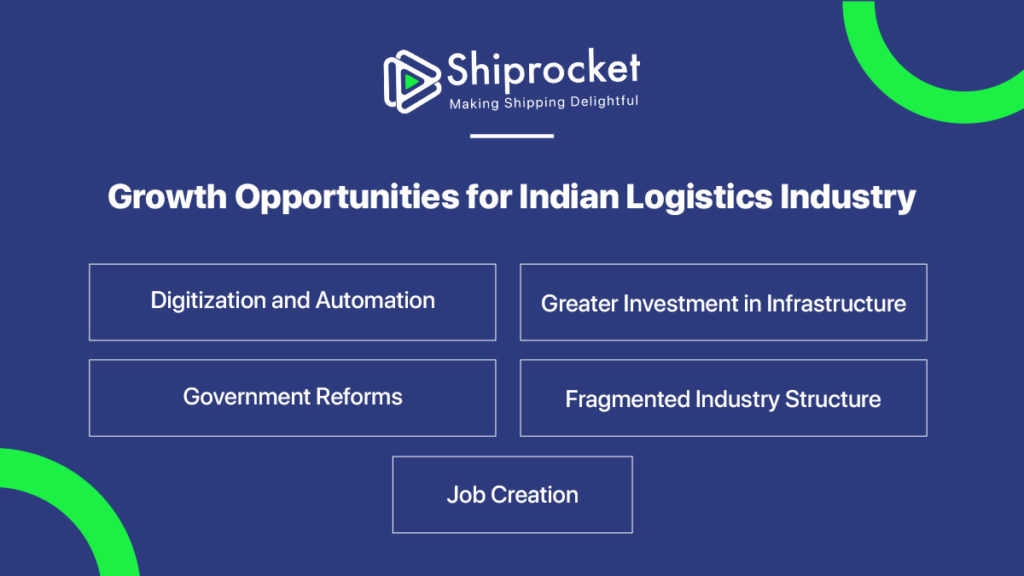 Digitization and Automation
On a global scale, digitization has changed the outlook of more than a few industries as a whole. Several services that were slave to pen and paper are now entirely digitized, creating a convenient atmosphere for the businesses and their customers to co-operate and build a relationship. In the logistics sector, digitization significantly improves efficiency and performance in freight management and port operations. Similarly, the cumbersome tasks at a warehouse's end, including inventory management, return management, and other operational nuances, are being automated. On the one hand, this is paving the way for ease of working in the logistics industry, while on the other side, inspiring other businesses to step into this field.
Greater Investment in Infrastructure
Investment in infrastructure is one of the biggest growth enablers of the logistics industry right now. Be it development in the transportation sector, government reforms, growing retail sales, more excellent last-mile connectivity, or interest in emerging technologies. All of these are streamlining logistics operations. Statistics suggest that the public investment united with consumption and industry evolution will drive the logistics sector's growth valued at INR 14,19,000 crore.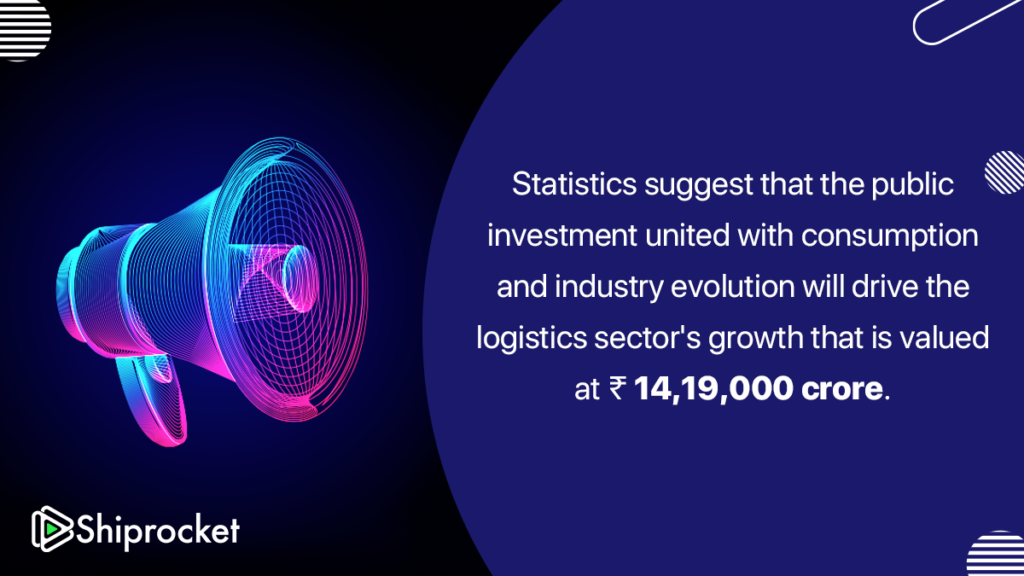 Not only this, but the development of retail and agri-processed industries, FDIs in automotive, capital goods, electronics, and retail will also present outstanding market opportunities for third-party logistics providers. Indian logistics market's 2020 report suggests that the port capacity is expected to grow at a CAGR of 5-6% by 2022. This would mean adding a total of 275 to 325 million tons. Similarly, the railways increase its freight capacity to 3.3 billion tons in 2030 from an earlier 1.1 billion in 2017.
Government Reforms
Several government reforms boost the logistics sector, giving small and medium businesses a huge opportunity to expand their services to their target customers. Logistics is granted the status of infrastructure; the E-Way bill is introduced along with GST implementation. All of these are streamlining the industry. More to this, the government has also set up a logistics division under the Department of Commerce and initiate technology updates, developing dedicated freight corridors and logistics parks, etc. which is ultimately upgrading the country's logistics landscape.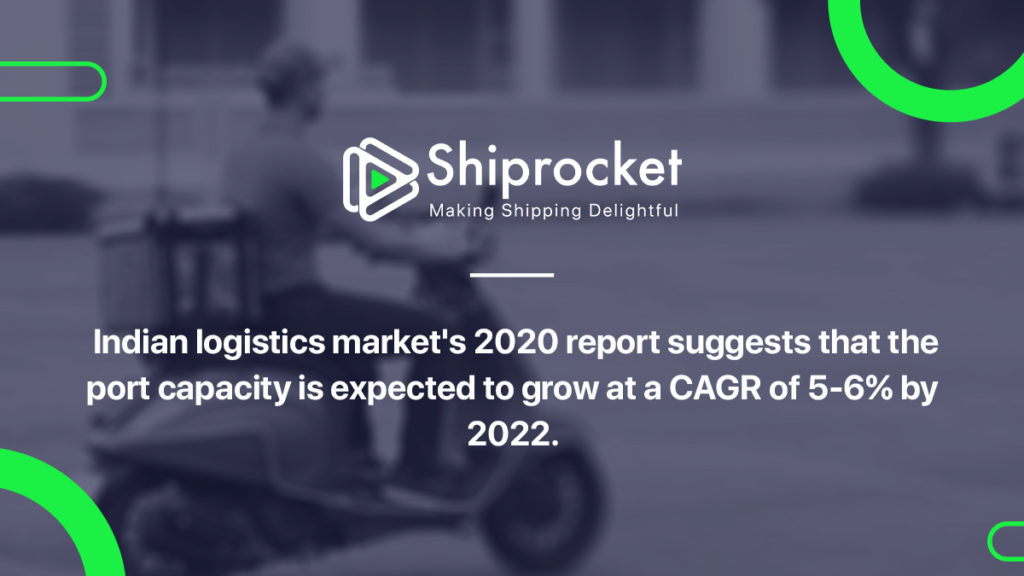 Fragmented Industry Structure and Consumer Market Growth Paving Way for 3PL Logistics
If there's one thing that we can infer from the Indian logistics market, it is that the industry is mostly disorganized. The transporters with fleets smaller than five trucks account for 80 percent of the total revenue. Put differently; these small fleets make up almost two-thirds of the total vehicles owned. Overall, the entire logistics industry can be broken down into bits of intermediaries and brokers who cater to local shipping requirements.
The income is being distributed to farther geographical locations in India, leading to the expansion of consumer markets beyond the five metro cities. It is resulting in a direct increase in the competition among businesses. Everyone wants to reach out and cater to the needs of customers in those areas. Therefore, to lower the costs and retain their focus on the eCommerce industry's core competencies, businesses are outsourcing logistics. This is directly creating paving a path for the emergence of third-party logistics service providers.
Job Creation
One of the most significant economic impacts of the logistics sector has been concerning job creation. The logistics sector's large scale investment aims to bring down the costs from 14.4% GDP by about 2 percent. This will impact the sub-sectors and stimulate the growth of jobs in the industry. Statistics indicate that a rise in the 3PL service providers, high infrastructure investments, and evolving policies and reforms are all set to create 1,89 million incremental jobs in the road freight and as many as 40k in the rail freight sub-sectors.
Major Challenges
Despite a great deal of improvement and introduced reforms for the Indian logistics sector, there is still a massive lack of supporting infrastructure. For example, over 70 percent of freight transportation takes place via roads in India. On the other hand, national highways form only 2 percent of the entire road network but handle over 40 percent of the freight traffic over the whole nation. Therefore, this puts a significant burden on the infrastructure of the highways.
In addition to this, there are 12 major ports in India responsible for freights and are currently handling the volumes many times their existing capacities. As a result, an immediate increase in the turnaround time of the shipments and pre-berthing delays is observed. Comparing it to our East Asian counterparts, pre-birthing delays and TATs are much higher in the Indian logistics sector.
Moreover, despite the penetration of automation in many sectors, the Indian logistics industry still has a lot of dependence on the manual workforce. High manual interference creates a room for delayed processes and minute errors, ultimately impacting the customer's end experience.
Goldmine in Changing Times!
While the global pandemic has led to several economies' downfall, it has also shaken the eCommerce businesses to their core. But, even as lockdowns are eased, moving forward, social distancing will become the new normal. Customers will prefer getting goods delivered to their doorstep rather than waiting in queues in retail stores. Thus, hyperlocal models will become fiercer. More to this, SMBs will avoid setting up their warehouses and outsource fulfillment and logistics to the 3PL providers. There will be an emerging necessity to analyze any inherent risks in the direct supply chain that might potentially impact the end customer's experience. Being aware of the prevailing situations will help businesses plan and prepare themselves more robustly.
As a 3PL courier, hyperlocal, and fulfillment service provider, Shiprocket is closely monitoring the risks and disruptions brought in the supply chain and logistics industry. With a strong foundation, we are taking all the necessary measures to promote safe and reliable deliveries. This will help eCommerce sellers recover from the COVID-19 losses asap and hand-hold them to capitalize on the buyer purchase trends in the future.
Calculate Your Shipping Costs Now