Pickup and Delivery Updates
Update: Pickup & Deliveries to be Impacted Due to Night Curfew & Lockdown in Several States & Union Territories Across the Country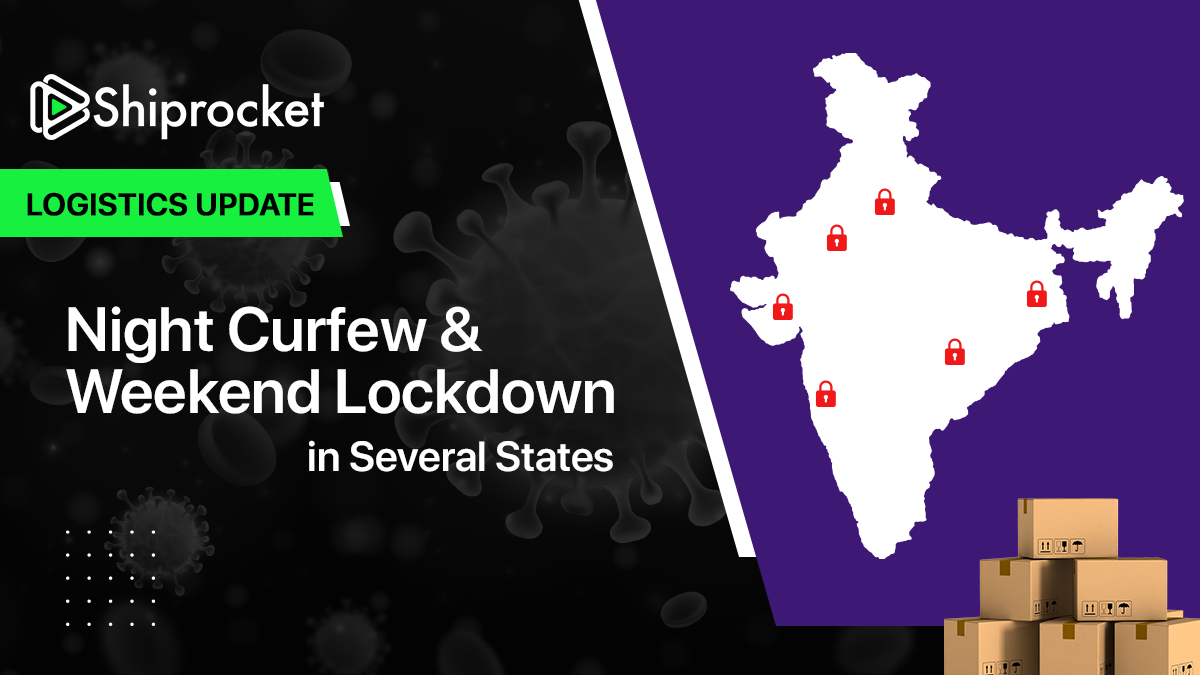 The COVID-19 cases in India have hit a grim milestone on Monday, April 22, 2021, when it recorded over 3 lakh new COVID-19 cases in a single day. Now, coming into action, governments of many states have imposed a strict night curfew, weekend lockdown, and lockdown.
Here's the list of states and cities that have a curfew, night curfew, or lockdown imposed:
Important Points to Know
All courier operations, including pickup and delivery, will be restricted to 6 PM in many states. Thus, there can be a delay in pickup and delivery.
We expect hub connection time to be delayed by 1 day because of night curfews.
Pickups and deliveries will be affected because of multiple restrictions in these states.
Unlock With Restrictions in Several States
After the deadly second wave, things have started to normalize as many states are now witnessing a decline in COVID-19 positive cases. Thus, many Indian states have now started to unlock but with a few restrictions in place. However, a few states are still under strict lockdown or night curfews.
As a result, the pickup and delivery of items in many states will be affected. We would like to bring to your notice the following guidelines as issued by our courier partners and the state government.
Pickup is allowed for both essentian and non-essential items in all the states. However, delivery of only essentials is allowed in Maharashtra, Kerala, Haryana, and Assam. Delivery of both essentials and non-essentials is not allowed in Mizoram.
Please ensure proper product names with categories are updated when you create your shipments in the Shiprocket panel so that the Invoices & Shipment Labels can display the same adequately.
Please ensure GST-compliant Invoices are placed in the shipments so that your essential shipments do not face any hiccups during the transit and Last-mile deliveries*
List of Essential Items You Can Deliver –
Fresh Fruits and Vegetables
Grocery Items –

Pulses
Rice
Wheat flour
Grains
Spices
Dairy Products

Medical Equipment –

Thermometers
Diabetes meters
Gloves
Sanitizers
Masks

Medicines –

Over-the-counter medicines
Prescription drugs

Personal Protective Equipment –

Face masks
Sanitizer
Gloves
*All liabilities or penalties, if imposed by authorities due to non-compliance, would be passed on to the sellers.
Note: Shiprocket's services will resume being normal in all the states that don't have any delivery restrictions in place. And in the states where the night curfew/lockdown is imposed, there could a delay in pickup and delivery by a day or two. You can always write to us at support@shiprocket.in to get all your queries resolved. Stay safe, stay happy.
Watch this space regularly as we will be updating all relevant information every day here itself.
#Indiafightscoronavirus
Calculate Your Shipping Costs Now