The Ultimate Guide To Online Trademark Registration In India
It's great having your own company, but building a brand is what requires real hard work. You put in a lot of thought to come up with a brand name and ways to establish your identity in the market. But all this effort will be of no use if you do not get it registered. A brand without registration is just an idea shared with the world. So going through the process, brand registration becomes imperative.

The question here is not if, but how!

How do you get your brand trademarked? Let's find out.
Before beginning with the process, it is vital to acknowledge the basics of brand registration, and it's importance.
What Is A Brand?
A brand could be anything ranging from a company name, product name, logo, etc. It must be an element that distinguishes your brand from others. Since this visual or name will eventually become the identity of your store, careful research and close eye to detail can help you go a long way!
What Is A Trademark?
A trademark is a distinct symbol or name used to represent your brand. Once registered under your name, it becomes your business's identity and cannot be used by any other company.
Types Of Trademarks That Can Be Registered In India
A name, personal or surname, of the applicant.
A coined term that does not directly describe the character of goods/service.
Letters or numerals or any combination thereof.
Combination of colors or even a single color in conjunction with a word or device
How To Register A Trademark For Your Brand?
Earlier, the trademark registration process used to be offline. Today, the process has been moved to an online portal and you can directly use the ™ symbol after filling an online form and providing all necessary details.

Following is the process for online trademark registration:

Search for a trademark

Before registering your brand, make sure your Trademark is not similar to an already existing mark. This can be done through the following link:

https://ipindiaonline.gov.in/tmrpublicsearch/frmmain.aspx
Here, every category of goods and services is divided into classes which are further divided into sub-categories.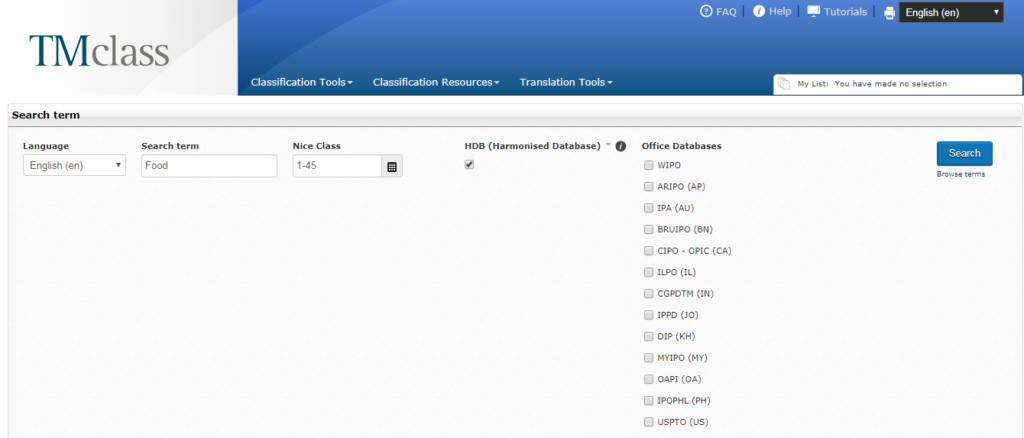 Choose the class you want to search for and enter the details accordingly.

Register for e-filing

Once you have finalized your Trademark, it's time to register it online. To do so, go to the following website:

https://ipindiaonline.gov.in/trademarkefiling/user/frmLoginNew.aspx
Here, you'll be required to register using your digital signature.

Begin the e-filing process
Once the search and registration are complete, you can begin filing for the trademark with the Trademark Registrar.

Ensure that you follow the process appropriately and have all the required documents in order.

Documents required include :

Copy of Logo (Optional)
Signed Form-48
Incorporation Certificate or Partnership Deed
Identity Proof of Signatory
Address Proof of Signatory
Following this, pay the online fees for trademark registration. Once your application is filed, you can begin using the ™ symbol.

Post this, your trademark registration application is in order and is classified as a new application. The trademark department reviews the application, and if it is correct on all grounds, it is marked for examination.
Examination Of The Application
The examination is carried out by the examiners of Trademark, and if they find all documents in accordance, they advertise the Trademark it in the trademark journal. This application can be refused or rejected under the trademark act, 1999. You will need to comply and clarify any objection within a prescribed period of days.
Publication in Trademark Journal

After examination, the mark is published in the trademark journal. The registry processes the application within four months of publication of the application. If there is any objection by a third party, a hearing process must be conducted to listen to the claims by both parties.

Registration and certification

After the publication of the Trademark in the journal, a registration certificate under the seal of the Trademark Office is issued. Once you receive a certificate, you can use a ® that signifies a registered trademark symbol.

The processing of your trademark application can take 18-24 months. Once registered, your Trademark is valid for 10 years. The Trademark can be renewed by filing a TM-R form and depositing the requisite fees.
Conclusion
Even though the registration process can be time-consuming, it is a must if you want to run your business to its zenith. Also, the government is making various provisions for small, medium, and large enterprises. So, don't delay this process any further and apply for a trademark today!

Calculate Your Shipping Costs Now