Product Highlights From September 2021
At Shiprocket, we are constantly working towards improving our customer experience with regular product updates. Our primary aim is to help you run your business smoothly and ensure that your products reach your customers on time at the lowest cost.
Last month, we equipped our platform with the latest features to make shipping more accessible. This month, we have added a new design, features, and made some improvements to our panel. Let's now take a look at the updates and how they can help your business.
Direct Ship – Assign Courier Automatically in One Click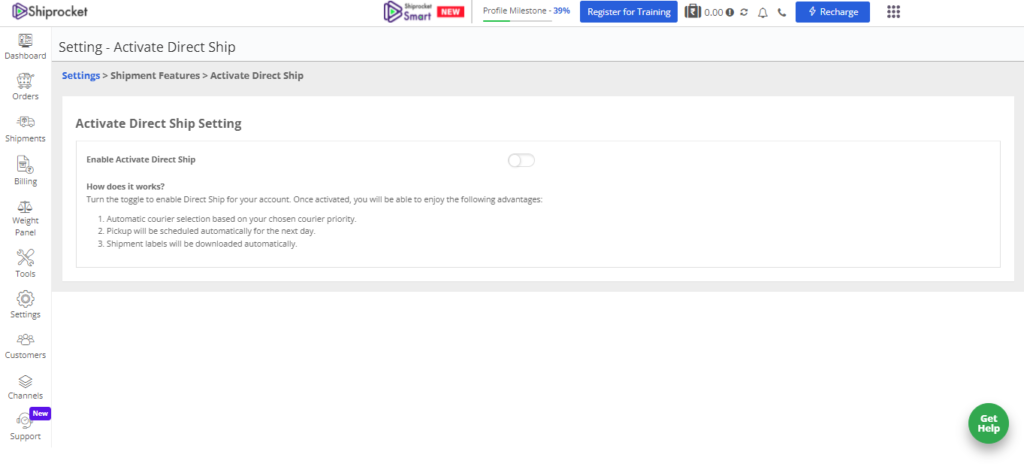 Now you can assign a courier for all your shipments in one click. With Direct Ship, you can skip courier selection and pickup generation steps. Once activated, on the single ship now in processing order screen or order detail screen, the couriers for each shipment will be assigned based on your specified courier priority. Similarly, pickups will also be automatically scheduled for the next day for each shipment. And the shipment labels will be downloaded automatically.
To activate direct ship, go to Settings –> Shipment Features –> Activate Direct Ship. You can then click on the activate button to activate Direct Ship for all your shipments.
UI & UX Updates in The Weight Panel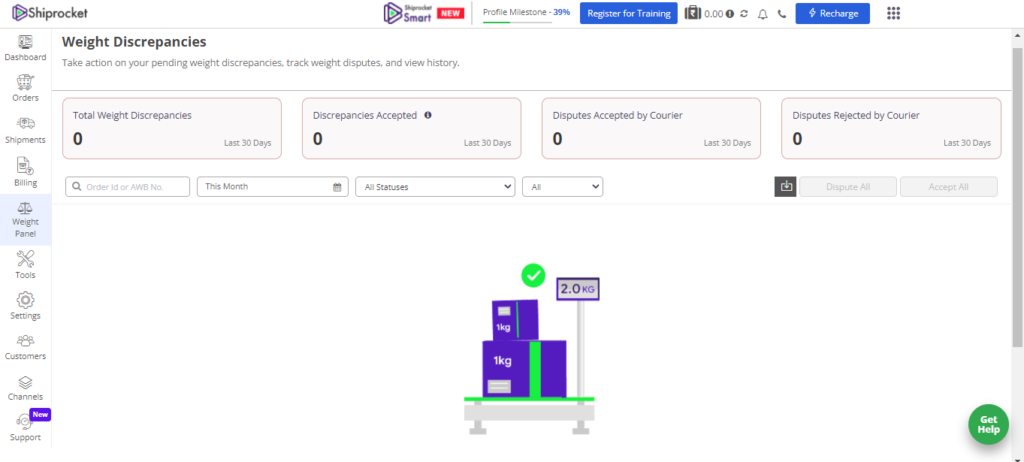 We have reimagined our weight discrepancy and weight freeze screen to make it efficient and user-friendly. In the weight discrepancy screen, we have reduced screen load time. We have also added summary metrics for easier tracking of actions such as total weight discrepancies, total disputes accepted or rejected in the last 30 days, and so on.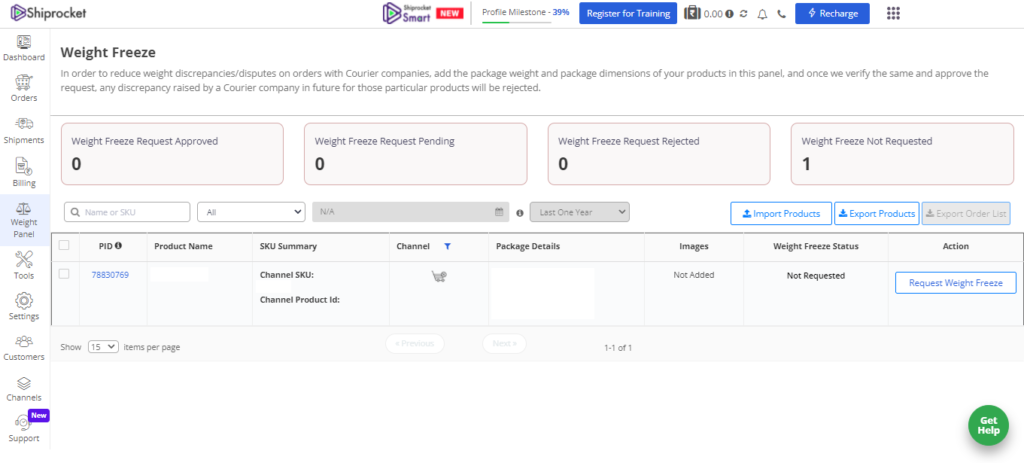 In the weight freeze screen, we have added summary metrics for easier tracking of actions. In addition, we have entirely redesigned the image upload pop-up, including a new UI and an editable product category field.
Add Buyer's Alternate Number and Landmark in NDR Section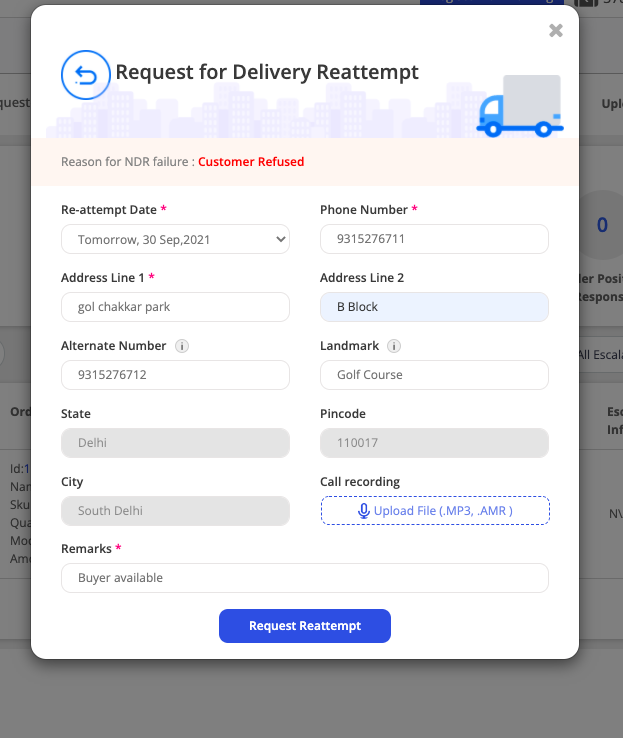 In order to improve the delivery experience, we have an improvement to our NDR section. You can add the buyer's alternate contact number and address landmark for improved reachability when you make a delivery reattempt.
Changes in Shiprocket Android App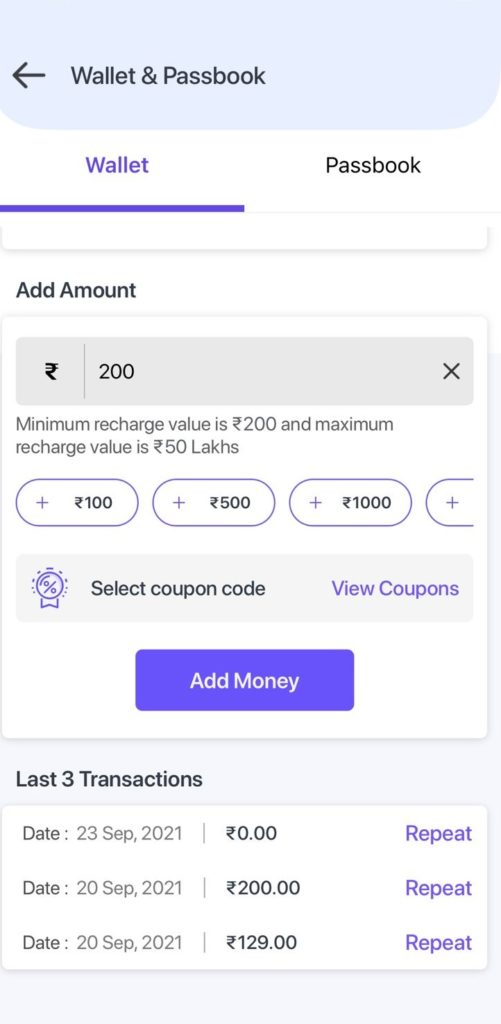 We have made changes to our mobile App to enhance the user experience. Sellers can now log in to the Shiprocket panel with OTP only on registered phone numbers. Also, the minimum additional recharge amount has been reduced to Rs. 100. In addition, the pickup scheduled date will be visible on the manifest detail page. We have also made some minor enhancements and fixed bugs.
Changes in Support Panel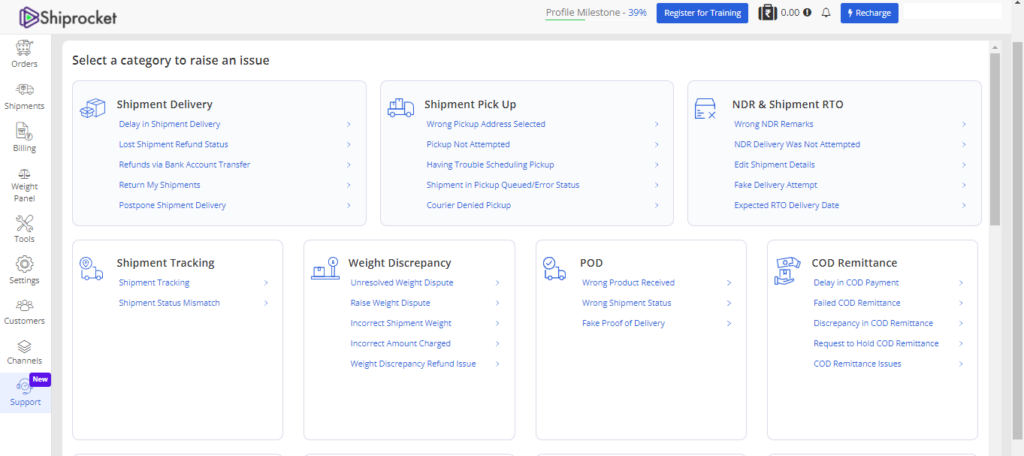 We have improved our Support panel to help you raise tickets directly from the panel. You can also raise tickets category-wise and get the first level of response as per the SOPs. This will help you get a faster response than waiting on a chat or phone support.
We hope with these new updates and improvements, shipping will become more efficient and accessible for you. We will be back next month once again with more updates. Till then, stay tuned, and we wish you happy shipping with Shiprocket.
Calculate Your Shipping Costs Now