How to Ensure Quality control in eCommerce Packaging
Effective eCommerce packaging is a crucial part of running a successful business. This is because your packaging is the first impression of your brand for your customers, and you need to have it right. Did you know that it takes just 7 seconds to have the first impression about anything, be it your product or a person? If a damaged packaging turns up at your customer's doorstep, he will make a terrible impression of your brand and probably never make purchases from you in the future. Therefore, it's essential to ensure that proper quality control is done for your eCommerce packaging before being dispatched out for your customers.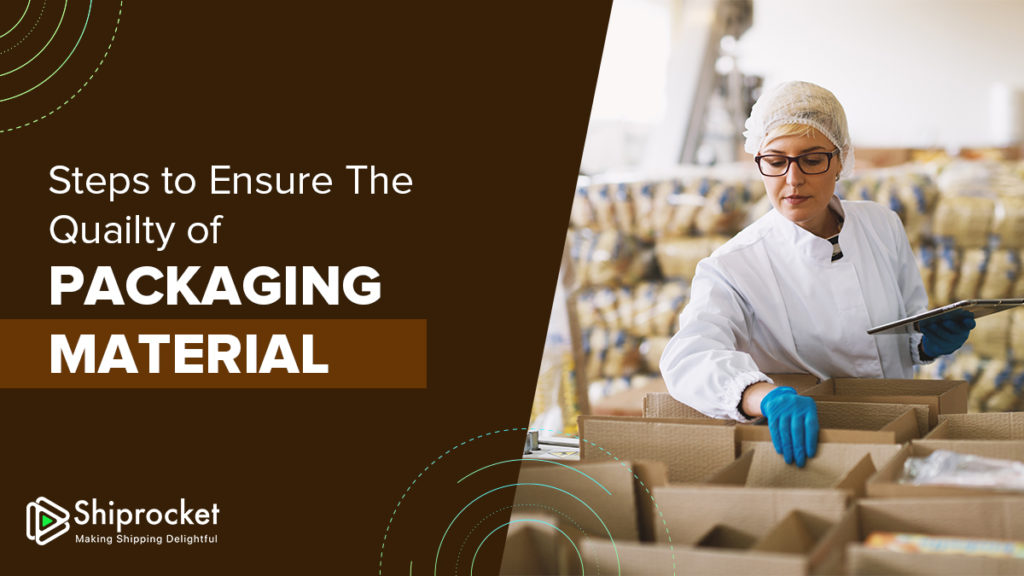 To help you maintain the highest level of excellence in your eCommerce packaging, here are some of the best practices for quality control to protect your business and your customers-
Test Sample
The first and foremost thing you must do while performing your quality control check for eCommerce packaging is to start with a test sample. You must be excited about launching your product on the market. If you're an existing seller in the eCommerce industry, you must be in a rush to deliver the product fast to your customers. In this process, you must not skip the step of starting with a test sample.
Try ordering one or two packaging materials from your supplier at the beginning. Quality control begins with your sample. Try to break the packaging and perform test orders to see how it stands up to different scenarios. This brings us to the concept of carton drop test-
What is the Carton Drop Test?
A carton drop test is usually done to test the durability of a package. And what better way to check your packaging durability by simulating the stresses of shipping and handling? Carton drop test is an on-site test that mimics the rough handling of cartons that typically occurs during the entire shipping process through a series of drops.
Some slight indentations in the shipping carton are regular after the drop test is performed. However, substantial tearing or breaking apart of the box is a warning sign that your product may not arrive at its destination in the same condition as when it left the factory.
Even if the shipping carton appears intact after the drop test, you should also inspect each of the products and packaging inside for damage. That's why it's crucial to also first examine the products for any defects before packaging testing. Otherwise, you might misattribute a fault to the packaging testing that was already present from production.
Test the sample rigorously and note down any changes you would like to make to the packaging quality. Communicate the same to the manufacturer or supplier to make the necessary adjustments to your eCommerce packaging. In the end, the sample should represent the best version of your product, and in the process, your supplier would understand that this is what you expect them to deliver.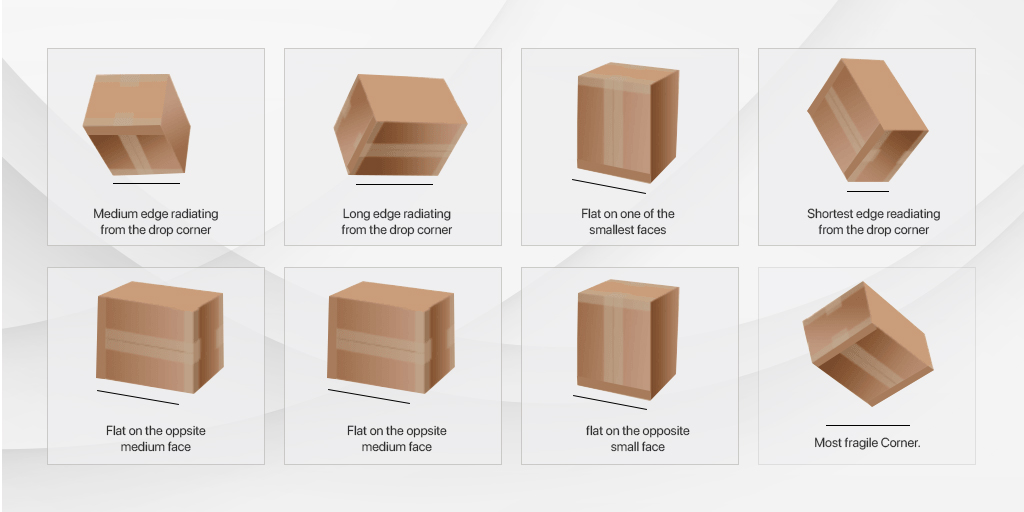 Check the Packaging Materials
There are multiple ways your packaging can be damaged during the transit, one being environmental conditions. Temperature changes, humid conditions, and many more can harm the packaging and the products inside. Therefore, you must pay close attention to the type of packaging materials and the sealing method used in packing your items to arrive at its destination damage-free. For example, if you are shipping food items, you must ensure that the products are packed inside an air-tight container so that no moisture can pass through the packaging. Similarly, fragile items or delicate items must be cushioned with an appropriate amount of fillers, bubble wraps, or paper cuttings to ensure minimum damage.
You should also specify the sealing method of inner packaging that includes cartons or polybags. Even if your outside packaging is adequately sealed, the products inside can damage if they undergo excessive movement during the transit. Therefore, it's essential to consider the proper sealing of the inside packaging too. Polybags can be sealed in multiple ways, starting with vacuum sealing by a machine to a tape placed right over the opening.
Communicate Well with your Supplier
Your packaging standards don't need to match with that of your suppliers. From the very start of the deal with your supplier, make sure that you communicate precisely what you want for the eCommerce packaging you require. Ensure that everything is in writing so that either of the parties can easily reference it. In case you have a meeting with your supplier face-to-face, follow-up immediately by sending an email of everything discussed and asking them to confirm the mail's receipt. If you want a specific color shade for your packaging, blue, specify the exact shade of blue you are looking for. You don't want to waste your time and money on something because the expectations were not clear enough.
Perform the Final Inspection Without Fail
You must perform the final inspection of the products you receive from the supplier without fail. Make sure you inform your supplier about the same at the beginning of your working relationship to send across a clear message that quality control is critical to you. If your supplier knows that an inspection company will be evaluating their packaging, they will pay a little extra attention to detail.
Once you are satisfied with the final report after the inspection (that must include the pictures of the packaging materials), only move forward with the remaining processes.
Check for Shipping Labels and Barcodes
You must be wondering why checking shipping labels and barcodes come under the quality control check of eCommerce packaging. But, shipping is a significant part of running a business. You cannot afford delays in shipping just because of missing labels or barcodes on your packaging carton. Ensure that you provide your packaging supplier with the relevant shipping labels, well before they start producing the material in bulk. You can include a picture of how they should be applied to packaging to avoid having labels on the carton's edges that are hard to read or above openings where they can get damaged.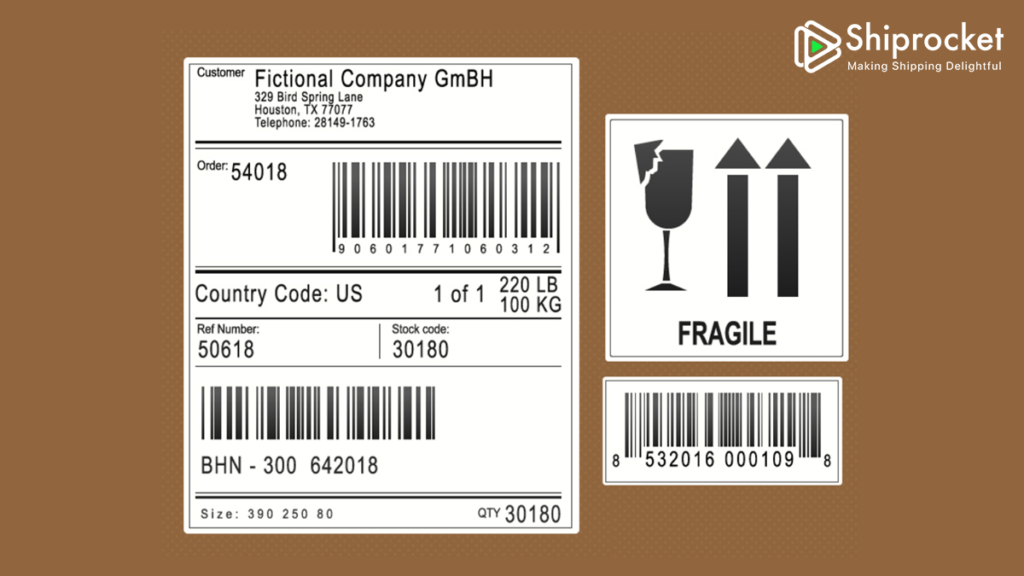 These are some of the details related to shipping that you must include in your eCommerce packaging-
Buyer details
Shipping barcode
Item description and number
Any appropriate warning labels such as 'fragile,' 'hazardous,' etc
Weight and dimensions of the packaging
Please note that improper packaging is one of the significant causes of shipping delays, directly affecting your customers. Therefore, proper quality control of your eCommerce packaging is the only way to avoid any such mishaps and ensure that your shipment reaches your customer.
Final Say
There's nothing more important to businesses than their customers. And one of the most effective ways to gain more customers and retain the existing customers is by offering excellent packaging. Don't take any risk with your brand's reputation. Involve yourself closely in ensuring that your product is the best and is packaged as per the industry standards.
Calculate Your Shipping Costs Now