New Features and Updates April Has in Store for You!
A lot happened in March at Shiprocket. We dived further into the hassles that you were facing while shipping your orders and made improvements in key areas. Apart from making our platform more user-friendly, we've also launched a few new features for you, that will help you save your time and resources when it comes to shipping your orders.

Let's take a look at a few common problems and how we improved to streamline them for you-
The underlying hassle
Creating orders when you have fewer details at hand is tricky. We understand the time and resources it takes to create a single order and get an AWB assigned to it.

But what if we told you, there was a quicker way to do it? Because there is now.

What did we improve?
Now you can create your order and select the courier partner in a single flow. No more visiting multiple tabs to create order when you're in haste. Just click on the Quick Ship option and fill in the relevant details to ship your order in a minimum amount of time.

How to Quick Ship your orders?
Log in to your Shiprocket panel
Go to Orders→ Create quick shipment from the left menu
The quick ship screen will open. You need to perform the following steps:

Step 1: Fill the shipment details, package details along with the weight and dimensions of the product. The click on 'Search Courier Partner'.
Step 2: After clicking on the button you will find a list of serviceable courier companies according to your shipping priority. You can select the courier company for shipping your products here and also sort them as per your specific needs.
Step 3: Once you select your courier, you will be prompted to recharge your wallet, in case you are running low on your shipping balance. After the successful recharge, you can continue shipping your order, right where you left.
Step 4: The last step of quick shipping asks you to enter your buyer's details for the order.
Click on ''Ship Now' to ship your order. After this, a courier will be assigned to your shipment.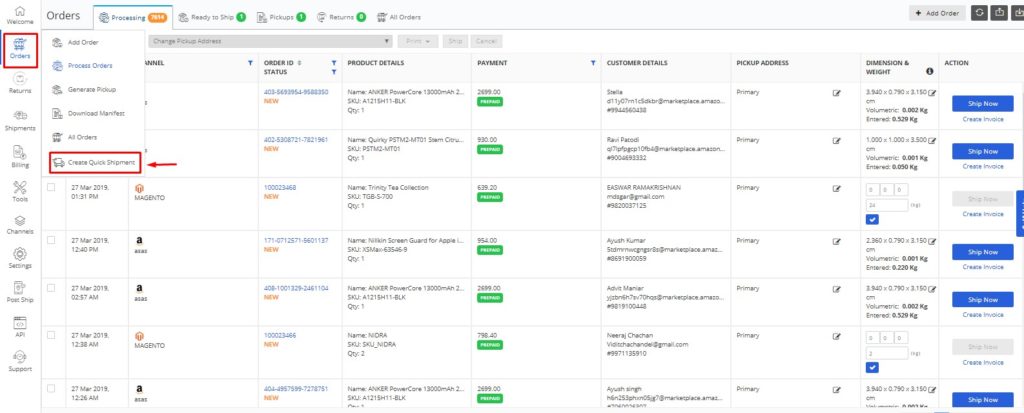 Shiprocket iOS App v1.4
Presenting the latest version of the Shiprocket iOS app v1.4. Enjoy more flexibility in shipping on your mobile with plenty of new features.
Recharge logs: Now check your entire payment history in the Recharge Log in the more section of your app.
Rate calculator: Refer to the rate calculator in the more section of the app and get an estimate of your shipping rates prior to processing an order.
Tracking details: Share tracking details instantly with your buyer via multiple channels such as Whatsapp, Facebook, Messenger, etc.
Plan details: View your subscription plan and details of your account manager in the profile page.
Edit your mobile number: Edit your registered mobile number in a hassle-free manner in the profile section of your iOS mobile app.
Introducing the all-new ship now screen in your panel. Now select your courier partner from a much easy to understand and attractive screen. With this-
You can also choose courier partner from options like cheapest, best rated, fastest or custom using the 'Sort by' option on the top right corner of the screen.
View the mode of payment for the order, whether it is prepaid or COD
You can also see the pickup and delivery address for your order in this screen.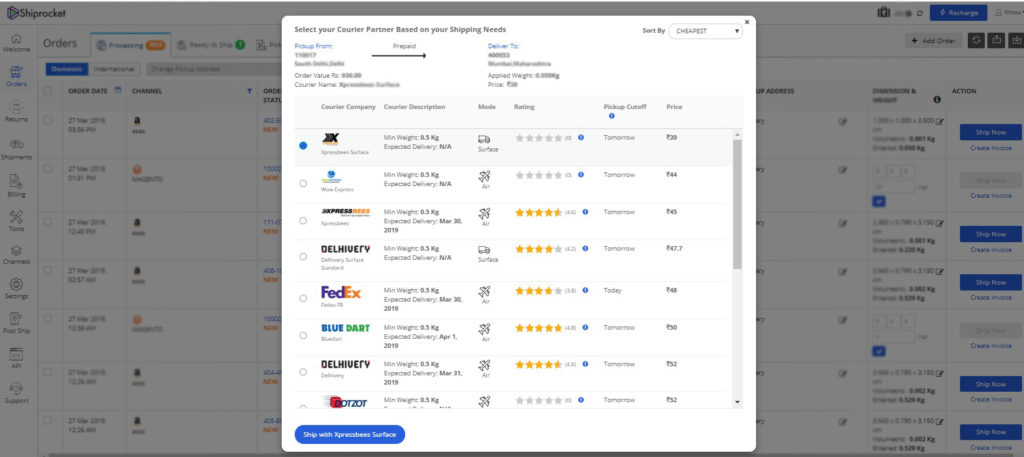 Calculate Your Shipping Costs Now