A Guide To Best Amazon Marketing Strategies 2023
Not long ago, Amazon was launched in India in June 2013. It has since then only increased its popularity and has become the most prominent and fastest-growing marketplace. Its immense popularity has provided an enormous opportunity for online sellers but has also increased competition among them. This is why it is vital to know Amazon's marketing strategies and execute the plans right to be on the top of the competition.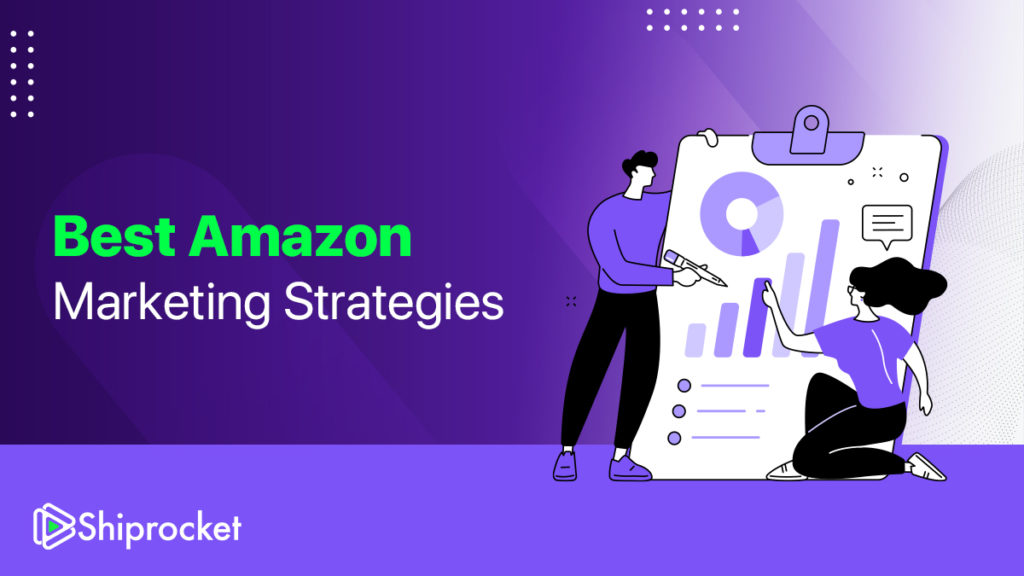 This blog will talk about the most successful Amazon marketing strategies that you can leverage to drive traffic to your product listing and boost your sales.
Amazon Marketing Strategies 2023
To be successful on Amazon, the following are the strategies that you can implement:
SEO Optimized Product Listing
Optimizing your product listing as per Amazon SEO will help your customers reach you better. As per Amazon SEO, the products with well-described descriptions appear in top searches. Amazon also shows them on the top of the recommended searches.
Here's how you can optimize your product listings:
Keywords: Amazon allows up to 250 characters on the backend to improve product discoverability. Though your customers cannot see these keywords, they are associated with your products and help them appear in searches. So, make sure you perform keyword research before you list your product on the eCommerce giant.
Titles: before you curate titles for your product listing, put yourself in your customers' shoes. Think of what they must be looking for. Would just writing the product name suffice? Or would you like if the additional information about the product, like color, dimensions, or packet size, is also provided? Include all crucial and descriptive information about the product in the title. This will help increase the clickthrough rates and boost sales as well.
Product Descriptions: product descriptions should be informative and help differentiate your product from the others. Well-written descriptions help in increasing conversions. You can use bullet points in the descriptions as they are easy-to-read and also outline the product's all important features aptly.
Product Images: no title or description will help you attract customers as much as product images will. Amazon has clear guidelines about product images. They should be clear, attractive, informative, and easy to understand.
Q&A: though you might think this section is of not much use, the Q&A section helps customers get precise information about the product. With this section, you can answer all the commonly asked questions about the product and, at the same time, keep your customers informed.
Advertising on Amazon
With Amazon advertising, you can showcase your products to customers who might have not landed on your product listing otherwise. The following are the kinds of advertisements that you can consider:
Product Display Ads: product display ads are the most common and popular advertisement on Amazon. They have the highest conversion rate of around 10%.
Display ads: another insanely popular ad, display ads are the CPC (cost-per-click) ads which are not just limited to the Amazon website and App. You can also advertise your products on other websites and Apps that are not owned by Amazon. You can customize display ads as per your requirements as well.
Sponsored Brand Ads: you can also add a headline, brand logo, and three products in sponsored ads. They help drive brand awareness as these ads appear on the search pages.
Third-Party Advertising
You might be selling products on Amazon. But this doesn't mean you can't sell and advertise anywhere else. You can also sell products on other websites and Apps. And this also means that you can advertise on third-party websites that will help increase clickthrough and conversion rates. However, you must ensure that the ads are well-optimized. You can promote your products on the following platforms:
Google Ads: as per HubSpot, there are around 63,000 searches and queries on Google per second. This is enough to prove that it is one of the most effective advertising platforms. Most marketers also use Google ads to market their products online. You can also run ads on Google and take benefits of features like email marketing and retargeting.
Facebook Ads: Facebook ads are also very popular among marketers, and they utilize a good amount of marketing budget. You can advertise your products on Facebook and target a completely new set of customers on your Amazon store and website. You can also advertise on Instagram.
Affiliate Marketing
You can advertise your website products on Amazon with the Amazon affiliate programs. When customers click on the link and purchase the product, the marketplace gets a commission. This is a beneficial strategy as you can direct traffic to your Amazon page and website and earn a new set of customers.
Customer Reviews/Testimonials
One of the most popular and important features of Amazon is customer testimonials and reviews. Most customers read customer reviews before buying a product from Amazon – they play a crucial role in their purchasing decision. After the product description, customers read reviews to verify if the product is worth buying. You should focus on getting positive reviews to boost reliability, popularity, and sales.
Amazon is here to stay, and it is evident that it is only getting bigger. You can also take advantage of its popularity and market your products to grow your online business.
Calculate Your Shipping Costs Now