Top 10 Reverse Logistics Companies in India
Reverse logistics is a crucial aspect of supply chain management, encompassing various processes that involve the movement of goods from customers back to sellers or manufacturers. It plays a pivotal role in maintaining an efficient flow of products and completing the product life cycle.
Embracing reverse logistics enables you to streamline your operations, optimise the supply chain, and minimise losses, contributing to long-term business success. Let's delve into the world of reverse logistics and discover the industry's top performers.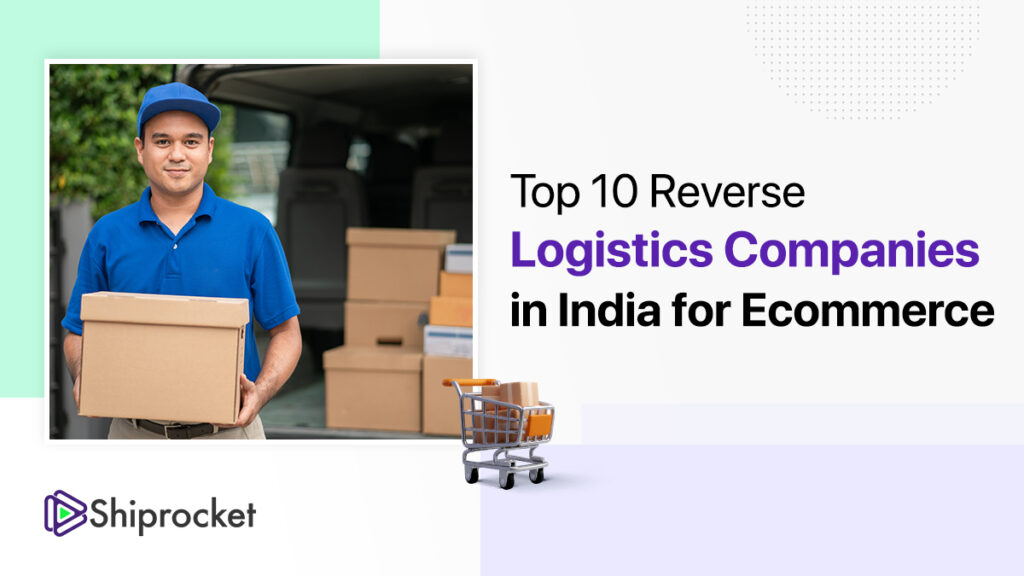 Understanding the Role of Reverse Logistics Companies
Reverse logistics companies play a pivotal role in the efficient and sustainable management of product returns and the circular economy. Understanding their role is crucial for businesses aiming to optimise their supply chain processes and enhance customer satisfaction. These companies specialise in moving goods from end consumers back to sellers or manufacturers, encompassing processes such as returns, repairs, refurbishing, and recycling.
By leveraging state-of-the-art technologies and logistics networks, reverse logistics companies ensure the smooth bi-directional flow of goods, creating value, reducing costs, and mitigating risks. They help businesses implement sustainable practices, enhance competitiveness, and complete the product life cycle while adhering to return policies and procedures. These companies also provide strategic insights and guidance to integrate reverse logistics seamlessly into marketing strategies, adapting to the evolving business landscape.
As a customer-centric enterprise, you can benefit from partnering with a reverse logistics company to streamline your returns management, optimise product disposition, and maximise recovery value. Their expertise in reverse logistics will enable you to retain customers, save costs, and foster a culture of sustainability within your organisation. Embracing the role of reverse logistics companies empowers you to navigate the complexities of the supply chain and propel your business towards a more efficient, customer-centric, and environmentally conscious future.
Key features of reverse logistics include returns management, remanufacturing, packaging, repairs, and product retirement. You can streamline business processes and reduce losses by focusing on the five R's of reverse logistics—returns, reselling, repairs, repackaging, and recycling.
The benefits of implementing effective reverse logistics strategies are significant. It helps reduce costs, create value, decrease risk, retain customers, and positively impact the environment. By implementing optimised and well-executed reverse logistics processes, you can retain customers, save money, and collect valuable product data for future improvements.
The Top 10 Reverse Logistics Companies
Listed below are the top 10 reverse logistics companies in India:
1. Ecom Express
With over 15 years of experience, Ecom Express has become a trailblazer in the reverse logistics industry. Their commitment to excellence and extensive network has enabled them to serve more than 600 clients nationwide. Ecom Express sets itself apart with its seamless returns management program and customer-centric approach, making them a preferred choice for many eCommerce businesses.
2. Delhivery
Delhivery has earned its reputation as one of India's leading logistics companies, encompassing forward and reverse logistics operations. Their cutting-edge technology solutions and robust infrastructure enable them to offer efficient and hassle-free returns management services. Delhivery's focus on continuous innovation and customer satisfaction has helped them build strong relationships with numerous eCommerce giants.
3. Xpressbees
As a prominent player in the Indian eCommerce logistics space, Xpressbees has established itself as a trusted partner for reverse logistics. They provide end-to-end returns management solutions, emphasising speed, reliability, and transparency. Xpressbees' robust tracking system and prompt service have earned them the loyalty of businesses and consumers.
4. Shadowfax
Shadowfax is a rapidly growing logistics company known for its innovative approach to last-mile delivery and reverse logistics. Their advanced technology platform streamlines returns management processes, ensuring swift and efficient operations. Shadowfax's commitment to environmental sustainability through green logistics solutions has garnered significant recognition.
5. Blue Dart
With its extensive reach and exceptional service quality, Blue Dart has become synonymous with reliability in the logistics industry. Their comprehensive reverse logistics solutions cater to diverse business needs, combining efficiency and affordability. Blue Dart's strong infrastructure and focus on enhancing customer experiences have made them a preferred choice for eCommerce businesses across India.
6. Gati
Gati is a pioneer in the Indian logistics industry, renowned for its end-to-end supply chain solutions. Their reverse logistics services encompass various offerings, including returns management, refurbishment, and redistribution. Gati's vast network and commitment to technological advancements enable it to deliver seamless client experiences.
7. FedEx
As a global logistics leader, FedEx has a strong presence in India's reverse logistics landscape. Their extensive network and advanced tracking capabilities ensure efficient returns management. FedEx's commitment to operational excellence and continuous improvement makes them a reliable partner for businesses seeking top-notch reverse logistics solutions.
8. Safexpress
Safexpress is an established logistics company specialising in supply chain management and reverse logistics. With their pan-India presence and innovative solutions, Safexpress offers customised returns management programs that align with diverse business requirements. Their emphasis on technology-driven processes ensures end-to-end visibility and operational efficiency.
9. Wow Express
Wow Express is a customer-focused logistics company that has gained prominence in reverse logistics. Their robust technology platform enables seamless returns management, while their emphasis on speed and accuracy ensures the timely resolution of customer queries. Wow Express's commitment to continuous improvement and innovation sets them apart.
10. GATI-KWE
GATI-KWE, a joint venture between Gati and Kintetsu World Express, brings together the expertise of two logistics giants. Their comprehensive reverse logistics solutions cater to diverse industry verticals, offering end-to-end support for returns management. GATI-KWE's focus on reliability, flexibility, and technological advancements makes them a preferred choice for businesses across India.
Why Shiprocket Stand Out: Key Innovations and Success Factors
Regarding reverse logistics, Shiprocket excels in providing innovative solutions that set them apart from other companies. Shiprocket understands the importance of catering to the needs of its customers and has developed a range of services that focus on convenience, efficiency, and customer satisfaction.
One of the key innovations that set Shiprocket apart is its state-of-the-art tracking system. With real-time tracking updates, you can monitor the progress of your shipments at every step of the return process.
Shiprocket's dedication to technological advancements extends beyond tracking. They have implemented cutting-edge automation tools that streamline the reverse logistics process, making it faster and more efficient. By leveraging automation, Shiprocket reduces the risk of errors and optimises the overall workflow, ultimately saving you time and resources.
In addition to its innovative approach, Shiprocket's success can be attributed to its strong focus on efficiency and coordination. Their well-established supply chain management ensures that each step of the reverse logistics process is optimised for maximum efficiency. By leveraging automation and perfect coordination, Shiprocket minimises delays and errors, ensuring smooth operations and timely returns.
Conclusion
In reverse logistics, where the art of reclaiming value meets the science of efficient returns management, you yearn for the crème de la crème, the trailblazers who can turn the tide of challenges into triumphs. Reverse logistics companies are reshaping how we handle product returns and end-of-life processes. By embracing sustainability, efficiency, and collaboration, these companies unlock hidden value, reduce waste, and pave the way for a more circular economy.
As you navigate the world of reverse logistics, Shiprocket stands out as a true industry leader with its innovative solutions and customer-centric approach. With their cutting-edge automation tools, they streamline the process, saving you time and resources. Experience the difference with Shiprocket and revolutionise your supply chain. Contact Shiprocket today for a more efficient and successful reverse logistics experience.
Calculate Your Shipping Costs Now