Sales Enablement Strategies to Drive Revenue & Growth
Does your organization spend time on developing the sales enablement strategies to support salespeople? Today in 2021, eCommerce brands offer their sales team a more positive selling approach, technology tools to make their sales jobs more efficient for each stage of the buyer's journey.
This helps the sales reps to improve in many areas, such as the lead conversion rates and shortening sales cycles.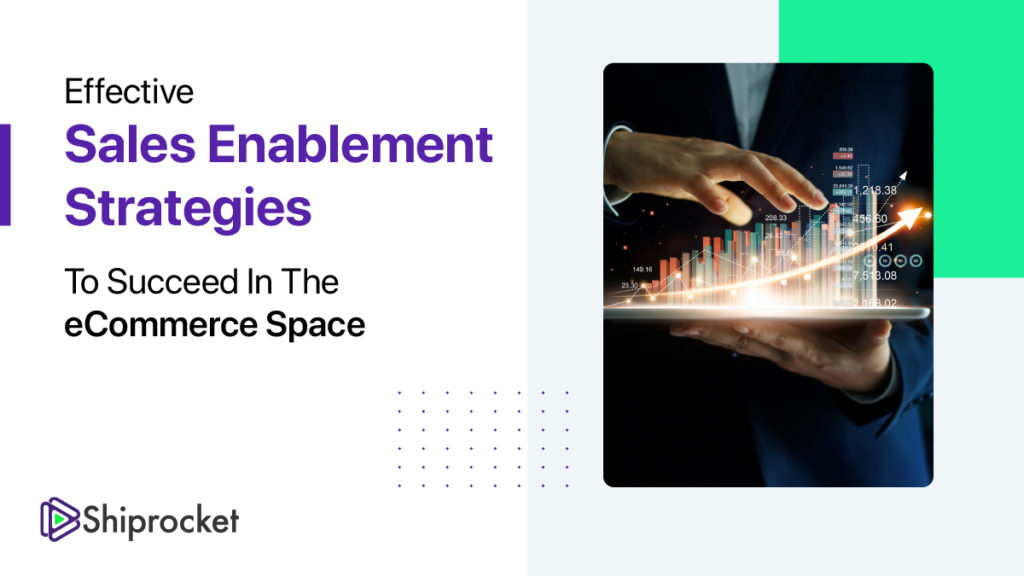 Every D2C company needs an effective sales enablement strategy to ensure their teams have everything they need to succeed. Let's take a look at sales enablement strategies to follow in 2022.
What is Sales Enablement?
A high-performance sales enablement strategy will work to empower your sales professionals. But what does sales enablement for eCommerce companies mean precisely?
Sales enablement is a collection of tools, processes, information, and sales collateral your sales teams can use to help them build stronger relationships with clients and convert more leads into customers. At a high level, it should describe what your team does, how your team does it, goals, and main initiatives for the coming year.
The idea behind sales enablement is simple. Imagine hiring a team of experienced sales professionals but providing them with limited resources, minimal information, and vague guidelines. Imagine that team with ample sales resources, helpful technology, informative content, and goal-oriented procedures. Sales Enablement is bound to be more efficient and effective at improving lead-to-conversion rates and reducing sales cycles.
How to Create a Sales Enablement Strategy?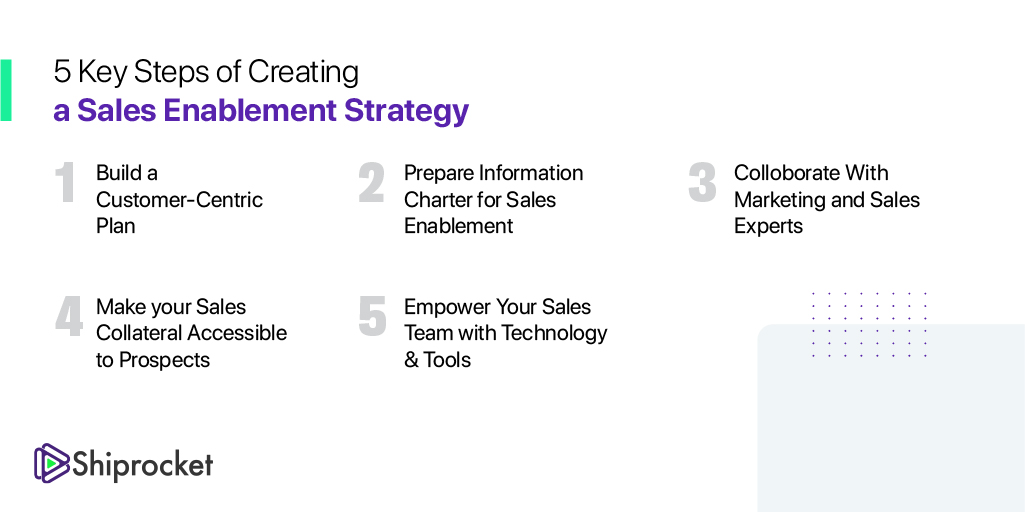 Build a Customer-Centric Plan as Needed
Sales enablement revolves around meeting customer expectations and creating the perfect sales enablement plan. According to stats, 86% of buyers want a superior customer experience. Also, eCommerce brands with a customer-centric strategy bring in more revenue than competitors. In addition, segmenting markets, identifying customers' needs, answering queries, and providing relevant content drives sales revenue.
Let's take an example, creating a plan based on customer preferences and sending them personalized campaigns can help you cross-sell. Customer segmentation helps create personalized sales campaigns on a large scale, and to reach more people effortlessly.
Prepare Sales Charter for your Team
A sales charter is important for sales enablement in an organization. It helps create a scalable, strategic, and measurable impact on your business.
The most important aspects of preparing a sales enablement charter are documentation and accountability. The right documentation of your sales plan gives you a clear scope of work and the authority to do what's necessary to improve sales revenue. Without a sales enablement plan, you can find yourself misguided from the project you're ultimately working towards.
Creating a sales charter helps you plan and define goals for your organization's ROI. This will allow you to show your customers and team what you're doing for the whole organization.
The sales enablement charter helps your organization to take control of your situation and deliver results based on plans. In addition, with a sales enablement charter, you can provide results based on your overall goals.
Collaborate With Sales and Marketing Experts
Your customers expect coordination between your marketing and sales team. Most customers feel more special when a brand recognizes them across all touchpoints. In this respect, it's best to align with your sales professionals and marketing team. When your messages are aligned with sales and marketing professionals, it positively impacts the buyer journey.
Your sales and marketing team is one of the greatest sales enablement resources. The collaboration between the two departments enables business growth into your sales operation. Creating streamlined sales enablement procedures helps provide your sales team with the resources they need to close deals. So, you could say that sales collateral is critical for sales enablement and generating revenue.
Make Your Sales Collateral Accessible to Everyone
The sales collateral you develop for your sales team should work in tandem with your buyer's journey. The best-designed sales enablement collateral won't convert if it's not relevant to and helpful for customers.
Sales collateral should not simply be about your products or prices. As you develop sales collateral design, make sure it should be consistent with the rest of your brand materials. Consider taking your design team in the loop to help ensure consistency.
Your sales collateral contains the same content for your brand, product, and pricing information. To recycle and repurpose your sales collateral, make sure you have content available in multiple formats to help your prospects learn about your company. Creating your sales collateral based on your end-user needs improves the effectiveness of your sales enablement process.
Leverage Effective Technology Tools & Software
Having the right technology and tools in your sales team will make your team more effective and help boost the impact of your sales enablement strategy.
Many organizations utilize a well-integrated technology stack to augment the capabilities of sales enablement plans into other environments. The ability to integrate tools that improve sales effectiveness can give you actionable insights and ultimately increase productivity.
For example, integrating your sales enablement tool with software such as Google Workspace, Microsoft 365, SAP BI platforms, and Microsoft Dynamics makes it easy to keep track of any updated materials. With these tools, your sales teams can work by using just one single application.
Final Words
For a high-performing sales enablement strategy, you should make smart decisions and build effective content strategies.
Through various sales enablement tools, analytics, and metrics, you can have insights on whether the content is even being found by the sales team, which pieces are essential for customers, and how customers engage with them. The sales enablement strategy connects the usage of information with sales performance, which impacts sales ongoing.
We believe that all of these five aspects are needed for a successful sales enablement strategy. Missing one of these elements means that your sales strategy is not as well set up for success as it could be.
Calculate Your Shipping Costs Now