What are Consumer Packaged Goods (CPG) & How can you Ship them Effectively
The Consumer Packaged Goods (CPG) industry, often referred to as the Fast Moving Consumer Goods, is one of the country's largest industries. As per reports, the sector is expected to grow by nearly 15% annually to reach $110.4 billion by 2020.
These goods constitute a large part of the retail industry and support our daily lives in all means. Therefore, proper transportation and shipping strategy is significant for CPG companies to have goods delivered to their customers damage-free and on-time.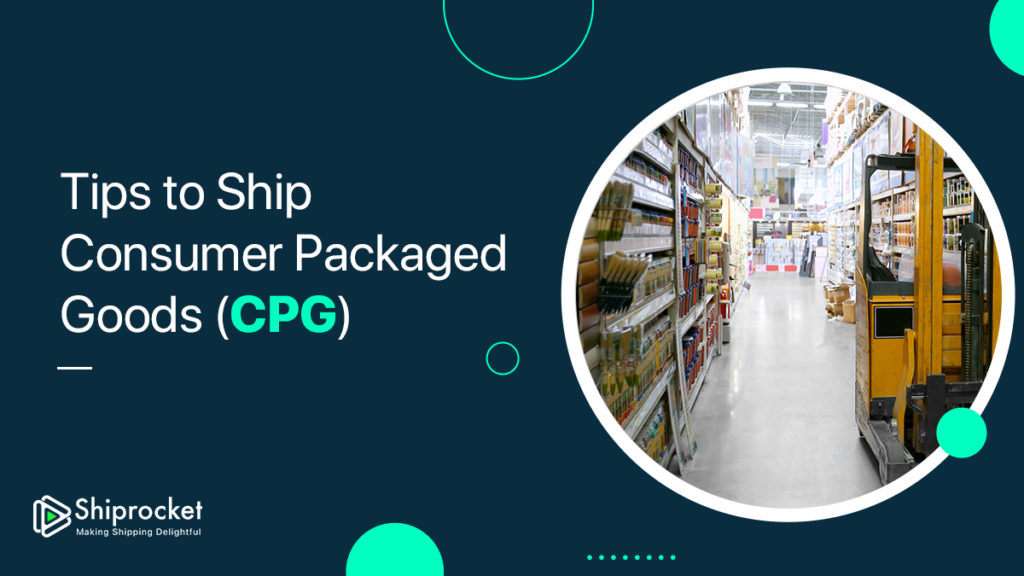 Let us understand in detail what are Consumer Packaged Goods and how you can ship them effectively-
What are Consumer Packaged Goods?
CPG or Consumer Packaged Foods are goods used by all of us in our day-to-day lives, such as food, beverages, apparel, beauty products, household items, etc. These products usually have a short shelf life, require regular restoration, and are widely used by most people.
Demand for CPGs will never die out, which tells us it is a highly competitive sector. These products have short lifespans and are intended to be used quickly. CPGs are typically packaged in easily-recognizable packaging that customers can quickly identify. Although CPGs generally have been sold in traditional brick and mortar stores, customers nowadays are increasingly turning to online stores.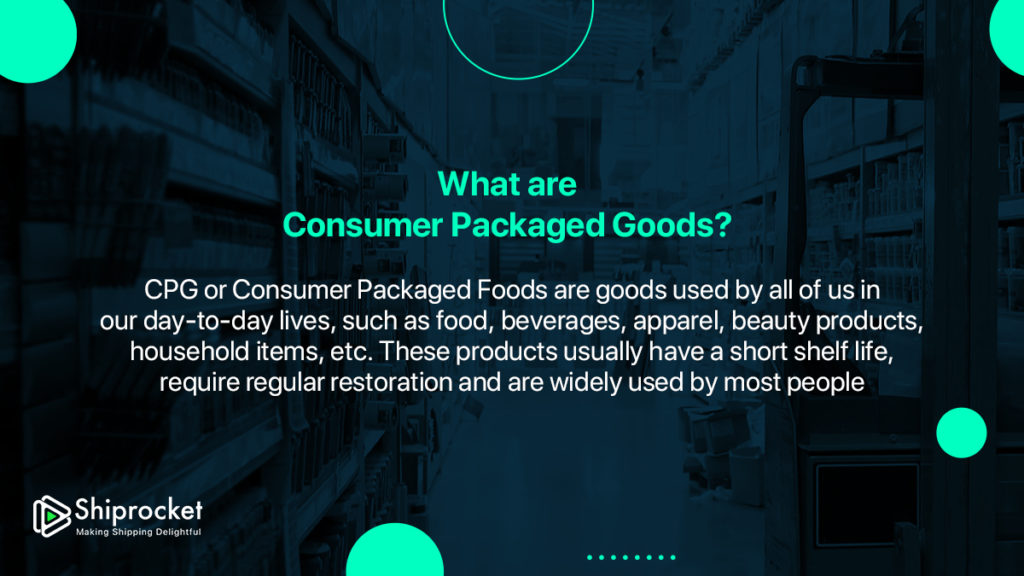 Consumers get to purchase CPGs within just a click with services such as Amazon's Prime Pantry, hyperlocal services such as Dunzo, Shiprocket hyperlocal services, etc.
With such increasing demand for Consumer Packaged Goods, shipping these items effectively is more critical.
Shipping of Consumer Packaged Goods Effectively
Consumer packaged goods (CPG) are the biggest category of freight crossing India's highways regularly. Here are a few ways on how you can ship CPG goods effectively-
Packaging
The packaging is one of the crucial aspects of delivering CPGs safely and securely to customers. How well you package your items before they leave your door will determine whether they're accepted for delivery, whether they arrive undamaged. A few packaging guidelines all sellers dealing with Consumer Packaged Goods should follow while shipping those products.
Keep your packaged goods as condensed as possible to save room in the freight container. Otherwise, you may have to pay hefty fees.
Always have the proper packing materials for your specific product. If you're shipping something fragile, like glass, you'll need protective materials such as bubble wrap. If you're shipping perishables, you may need cooling materials like dry ice packages or insulated boxes.
If you're sending it to a fulfillment or distribution center, research their packaging requirements to ensure your delivery is accepted.
Storage Before & During Shipping
Best practices for storing CPG is entirely dependent on your product. Here are some tips based on whether you ship dry goods or perishable goods.
Dry Goods
Storing dry goods is a much easier task. The longer your product's shelf life, the fewer considerations you need to make on keeping your product protected during transit—and therefore, your costs are fewer, too. And dry goods can be packaged into smaller bundles, meaning you can fit more on a single box, and they can store more quickly in the stock of a retail or grocery store.
However, dry food items such as wheat and flour get spoiled more quickly. Make sure these products are stored out of direct sunlight and extreme temperatures since exposure can affect your item's quality. Have airtight storage available for products that need it.
Lastly, ensure the transportation used in shipping these items is equipped with temperature control to maintain a protected environment for your shipment during transit.
Perishable Goods
Because perishable items must be consumed fresh, they need to be stored to maintain their quality until they arrive at the retailer. Try using dry ice, gel coolants, insulated liners, and pads to help during storage. Remember that dry ice is considered a hazardous material—so if you use it for storage during shipping, you'll need to adjust the shipment accordingly. Also, make sure any storage facility at which your items stop is adequately equipped to hold your perishables.
When it's time to ship perishable items, a refrigerated truck is your best friend. This ensures that your goods maintain their proper temperature during the entire time they're stored on the car during transit. Following appropriate packing and storage procedures is your first step in making sure your retailer doesn't reject your goods in the first place for sale.
On-time Delivery
Companies that deal with CPGs with shorter shelf life have a strong need to deliver those shipments faster to customers. Consumer Packaged Goods often require more time to package, load, and unload because they're more fragile, so factor those extra hours into your pickup and delivery times. This will let you set optimum delivery expectations for your customers. The best way to ensure on-time delivery for CPGs is to tie up with a shipping solution like Shiprocket.
Shiprocket offers you the option of shipping with multiple courier partners so that if there is an issue with one courier partner, you will always have back up. Moreover, you get to choose your courier partner with our Courier Recommendation Engine based on delivery time, shipping cost, etc.
Final Say
Transportation is the biggest challenge for companies dealing with CPGs. Most sellers prefer outsourcing it to third-party logistics providers to save time and money while gaining knowledge from a long-term shipping partner.
Calculate Your Shipping Costs Now