Here's How You Can Choose the Best Courier for Heavy Items
eCommerce business is spreading its tentacles rapidly, engulfing the traditional selling/buying routine of an average-everyday consumer. From corporate giants like Amazon, Flipkart, etc. to small local retailers, the game of selling and buying a huge and diversified consumer basket of categorized goods just got bigger than ever before. Every random thing anyone can think of is available at their doorstep in just a few clicks.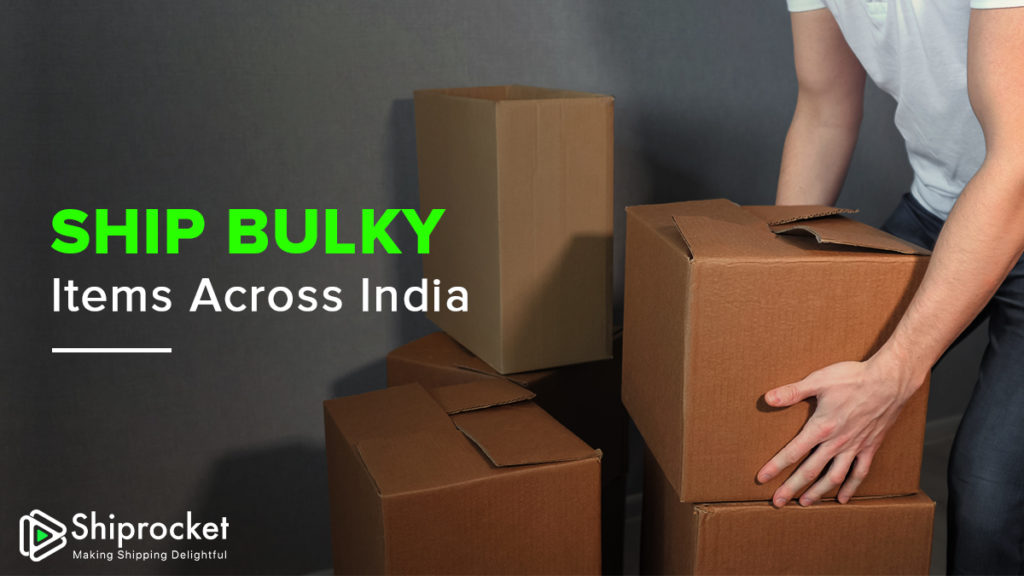 Shipments containing these consumer goods form an integral and one of the most crucial steps in the supply chain management process of an eCommerce business. Shipment is available to the end-consumer via paid as well as unpaid/free channels.
While eCommerce market players are in stiff competition against each other on increasing sales and popularising one's brand name, shipments of bulkier consumer goods like TV, washing machines, furniture, refrigerators, etc. are handled with more caution and delivery-related precision so that the ordered product reaches the end-consumer on/before the expected delivery date. The three major routes via which these eCommerce portals ship such large items are:
Working out the best as well as the most cost-efficient way to make the delivery is the key decider and among the biggest challenges. The delivery of small or medium scale consumer-goods is done following the Inventory model while heavy items are delivered hyper-locally with dedicated fleets of delivery vehicles and a very strong surface network. The end-consumer is only concerned about the delivery while the eCommerce player has to ensure that the delivered product is of a single piece when the consumer opens the package and for that, higher packaging costs have to be dealt with beforehand.
How to Find the Best Courier for Heavy Items?
The Hyperlocal model is ideal for the shipment of bulky items. Geo-Tagging of topography is being done by eCommerce companies to ensure the delivery of heavy products is located as close as possible to the buyer. Warehousing of large products follows Pellet-wise storage rather than Shelf/Tier-wise storage with delivery personnel aware of the involved standard operating procedures. The bulkier and more fragile the item (those involving glass, screens, panes, etc.) the thicker the padding material used for wrapping it. Thereby, it increases the packaging cost which the company has to compensate for.
Although shipments of bulky appliances contribute only 15% – 20% of the total delivery stats, the building of a fool-proof B2C Supply Chain involving the least, negligible, or no damage is the need of the hour.
For bigger fishes in the eCommerce business, delivery of bulky products is mostly cost-efficient but for smaller players, a partially loaded delivery truck (owing to comparatively lesser sales) brings a bigger potential threat of any possible breakage because of poor road infrastructure. Thus for the logistics network of every business to get the full benefits of GST's implementation, surface transportation has to play a dominant role.
The following steps give a brief of the steps involved in the delivery process of a heavy item, say TV: –
Order placed online for a TV.
TV gets picked up from the nearest dealer.
TV is brought to the warehouse.
It is packed and sent to the logistics division of the company.
TV then gets sorted and sent to the local branch.
Last-mile delivery to the end-consumer by a small/medium-sized truck.
Top Courier Services for Heavy Items
Blue Dart
Blue Dart is one of India's leading logistics firms with capability in express air and integrated transportation. The company facilitates easy transport of heavy items.
The service securely delivers packages to 55,400+ locations across India. Established in 1983, the company operates heavy shipments through Blue Dart Express Pallet.
It simplifies heavy freight transportation, easily accommodating loads ranging from 50kg to 100kg. They also partner with major eCommerce platforms for both business and consumer sectors.
Gati Limited
Gati Limited, established in 1989, is one of India's top express distribution and supply chain management companies.
They specialise in heavy-weight shipments and provide comprehensive logistics solutions that ut ilise advanced digital tools and technology to ensure customer satisfaction.
Covering the entire country, Gati provides access to over 19,800 pin codes and reaches 735 out of India's 739 districts.
FedEx
FedEx is a renowned leader in the logistics and transportation industry. With a strong presence in the country, the courier company has established itself as a trusted partner for businesses and individuals seeking reliable shipping and logistics solutions.
Leveraging its extensive network and advanced technology, FedEx offers a wide range of services to meet the diverse needs of its customers. Its comprehensive portfolio includes express courier services, freight forwarding, eCommerce logistics, supply chain solutions and heavy item shipments.
Shiprocket
Shiprocket, a renowned logistics leader, has positioned itself as a dependable and effective parcel service provider in India. It is one of the preferred options for handling and delivering heavy items shipments.
A standout factor for Shiprocket is its cutting-edge global and domestic reach, spanning 220+ countries and territories.
Shiprocket enables businesses to thrive by reducing shipping expenses and offering access to 24,000+ pin codes across India. Its user-friendly integrations and collaborations with 17+ courier partners simplify shipping, ensuring top-notch customer experiences.
Shipping Rates affect the Cart Abandonment Rate; therefore, choosing a well-planned shipping strategy is also needed for one's eCommerce business to grow. Shipping rates may be free, flat, discounted (with one or more items of the same kind), variable rated, etc. Shipping of large items needs to be done with care, caution, and precision in a cost-efficient manner so that neither the eCommerce business nor the end consumer face any loss
The logistics division of eCommerce portals is getting more tech-savvy, organized, and tiered to ensure safer deliveries of bulkier consumer goods.
Calculate Your Shipping Costs Now