Product Updates From February For a Hassle-free eCommerce Shipping
We have been working day and night to provide you with the best features and product updates from February. We promise to make shipping hassle-free for you. Therefore, we have added some powerful elements in our platform. Read on to find out how Shiprocket's latest features will help you in a better shipping experience.
Split-Shipment
If you are an eCommerce business owner, you would know that it's very common to not have all your products or SKUs available in your warehouse at the same time. In such a case, when an order has been placed by your customer for multiple items, what do you do? You tend to wait and ship the products together when the stock of each item is replenished in your warehouse. This causes a delay in the delivery of products, resulting in customer dissatisfaction.
To avoid such a situation, Shiprocket will now allow you to use the Split-shipment feature. With the help of this feature, you will be able to fulfill your orders partially, based on the number of SKUs available in your warehouse. You can split the manual orders and process them as separate shipments in the Shiprocket panel. The delivery time will be reduced drastically, as the time taken to process the orders will decrease. Moreover, this feature will give you leverage to ship different products from different warehouses.
How to Enable Split-Shipment Feature in your Account?
1. Log in to your panel and go to "Company" settings.
2. Locate the "Shipment Settings" tab at your bottom left corner.
3. Turn the toggle on to activate "split shipment" for your account.

Know how to process a split-shipment here.
Please note that the Split Shipment feature only works for manual shipments. We'll soon be launching this for "Channel Orders" as well.
Updated Features in Shiprocket Mobile App (Android Version 2.9.3 & iOS Version)
For those of you shipping via our mobile app, we have updated our features so that you can get a panel-like experience while processing your orders. Below are the features that we have added:
Complete your signup by receiving the OTP on-call: If you fail to receive OTP through SMS, you can now request the same on-call for a maximum of 3 times in an hour. (only for Android App)
Barcode Scanner: Scan the barcode on label or manifest and get the details of the order. (For both)
KYC Verification: Get your KYC verified by submitting your documents or by verifying Aadhaar OTP. This can be done for both individual sellers as well as company. (For both)
Download Invoice: Download the invoice for any status directly from the order screen. (only for Android App)
Download Label: Once the AWB is assigned to an order, you can download the label from the order detail screen. (only for Android App)
Request and Download Proof of Delivery: You can now request for POD on Delivered and RTO Delivered statuses. The same can be downloaded once available. This is present in the download icon in the order detail screen. (Only for Android App)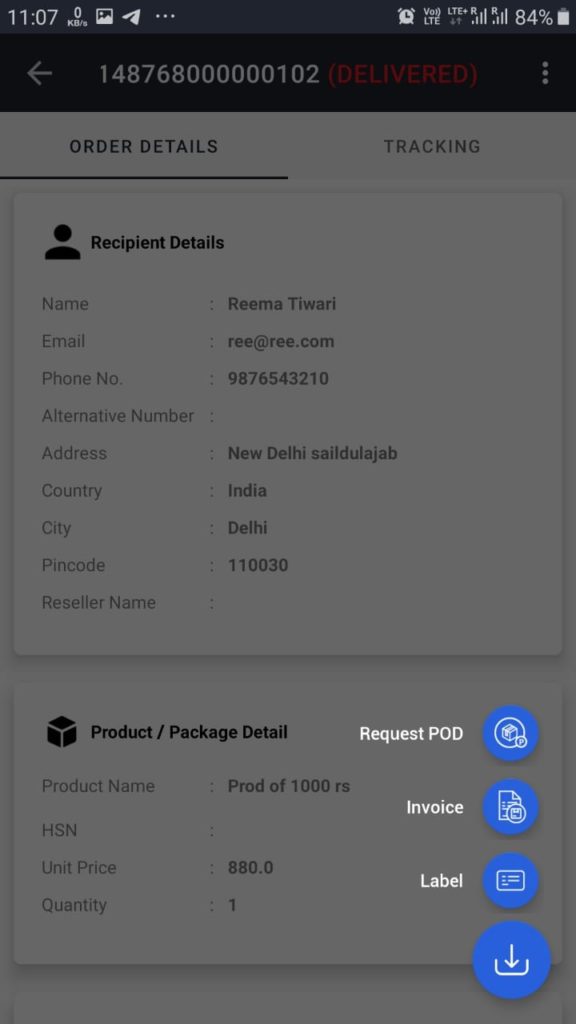 Add Alternative Number: Add your buyer's alternative phone number while creating an order. This number will be shown in the order detail screen as well. (For both)
Track Shipment: Track shipment in the search bar using AWB number. (Only for iOS app)
Changes in Label Format
Few of our sellers want to have a look at the invoice related information directly from the label which is pasted on top of the packaging box. To make it easier for all those sellers, we have added the following details in both versions–old format (6.25''x4.5'') and new format–(6"x4") of our label:
Invoice Number
Invoice Date
GSTIN
Seller Panel Training
Shiprocket has been providing all its sellers (free or paid) with Seller Panel Training so that they can use the Shiprocket panel without any hassle. From now onwards, we will be allowing all our sellers to pick the training slots on any weekday, irrespective of whether they are paid or unpaid sellers.
These features are sure to make your shipping journey smoother. We hope you like trying them out and ship your parcels hassle-free with us. We'll be launching more features in the coming days, that will help you take your business to new heights! Keep following this page for more updates and latest features.
Happy Shipping!
Calculate Your Shipping Costs Now