Product Updates
Make eCommerce Shipping Delightful with Shiprocket's Product Updates from April
Our aim at Shiprocket is to make your life easier when it comes to shipping and logistics. In the past few days, we have been working incredibly hard on a new vision for Shiprocket. We couldn't be more excited to share what we've built and where we're headed in a series of updates over the next few days. Here's a summary of what we've been up to recently: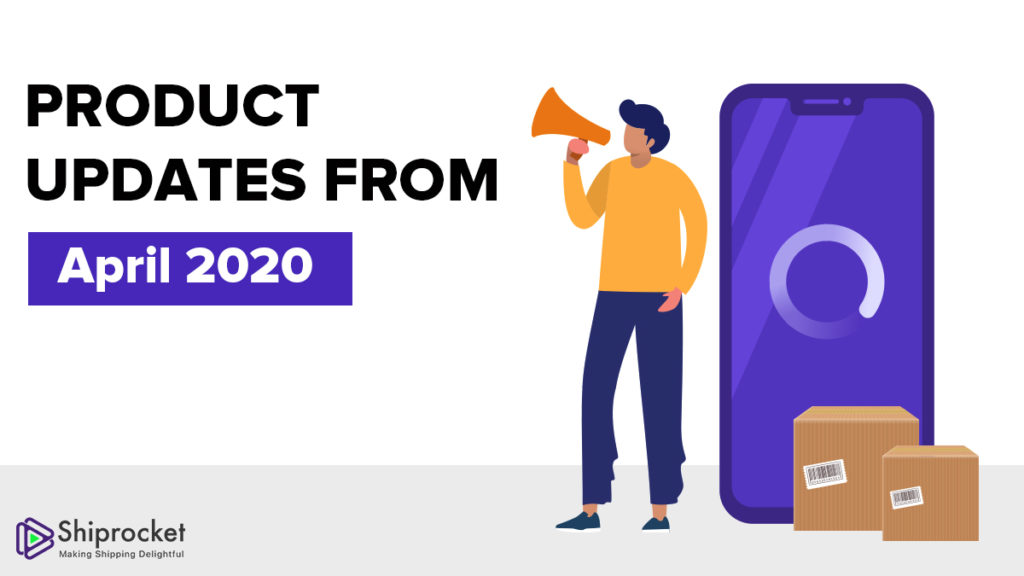 Introducing Shiprocket Hyperlocal Services – Deliver Orders Within 2 Hours
We have recently launched our hyperlocal services for delivering essential items such as food items, groceries, medicines, personal care, and baby care products, etc. to customers residing within 15 KM from the pick-up location. Stay ahead of your competition by giving your buyers an option to have their order delivered in a few hours.
Currently, we are integrated with Shadowfax Local and Dunzo for delivering "essential items" in 12 major cities of India. Below is the list of cities where our hyperlocal services are available:
Ahmedabad
Bangalore
Jaipur
Chennai
Delhi
Faridabad
Gurgaon
Hyderabad
Mumbai
Navi Mumbai
Noida
Pune
To know more and check if you are eligible to use Shiprocket Hyperlocal services, call us at 011-43145725.
What's New?
Shiprocket's New Essential Courier Partners
As you would already know, Shiprocket is helping sellers deliver essential items amid COVID-19 lockdown. To make our services even more convenient for you, we have now added three more courier partners in the same vein:
Delhivery Essential
Shadowfax Essential
XpressBees Essential
Apart from that, you can also ship your heavier orders with our surface couriers listed down below:
Delhivery Essential Surface ( 5 kg)
Delhivery Surface (Up to 2 kg)
If you are interested in shipping essentials, please contact us at 9266623006
Have questions – Ask our conversational chatbot Sania!
Sania is a smart bot who is equipped to help you with your most pressing questions. Below is the list of areas where you can take her help:
Pickup support: Know the status of your pickup, or receive technical support if you are getting a pickup error. Did your pickup get delayed? No worries, Sania will help you out in raising a quick pickup escalation.
Weight Assistance: Understand more about weight discrepancy or take action on any existing weight dispute.
Delivery Support: Get immediate support in delivery delays, escalation, and NDR.
Billing, Invoices, & COD: Take help in case of a negative wallet balance, pending SaaS invoice, or a delayed COD remittance.
Technical Support: Get all the help you need when it comes to channel or API integration.
Other than that, you can also ask her any other questions you might have regarding your Shiprocket account. Our chatbot is available 24*7 to help you!
Enhancements & Upgrades
Returns 2.0 is Here: You Asked, We Listened!
As you know, Shiprocket gives you the ability to accept return requests directly from your tracking page. With this new release, you have an option to get a quality examination of the product provided by your customer at the time of pickup. Not just that, while creating a new return order, you can add the reason for return along with the photographs of your product. This helps in a quick and thorough examination of the product in terms of color, size, condition, etc.
If you want to get a quality examination for all your returns, please follow the steps below:
Log in to your Shiprocket account and click on the "Post Ship" tab from your left bar.
Here, click on returns from the bottom-right corner of your screen.
Now, turn the toggle on if you want to enable a quality check on returns placed by your buyer.
Note: After enabling quality check on your return orders, you'll only see QC couriers at the time of return initiation.
Cancel the Shipment, Not the Order
Managing your shipment just got a lot easier! You can now cancel the shipment you don't want to process, and it will automatically be stored as a new order in the "processing tab". It saves a lot of effort and time at your end as well.
With this, we have also updated our statuses in which you can cancel your order. Below is the list of all statuses where you can cancel your shipment:
AWB Assigned
Label Generated
Pickup Error
Pickup Exception
Pickup Generated
Pickup Rescheduled
New Capabilities in App
We have added various new functionalities to your Shiprocket App, along with the minor fixes and other enhancements.
We have integrated with Shadowfax Local and Dunzo to help you deliver orders locally and within a few hours.
Order creation made super easy! To select a buyer pin code, directly pick it up from the Google Map integrated on your order screen. This feature is highly helpful when it comes to Shiprocket hyperlocal orders.
You can now add multiple products in a single order with the different unit prices and HSN numbers.
Now, accept or raise a weight dispute directly from your app.
Final Say
We encourage you to give these features a try and let us know what you think. Is there anything you'd like to see in the coming days? Let us know in the comments below!
Calculate Your Shipping Costs Now