A Look At Shiprocket's Step Towards Resolving Order Pickup Delays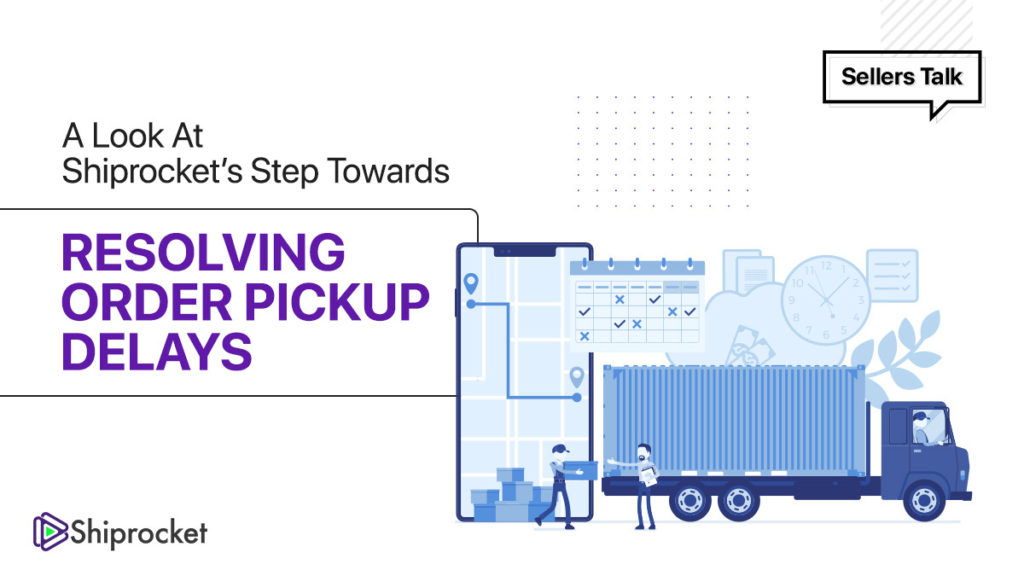 Once the seller receives an order, he raises a request for order pickup, and that is when the order fulfillment process starts. Order pickup from the seller's doorstep/warehouse is the first step towards this process.
While this step may seem a usual one, a lot depends on it. A delay in order pickup can lead to the entire order fulfillment process being delayed. This can also lead to a negative brand reputation among the customers.
We get a lot of queries related to delay in order pickup. Here is one such query from our seller.
Audio Transcript
SR Representative:
Welcome to Shiprocket. This is Diganta. How may I help you?
Seller: Hello Diganta, I'm Aryan from Star Next. My order is not getting picked up. Service is very bad, pickup ke liye aate nahi hai. I was told ki 28th September 2021 ko pickup hoga and 1st October 2021 will be the delivery date. But abhi tak the shipment is with me and pickup nhi hua.
SR Representative: We are extremely sorry to hear this, Sir. Our goal is to provide you with a hassle-free shipping experience. Could you please help me with the last four digits of your AWB no. or tracking ID for me to provide you a quick resolution?
Seller: AWB number hai 6381. Again and again, I have called customer support. They don't know what to do. This just can't be accepted. Please urgently solve karo ye issue otherwise we will have to cancel and give it to a local courier.
SR Representative: This is not the impression we want you to have of us. We never intend to cause you any delay or inconvenience. As I can check, the shipment was assigned on 28th September 2021 and the pickup is scheduled for 28th September 2021.
Seller: Yehi to problem hai na. The pickup executive didn't come for the pickup but updated the tracking id saying "package is not ready, so pickup is rescheduled". My shipment is ready from the very first day and I am waiting for the pickup but nobody approached me.
SR Representative: I sincerely apologize for the inconvenience. Thank you for explaining your concern in detail, sir. I would like to tell you that we try our best to provide you with a smooth shipping experience, however, your courier partner has more control over the pickup and delivery.
We will escalate your concern to your courier partner on priority and will arrange for a pickup at the earliest. I'd request you not to worry, please be rest assured as we're always here to help. We'll be working hard to solve your problem within 24-48 hours.
Seller: That's fine Diganta, but the thing is the pickup is already delayed by two days and my brand reputation is getting affected. Although ye issue first time aaya hai but Shiprocket se aise expected nahi hai. Please get it done as soon as possible.
SR Representative: Sure, sir. We do understand the importance of your time and have always believed in timely pickups. Please be assured that we have escalated your concern to your carrier and they're trying their best to pick up your shipment at the earliest.
Additionally sir, I would also suggest you use CORE- Our AI-based courier recommendation engine.
Seller: What is CORE? How can it help me?
SR Representative: CORE is an AI-based courier recommendation engine. It will help you to choose the most suitable carrier for your future shipments, depending on the serviceable pin codes, delivery speed, and shipping rates.
Seller: Thik hai, I'll check it out. But please get my order picked up first.
SR Representative: Is there anything else I can help you with sir?
Seller: No thanks, but please resolve this issue on priority.
SR Representative: Definitely, sir. Thank you for calling Shiprocket. Have a good day ahead.
Conclusion
Shiprocket works harder to provide all our sellers with a smooth and seamless shipping experience. But we would like to inform you that the courier partner that you choose for shipping has more control over the pickup and delivery. For all the queries raised with us regarding the order pickup delay, we escalate the same with the courier partner and try to resolve it at the earliest.
Stay tuned for more. To raise any query or to know more, you can write to us at [email protected]. We are happy to assist you.
Calculate Your Shipping Costs Now