Shiprocket Vs GetGo Logistics – Which Is The Best Shipping Solution For Your Business
With the increasing number of new eCommerce businesses coming up, more and more shipping service providers are also appearing into the picture. In such a scenario, it must get difficult for you to choose the best shipping platform for your business.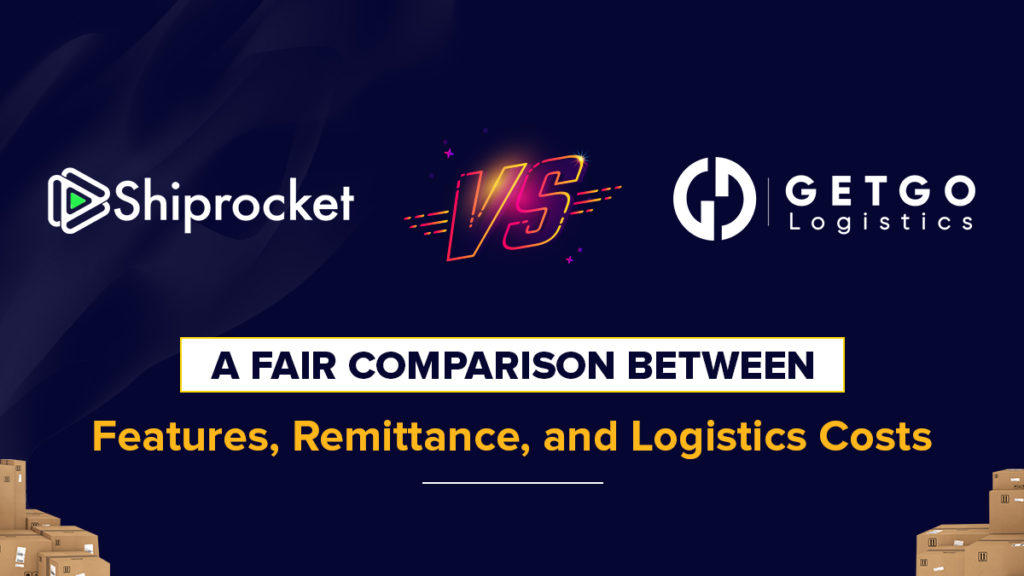 But you don't have to worry anymore. To make things easier, we have come up with a brief comparison between the two shipping platforms – GetGo Logistics and Shiprocket.
Choose your shipping partner wisely, as shipping services can make or break your business.
Rate Comparison
Feature Comparison
Pincode Reach
Integrations
Seller Support
Platform Features
Why Is Shiprocket Ideal For Your Business?
Shipping is one of the most important parts of the order fulfillment process. Choosing the right shipping partner for your eCommerce business should be done extremely wisely. We, at Shiprocket, help eCommerce business owners to focus more on their business strategy instead of worrying over shipping and logistics. Here's why Shiprocket is the best shipping and logistics aggregator for your business-
Courier Recommendation Engine
One of the biggest challenges for an eCommerce company is to pick the right courier partner for shipping its products. Major key metrics such as delivery time, freight rate, and customer satisfaction depend on the courier you choose. To make this decision easy and error-free, we have created a machine-learning-based tool that recommends the best courier partner for each of your shipments. The recommendation engine takes into account more than 50 data points. The major ones are as follows:
Return rates
Delivery time
Cost-effectiveness
NDR Dashboard
Any eCommerce business's biggest nightmare is return orders. Though they are inevitable, Shiprocket's NDR Management tool will help you manage undelivered shipments with ultimate ease. Not only can you keep an eye on your undelivered shipments but also know the reason behind them. Here are some other features of the NDR panel-
Reach out to your buyers in real-time
Immediate action by courier agent
Record undelivered order feedback via automated IVR & SMS
Our NDR dashboard reduces the chances of a return shipment. With such an automated workflow you can take action for undelivered orders in real-time, and reduce RTO by 2-5%.
Post Shipping Experience
Sharing a healthy relationship with your customers is extremely important for any business to grow. With Shiprocket's Post Ship feature, you can now provide your buyer with an unparalleled post-purchase experience. You can constantly update your buyers with detailed tracking information and once they know about every movement of their package, they will automatically rely more on your store for future purchases. You also get to-
Send customized tracking pages to customer
Add your brand's logo and support details to the tracking page
Share best selling product banners with your customers
Postpaid
Won't you like to have a facility where you can maintain steady cash flow by adding a part of your remittance directly to your shipping credits? With Shiprocket, it is a reality now! We allow our customers to ship orders with complete freedom and recharge their wallets from their COD remittance.
Let go of the need to recharge your wallet manually every time you plan to ship with Shiprocket. Ship directly with postpaid.
Easy, isn't it?
Now that you've got a fair comparison of the price and features of both the shipping and logistics platforms, it'll be easier to choose the best one. You can also check out more features of Shiprocket here.
Happy shipping!
Calculate Your Shipping Costs Now