5 Supply Chain Tactics to Strengthen Your eCommerce Business
Starting an eCommerce business might seem like one of the best things, considering the profits it has to offer. More and more customers are shopping online every day, and the eCommerce market is only growing as time passes. However, not every business can sustain itself in the market. There are many reasons for this, but mostly there is a lack of long-term strategy.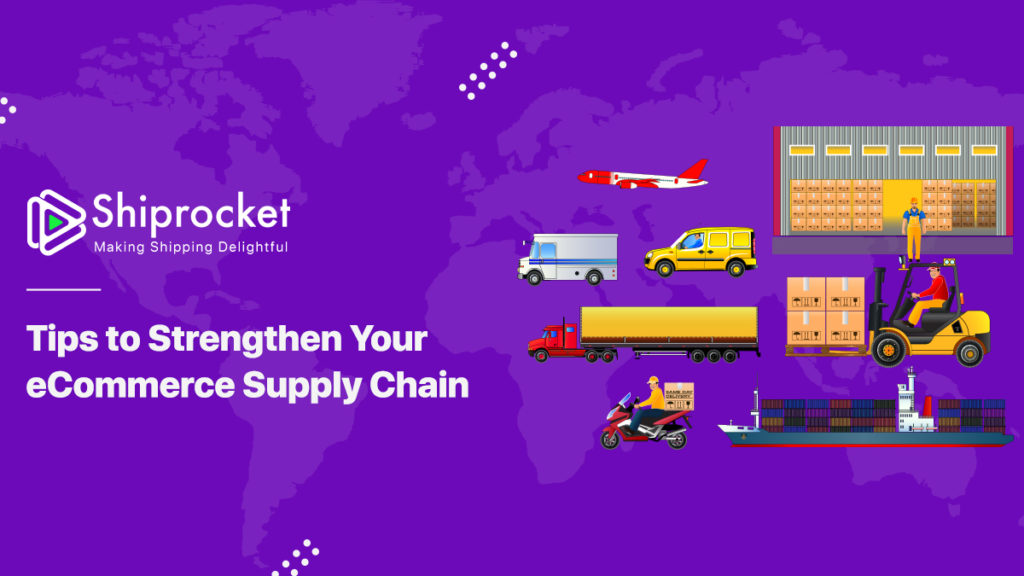 eCommerce business is nothing without its supply chain, and it is a crucial area where most companies struggle. Maintaining a seamless supply chain requires strategic planning and adoption of the right tactics from time to time. In comparison, it might seem like a tough nut to crack for businesses, with suitable measures, it can take your business to new heights.
The Supply Chain for an eCommerce Business
When it comes to the supply chain, here are a few things that businesses struggle after-
Bringing life to a product effectively.
Streamlining your supply chain
Packing and fulfilling orders seamlessly
Delivering products on-time to the customers
Managing the spends on labor for carrying out various tasks
These and many such factors are responsible for creating customers' experience when they shop from your store. For this reason, you must pay attention to every detail of your supply chain and curate an overall hassle-free process.
Working on your supply chain serves several benefits. First, it helps you seamlessly deliver the order to the customers' doorsteps. If your supply chain is sorted, your fulfillment process is much simpler, and you can provide products rapidly to the buyers. Next, you get to save a significant chunk of your costs that are otherwise occupied in various parts of your supply chain, for example, labor.
With modern automation techniques, you get to automate several back-end processes for your eCommerce business and pass the same benefits to your customer in the form of hassle-free deliveries.
5 Tactics to Strengthen Your eCommerce Supply Chain
While getting started with streamlining your supply chain can be stressful, there is nothing that you should worry about. We've gone ahead and compiled the top 5 tips that you must follow to strengthen your supply chain and become a pro in eCommerce-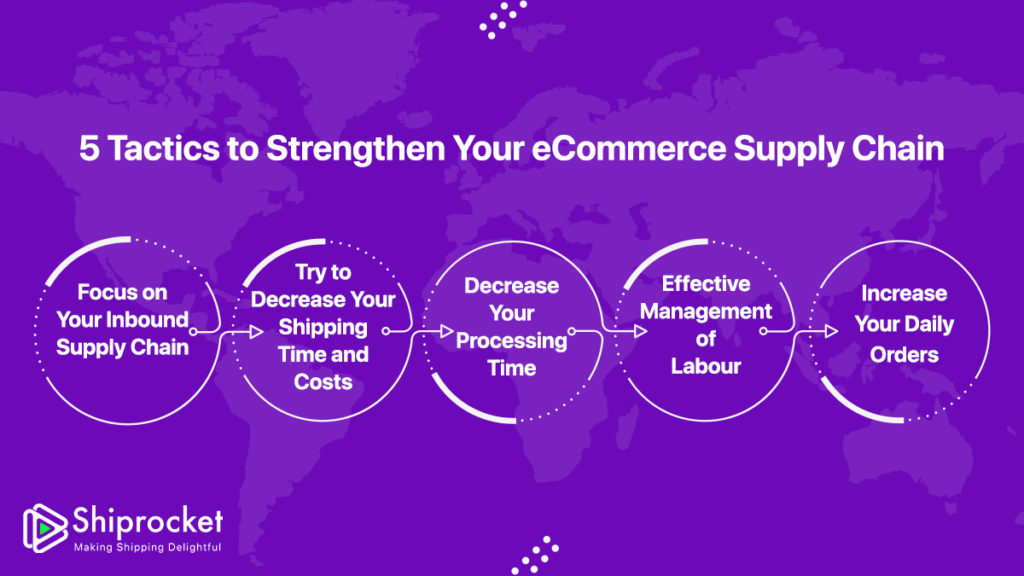 Focus on Your Inbound Supply Chain
To begin with, streamlining your supply chain, the first thing you must focus on should be your inbound processes. After all, your inbound strategies cause most of the impact on your overall eCommerce experience. Even though you are an omnichannel seller or a completely online business, receiving and passing inbound products are extremely sensitive to your business. For this purpose, make sure you identify the following-
Figure out exactly where does the problem lie in your inbound supply chain
Find out whether any vendors or wholesalers are responsible for the delay in supplying products.
Ask your vendors to sign up for a vendor compliance program.
Determine which of your inbound supply chain activities can be done faster and cheaper
Use automation to the rescue.

Try to Decrease Your Shipping Time and Costs
With market titans like Amazon, offering even two hour delivery on products, the customers' expectations have increased by multiple folds. By working on your inbound supply chain and using automation for your business, you can reduce your delivery time and costs. Explore the options of multi-warehouse shipping for your products and ship using an automated platform like Shiprocket. This way, you can ship your products from the warehouse that lies closest to the customer's delivery location.
Decrease Your Processing Time
Try to decrease your order processing time by leveraging the best of automation for your eCommerce business. Platforms like Shiprocket help you ship seamlessly and reduce the time spent in manual supply chain tasks. Be it uploading bulk orders or shipping them at once, the platform lets you do it all in a matter of a few clicks. Similarly, use a barcode to scan your products and reduce the fulfillment time at the end of your warehouse.
Effective Management of Labour
As an eCommerce business, you must rely on physical labor for a variety of your tasks. This practice can impact your supply chain and bring about unnecessary delays. Manual labor is not just time taking but also expensive. Instead, try to lower your labor costs per package by automating more and more processes. In case you are finding it difficult doing it, you can also send your products to a professional fulfillment center and ensure more incredible speed and lower costs.
Increase Your Daily Orders
You must also focus on increasing your number of orders that are picked daily from your warehouse. More number of orders picked directly means a more significant number of orders fulfilled, thereby strengthening your supply chain. Orders picked on time are a key to a fulfilling customer experience. Use an automation tool that sorts orders based on their priority. Once you know such orders, pick, pack and ship them at the earliest.
Strengthening your supply chain can mean paying attention to minute details of your eCommerce business. When you evaluate every process running at the backend, you might figure out the exact reason behind delayed deliveries or disrupted customer experience. While some of these factors can be shocking, they must be reduced at every cost. The best thing you can do for your supply chain is to leverage an automation tool for the task. Try Shiprocket for the end-to-end automation of your supply chain and order fulfillment.
Calculate Your Shipping Costs Now