A Guide To Tracking Orders From Leading Courier Partners

You look for a product online, then find it and finally place an order. I'm sure you're right guessing about the thing that follows next. After placing an order you start tracking it online. Until the point, it gets delivered to your doorstep!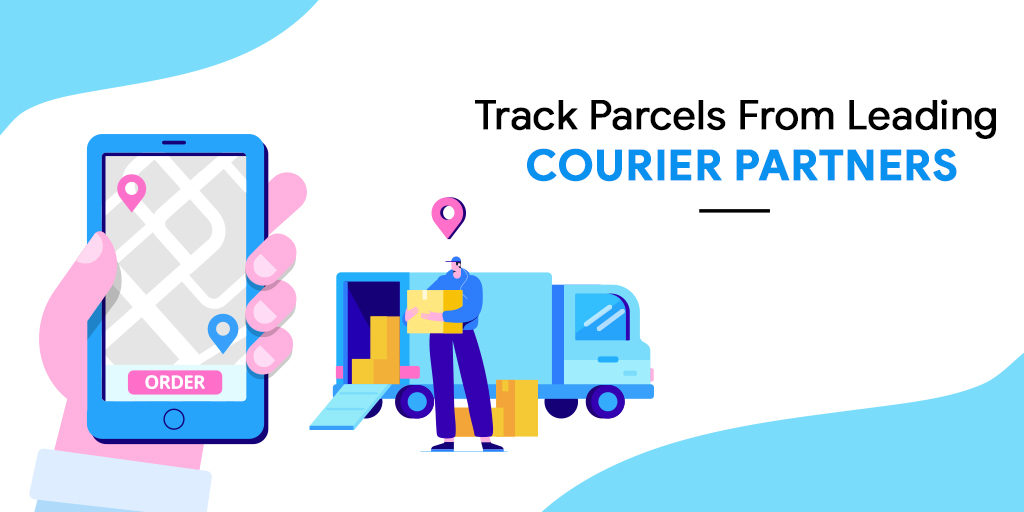 Tracking is one of the vital elements of purchasing an order online, at least for customers. However, if you're a seller, you have to put in a lot of efforts in helping your customers track their orders efficiently. But what if tracking doesn't have to be this complicated? At Shiprocket, you can find a dedicated tracking page to monitor orders from 15+ couriers. But, just in case you want to track your order on an individual courier tracking page, don't worry! We've got ahead and compiled them for you.

Read on to find out how to track shipments from your favorite courier partners.


Bluedart is one of the most trusted courier partners in the market. The courier company is used by various eCommerce businesses to ship their packages to their customer's doorstep. When it comes to tracking, Bluedart provides you with more than a few options to track your parcels. All shipments sent via Bluedart, can be tracked for a period of 45 days, from the date they are dispatched.
When shipping via Bluedart, you are given a copy of the WayBill. Each Waybill has a unique number that can be 8 to 11 digits long. Here's how you can use it to track shipments using Bluedart:
Select the Waybill option on the TrackDart (Bluedart's web-based tool for tracking)
Enter your unique number in the box
For more than one waybill number, separate them using a comma
Click on 'Go' to receive the updates related to your shipment


Alternatively, if you can also use the order number or reference number to track shipments. Just select the 'Ref No' option instead of 'Waybill number' on the TrackDart.

Delhivery is again one of the most popular courier companies that specialize in eCommerce shipping services. The company offers a plethora of delivery services that include same-day delivery, next-day delivery, economy delivery and more. Moreover, the company also has a sorted tracking system, where you can easily track your parcels.

Using Delhivery, you can track your orders by-
Tracking ID
Order ID/ Ref ID
To track your shipment, just enter any of the above information in the box provided and click on the 'Track' button. You can also track multiple IDs by separating them using a comma.


FedEx is a globally renowned and reputed brand when it comes to shipping packages. It offers a plethora of options for people to ship their products to their desired destinations. Apart from logistics services, FedEx also offers a fantastic platform to track your parcels. You can track any package from FedEx using:
Tracking Number
Reference Number
Alternatively, you can also obtain a 'Proof of Delivery' of your package by entering your tracking/reference number.

For those who are not familiar with Proof of Delivery, it is a document that provides a confirmation to the fact that the recipient has received a particular package.

To track FedEx parcels,
Select the tracking number/ reference number option
Enter the respective number in the given field
Click 'Submit' and receive the details.

When it comes to shipping eCommerce parcels, Xpressbees is one of the cheapest courier companies. The company delivers your parcels quickly and provides services like same day delivery, next day delivery, cash on delivery, try and buy etc.
If you've shipped your parcel with Xpressbees, here's how you can track it-
Enter your tracking ID in the field provided
If you have multiple IDs to track, separate them using commas
Click on 'Track your shipment' and get updates regarding your parcel
Wow Express

Wow Express is a popular courier company that specializes in eCommerce shipping. It lets you ship your packages at enticing rates. Apart from last mile services, Wow Express also specializes in firsts mile delivery, reverse logistics etc.
You need to have any of the two details to track your parcels:
Waybill Number
Order Number
To track a parcel shipped via Wow Express, you can visit their website. Then:
Select 'Waybill number' or 'Order Number' whichever you want to enter
Enter the respective number in the designated field
In case of multiple shipments, separate the IDs by commas
Click on 'Track Now' to track your parcel

Everyone who has ever shipped a parcel, must have heard about DHL. DHL is one of the most renowned courier companies in the world. It provides a wide range of shipping services and an uncomplicated tracking option. DHL offers online tracking support, where you can simply enter your tracking numbers and track upto 10 parcels at a time.

To track a parcel on DHL:
Select your shipment type, such as express shipping
Enter your tracking number(s)
Click on the 'Track' option

DotZot is DTDC's courier logistics platform. The company offers technology-based solutions to people and enables them to ship to various parts of the country at low costs. DotZot also provides a hassle-free tracking feature to people so that they can stay updated about the whereabouts of their parcel.
To track your DotZot package:
Enter your airwaybill number, order number or reference number in the field provided
Separate multiple queries via commas
Click on the search button to get tracking updates

One of the popular names in the world of logistics, Ecom Express provides an end to end solution to eCommerce companies. It also provides a simplified package tracking for the people.

If you've shipped a package via Ecom Express, you can track it by these details
Airway Bill Number
Order Reference Number
Enter these on Ecom Express web platform and click on the 'Track your order' button.


Aramex is a globally recognized courier company that provides complete eCommerce logistics solutions to businesses. It has a simple and easy to understand tracking feature on its website. There are two ways by which you can track shipments on Aramex-
Shipment Number
Reference Number
When you select a reference number, you must also select whether your shipment is freight or express.
To track your Aramex package:
Select the type of number you have for tracking your shipment
Click on 'Track' to find the tracking information

Gati is a pioneer in logistics and offers a variety of services to customers such as cash on delivery, shipment tracking etc. To track your shipment on Gati, you can simply head to their website and enter the docket number.
Enter your Docket number in the tracking field
Click on 'Submit' to get updates about your package
Alternatively, if you're shipping with Shiprocket, you can track parcels from all these 10 couriers on a single page.

Just enter your AWB or Order ID in the field provided and hit Submit.

Tracking your parcel can be easy when you know where to look. With information about your favorite couriers, we hope you don't find any trouble tracing the progress of your order. Moreover, providing tracking information to your customer can be really helpful for them in looking up their order online. Ultimately, it contributes towards the satisfaction of your customer.

Calculate Your Shipping Costs Now