Understanding the Basics of eCommerce Reverse Logistics
With eCommerce growing at an unprecedented rate, eCommerce owners are constantly trying to come up with ideas for maximum customer satisfaction, ultimately leading to customer retention.
Owing to this competition, the role of an eCommerce company continues beyond the delivery of the product. Another aspect of logistics comes into action after the goods are delivered. This aspect of returns gets executed on the ground with reverse logistics. Functions like return, repairing, refund, reselling, etc., have become necessary for any eCommerce venture's profit margins and success.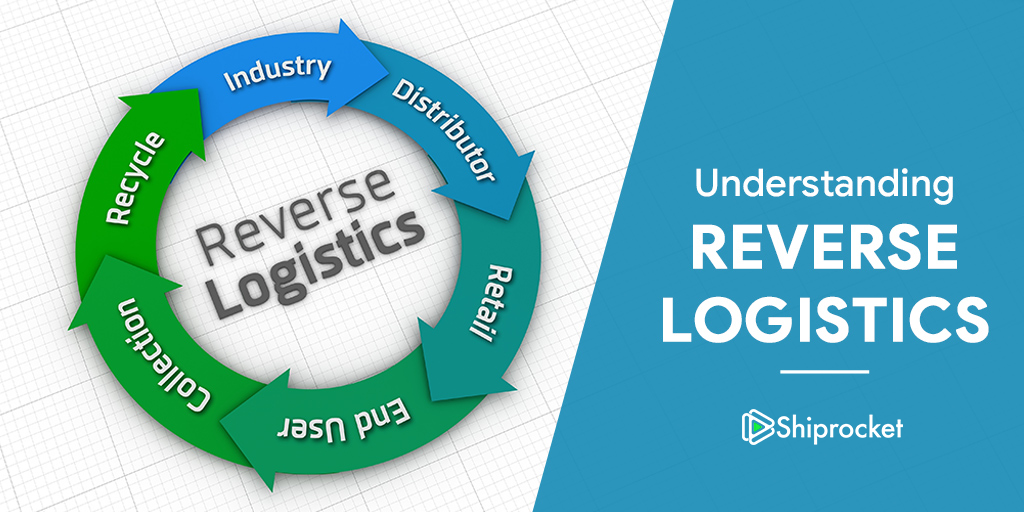 What Is Reverse Logistics?
Reverse Logistics is the procedure associated with the various functions within the fulfillment center, i.e. product returns, repairs, maintenance, recycling, dismantling, etc. The concept of reverse logistics has been there for decades. However, it has become essential for eCommerce owners to improve customer service and retain customers for a maximum time.
It is a painful area of concern for eCommerce store owners, primarily if your store deals with products with short life cycles like electronics. In normal eCommerce functioning, a product reaches the customer after the manufacturer, distributors, and retailers have supplied it. Suppose the product is defective or the customer demands an exchange or refund (as per the return policy of some stores). In that case, the whole supply chain process gets reversed from the customer to the manufacturer.
Importance of Reverse Logistics & Why does your eCommerce Store Need it?
There are various reasons why an eCommerce store needs reverse logistics and solid return policy. Read below to find out more:
Customer Satisfaction
Many eCommerce stores develop various return policies to convert more visitors into buyers. For example, numerous eCommerce stores offer 30-day or 15-day free returns.
Wrong Product
A lot of times, we hear stories about the wrong product delivered to the customer. These instances put off customers. To build a positive brand reputation and positively cater to the customer's needs, merchants need to return the wrong product and replace it with the correct one.
Wrong Address
Another common mistake that is really common is delivering products to the wrong address. It might be an issue from the customer's or the merchants' end. No matter whose issue it is, the eCommerce merchants have to deal with it.
Damaged Goods
Imagine that you have ordered a brand-new smartphone or laptop. However, when you receive it, it is either scratched or is not in a working condition. It is quite a nightmare, but this situation does occur. Active eCommerce reverse logistics that can bring products back to the sellers are needed to return such damaged goods.
Product Exchange Offer
"Get your old gadget and get Rs. X off on a new one." This strategy is a standard marketing strategy for many e-commerce store owners involving reverse logistics.
Excellent Marketing Strategy
Many studies have revealed that reverse logistics is a great way to attract customers. Many users, especially those who are new to online shopping or unsure about buying online, take reverse logistics as a positive point, go ahead, and buy products.
Retain Customers
After driving customers to your store, the next step is to retain them for a maximum time. The best way to do this is to satisfy customers with your service. If you offer reverse logistics, the customer can return or exchange products without any hassle. Hence, they might like to come again and shop at your store.
Environmental Responsibility
Today, many regulations are applied to e-waste. This e-waste majorly comes from damaged electrical goods. The recycling and waste management of this waste is the responsibility of the seller to recycle products.
Types of Reverse Logistics
Listed below are the primary types of reverse logistics:
Returns Management
Returns management is a fundamental aspect of reverse logistics that focuses on handling customer returns of goods. It includes managing the entire return process, from receiving returned items to inspecting them for quality and determining the appropriate course of action. Companies often implement efficient returns management systems to streamline the return process, enhance customer satisfaction, and minimise losses. For example, an online retailer may have a dedicated returns portal where customers can initiate the return process and receive instructions on returning the product.
Return Policy and Procedure (RPP)
Return policy and procedure (RPP) refers to the guidelines and protocols established by businesses to govern the return process. It outlines the conditions under which customers can return products, the timeframe within which returns are accepted, and the steps involved in initiating a return. A clear and well-defined RPP helps manage customer expectations and ensures consistency in handling returns. For instance, a company may have a 30-day return window and require customers to provide proof of purchase for all returns.
Remanufacturing or Refurbishment
Remanufacturing or refurbishment in reverse logistics refers to the process of taking used goods and restoring them so they can be sold or used again. This involves repairing, cleaning, and fixing up the products to make them usable and reduce waste. When companies remanufacture products, they might use a combination of reused, repaired, and new parts. For instance, if a computer manufacturer receives returned laptops, they can refurbish them by replacing any broken parts and making sure they meet the required quality standards before selling them again at a lower price.
Reverse Logistics Process
Reverse Logistics process refers to the management and return of the products from customers back to the merchant through the supply chain. The most common example of reverse logistics is when a customer returns the purchased product and asks for a refund.
The whole process varies from industry to industry and is entirely different from traditional logistics. As mentioned above, reverse logistics involves everything from the return initiation to the entire product management at the merchant's warehouse. The different steps in the process consist of packaging, shipping, customer support, restocking or disposing of the product through various means.
The process of reverse logistics is as follows:
The customer decides to return the purchased item.
Once the customer requests the return, the shipment is taken back to the merchant's warehouse. This is the step where the merchant needs to place the return in the appropriate category before it arrives. For example, we often see various eCommerce giants, such as Amazon, Flipkart etc., asking their customers to fill out the reason for their return, be it a defective item, wrong product received, or product damage issues.
The incoming returns go through a complete review process where sellers place the sellable items back on the shelf. Faulty or defective items must be repaired quickly to get restated in the main inventory.
The customer gets a full refund if the quality of the order qualifies for it.
However, Businesses must follow a strategic approach to ensure maximum efficiency and implement a robust reverse logistics process.
Reverse Logistics Challenges
As crucial as eCommerce reverse logistics may be, it does pose several challenges that need to be overcome by businesses. Here are a few of them and specific hacks to overcome them –
Overhead Costs
Reverse logistics means extensive costs for your business. You not only have to pay for forwarding orders but also for the return orders that the courier company will arrange for you. Since free returns are quite the trend these days, you must handle these costs yourself.
Product Quality
Undoubtedly, it takes a lot to maintain the quality of the product. The product would now be more prone to bumps and friction as the packaging would be opened and will not be the same. Also, sometimes customers return used items, and you cannot use the product again. Therefore, it's important to ensure you add the conditions for returning the products and don't return everything. You can also collect photographs to assess the condition of the product.
Negative Customer Experience
Lastly, reverse logistics can negatively impact customer experience if not done correctly. Therefore align your return pickups properly and take proper customer feedback to know when they can return the product.
Shiprocket – Seamless Reverse Logistics
Several courier companies offer returns. But, one courier company can't have the serviceability of all pin codes. Moreover, they won't provide you with a platform to handle returns and NDR in an automated manner.
Thus, you must sign up with Shiprocket. Shiprocket will provide you with a platform to automate return orders and decrease RTO by 2-5%. Also, with Shiprocket Fulfillment, you can store your products closer to your buyers and ship them faster.
Furthermore, with Shiprocket, you can save on return orders as the return order costs are 10-15% lower than forwarding order costs.
Final Thoughts
Reverse logistics is an integral aspect of any eCommerce business. The challenge is doing it intelligently so that you do not have to pay more than your profits.
Calculate Your Shipping Costs Now