How Unified Order Tracking Is A Boon For eCommerce Businesses
Let's say you are an eCommerce seller. You sell a tea set on Amazon and ship it via Delhivery. Then, you sell coasters on your website with Shopify and end up shipping them through Ecom Express. Also, you sell other material like wiping cloth, tea set cases, etc. on the Facebook marketplace, and ship those via Bluedart.

What now? You end up with three different courier tracking details and pages. Ultimately you keep on browsing multiple websites and check the status of your shipped parcels on three different platforms. Isn't it tiring?

But this wouldn't have been the case if there was a smart eCommerce unified tracking platform, that helped you track everything through a single place!
Welcome to the era of unified tracking pages – a gateway to seamless multi-carrier tracking, customer satisfaction and a boon to scaling your eCommerce business.
What is Unified Tracking?
Unified tracking in logistics is a solution to monitor the delivery tracking of ecommerce orders shipped via multiple courier partners through a single platform.

When you ship using multiple carriers, you inevitably need to link your order tracking information with a shipping solution that is on top of the whereabouts of all your orders. With a unified tracking platform, you can save a lot of time and keep yourself up to date at all times.

Besides managing your business, it also enables you to provide a superior post order tracking experience to your buyer. Instead of searching the carrier partner's website, they get tracking updates directly through a tracking page, emails, and SMS updates.
How Is It A Boon For eCommerce Businesses?
Convenience To Ship With Multiple Couriers
A unified tracking page and platform provides you with a lot of information in one single place. So, you can easily focus on improving and optimizing your fulfillment chain to ensure exceptional order delivery. You can work on inventory management, optimizing your packages, experiment with various courier partners, and ship seamlessly.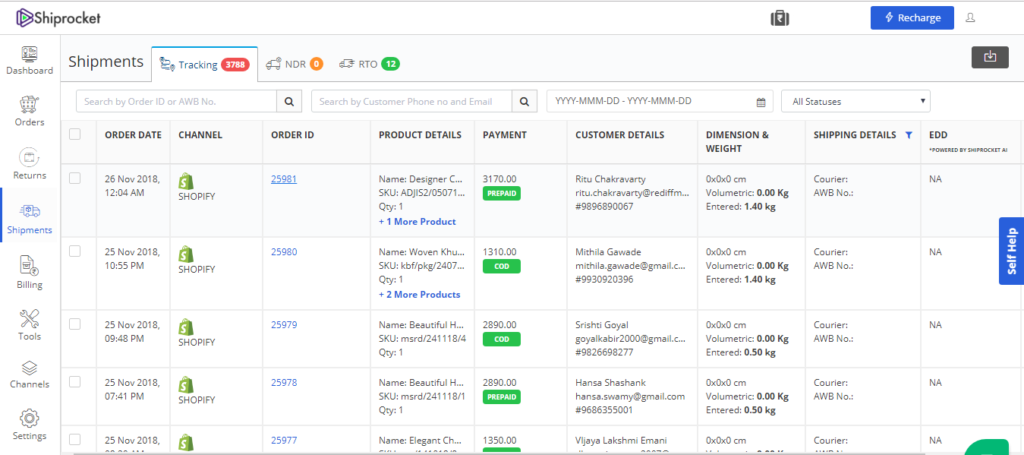 Shiprocket's platform offers you shipping with 15+ courier partners. Moreover, you can choose the best courier partner for each shipment. Along with this, they also provide you with a tracking screen where you can find all your shipments and track their whereabouts which are updated regularly.
Enhanced Customer Satisfaction
When you receive tracking updates on a single platform, you can serve your customers better with more time to spare for handling consumer queries. Also, once you're aware of the whereabouts of the shipments, dealing with buyers becomes easy as you're proactive and already have answers to questions. Furthermore, you can also devise ways to share this tracking information with your buyer and improve their post ship experience, like Shiprocket.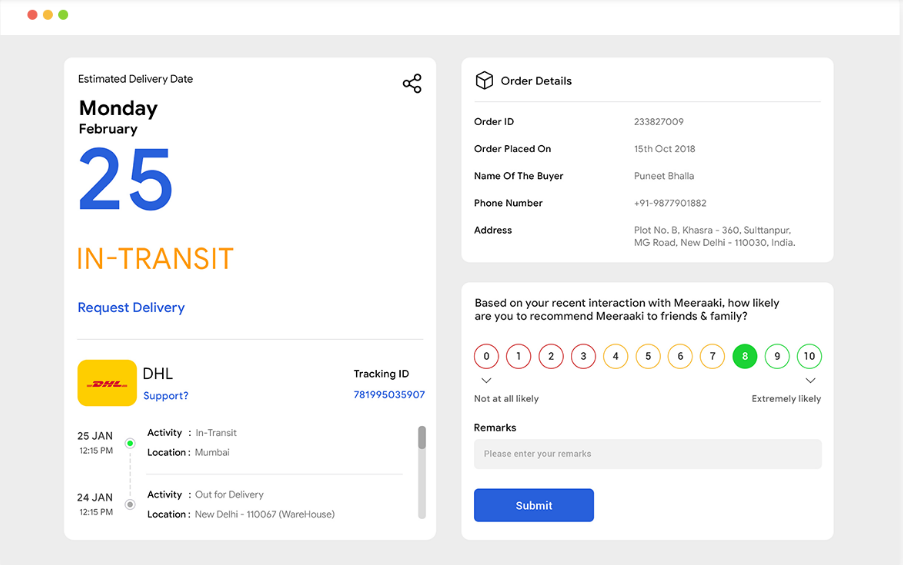 With us, you can share a tracking page with your buyer that contains all the tracking details of the shipment, an estimated delivery date, and other order details. Also, when the package does not reach the buyer in time, they can choose to reschedule the delivery right from your tracking page. Hence, one tracking page solves the concerns of so many departments, improving customer satisfaction.

Keep An Eye On Delays
Delays are a threat to any eCommerce seller. A delay in shipments means there will be negative feedback. Who so ever may be at fault, ultimately the seller has to take the blame for it. Thus, a unified tracking page can be helpful to pull strings and keep a tab on when the carrier is delivering your product. This way, you can take the initiative and inform your customer even before an order is delayed. A small gesture like this can save your business from numerous negative remarks. Furthermore, you can choose your courier partners wisely in the future.
Conclusion
Tracking forms an integral aspect of any business. If you get a chance to track 100 orders at once or each order on 100 different websites, it is obvious which option you will opt. Therefore, make a wise choice and select a solution that allows you to track your packages collectively. Save time and ship smart!
Calculate Your Shipping Costs Now