Improve Order Fulfillment Process by Adopting Warehouse Kitting
Order fulfillment can become a complex task for online sellers, especially during the peak seasons. Merchants processing vast quantities of orders in a day, sometimes, find it extremely difficult to fulfill all the orders effectively. Therefore, sellers are always looking out for techniques that can reduce some load off their shoulders. Warehouse kitting often referred to as product kitting is one of them!
Warehouse kitting or product kitting is an extremely efficient way for eCommerce sellers to save time and enhance warehousing functionality. This article will discuss all warehouse kitting and why you should adopt to improve the order fulfillment process.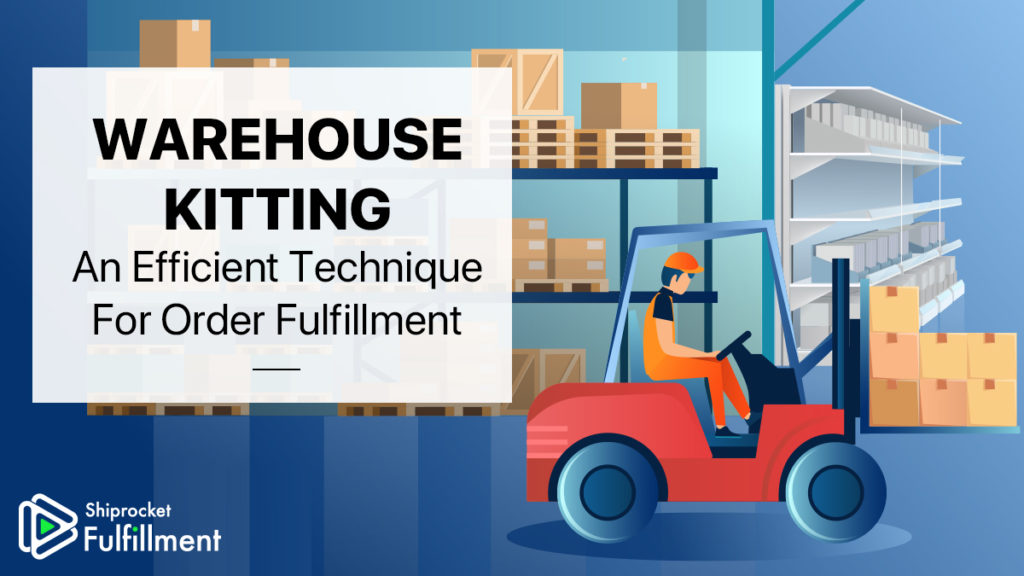 What is the Meaning of Kitting in Warehouse?
Kitting in a warehouse or warehouse kitting is combining different yet similar SKUs to create a brand new SKU.
Let us understand this better with an example. Suppose a customer orders a mobile phone online, along with a mobile back cover and earphones. Won't it be extremely inefficient to pack these products individually and ship to the customer at different times? Instead, what the merchant does is, he would assemble all of these products into a single kit and then ship it to the customer at once. This is what product kitting is. One thing you must keep in mind while kitting is, the products must be similar.
Warehouse Kitting Process
During fulfilling an order for separate products (without product kitting), the item is located in the warehouse using a Warehouse Management System. A warehouse employee then retrieves the articles before updating the inventory and completing the order fulfillment. This process is repeated for each item ordered by a customer, as individual SKUs assigned to unique articles are separately picked, packed, and shipped. The method of warehouse kitting is different from the usual one.
In warehouse kitting, the merchant bundles all those SKUs together that are usually ordered together to create a brand new SKU. This way, whenever your buyer places an order, you can quickly locate the items as a single bundle and ship it to your customer right away.
3PL fulfillment centers usually follow the process of warehouse kidding to reduce the picking, packing, and shipping time. Many times, these fulfillment centers also utilize available data to previously make product bundles and keep them in place to ensure quicker operations. Shiprocket Fulfillment follows the process of cutting for all multi-item orders in its fulfillment centers. This helps reduce the processing time and ensures faster delivery to the end customer.

Benefits of Warehouse Kitting
Warehouse Kitting comes with multiple benefits for eCommerce companies to consider. Let us take a look at a few of those benefits-
Increases Efficiency
Warehouse kitting increases the efficiency of a business to a great extent. Your warehouse employees can quickly locate all parts of an order in one place, ultimately boosting your workers' productivity. In the long run, it will keep your business ahead of the competition, as faster the work is done in a warehouse, faster the order reaches the end customer.
Better Inventory Management
Warehouse kitting is an efficient way of managing inventory, as it makes the warehouse much more streamlined and organized. While kitting products, you generate fewer SKUs, making it easier for you to manage your inventory. It also reduces the warehouse space, and the entire process becomes much more efficient.
Encourages Faster Shipping
Warehouse kitting makes shipping much faster and seamless. In this process, you don't need to weigh and label individual items. Instead, you can print shipping labels for a single bundle, which reduces a lot of time. Moreover, shipping off a pre-assembled kit to customers will be much more comfortable, and there will be fewer risks of error in the entire fulfillment process.
Reduces Labor Costs
More efficient warehouses automatically reduce labor costs. You would require fewer employees on the warehouse floor to perform tasks, ultimately saving your company money.

Improved Packaging
Warehouse kitting is a great way to make packaging more affordable and efficient. Instead of packing each item separately into standard-sized boxes, you can pack your items together in a custom-sized box that can reduce your parcels' size and weight. You can also save on packing materials, as you don't have to pack items separately. Ultimately, these can help to cut your packaging costs significantly!
In case you're looking for high-quality packaging materials for your business, do check out Shiprocket Packaging. It is an eCommerce packaging arm of Shiprocket that offers customers with the finest-quality biodegradable packaging materials, such as corrugated boxes and flyers.
Excellent Sales Strategy
Warehouse kitting can also be used as a great sales strategy. Consider similar items like dresses and jewelry sitting in your inventory. You want to sell off your current stock so that new inventory can be ordered. Just bundle them together and offer them as a discount package for sale! This is an excellent way to boost sales of your existing products.
How to Manage Warehouse Kitting
The key to a successful order fulfillment process is proper inventory management. You will not be able to sell a full kit if a single item of the kit is not in inventory. If you're processing not more than 10-20 orders per day, it makes sense to take care of inventory management and warehousing. But if you're handling large numbers of orders in a day, you must outsource kitting in the warehouse to a third-party storage and fulfillment service provider like Shiprocket Fulfillment. Shiprocket Fulfillment is an end-to-end fulfillment and warehousing solution offered by Shiprocket to provide you with the best inventory management and fulfillment operations.
Conclusion
Warehouse kitting is an extremely effective order fulfillment strategy that can help your business stand out. It will help you save a lot of time and money, leaving you with ample opportunity to focus on your core business goals.
Calculate Your Shipping Costs Now