Best Alternatives for Amazon FBA in India
India is a diverse market. It is not consistent across states and is spread out over a large area. The eCommerce market comprises several sellers who sell on different platforms like marketplaces, websites, social media, or a combination of these.
Over 1,20,000 sellers sell on the eCommerce marketplace giant Amazon, with most of them being SMEs. Since most SMEs have adopted the eCommerce marketplace model, they have also resorted to the fulfillment means offered by them.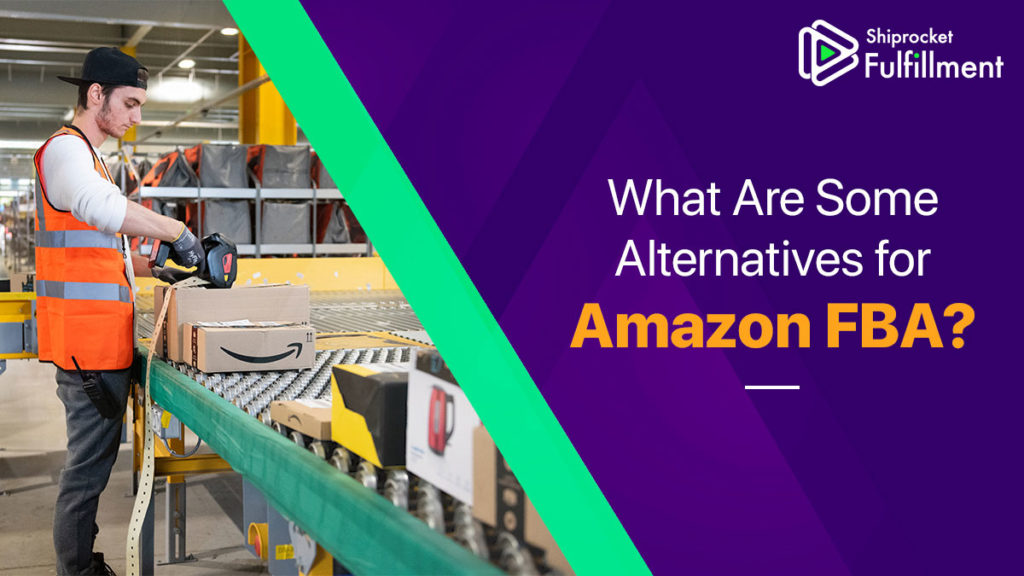 Most sellers who sell on Amazon face a tough choice between the easy ship, self-ship, or Fulfilled by Amazon model. Sellers who don't have the capacity or resources to take care of their inventory, storage, and shipping despite having brilliant products to offer usually choose Fulfillment by Amazon or FBA to get their products delivered across the country.
But, FBA is only applicable if you sell on Amazon. But to increase sales and reach a maximum audience, you need to have alternative sales platforms. You need to sell on different platforms, like through your website or social media platforms, to reach more audiences. With the advancement in technology, you can now sell through WhatsApp as well. How will you fulfill your orders then? What are other alternatives you may have? This is a crucial thing to work on.
These are the questions most sellers ask when they try to expand their reach by selling on different platforms. Thus, to make the search easier for you and get you started, here are a few amazing alternatives for Amazon FBA and why you should go with them.
3PL Providers like Shiprocket Fulfillment
The third-party logistics provider is a powerful alternative to FBA. 3PL providers cover all operations starting from storage, inventory management, warehouse operations, picking, packaging, first mile, and last-mile operations.
Shiprocket Fulfillment is one such provider that offers you end-to-end warehousing and fulfillment solutions for your business.
If you are looking for a solution that gives you complete control over inventory and offers you FBA like services at nominal prices, Shiprocket Fulfillment is your ideal match. Not just this, but you also get 30 days* free storage with Shiprocket Fulfillment.
With Shiprocket Fulfillment, you store your inventory in different warehouses located in the country. This helps you decrease delivery time, increase customer satisfaction, reduce returns, offer next-day delivery, and optimize fulfillment.
Shiprocket is a well-known logistics provider across the country. We provide integration with 17+ courier partners for shipping products to over 29,000+ domestic pin codes. With Shiprocket Fulfillment, we offer you a chance to store your products in technologically optimized and advanced warehouses that have top-class operations for picking, packing, inventory, and warehouse management.
3PL companies offer you a chance to save on costs by avoiding additional handling fees that you pay to Amazon. Unlike Amazon's FBA that charges high storage rates, Shiprocket Fulfillment offers you a free 30-day storage period if your product ships in 30 days and processing rates start at just Rs. 11/unit.
The competition on Amazon is tough, and if you have a strong customer base on your website or social media channel, you must not compromise on fulfillment just because you cannot sign up with FBA. Instead, you must look for alternatives in 3PL companies and accelerate your business.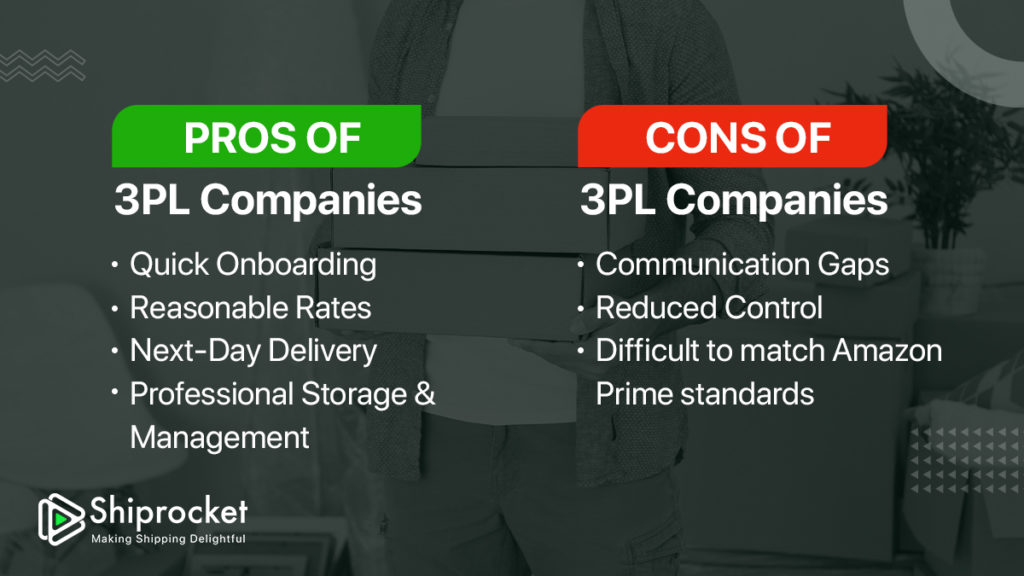 Pros of 3PL Companies
Quick Onboarding
Reasonable Rates
Next-Day Delivery
Professional Storage & Management
Cons of 3PL companies
Communication Gaps
Reduced Control
Difficult to match Amazon Prime standards
Amazon's Fulfillment by Merchant
Next, if you ship heavy items that you cannot afford to transport to fulfillment centers, you can opt for Amazon's Fulfillment by Merchant model. This gives you the flexibility to ship with other courier partners than those provided by Amazon Logistics Network.
Since you will have complete control of handling and shipping your Amazon orders, it means that you do not need to pay any additional fees to Amazon. But, you will need some additional storage space and resources to manage your inventory and pack and ship orders.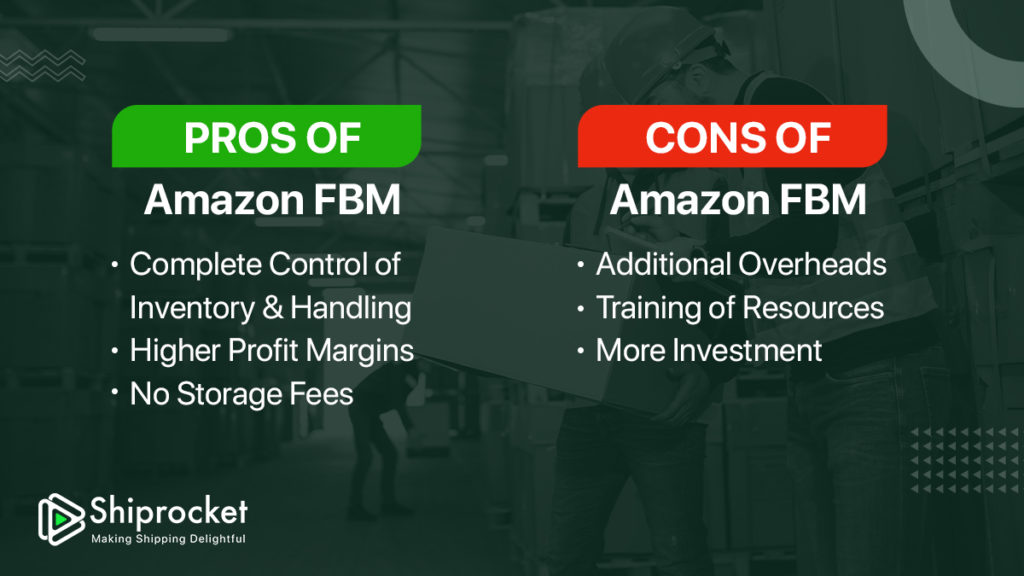 Pros of FBM
Complete Control of Inventory & Handling
Higher Profit Margins
No Storage Fees
Cons of FBM
Additional Overheads
Training of Resources
More Investment
Seller-Fulfilled Prime
If you sell high-value items or products with seasonal demand and feel that you need to store them at your warehouse and ship them directly to customers, you can choose the Seller Fulfilled Prime option on Amazon.
Under the seller fulfilled prime option, you can pick, pack, and ship your order the same day to all the prime customers. The major advantage is that you can ship directly to prime customers from your own warehouse.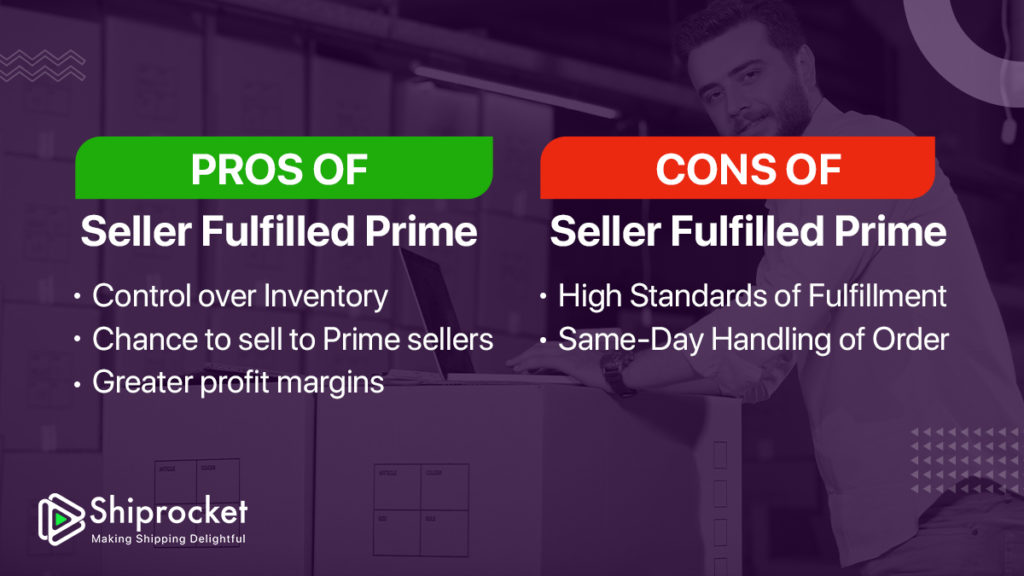 Pros of Seller Fulfilled Prime
Control over Inventory
Chance to sell to Prime sellers
Greater profit margins
Cons of Seller Fulfilled Prime
High Standards of Fulfillment
Same-Day Handling of Order
Self Storage
For sellers who are alright with splitting their inventory between Amazon and other channels or have just started their D2C or social commerce venture, self-storage is the option for you.
Self-storage indicates that you will take care of all the fulfillment operations that include storage, inventory management, order management, picking, packaging, and logistics on your own. If your inventory volume is not large and the number of incoming orders does not cross more than 10 per day, you can easily invest the necessary time and resources into managing a self-storage setup.
This model is beneficial as it is cheap, does not require much labor, and earns from all the profits. But on the contrary, it is time-intensive and requires you to be on your toes at all times. If there is a fluctuation in orders, you will have to deal with it yourself or look for additional resources. This can be a separate option, but it cannot be ideal for a long-term plan.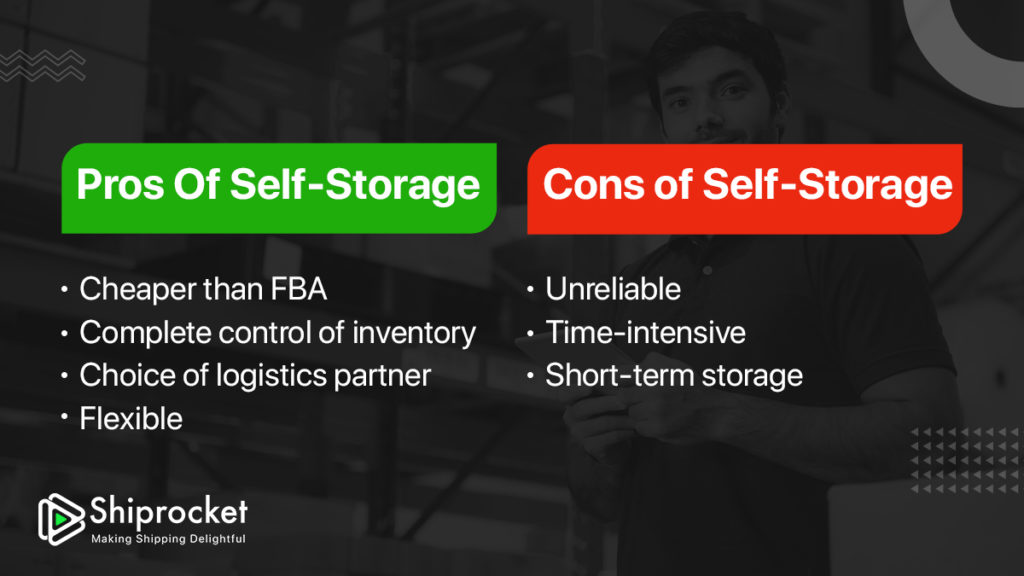 Pros of self-storage
Cheaper than FBA
Complete control of inventory
Choice of logistics partner
Flexible
Cons of self-storage
Unreliable
Time-intensive
Short-term storage
Conclusion
Amazon FBA is the pioneer of quick deliveries and a seamless delivery experience. But, just because Amazon provides it doesn't mean you cannot find similar alternatives. According to your business need, look for the right fulfillment option and get started. Even if you pick FBA and do not have ample sales, you will be losing out on profits! Therefore, make an informed decision and leap your business.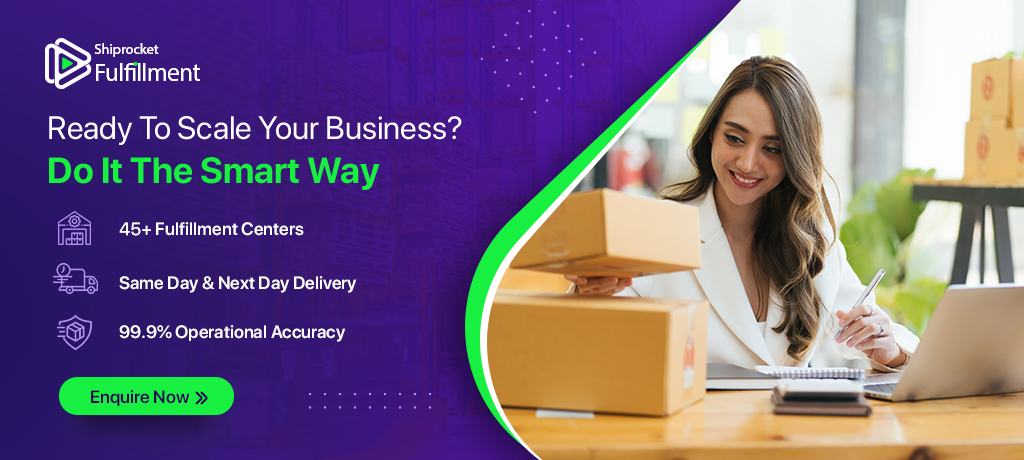 FAQs (Frequently Asked Questions)
Can I switch from Amazon self-ship to an easy ship?
Yes, you can switch your shipping preferences anytime from the account settings.
Can Shiprocket help me ship my Amazon orders?
Yes, you can ship all your Amazon orders with Shiprocket to 24,000 pin codes at the lowest rates.
How can I integrate my Amazon account with Shiprocket?
Follow these simple steps to integrate your Amazon seller account with Shiprocket.
What are Shiprocket's fees?
You can use our platform without paying any fees. You just have to pay for the shipments.
Calculate Your Shipping Costs Now