What is 'Selected Self-Ship' and How Can Shiprocket Help You Get Started?
Amazon is one of the largest marketplaces in India. Over 100 million users are registered on Amazon India, and over four products are sold every minute. Millions of sellers use Amazon to sell their products. However, shipping with the best Amazon fulfillment model is not the most suitable option for most sellers. Amazon has 3 to 4 fulfillment models that go by FBA, Self-Ship, Easy-Ship, and Selected Self-Ship. We have talked about the Easy-Ship, Self-Ship, and FBA models in different blogs and posts. The Selected Self-Ship is a concept introduced only recently by Amazon. Let's have a look at what a Selected Self-Ship fulfillment model is and how you can make the most out of it with Shiprocket.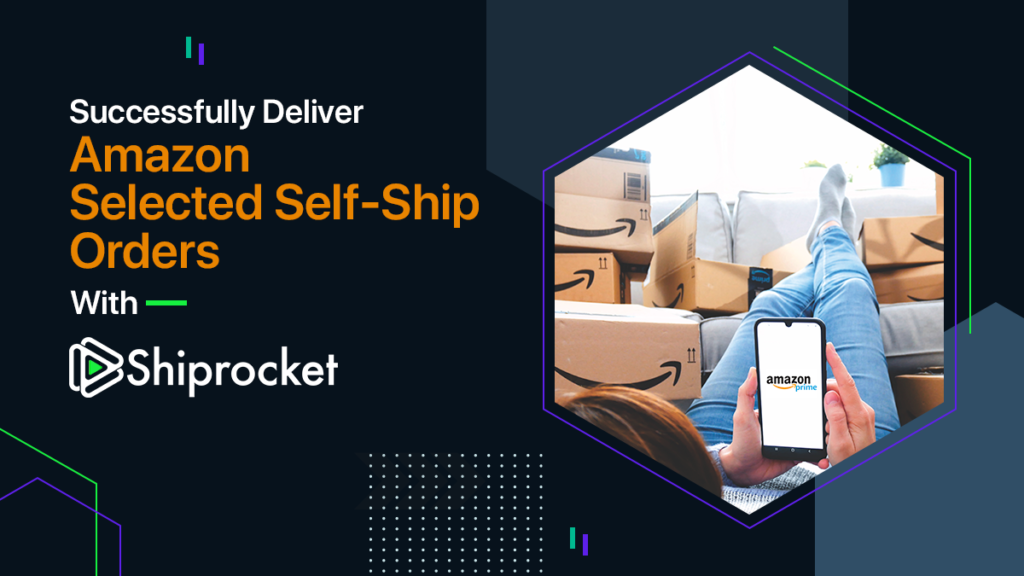 What is Selected Self-Ship by Amazon?
The Selected Self-Ship fulfillment model by Amazon is a fulfillment method through which you can opt for fulfilling a part of your eCommerce orders with Amazon Easy-Ship and the rest you can fulfill yourself with Self-Ship. You can choose the areas and pin codes for which you want to fulfill orders yourself, and for the rest, you can choose Amazon Easy-Ship. This way, you are not bound to use Easy-Ship services and let go of orders where Amazon's logistics network is not serviceable. You can make the most of both models without having to compromise.
Every seller today wants comprehensive coverage for their shipments. With increasing competition on Amazon, you want to attract the most customers towards your product and sell them effectively. Choosing an integrated model like Selected Self-Ship can help you deliver to more households and be an active seller on the platform.
How is Amazon Selected Self-Ship Different from Amazon Self-Ship?
Amazon Self-Ship gives you the option to deliver all products through your own logistics network. In this case, you cannot collect COD orders and have to process returns yourself.
In Amazon Selected Self-Ship, you can choose to deliver yourself only to selected pin codes, and the rest you can choose to deliver with Easy-Ship. This gives you a chance to collect COD orders wherever required and process returns through Amazon's logistics network.
Amazon Self-Ship is an independent shipping approach, whereas Selected Self-Ship is a mix of Self-Ship and Easy-Ship.
Why Do You Need Shiprocket to Process Your Selected Self-Ship Orders?
Amazon has a robust logistics network. When you opt for Easy-Ship, you get the opportunity to leverage this facility. However, you have to ship with the solution that offers you an equivalent experience for the pin codes you don't choose. If a part of your experience is good and the rest is average, it will reflect in your product and delivery reviews. This can further impact sales and influence the decisions of other people who want to purchase your products.
Therefore, you need a solution like Shiprocket that can help you connect with your customers in the same way as Amazon's logistics network. Let's have a look at how this is possible.
How Can Shiprocket Help Improve Your Selected Self-Ship Delivery Experience?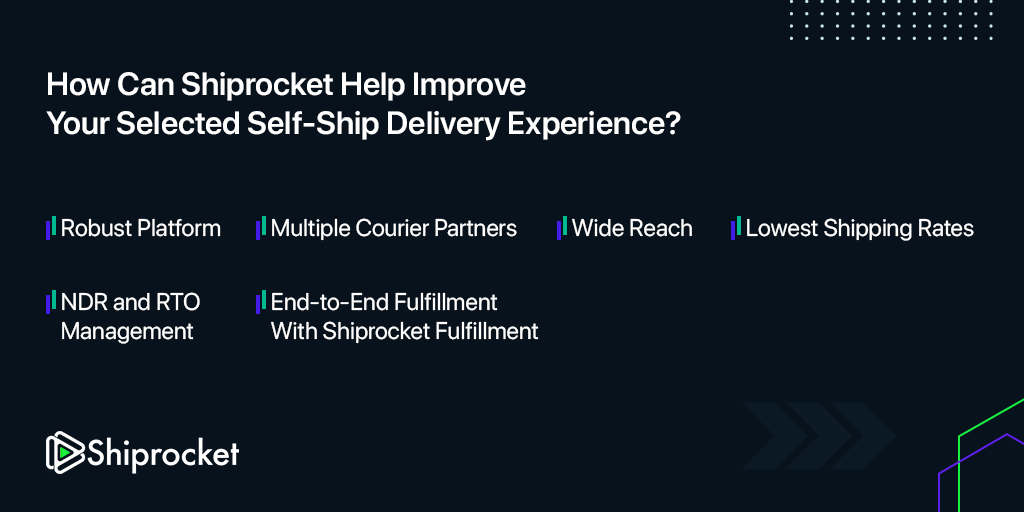 Robust Platform
Shiprocket offers you a call round dashboard that helps you synchronize incoming orders right into your shipping platform and process them directly from there. Also, if you get bulk orders, you can process them in one click. You do not need to waste time by manually including every product in the solution to process it. You can download the label, invoice, manifest, etc. automatically, in just a few clicks.
Multiple Courier Partners
The most beneficial aspect of shipping with Shiprocket is the availability of multiple courier partners. With the Shiprocket platform, you get to ship with over 17+ courier partners. These include names like FedEx, Delhivery, BlueDart, Gati, etc. This gives you a wide range of options to choose from depending upon the courier company, delivery location, carrier performance, etc. We also have a proprietary courier recommendation engine that can help you select the best partner for every shipment.
Wide Reach
The next benefit of shipping your Selected Self-Ship orders with Shiprocket is the white pin code reach. You can deliver to 29,000+ pin codes across India. So in case, you cannot cover a pin code with Amazon's logistics network, you can always do it with Shiprocket.
Lowest Shipping Rates
With rates starting from Rs. 20/500g*, you can optimize your shipping costs and also provide your customers a delightful delivery experience for their Amazon orders. You don't necessarily need to invest in fulfillment by Amazon if you want a robust delivery experience.
NDR and RTO Management
Most Self-Ship sellers are concerned about managing return orders. With Shiprocket, you get a comprehensive solution that consists of India management dashboards from where you can directly take action on your NDR orders. You can choose to re-attempt, cancel, or schedule RTO. With a robust platform, you can reduce your RTO losses as you can take action on end Yaar orders much quicker. Shiprocket also helps you confirm and deliver with the help of SMS, IVR, emails, etc. Not just that, you can reach out to buyers directly via the platform in case you aren't sure. This gives you greater control over your return on the management to ensure that it is not fake.
End-to-End Fulfillment With Shiprocket Fulfillment
To deliver as fast as Amazon FBA and Amazon Easy-Ship, you must store inventory closer to the buyer and process your orders from there. With the selected cell ship, your pin code region for shipping orders yourself is defined. Therefore, you can store inventory in Shiprocket fulfillment centers located in the area and let us process your e-commerce orders end to end. Your Self-Ship orders can be processed this way, and you will not need to worry about the processing.
Conclusion
Shiprocket can be a great facilitator if you want to fulfill your Selected Self-Ship orders seamlessly. With a robust shipping solution trusted by over one lakh plus sellers, you can achieve great success by delivering orders quicker. Provide your customers a faster and better delivery experience and make a mark for yourself in the marketplace.
Calculate Your Shipping Costs Now