The Noob's Guide To Facebook Marketplace [Tips Included]
Social Selling has become a sought after phenomenon today and people are making use of these platforms to connect with a large base of buyers and sell at their convenience. With selling, payment and shipping not being much of a hassle with properly integrated payment gateways and shipping mediums, bridging the gap between the customer and the seller is the game changer. To do so, there are platforms like Facebook Marketplace which connect the sellers to nearby buyers and gives them a platform to showcase their products in the most appealing way possible. It is a structured platform that gives buyers and sellers a chance to interact and conduct sales in the most personalized way possible.
What is Facebook Marketplace?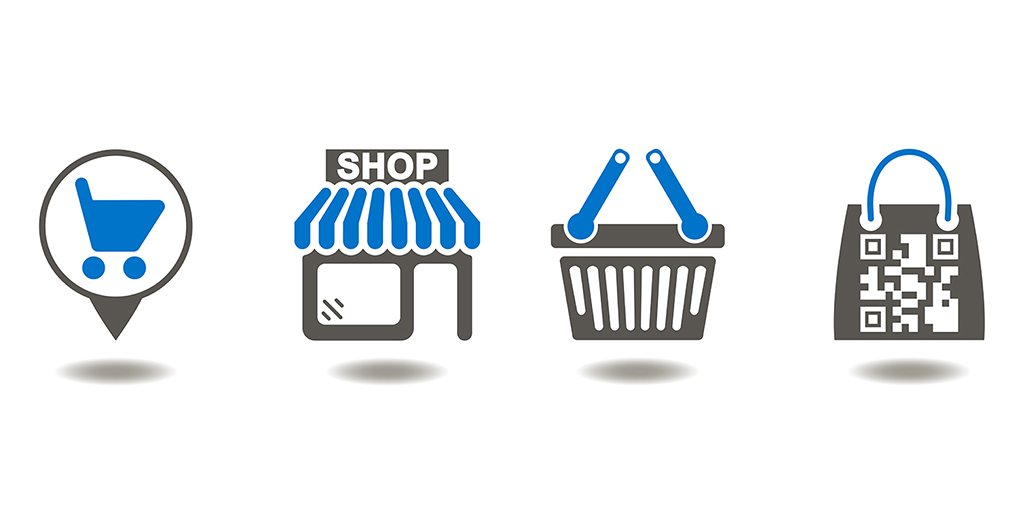 Facebook Marketplace is a platform to let small sellers connect with potential buyers. The idea behind FB Marketplace is to determine your location from your Facebook account and display several items which are currently being sold in your area. Even you can sell through the marketplace. And when a customer wants to purchase an item they can contact you via Facebook messenger. The use of FB messenger makes sure no party needs to exchange any personal details like addresses and phone numbers.
Facebook Marketplace was launched in Mumbai, India on 16 November 2017, with the aim to learn about the market and to study the consumer behavior. Ever since Facebook Marketplace has been made available in 46 cities and is being slowly rolled out in other cities as well. The marketplace feature is being tested with some users in Delhi, Noida, and Jaipur. A few users can see a fourth Marketplace option being added to the top tab alongside News Feed, Groups, and Notifications options.

With over 550 million people currently using buy and sell groups to engage in Facebook sales, it is an ideal platform for people to engage and conduct sales. It also provides people with a platform to market their products properly and henceforth connect with prospects.
How to use Facebook Marketplace?
Facebook has devised an easy to use and properly structured platform for its users to benefit from. It is as easy to buy as it is to sell. Let's have a look into both the processes in slightly more detail.
Selling on Facebook Marketplace
1. Upon clicking the marketplace icon, as shown above, you will be redirected to a page with various images of products that are being sold nearby. On the top right there will be a 'sell' option.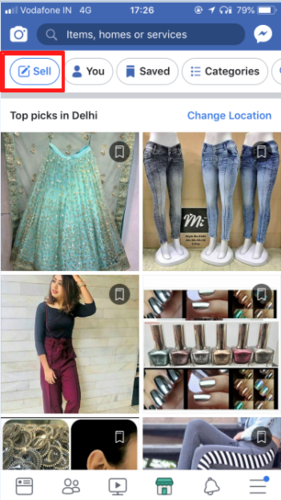 2. On selecting the sell option you will be asked to choose the category from which you would like to sell. The four main categories mentioned are :
– Items
– Vehicles
– Housing for rent/sale
– Jobs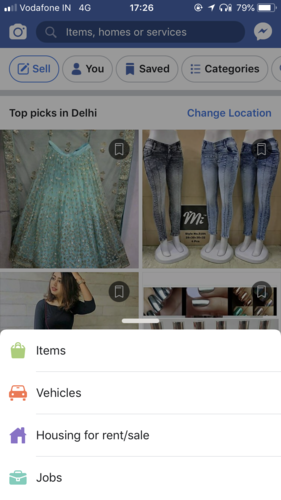 3. Once you select your desired category, you will be redirected to a page where you will have to fill in the specifications of your product. These specifications include Photos, Title, Price, Category, Location, description and if you offer delivery.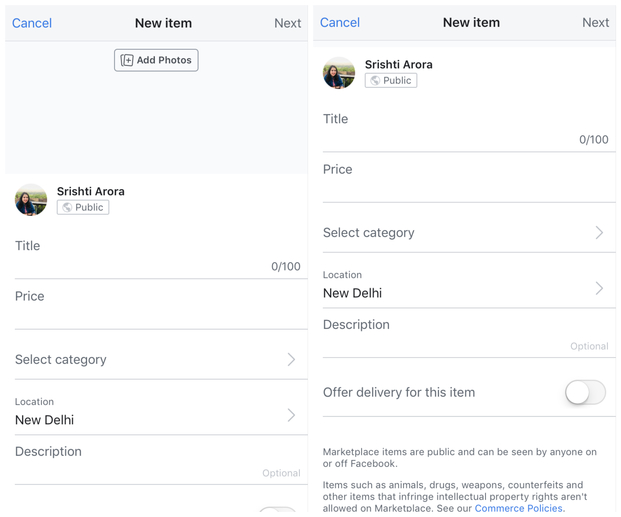 4. Next, you will be directed to a page where you will have to select who can see your post and where do you want to share it. You can display your post publicly or just add it to your profile. Also, you have the option of sharing your post to various buy and sell which you may have joined. Facebook also suggests you, various groups, where you can share this post.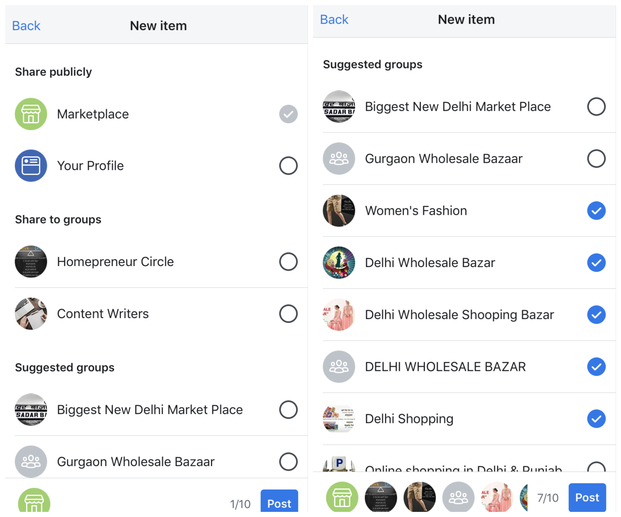 5. Upon making your selection, click on the post button to share your post with your audience.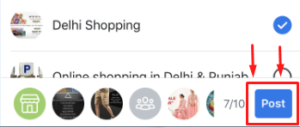 6. After this, you are shown the listing and you even have the option of adding your Whatsapp number with the post. You can review the post and also make changes to it.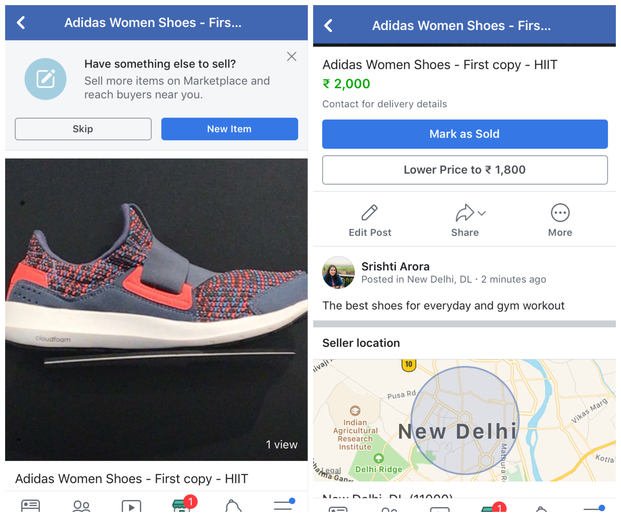 7. Once your product is sold, you can 'mark it as sold' to prevent any further inquiry into the same.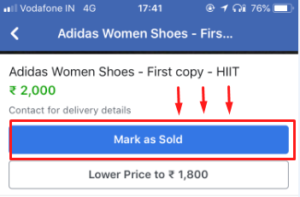 Buying Through Facebook Marketplace
1. Upon clicking the marketplace icon, as shown above, you will be redirected to a page with various images of products that are being sold nearby. Items will be displayed according to locations and categories.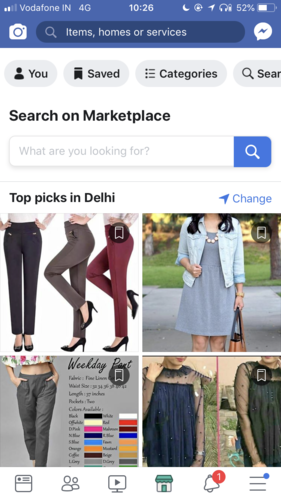 2. Select an item of your choice. In the page, you will find information like the seller information, seller location, seller ratings, item description. You have the option of message the seller, save the item to review it later and share it with friends.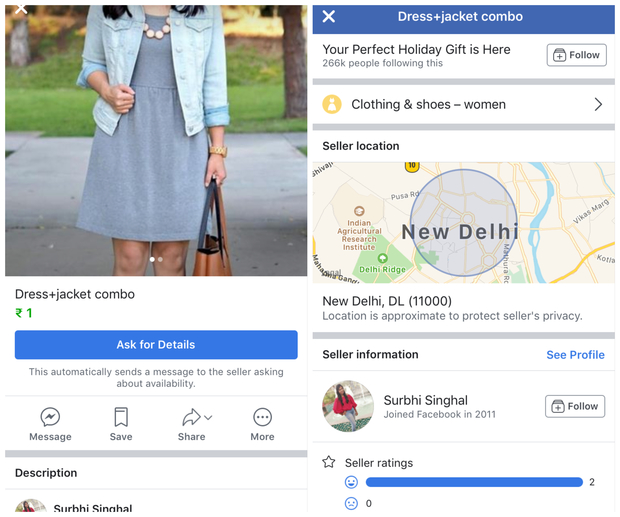 3. You can communicate about the details over messenger and buy the product from the seller directly by choosing the ask for details option.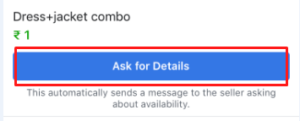 How to stand out on Marketplace?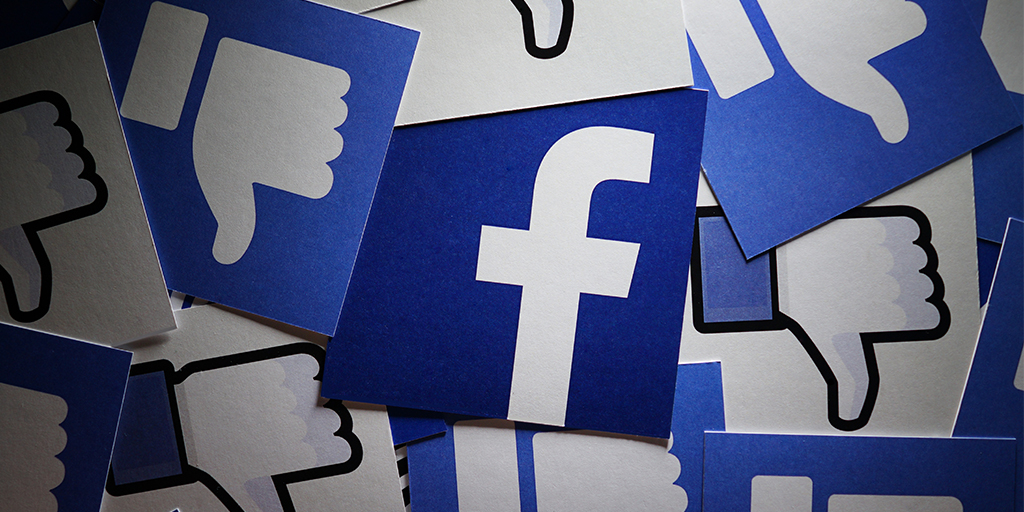 Use clear and professional pictures
When it comes to a C2C platform like Facebook Marketplace, there is a lot of competition between sellers as there are many who are trying to sell. Therefore, if your images are not up to the mark and of good quality, you will not be able to engage buyers. Images greatly affect the click-through and conversion rates of your posts.
We mention time and again that images are important as they provide a first visual of your product. Therefore, a good image highlighting the key features will be a win-win situation for you.
If you do not have access to professional photos there are many videos on YouTube that can help you click brilliant photos using your phone.
Post in all relevant categories
Once you decide to put up a new product for sale on Facebook Marketplace, make sure you post that item in all relevant categories. For example, if you're posting a scarf for sale, you can post it in the categories of women clothing and women's accessories. This way, the visibility of your product is increased by many folds. Moreover, you can easily capture the eyes of many more buyers.
Prompt replies win the race
A research shows that 35-50% of all sales are won by the vendor that responds first. Therefore, reply to your buyer's queries as soon as possible. This will not only give you an edge above other sellers but also give you a chance to engage better with the customers and gauge their requirements.
Use relevant keywords
With 18m+ new items posted every day on the Facebook marketplace, it becomes imperative that you frame your title and description appropriately to appear in all the relevant searches. Your copies must contain all the keywords using which you can be found.
Send a catchy direct message to the customer
As you saw, the buyer has a chance to send a direct message to you. Therefore, you must always have a catchy message ready for the customer to gather their attention and persuade them to take more details from you. This message must speak about your product and should tell about your brand.
Ship using trusted sources
This may not be a direct influence but has high relevance for the Facebook marketplace. If your product is not properly shipped it will affect the 'seller ratings' section in your profile. Thus, always ship using trusted courier partners like Delhivery, FedEx to make sure your product reaches the customer in due time and in a proper state. This will definitely prompt the buyer to leave a review on your profile improving your conversion rates.
Sell on Facebook Marketplace to connect to a large number of buyers and use these tips to stand out and make your product lead the race.
Happy selling!
Calculate Your Shipping Costs Now