WhatsApp Business App for SMBs: How to Setup and Use for Increased eCommerce Sales?
What is the Best Way to Sell if Not Through an App that is Opened 23 Times a Day?
Succeeding in business is all about the marketing strategies you foster for growth. As an SMB (Small and Medium Business), your marketing strategies are solely responsible for the acquisition and retention of your customers.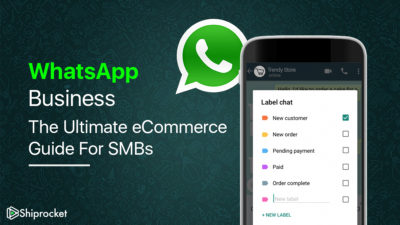 While there is no established method for you to market your business, you should keep a check on the new tactics surfacing in the market and sidelong review your plan of action. WhatsApp Business is the latest gem of a marketing tool that has emerged instrumental in driving business growth for 78% of SMBs.
Based on the data retrieved from Business Insider, the messaging app is channelising robust growth for SMBs as customers are finding it a very simplified medium of communication. On the verge of other social apps such as Facebook and Instagram, WhatsApp Business emerged in January 2018, to make the most of its massive user base.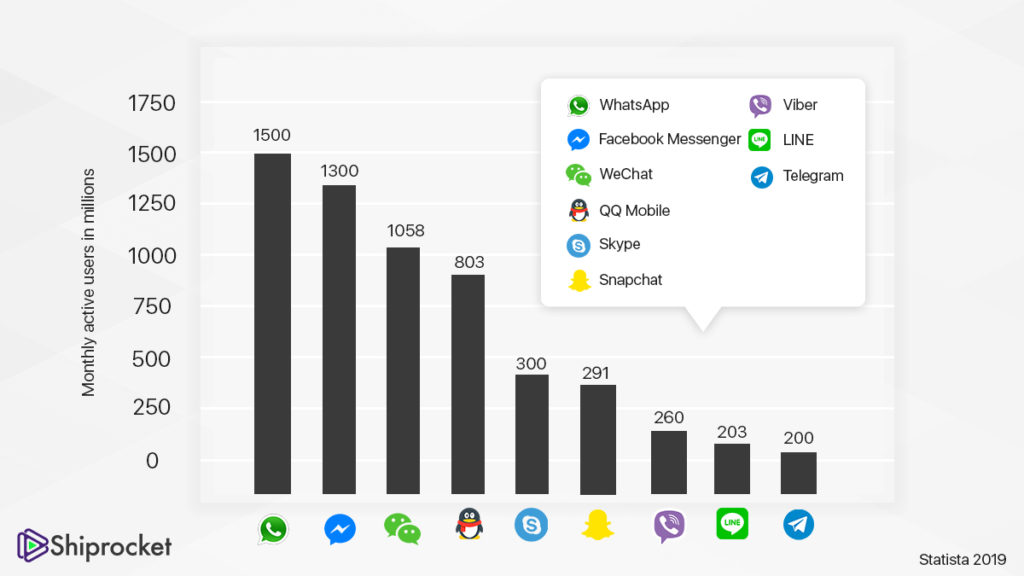 As you can see in the image provided above, WhatsApp supersedes all the other social media applications and has an insane 1.5 billion monthly users. It's original, non-business version surfaced in 2009. Despite its popularity and user-base, Whatsapp was not being used as a marketing tool by small businesses for a long time.Eventually, Facebook understood the potential Whatsapp had, and acquired the same thereby eliminating the competition it was receiving for its equally fantastic FB Messenger app.
ACT 1: What is WhatsApp Business App?
WhatsApp is an easy-to-use messaging app that works on both smartphones and feature phones. It uses the Internet to send texts, images, audio, video, location, and documents (PDF, Doc, Docx). Since the application is fundamentally for texting purpose, it uses less data, resulting in a lag-free experience.
The application is wildly popular among the youth for the ease of accessibility in having group chats, conference calls (both audio and video), and location sharing. The app can be used further via desktop version, i.e. through Windows and Mac.
WhatsApp Business is the bigger brother of the application in terms of features that it encapsulates primarily for the SMBs. Similar to the regular version of the app, WhatsApp Business is by far the most straightforward application for a business to connect and communicate with their customers.
In place of having a personal profile, you get a Business Profile replete with your business address, your email, along with the link of your website and some bonus features.
Exclusive Features
1. Business Profile
As mentioned before, WhatsApp Business provides you with a business profile instead of a regular one. It lets you be seen and discovered by your customers easily. You can create a business profile with all the necessary information such as your business description, company address, email, website link, and obviously, your contact number.
2. Quick Replies
WhatsApp Business App comes equipped with the feature of "Quick Replies". Through this feature, you can save a whole lot of time by feeding and reusing the messages you frequently use to answer the common questions of your customers.
3. Automated Messages
Another smart messaging feature that comes with the application is automated messages. You can save an 'away text' when you are not available to reply to messages. This feature helps in letting your customer know the expected time of your reply or availability. As an icing on the cake, you also get to save an introductory message for greeting all of your new customers.
4. Messaging Stats
With the help of messaging statistics, you can ascertain some basic statistics such as the total number of successfully sent messages, the total number of undelivered messages, the total number of texts that were read, etc.
5. Labels
Label creation is the latest feature in WhatsApp Business App. Through this feature, you can segregate or categorise your customers for various benefits. For instance, if you want to classify the customers who haven't yet made the payment, you can label such customers for sending payment reminders exclusively to their chats. Likewise, you can label the customers you have cleared the dues, raised an order request, and so on.
6. WhatsApp Web
The desktop version of WhatsApp is available for WhatsApp Business App as well. You can use the application through your Windows or Macintosh to send or receive messages, easing the accessibility for handling and providing support to a broad base of customers.
Act 2: How to Set Up WhatsApp Business App?
Step 1: Download the App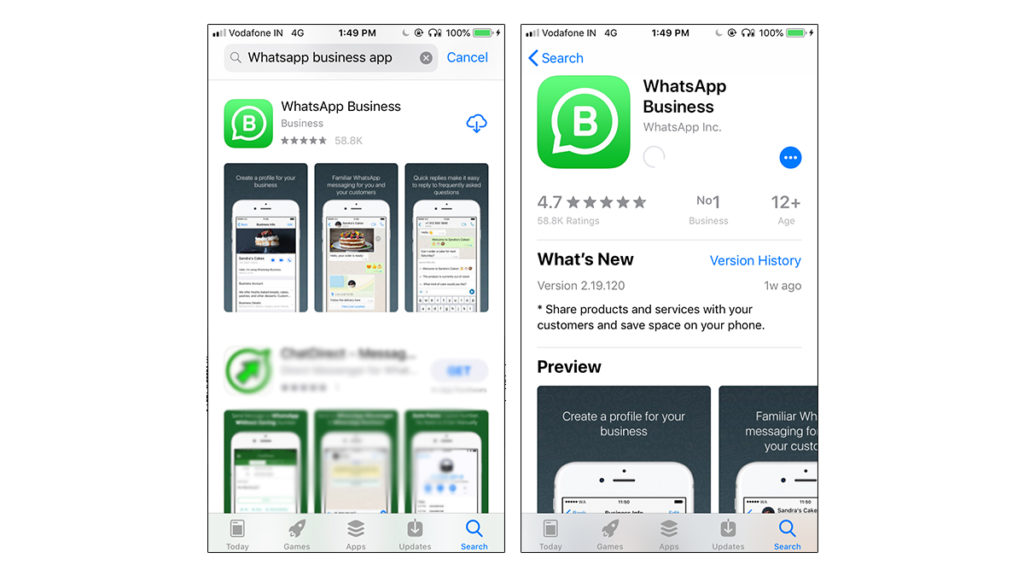 Look for WhatsApp Business App in App Store – if you are an iPhone user or Play Store – if you are an android user, and download it.
Step 2: Get Started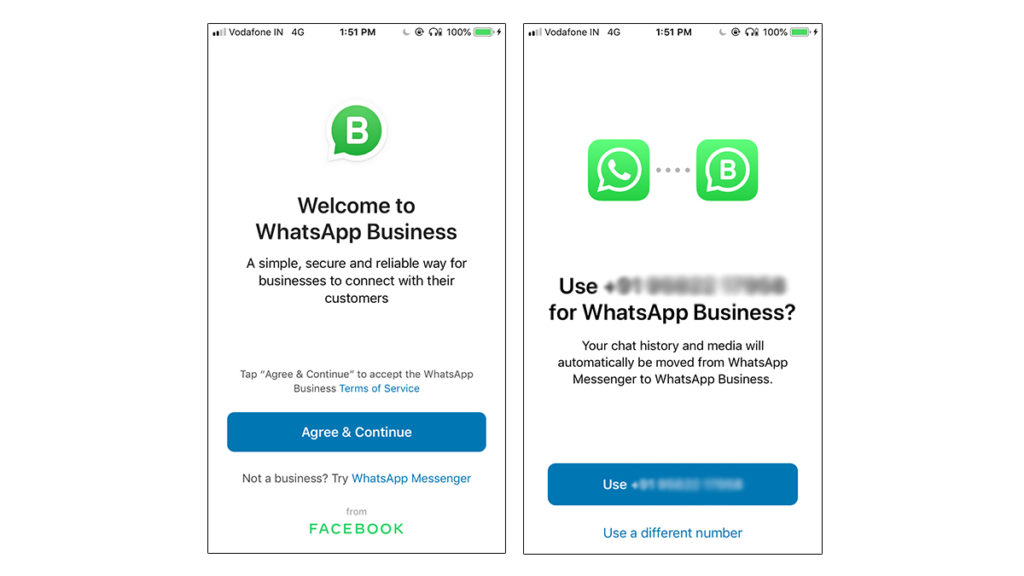 Open the application once it gets downloaded. Agree to the Terms & Conditions and proceed. Upon proceeding, you will be asked to merge your WhatsApp data to the WhatsApp Business App, if you are already active on the regular version.
You can either select a different contact number or proceed with the one already used in the regular version of WhatsApp and merge your data to the Business App.
Step 3: Enter the Name and Select the Category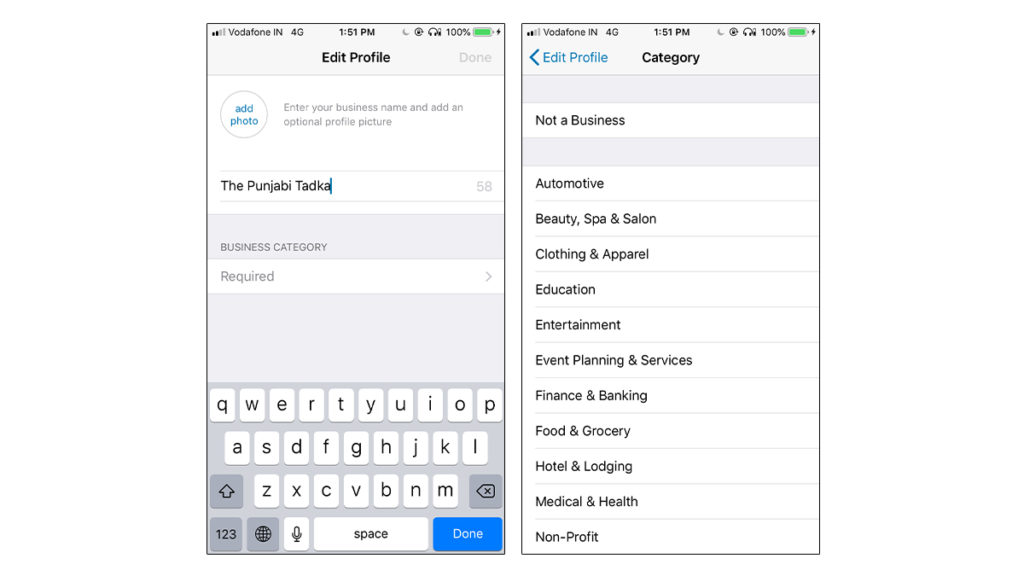 Enter the name of your Business and select the right category. For instance, if you are creating a Business A/c for selling food items, then you can select the 'Food & Grocery' category.
Step 4: Explore Business Settings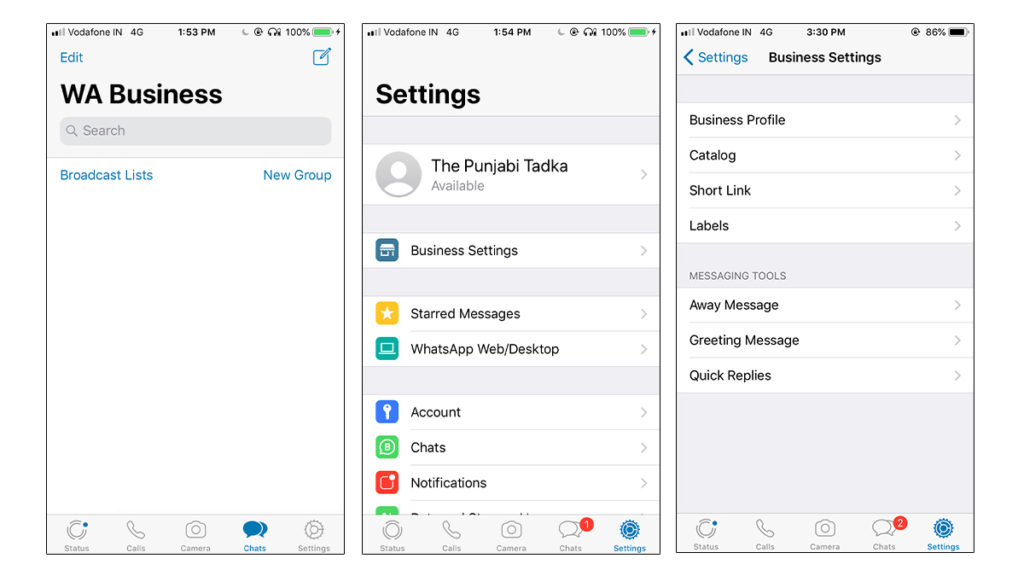 Upon saving the name and selecting the category for your business, you will have to click on 'Settings' and then proceed to 'Business Settings' for exploring the various new features.
Step 5: Fill all the Details in Business Profile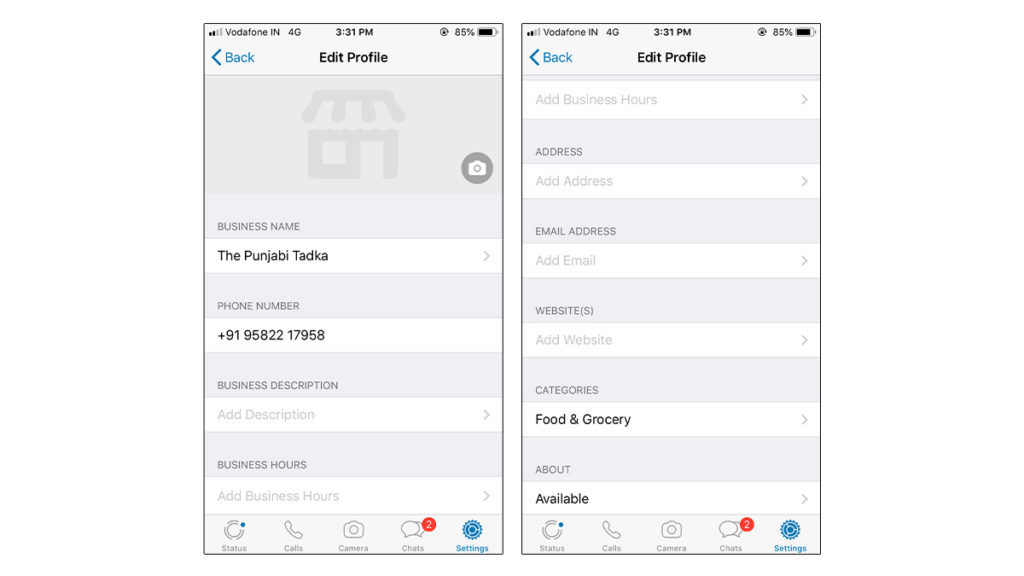 Begin with the first category in the 'Business Settings', as visible in the previous image. Click on 'Business Profile' and enter all the necessary details that your customers will be requiring for connecting with you and for getting a better understanding of your business.
Ensure you provide all the accurate details — the business hours, business description, about section, and the rest as it matters a lot.
Step 6: Create a Catalog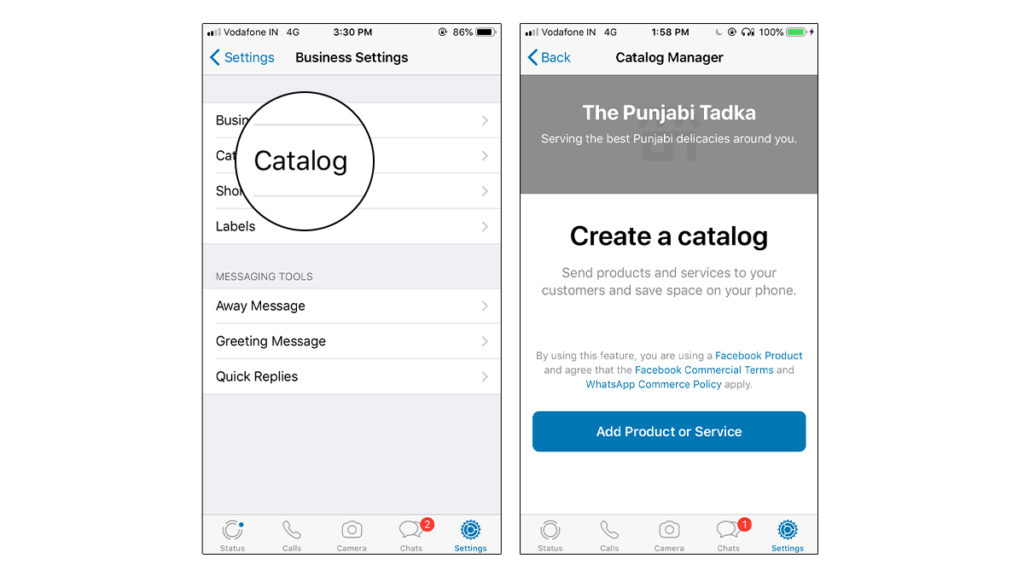 Once you get done with 'Business Profile', proceed to create a Catalog. It's a valuable feature on the Business App that allows you to add all the products or services you will be providing for your customers to know about the same.
Step 7: Provide Short Link
You should create a Short Link and list the same on your business cards or social accounts for your customers to directly reach out to you and start a conversation instantly.
Step 8: Create Labels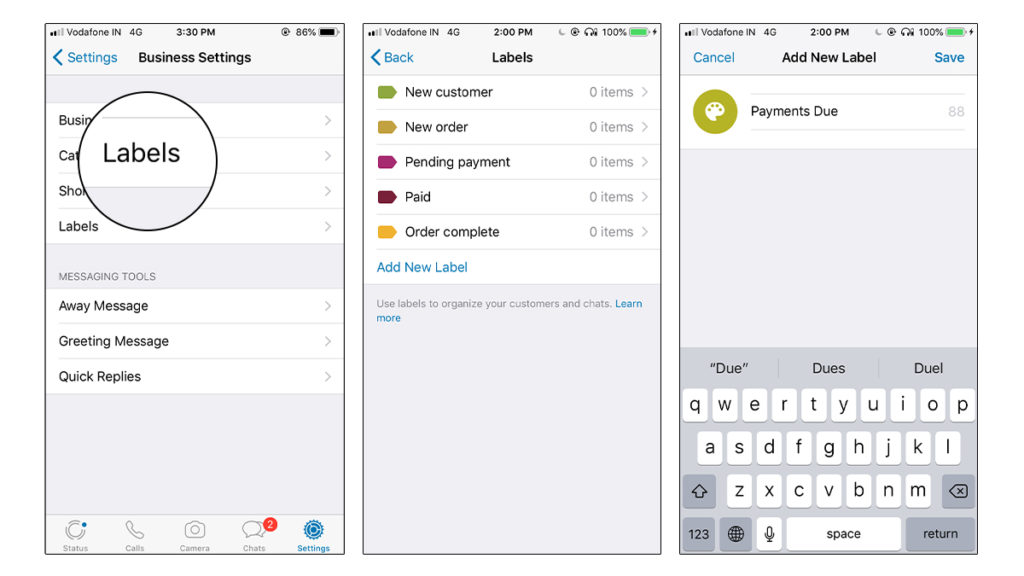 As mentioned above, you should create labels for classification purposes. You can create multiple labels such as Payments Due, Payments Made, Order Requests, etc. to segregate the customers for such categories and notify all of them together by sharing relevant messages.
Step 9: Add Away & Greeting Messages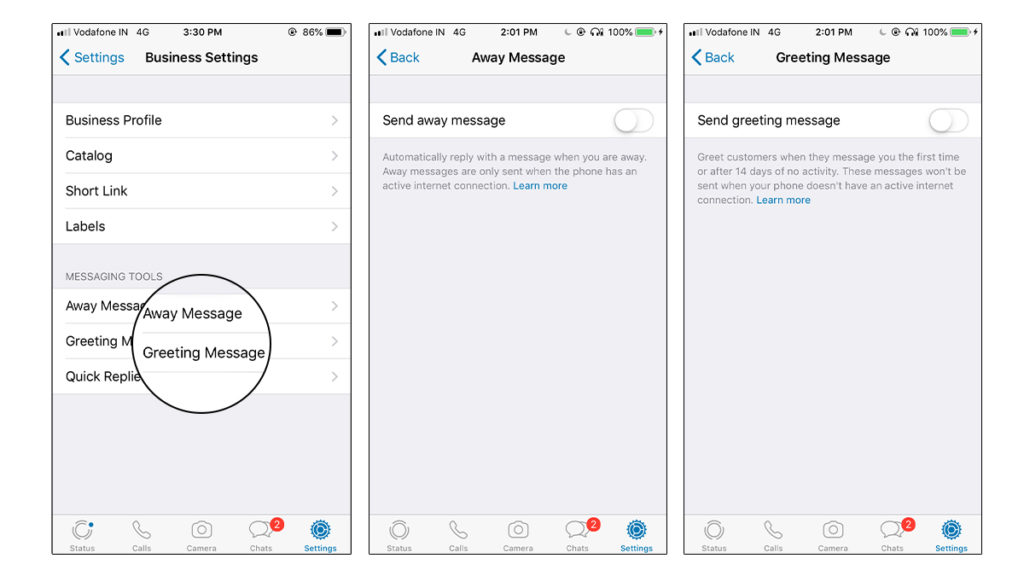 You must add an 'Away Message' in case of unavailability, for your customers to know when they can communicate with you. 'Greeting Message' is an ideal way to welcome and likewise, entice your customers in striking a conversation.
Step 10: Add Quick Replies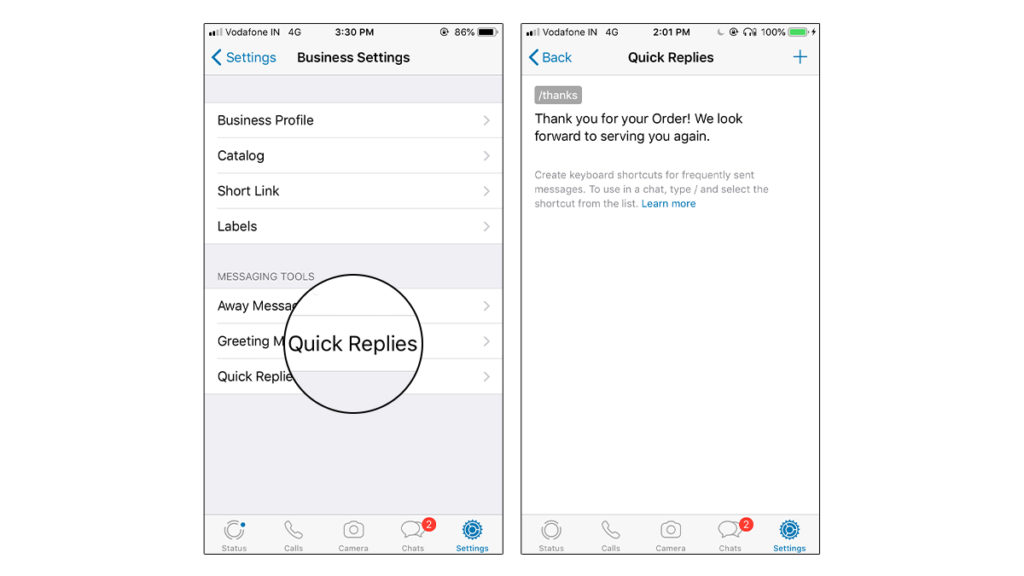 'Quick Replies' is one of the most valued features on the WhatsApp Business App. You can add a bunch of instant replies for saving your time and energy during the peak hours of order fulfillment.
ACT 3: What are the Benefits of WhatsApp Business App?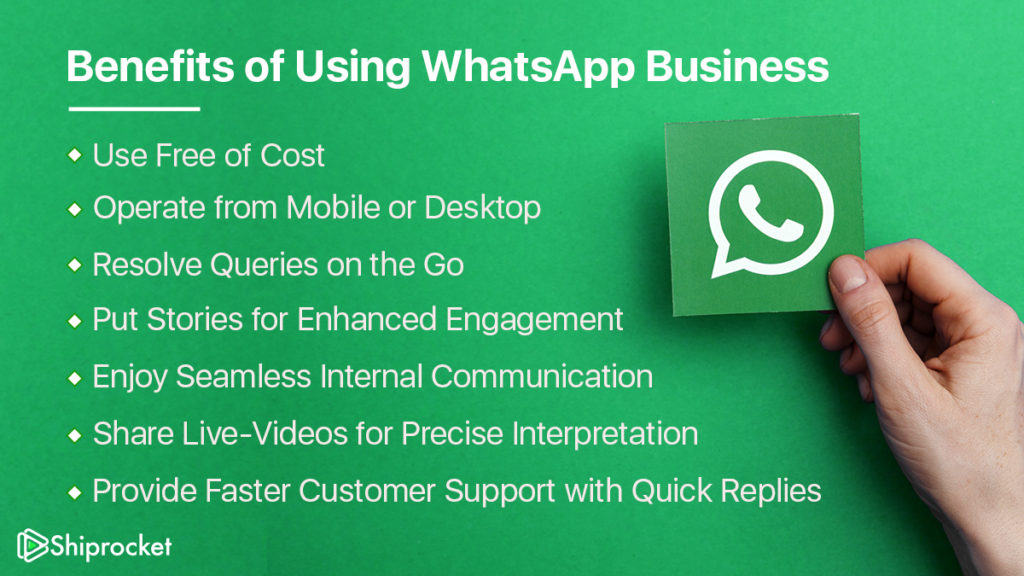 As a chat service with over 1.5 billion monthly active users, WhatsApp Business has numerous benefits to offer. Apart from the primary benefits listed in the image provided above, there are some other advantages of WhatsApp Business that the SMBs clamour to use for augmenting both their brick & mortar, as well as eCommerce sales.
1) Build Robust Brand Connections
The inclusive, personalised communication of WhatsApp allows building secure, long-lasting brand connections. By having a one-on-one conversation with your customers, you get the opportunity to establish a better brand value, along with providing some extra benefits to your customers. These benefits include sharing real-time photos and videos for clarifying doubts concerning a product or service, redirecting your customers to your store via location sharing, or providing relevant documents, if necessary.
2) Relish Global Engagement
WhatsApp is the #1 chat service in more than 100 nations. If you are selling across the world, being active on WhatsApp Business allows your customers to connect with you anytime, anywhere. Even if some of your customers are frequent travellers, they can always feel free to interact with your brand for personalised solutions, ensuring enhanced customer satisfaction.
3) Make Your Customers Feel At Home
Unlike chatbots, customers get the opportunity to interact with a brand via a secure App that offers end-to-end encryption, allowing them to enjoy extensive privacy and exchange classified documents, if required, without any worry.
The app is easily accessible and encapsulates real conversations. Customers don't prefer answering 'Yes' or 'No' to automated questions. Here, they enjoy a simplified interaction that eliminates the complexities of drafting an email or going through an IVR call to register a complaint or request.
The fast UI and less dependency on fast internet allow customers to have two-way conversations that generally occur in a brick and mortar store, or on call.
Conclusion
WhatsApp Business App is an excellent upgrade for the small and medium businesses. You will appreciate it as an effective marketing tool for sales enhancement on the grounds of customer fulfillment via personalised conversations, instant solutions, global reach, and a private, secure mode of communication. There is undoubtedly room for the highly desired features of direct payment and advertising, but for what there is at present, its effortless and useful marketing application.
Calculate Your Shipping Costs Now