What Is Amazon Logistics: Everything You Need to Know
The ongoing pandemic has changed the way the eCommerce industry operates. Amazon, the eCommerce giant, has launched Amazon Logistics – a shipping and logistics service. The Amazon Logistics infrastructure is helping third-party sellers by serving their customers better and delivering goods seamlessly. However, the result varies for each seller, and much depends on how the seller is utilizing the Amazon Logistics program.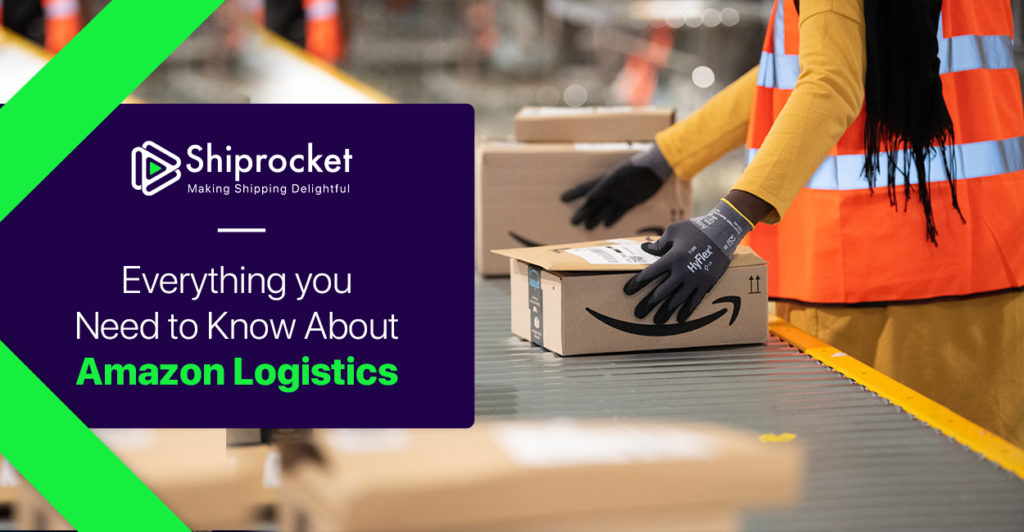 What Is Amazon Logistics?
Amazon is indeed one of the largest selling and buying platforms in the eCommerce industry. As consumers are heavily relying on online shopping due to the spread of Coronavirus, Business Insider estimates Amazon's global eCommerce sales to reach $416.48 billion by the end of 2020.
Amazon is a one-stop shopping solution for many people. They quickly get all products they need, be it household or personal care. Now, when an order is placed with Amazon, traditionally, the order is sent out with a third-party courier, like FedEx. But now with Amazon Logistics, Amazon uses its contracted-out people and their fleet of vehicles to deliver the products for the sake of better and faster delivery options.
In a nutshell, Amazon Logistics is a shipping and delivery service that complements the existing shipping service providers. Amazon utilizes third-party logistics partners to make this happen – including motorcyclists, bicyclists, and even walkers in some areas.
Amazon has certain conditions for third-party providers, related to licensing, vehicle, insurance, and safety training. It is worth mentioning that these contractual people are not Amazon employees. These people are logistics providers and pick deliveries from Amazon warehouses. The delivery people use Amazon tech to deliver products and enjoy flexible schedules as well.
Amazon Logistics benefits shoppers directly. It is a win-win situation for them as they get their products faster (often same-day) and cheaper as they don't have to pay high delivery charges for quicker deliveries.
How Can You Apply for Amazon Logistics?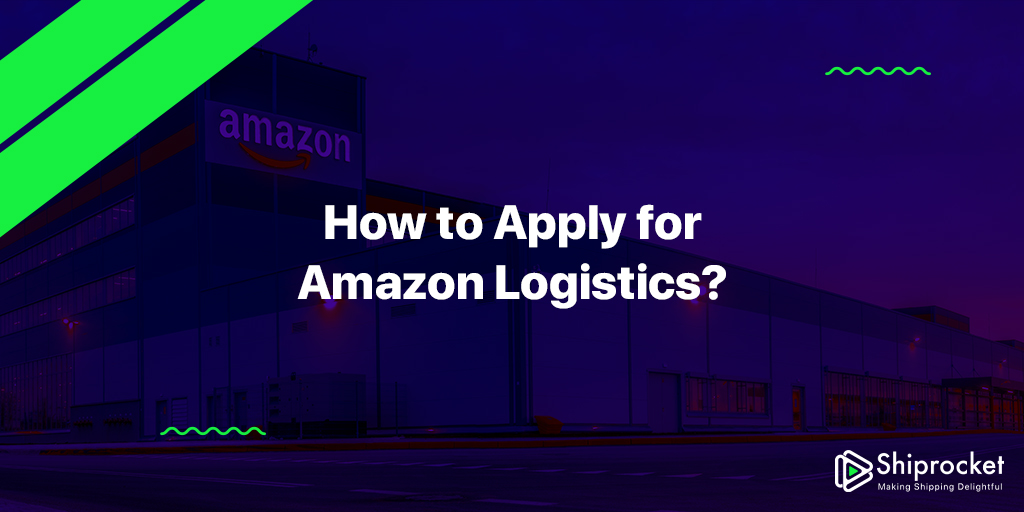 It is effortless to apply for Amazon Logistics jobs. You can deliver with Amazon by registering on their site. Amazon will review the information and run a background check and get back to you within 7 days.
First, you have to set up an Amazon Logistics business account and then fill out the application – it will take you 10 minutes to complete the application. The following are the details that you need to submit:
Validate the email address connected to your Amazon account.
Acknowledge that you and your company can fulfill the requirements of the program.
Read and agree to the Terms of Service.
Provide all the relevant information for the background check.
You can choose wherever you would like to deliver. Also, it is up to you whether you have a fleet of vehicles or a single vehicle. Currently, Amazon Logistics is only available in Bangalore in India, but it is expanding to more cities soon.
The following are the advantages of the Amazon Logistics process:
Volume
It is a stated fact that Amazon ships millions of parcels in a day. Thus, it will provide you with a consistent volume to deliver. You can cover as many service areas as you wish – it is up to you. However, the maximum delivery weight is 25 kg.
Business Growth
Apart from offering stable volume, Amazon also provides you access to its technology, tools, delivery data, and videos.
Make Money
Amazon offers competitive rates and incentives, that help you earn more. You can invoice Amazon weekly.
What Are the Requirements for Amazon Logistics?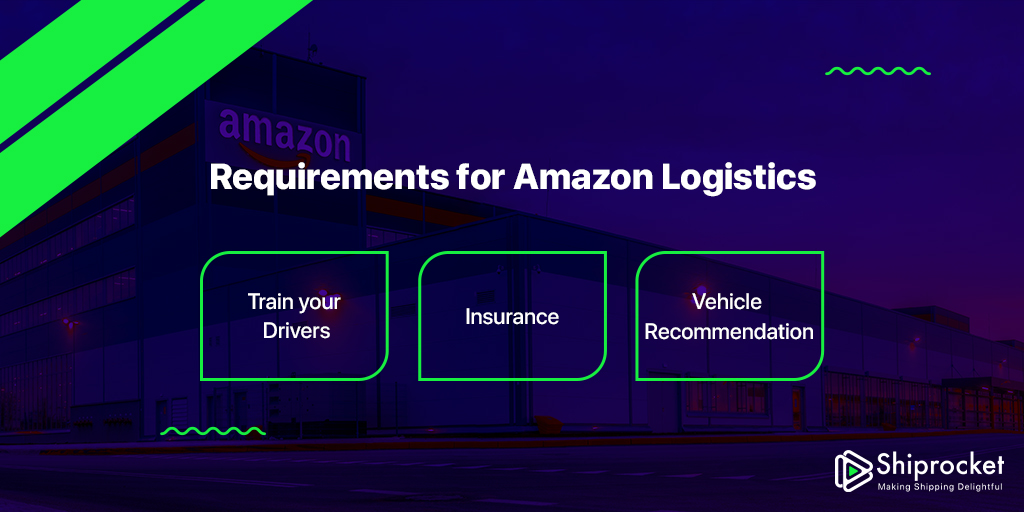 The following are the requirements to participate in the delivery business:
Train Your Drivers
Amazon requires you to have a written safety program that also includes safety policies and procedures and training for drivers.
Insurance
Public Liability: Rs. 50 Lacs minimum
Goods in Transit: Rs. 25 k/loss minimum
Vehicle Fleet Insurance: each vehicle must have business insurance of at least Rs. 50 lacs for both – third party involved and property damage.
Vehicle Recommendation
5M cubic minimum load capacity
Vehicles must be less than 4 years old
GVW – less than 3.5 tonne
Note: These requirements may change as and when Amazon launches more services.
Amazon Logistics Tips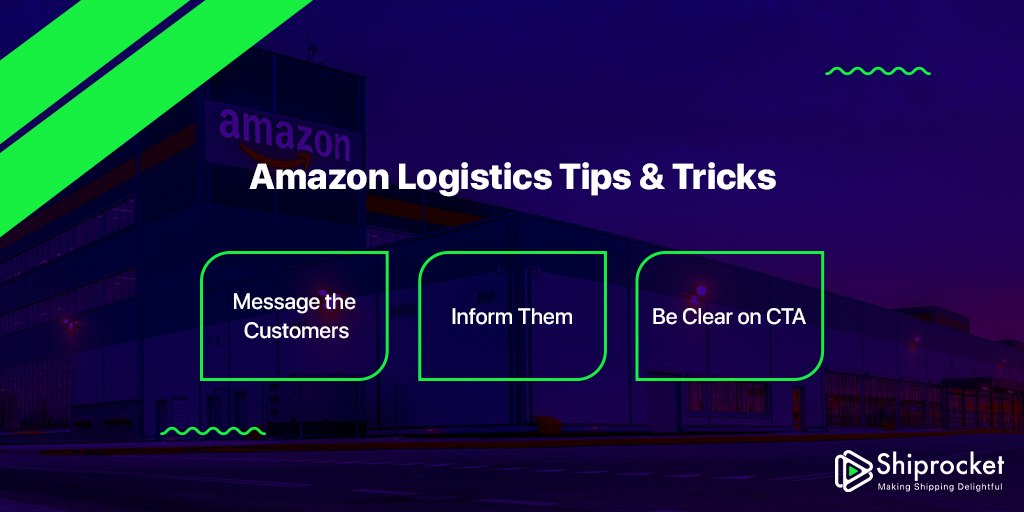 As said above, Amazon Logistics intends to benefit shoppers the most. Even the shippers will be rewarded based on their performance, experience, and customer ratings. Here are a few tips and tricks for you.
Contact the Customers
You can get in touch with the customers once they place an order, thank them, and inform them you are working on the order. You can also send them an Amazon Logistics tracking link once the package is in transit. In short, keep the communication line open.
If you have spoken to the buyer twice or thrice, they are most likely to come directly to you for the problems they face, rather than providing public feedback.
Keep Them Informed
The customers don't get delivery dates and times with Amazon Logistics. This makes it difficult to reach out to delivery partners and provide feedback. You can consider sending them messages to inform them about the delivery date. Remember, if you message them too early, it may seem that the package is delayed.
Tip: you can keep an eye on the estimated delivery times, and send the customers messages accordingly.
Be Clear on the CTA
Be clear on Call to Action. Instead of saying "We would like to hear from you" or "Share your thoughts about us", you can be more direct. You can ask them directly – "Give us a 5-star rating" or "Click here to give us a 5-star rating". Ensure that you offer them easy and obvious options.
Tell your customers that you're there to help them and that you're willing to make all their bad experiences right. Apart from Amazon Logistics, your reputation is also at stake.
Pros and Cons of Amazon Logistics
Just as a coin has two sides, the Amazon Logistics program also has benefits and drawbacks:
Pros
The customer orders are delivered faster. In fact, options like same-day shipping or even 2-hour delivery are also available in some geographic locations.
Amazon has added enhanced map tracking to help customers track their orders. Photo confirmation option is also added to ensure the parcel is delivered.
Amazon Logistics also keeps up with the demand during high and seasonal shipping volumes. This helps to prevent overcrowding at Amazon warehouses.
Cons
The seller can't pick the delivery provider to ship his orders. So, if there has been a negative experience with a certain service provider, it is most likely to be repeated.
Any late or mishandled delivery can lead to negative reviews for the seller. This can impact his sales significantly.
The sellers don't have control over Amazon Logistics. Also, the sellers can't provide any insights or suggestions for improving the shipping process.
Amazon is persistent in offering the best eCommerce services to the consumers, and with Amazon Logistics, it is creating a more extensive and denser shipping network.
Calculate Your Shipping Costs Now