Best Courier Pickup and Delivery Services In India [2023]
Delivering shipments on time is one of the main aspects of eCommerce services. With online e-commerce business are on the rise, courier service companies have also seen a sudden increase in their numbers.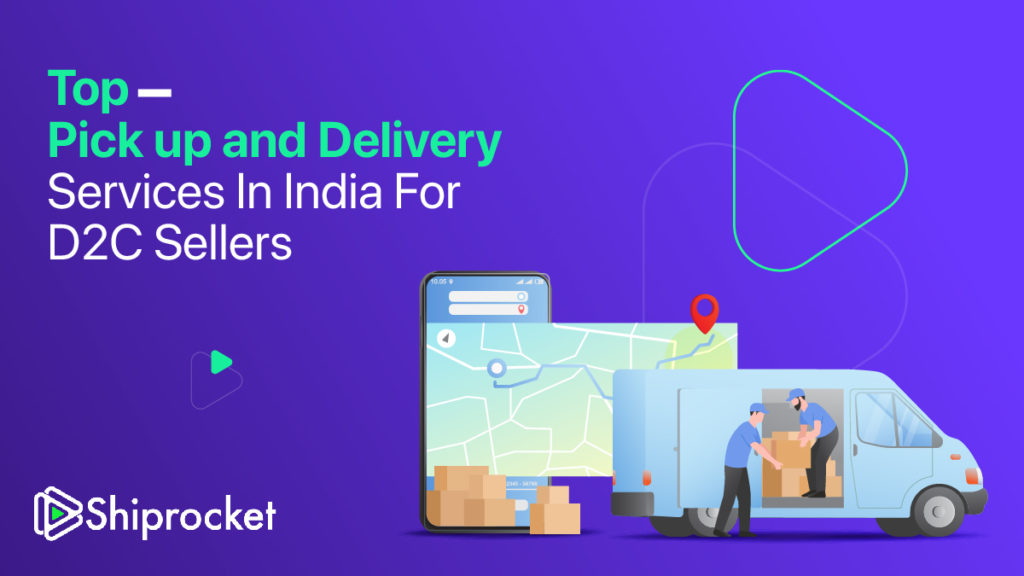 Every business owner is searching for a good delivery service that will deliver its products at reasonable rates. However, with so many delivery services in India, it is hard to pick out a reasonable logistics service.
India has currently seen a rise in online e-commerce services. With websites like Amazon, Myntra, Flipkart gaining popularity recognition among people, it is also important to have a look at some of the best pickup and delivery services in India that will fit well with your requirements.
How to Choose Pickup and Delivery Services in India?
Picking a courier service for an e-commerce business is one of the toughest decisions business owners have to make. The key to choosing the right company depends on the requirements of every company, delivery rate, and budget. Finding a perfect pickup and delivery solution can get a little tricky; in most cases, the hit and trial method is the best way to get the right service. However, a little knowledge or no knowledge in the field can make it hard for you to pick out a service.
For small businesses and D2C brands, streamlining logistics is a primary concern. In this case, partnering with courier services may also be a good solution that directly contacts the shipping company.
With plenty of courier services to choose from, look for their specific advantages, offerings, and price ranges. A decision should be based on analyzing the business structures of courier companies. Key factors to consider here include the delivery time, service price, regional presence, and more.
Top Courier Services in India For Online D2C Sellers
With FedEx, you will get an excellent delivery service at fairly competitive prices. They help businesses with door-to-door pickup and delivery services across India's key cities.
Main Features:
Advanced shipping tools
Online account management
Personalized rates
Online scheduling for pickup and delivery
Free FedEx packaging and shipping supplies
Secure paperless billing
Seamless return process
FedEx App
DTDC has been providing its services in over 10,000 pin codes all over the country. They are originated from India but have also expanded to 240 other countries. They offer timely deliveries and services like COD, bulk shipping, heavyweight shipping, and express delivery. DTDC has both inter-state and intra-city delivery options for enterprises to maximize their shipment reach.
Main Features:
Location Finder
SMS Tracker & e-Tracker
Packaging solutions
Shipments as per volumetric weight
Price & time finder
Interstate paperwork
International paperwork
The Aramex is also a popular courier service in India. They are the best in the business of pickup and delivery services for eCommerce companies. The Aramex App allows its customers to track delivery, monitor the shipments, manage their accounts, addresses, and delivery details.
Main Features:
Shipment tracking
Express services
Freight services
Pickup scheduling
Rate calculator
Aramex app
Fraud prevention
DHL has a presence in over 220 countries and territories worldwide. They deliver tailored solutions for pick up and delivery of goods and information. In India, DHL is pretty much the biggest name in the domain. Their prices are fairly reasonable.
Main Features:
Rail Freight
Ocean Freight
Road Freight
Transport management
Warehouse solutions
Contract logistics
Shipping gateway to prepare packages
Print the stickers with the tracking number
Instant reports
Get quick, trouble-free notifications for your shipment status
Ecom Express is another known name in the market. It is ideal for small businesses planning to have their own logistics for deliveries. Their courier rates are affordable. They are fairly good at providing end-to-end technology-enabled logistics solutions to small and large e-commerce companies in terms of services.
Main Features:
27000+ Pincode coverage across India
Facility centers
Fulfillment center space
Express services
Doorstep compliance services
Reverse logistics
Valuable cargo handing
Blue Dart is one of the best logistics services in India. Their prices may be slightly more than other services, but they have a good track record in terms of services. Blue Dart has a wide reach across India and over 220 countries. They offer an entire spectrum of services,, including air express, freight forwarding, supply chain solutions, and customs clearance.
Main Features:
Cover 35,000 locations in India
Cash on delivery services
Freight on delivery
Real-time information
Economical rates
Fast delivery service
Tracking of shipments
Supply chain solutions
India Post Service is without a doubt one of the most reliable eCommerce delivery services to opt for. They ensure maximum reliability and have been known for affordable logistics services. The pickup service offered by them is nil for consignments that are below 35 kg.
Main Features:
Express parcel
Logistics post
Track your consignment facility
Pincode finder
Postage calculator
For D2C sellers in the Ecommerce market, Shiprocket is a courier service that provides complete logistics services and automated solutions to help expand your shipping services to the maximum area without spending too much.
Shiprocket also has tie-ups with DHL, Aramex, Ecom Express, and DTDC, depending on the service area and the cost. The platform automatically integrates with your website and gives you the cheapest delivery option for the delivery area.
Shiprocket currently provides its services in over 29000+ pin codes all over India and 220+ other countries. It provides automated shipping and tracking solutions, which are best in the market.
After reviewing all this information, it will be easier for you to pick out a pickup and delivery service for your eCommerce business.
Calculate Your Shipping Costs Now