eCommerce Shipping Trends
Top Courier Companies in India for Your eCommerce Brand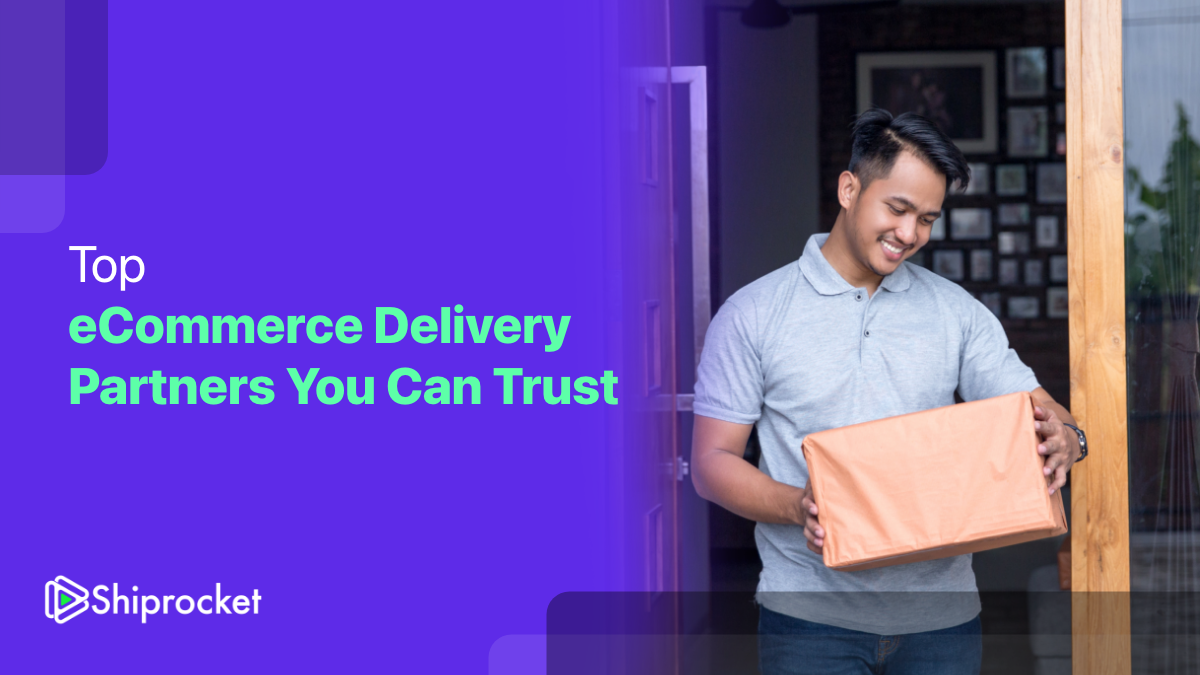 India has witnessed a wave of new eCommerce brands. COVID-19 has also accelerated this wave, and the eCommerce industry has grown rapidly over the past two years. This has also led to a boost in demand for courier companies in India.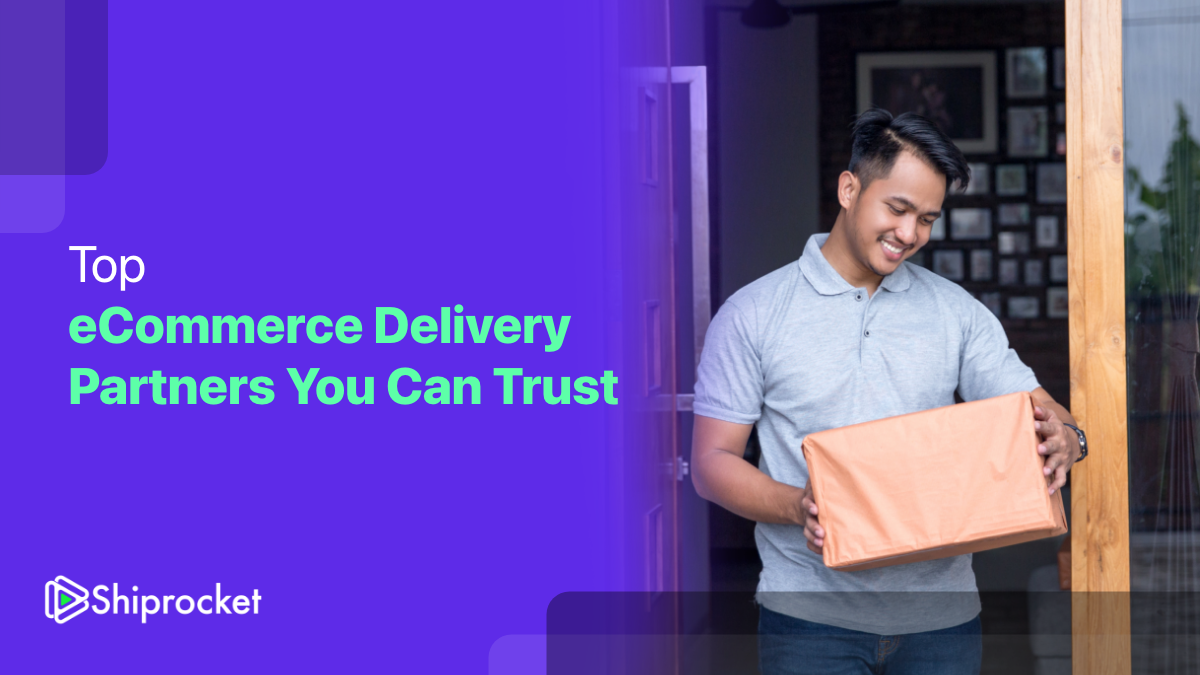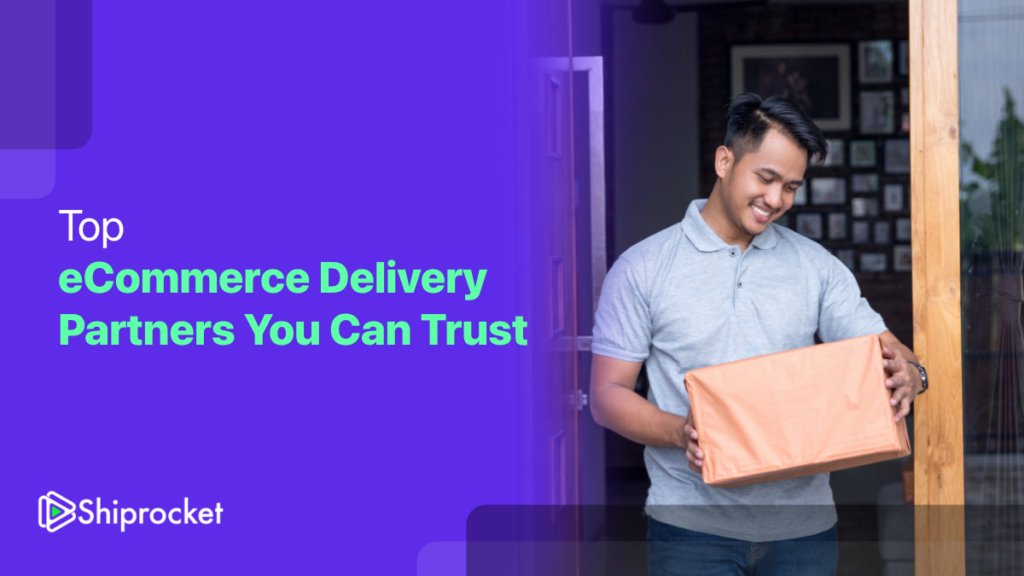 Every online seller wants to ensure the fastest order delivery and the best brand experience for their customers in today's competitive world. While there are several top courier companies in India, many eCommerce brands find it challenging to choose the best one. To solve this problem, we have listed below the best courier companies in India that you can consider for your eCommerce business.
Top 8 Courier Services Companies in India
Let us learn about top shipping companies in India in detail:
1. DTDC
One of India's most preferred courier companies, Desk-to-Desk Courier & Cargo, popularly known as DTDC Express Limited, was founded in 1990 in Bengaluru. DTDC offers customized services like domestic and international shipping, premium express shipping, priority shipping, and supply chain solutions. You can also access shipping rates, order tracking notifications, and estimated delivery dates with DTDC API.
The company also offers travel services like booking bus, train and air tickets, mobile recharges, utility bill payments, DTH renewals, health insurance, movie/event ticket bookings, and packaging solutions.
2. Delhivery
Delhivery was founded in 2011 and is one of the top eCommerce courier companies in India today. It has 28000+ active customers from eCommerce marketplaces, SMEs, and D2C e-tailers. The company serves over 18,000+ pin codes and has 93 fulfillment centers and 2,948 direct delivery centers. With the mission of offering reliable, flexible, and cost-effective supply chain services, Delhivery offers reverse logistics and COD services as well.
Its other services include express delivery—same-day or next-day delivery, on-demand delivery, cross-border, supply chain, and PTL and TR freight.
3. Blue Dart
Offering top courier services since 1983, Blue Dart is among the most famous and best courier services we have today. They offer a wide range of services, ranging from domestic and international shipping and airport to airport shipping to express shipping and temperature-controlled logistics. It offers services to over 55,400 locations in India and 220 countries and territories internationally.
Not just a shipping rate calculator, but DTDC also offers a transit time calculator. The company also offers COD delivery, weather-resistance shipment packaging, slot-based delivery, and automated proof-of-delivery services. With their API, you can monitor order delays, product returns, and failed deliveries.
4. Gati
Started in 1989, Gati offers optimized distribution services to eCommerce businesses. It serves over 19,800 pin codes in India and 735 (of 739 total) Indian districts. Apart from express shipping and air shipping, Gati also offers end-to-end logistics services, warehousing solutions, GST solutions, and special services like shipping two-wheelers domestically. With Gati, you can also deliver COD orders.
5. DHL
Dalsey, Hillblom, and Lynn, DHL for short, is one of the major international shipping companies in India. It covers around 26,000+ pin codes domestically. With DHL, you can be sure of eliminating and reducing the environmental footprint involved in the overall order delivery process. With DHL, you can insure your high-value shipments as well. DHL has a well-connected distribution network that enables you to optimize the supply chain, improve the fulfillment process, and deliver orders internationally across 220+ countries and territories.
6. FedEx
FedEx is considered to be one of the top courier services in India. It is headquartered in Paris and offers services in Europe, the Middle East, Africa, and the Indian Subcontinent. FedEx offers fast and dependable express delivery to 220+ countries and territories. You can ship all types of products with FedEx – fragile, high-value, and heavyweight.
It is your best choice for domestic and international shipping, and its API allows you to manage returns orders efficiently, create shipping labels, and access performance reports.

7. Ecom Express
Ecom Express covers over 27,000+ pin codes domestically in 2,700+ cities and towns. It has more than 3,000 delivery centers and fulfillment center space of over 45,00,000 square feet. It offers express shipping, order fulfillment services, doorstep compliance services, and other value-added services. Ecom Express helps the eCommerce industry meet its needs with its end-to-end technology-based and reliable solutions. The two biggest perks of shipping orders with Ecom Express are that it offers 72-hour guaranteed delivery and QC-enabled return shipping.
8. Shiprocket
One of the best courier aggregators in the market, Shiprocket is the best bet for your business. Shiprocket has onboarded 25+ courier partners, and you can ship your orders with different courier partners as per your choice. You can deliver orders to 24,000+ pin codes and 220+ countries and territories.
Not just this, Shiprocket aims to provide a premium post-purchase experience to online buyers. By partnering with Shiprocket, you can provide your buyers with real-time order tracking updates via SMS, emails, and WhatsApp. You can also save on shipping costs by storing your inventory close to your buyers in Shiprocket Fulfillment's 45+ fulfillment centers across the country and offering your customers 1-day & 2-day order delivery.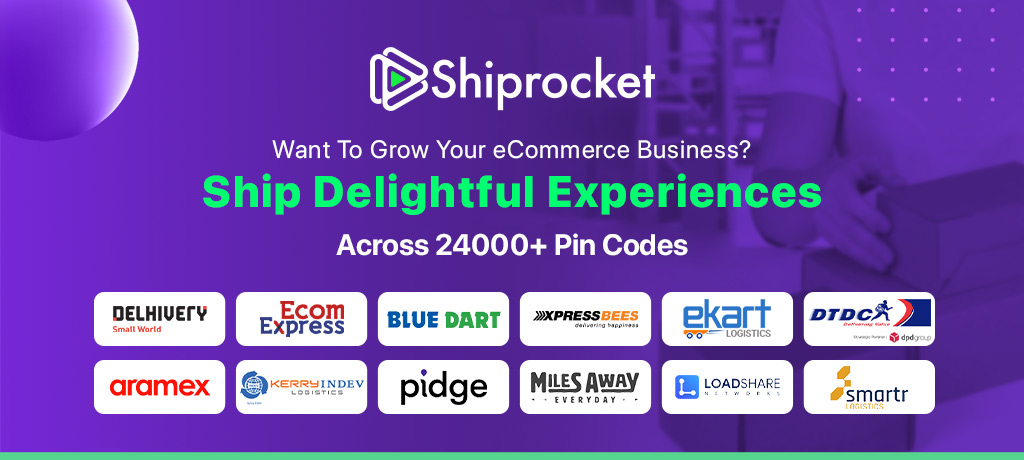 Calculate Your Shipping Costs Now