The Secret Amazon Pricing Strategy to Crush the Competition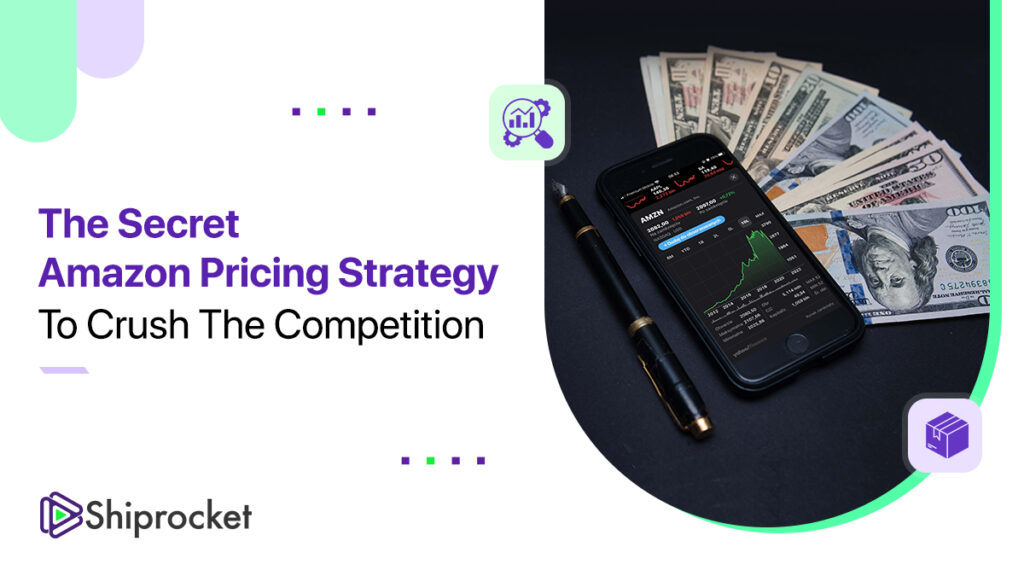 3 Steps to Selling Successfully on Amazon
1. Optimize your product detail page
The basics just aren't very good.Before you even start thinking about generating traffic, putting any marketing budget to work, or refining your Amazon pricing strategy, you have to do the basics. On Amazon, this means you have to optimize your Amazon product detail page for Amazon's organic search results.The vast majority of sales on Amazon happen through search and more than 70% of it on page one of Amazon search results.
So, it's best to spend time optimizing your products for Amazon's search.
2. Set your prices for Page One on Amazon
If you get your pricing wrong, you will either lose money or won't sell anything.
Setting the right price on Amazon doesn't have to be that hard for private label products where you don't have any competition on your Amazon product page.
In general, there are two variables you need to consider for every single product you sell on Amazon.
You want to be profitable (Find your lowest price)
You want to maximize profits (Find your highest price possible)
First, you need to consider all of your costs, and what your prices would be for you to be profitable on Amazon with those costs included.
The list of costs which you have to take into your equation are:
Product Acquisition Cost
Shipping
Customs
Payment wiring
Amazon Commission
Customer Return Fees
On all returns, Amazon keeps 20% of the original commission as a return fee
Your own returns-related fees (return shipping, disposal and product write-offs fees)
Variable overhead allocation costs
There are also category-specific costs which you need to consider. For example, if you sell clothing, Amazon will charge you FBA fees related to customer return shipping costs.
3. Keep your prices stable, with exceptions.
To build customer trust and a sustainable long-term brand on Amazon, keep your prices stable.
There are, of course, exceptions.
The number one reason for price deviations is to increase your sales rank, which results in more organic sales later.
The second reason for price cuts is cross-selling your products, which in the end also results in better sales rank for all products included in the cross-selling promotion.
Usually, this means cutting your prices close to break-even or below profitability. This is most often done during new product launches.
How to Drive Traffic to Your Amazon Products
There are no sales if there is no traffic. It is insufficient to simply list your goods on Amazon and wait for traffic and sales to come in.
You now need to direct traffic from outside sources to your Amazon product page in addition to the natural traffic that comes from Amazon.
1. Build an Email List.
An email list is a great way to boost your sales at product launch.
We use our list to send our customers directly to our new product pages on Amazon.
We also give them a discount code for the purchase of the products and often see a good jump-start on sales from that.
Begin with these three, easy-to-implement ways to start building your own list:
Include a sign-up form on your website, such as one for a newsletter, an e-book download, or anything similar.
On your social media pages and on your packaging, mention the newsletter sign-up option.
You may email your customer once following an Amazon sale. In this email, direct them to your sign-up page for your newsletter.
2. Place Targeted Facebook ads.
In 2014 we shifted a big part of our external ads budget from Google to Facebook.
Today, Facebook Ads are our most important external paid traffic source.
On Facebook, you have multiple advertising options, and you don't need an existing fan base for that.
The great thing about Facebook Ads is that you can define your target audience and create a post which will show up directly in a user's Facebook feed.
Working with this Amazon conversion tracking tool, catapulted our Facebook marketing performance into entirely new dimensions. The bottom line is that with analytics, you finally know whether:
Your Facebook advertising is worthwhile
You are really addressing the target groups that buy your products on Amazon
Your advertising is actually generating revenue.
3. Use Amazon Sponsored Product placements.
Amazon Sponsored Products is by far the fastest way to get your product on the first page of Amazon search results.
Amazon Sponsored Products work similar to Google AdWords, where you bid on search terms.
If a person is searching on Amazon for your product, you can buy an ad relative to those search terms, and your offer will appear next to the best results.
The great thing about Amazon Sponsored Products is that it is very easy to set up. You can do it in a matter of minutes.
4. Point all Product links to Amazon.
You might ask:
"Why should I send my customers over to Amazon if I already have my own website?"
The number one reason is that your ultimate goal is to be on the first page of the search results and, if possible, in the top three listing. This is where the big money is made, not by a single sale on your site.
Apart from our website, we point every link on Facebook, Twitter, YouTube, Instagram, our blog posts and our email newsletter to one specific Amazon product page.
5. Get your products in the hands of bloggers and Youtubers.
Youtube is the second biggest search engine in the world.
It's really good to have a ton of reviews about your products on there so that you show up first in search no matter where they search for you.
6. Maximize your product packaging.
Every case we ship includes a small booklet and two business-card-sized inserts with 10% discount codes for customers to give their friends or use on their next Amazon order of a KAVAJ product.
Customers are telling their friends about us and they're buying more cases for themselves.
We also use our best customer testimonials to build trust.
We put our best quote on the outside packaging and, for our most important products, we include a customer case study inside a small booklet.
7. Create effective Google Ad campaigns.
We spent a lot of money on Google in our early days. However, Facebook Ads and Amazon Sponsored Products totally changed the game.
Today, you should use Google AdWords as follows:
Focus on brand name: Focus your efforts on your brand name and the most specific keywords in the long tail. We get most of the traffic from Google from people searching for the brand.
Focus on long-tail keywords: In the long tail, we only create very specific campaigns for our products, which must include the device name, the material, and the color. For Example, those words that are keywords to our product, phrases like "iPad Air 2 case leather black."
How to Get Real Product Reviews
Without product reviews, you won't sell anything on Amazon.
The amount and the quality of reviews are the most important aspects of your reviews to increase your conversion rate.
Unfortunately, only 1 out of 100 customers writes a review.
1. Email your customers after purchase and ask for reviews.
You can use tools like Feedback Genius to automate this process.
Send the email a few days after the purchase.
Ask in a neutral way and don't force them to leave a positive review.
Provide a direct link to the review page, as a lot of your customers have probably never written a review before.
You can also use this opportunity to make sure the product was delivered correctly and give the customer a chance to tell you about their experience (good or bad) so you can make the most of the interaction and build lifetime brand loyalty.
2. Use "wrong" positive seller feedback to get product reviews.
People often confuse seller feedback with product reviews. Unfortunately, the often really good product feedback is not very visible for other customers.
Review your seller feedback regularly for people who actually provide positive product feedback and ask them via email to also write a product review.
3. Comment on reviews.
Everything on the Amazon product page is public.
In particular, the reviews and comments sections will be read by almost all future customers. This is your chance to stand out.
Be sure to comment on any negative product reviews or on reviews where a customer has a question. This is your opportunity to build trust and increase your conversion.
Further, many customers who initially gave your product a negative review might even change it for a positive one because they are grateful that you cared about their issue.
4. Ask customers who email you for feedback.
The easiest way to get product reviews on Amazon is by simply asking customers who tell you how much they love your product.
Whenever you receive an email, a customer service call or positive feedback on your social media channels, just ask them politely if they are willing to share their experience with other customers on Amazon.
How to Provide Outstanding Customer Service
You can't do anything wrong if your Amazon customer benefits. Amazon itself is the most customer centric company in the world. They expect the same standard from you as a seller.
Your best marketing tool on Amazon today will be outstanding customer service.
Your goal should be to create a "wow" experience which will help spread word of mouth.
1. Start your customer service on your Amazon product page.
This is the place where all your customers start their customer journey, read reviews, ask questions, check out your seller feedback and finally click the "Add to Cart" button.
I recommend implementing a daily routine for your product pages including the following actions:
Comment on negative product reviews and offer instant help
Answer questions in the Q&A section
Manage your seller feedback actively
2. Answer your customers fast and be generous.
The 2nd pillar of your customer service is email. You must answer all emails within 24 hours or faster and strive to resolve every customer service issue in a single communication.
I recommend to apply the following four principles:
Answer all emails within 24 hours
Provide a solution in your first reply
Make it simple for your customer
Be generous
Be responsive on your social media channels.
Your customers will talk about or to you and they expect you to engage with them on their favorite social media channel.
We recommend using Facebook and Twitter as your first customer service channels. You can exceed expectations here and "wow" your customers if you reply to all questions within an hour.
We also recommend creating a FAQ section on your website that answers common questions. Finally, offer an easy-to-use contact form on your website.
Conclusion
Last but not least, constantly keep in mind that getting your product to page one of Amazon search results is your main objective if you want to profit from the huge Amazon consumer base's organic sales.
Calculate Your Shipping Costs Now