How to Improve Process Effectiveness with Inventory Planner
Many e-commerce companies make better use of the inventory planner, but they often don't know how to make better use of it. For this, companies should have the goal of keeping customer service high and inventory low. However, each company may have a dissimilar goal so as to why they are not doing better with it.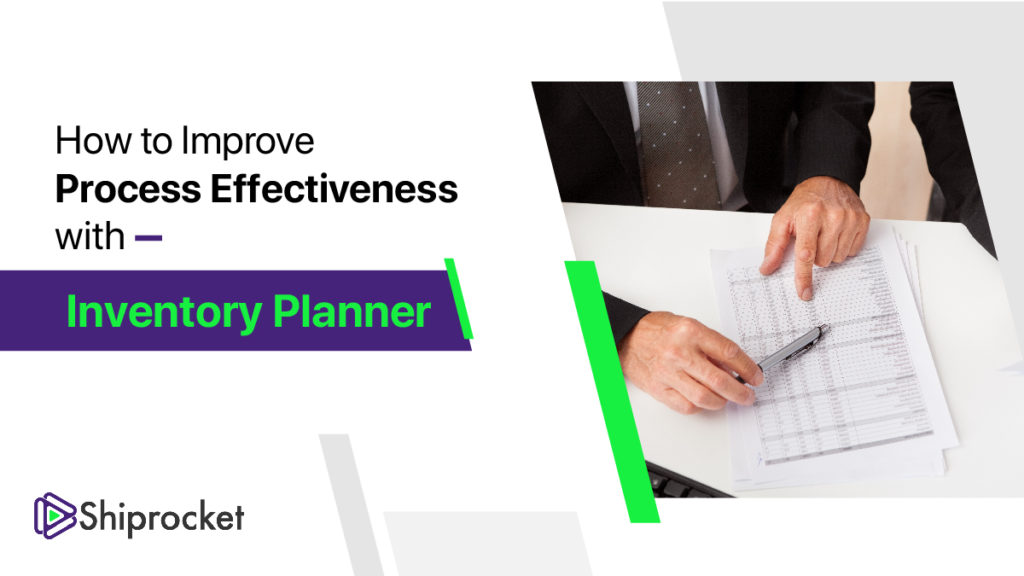 What is Inventory Planning?
The main areas of inventory planning to focus on when trying to planning for your inventory investment are:
Reducing error in demand forecasting.
Having better target levels in place for inventory optimization.
Synchronize sales & operations planning.
Improve the overall inventory management process.
Advantages of Inventory Planning
Inventory planning provides many benefits which aid with forecasting for the future. The sooner you plan for inventory, the sooner you reap the benefits of planning in many different ways:
Eliminate stockouts.
Optimize stocks for slow-moving items and perishable items.
Improve cash flow through inventory planning.
Increase profits with efficient production and sales.
Easy retrieval of items from the warehouse.
Mitigate the risk of errors and theft for uncontrolled raw materials and goods.
Eliminate redundancies in inventory.
How to Do Inventory Planning?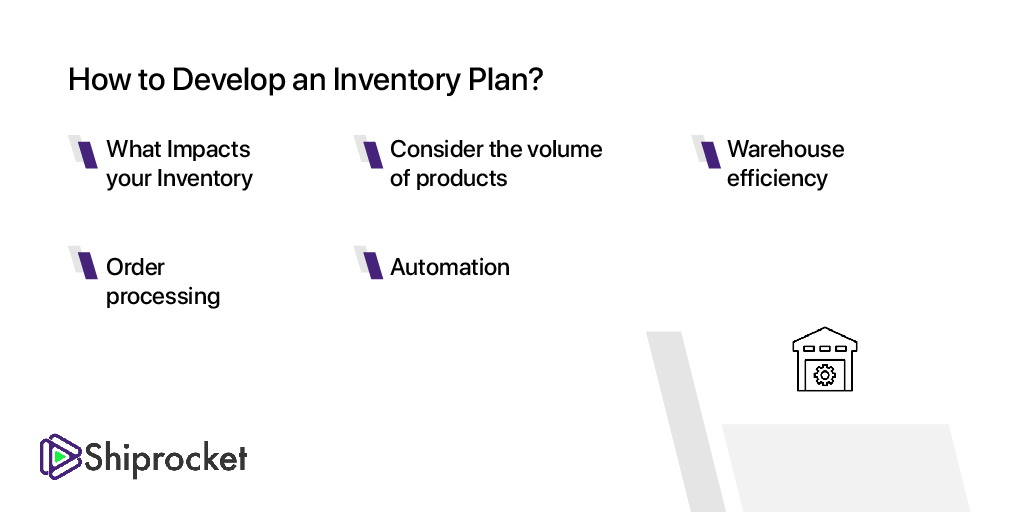 Product Volume
Developing an inventory plan includes many steps but once you know about the volume and demand for your product in the market, it will be much easier to develop a plan and maintain your inventory levels.
Warehouse Efficiency
To plan an optimum level of inventory, it is important that you have well-organized warehouse space for your goods. In a warehouse, your staff should be able to identify, track and place orders easily. Additionally, it's easy for you to keep a tab on what product is running out. Knowing warehouse efficiency is the way to plan and balance your demand and supply, and reducing unnecessary overhead costs of transferring goods.
Demand Change
Look for factors that impact inventory levels due to demand change, marketing, or your competitor's offerings, change in price, trends, and customer preferences.
Order Processing
As the name implies, order processing is the main part of inventory planning that happens after a customer places an order. This process has steps like order placement, inventory picking, sorting, and shipping. The process starts when each individual order is compiled, packed, labeled, and shipped to the customer's address. Streamlining order processing can improve the connection between inventory and order management.
Inventory Automation
Automation of different processes of inventory will be of great help for businesses planning for reduced errors and more accuracy in reports. There are inventory models which include the following:
Cycle Counting
The cycle counting system is very important for the effective planning and control of inventory. Having an active cycle counting system in place eliminates the error-prone inventory count with a regular counting of selected items so that all the important inventory items are counted more often than the less important ones.
Pareto Analysis
Pareto analysis or ABC analysis is to identify and rank all the important and less important items. The method is to rank all inventory items according to the total value of each item on an annual basis. The Pareto analysis identifies an item in the warehouse according to safety stock, lot sizing, and other management parameters to put your focus on the items that matter.
Planning and Execution
The primary focus of the inventory system is to improve customer service and meeting demand including reducing inventory costs. This tool provides critical information for the planning and execution systems within the ERP of an organization which helps in managing the replenishment of inventory, minimizing shortages, and the overall inventory investment.
Tracking and Traceability
Inventory tracking traceability is about collecting information for identifying the increasing risk of product life-cycle, product performance, configuration history, and data. It all can be of great value for the inventory management team and other areas of the business.
Barcoding
Inventory planning is highly dependent on accurate reporting of missing transactions, delays, and data errors. Barcoding scans help in reducing the burden of automated data collection and also improves the accuracy and timeliness of transactions.
How to Pick the Right Inventory Planning Software?
eCommerce organizations can enjoy the benefits of inventory planning, with an enterprise-grade inventory planning system. The implementation of planning software may offer added security and operational accuracy that provide options for diverse situations.
For example:
Sales tracking through barcode
Inventory location and control
Overselling stock
Multiple sales channels
Demand Forecasting
Coordination between sales and fulfillment
Having insight into your inventory is critical to success. Decision-makers in an organization should know that they need the right tools and systems in place to plan and manage their inventory effectively.
Shiprocket offers an inventory management and tracking platform for determining and managing safety stocks, and inventory counts. We help manage the balance between demand and supply across your entire organization with demand planning and distribution requirements planning.
Calculate Your Shipping Costs Now