Best eCommerce Website Templates of 2023
As it is becoming easier to launch an eCommerce retail shop, ensuring your store stands out from others has become all the way more imperative yet difficult. To stand out from the crowd, you need a website that is as unique as your brand and products.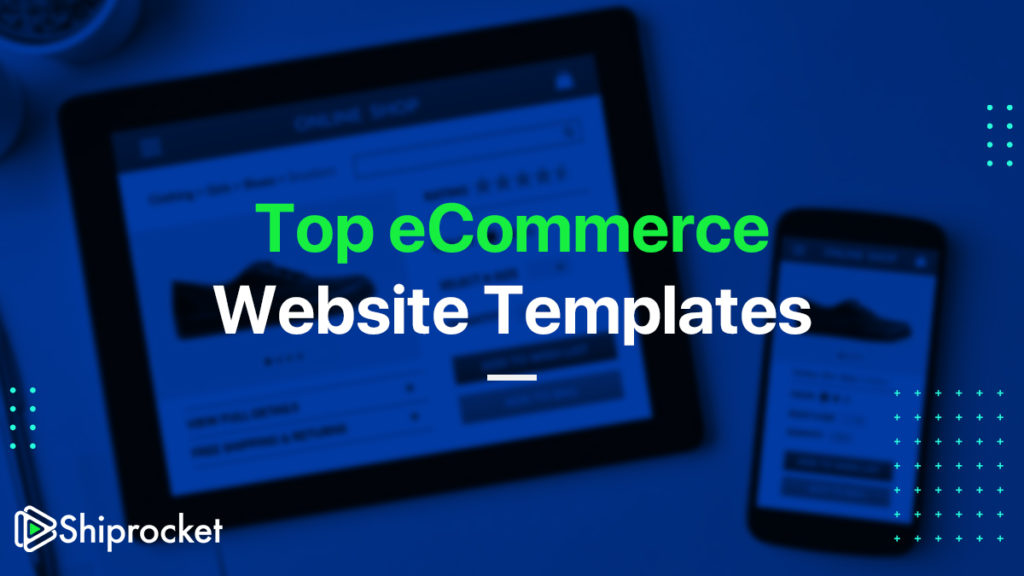 For those entrepreneurs who have not done this before, eCommerce website templates can be pretty handy. With the help of website templates, you can set up your online store easily and quickly.
No matter which platform you use, great website design is a prerequisite. A responsive, well-designed, and eye-catchy website will help to put your products in the spotlight. Read on to know the benefits of some responsive eCommerce website templates that also have some great features.
Advantages of eCommerce Website Templates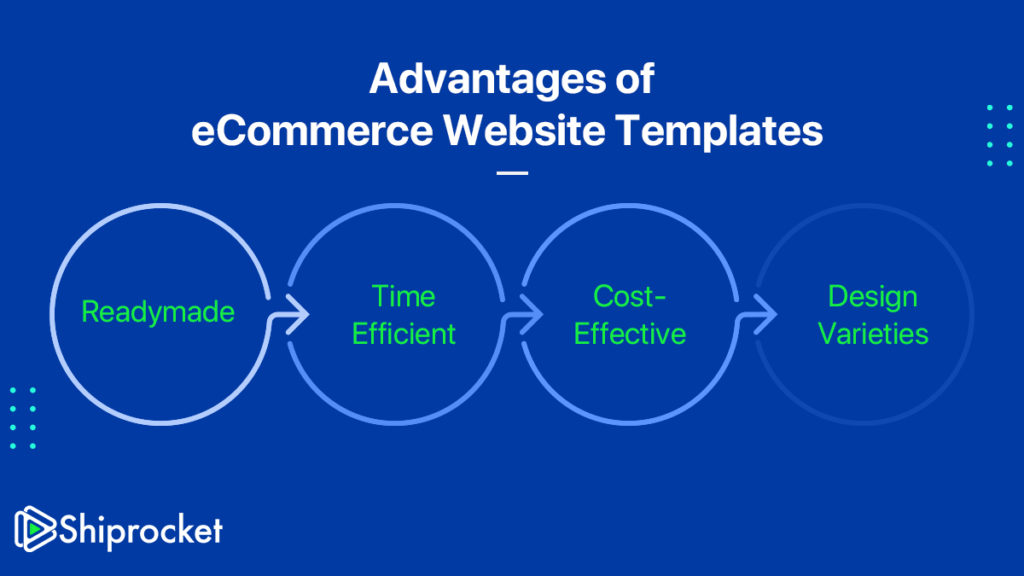 A website template is a pre-designed layout used to develop a new website. The templates have dummy text, banners, and images. There can even be fonts, intro pages, scripts, CSS files, and animated flash banners – depending on the template that you choose.
Here are some advantages of using eCommerce website templates for your online store:
Cost-Effective
For online retailers who have just started their business or are going through a financial crunch, website templates come in very handy. You can purchase an attractive theme and template at a price as low as just Rs. 750 per month. At the same time, there are also several free website builder tools available. You can also save the fees of hiring a web developer – which can cost you thousands depending on your specifications and requirements.
Time Efficient
Nowadays, when products can be delivered within 24 hours, time is precious for online sellers. eCommerce website templates are time-efficient and easy to use. The website can be developed within a few days with the help of a website template. Notably, this also saves a lot of time for the eCommerce retailer.
Readymade
You get ready-made templates that can be customized as per your requirements. You can integrate your style, text, images, and personality into the website layout. In fact, changes can be made to the overall design, including images and color scheme with the help of various image editors like Photoshop.
Design Varieties
This is yet another benefit of online website templates!
When compared to the traditional ways, online website templates have a large variety of website designs that you can choose from and use as per your business requirements. Notably, most of these eCommerce website templates are compatible with other channels (channel integration), web technologies, and software.
Top eCommerce Website Templates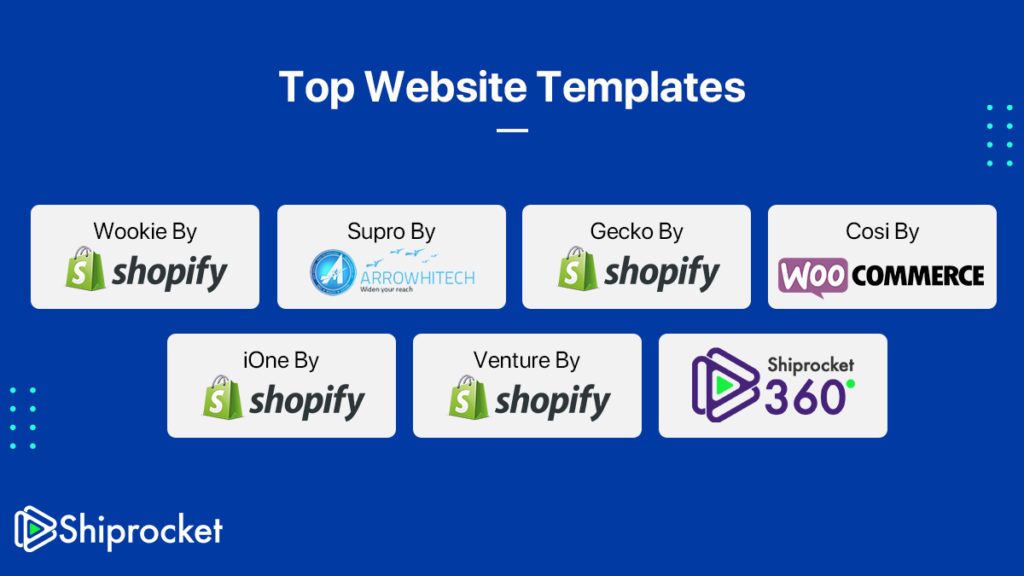 Whether you are taking your offline business online or building an online store, a website is quintessential. Creating a website can be a tedious and costly task, but not anymore with website templates. However, browsing through all the options available can be long and tiresome. Luckily, we did it for you!
Here are the themes and templates that you can consider to build your website for free or at a meager cost.
Wookie by Shopify
Wookie is a multipurpose Shopify theme that offers a great amount of flexibility and various design tools. With this theme, you can give online consumers some control over the website. This theme includes a host of Apps, such as Megamenu, Wishlist, Compare, Instagram feed/shop, related products, quick view, and special price countdown. The theme is liked by many eCommerce sellers and enjoys a solid 5.0 rating from the users.
Supro is a theme created by Magento developers, ArrowHiTech. An excellent option to showcase your products, Supro is built on the default theme of Magento. As said, the theme focuses on product range and creates an online store that offers a unique and attractive look and feel to the website visitors. Supro is the best option if you are interested in creating a website that helps increase the purchase conversion rate.
The theme has some slick design options and is the best option for a furniture store, fashion store, and decoration store. The theme is built combining the default Magento theme and Front-end CMS page builder that makes it compatible with third-party extensions as well.
Gecko by Shopify
Gecko theme by Shopify is the best theme if you wish to create a robust online store. It is very clean and has a creative design. It offers online users a seamless shopping experience and has a range of specialist demos. It is jam-packed with a range of features that help you create an online store to meet all your needs.
With this theme, create an eCommerce store that is in line with your brand. Display your products in style and make it effortless for the users to browse through the products and choose and purchase them.
Cosi by WooCommerce
Cosi is a multipurpose WordPress theme by WooCommerce that is very stylish and has varied layouts. It is built with a modern design and has bold and slick typography and visuals. The following are a few features of Cosi:
5+ header layout and 3+ footer layout
5 product page layout
4+ blog layout combination
WooCommerce compatible
Admin interface
Customizable
Portfolio
Testimonial
Our Team
Social share functionality
Google Maps integration
iOne by Shopify
It is a drag-and-drop Shopify theme that you can consider for its minimalistic nature. It has more than 12 demos and a long list of layout variants to choose from. The other features include AJAX cart, Instagram integration, autocomplete search, wishlist, grid, and list layout toggle, layered navigation, and view pop-up.
Venture by Shopify
This is one of the best free eCommerce website templates. This theme is ideal for online stores with a large number of products. You can feature the product details and images in a multi-column or sizeable drop-down menu. The slideshow feature of the theme will help in showcasing multiple products on the home page. Besides, the promotional banner will also help in promoting the latest promotions, sales, and discounts on the home page. The eCommerce website theme also gives users the option to filter and sort their searches.
Shiprocket Social
You can also create an online store with Shiprocket Social. It is a free website builder tool that offers responsive websites. If you own a domain, you can easily link it with the website. Shiprocket social also allows to add custom pages like About Us, Contact Us, and Overview to the website. You can upload your brand banners, a particular theme, or highlight your trending products.
Besides, you can also add your social profiles, like Facebook, Instagram, Twitter, and YouTube. The best thing about this website tool builder is that you can also track your website performance with the help of Google Analytics. The other features of the platform include an unlimited listing of products and bulk upload, pre-integrated payment gateways, Google Analytics, custom domain, COD enabled, SEO friendly, and SMS/Email notifications.
Conclusion
Selling online is one of the best ways to increase business and reach out to more customers, especially when the ongoing pandemic has changed the way we all live. Creating a website with website tool builders is an affordable way of going online and reaching people way beyond your regular business geography.
Calculate Your Shipping Costs Now