How to Setup an Online Store For Essential Items in India?
Ever since the coronavirus outbreak has caused the entire nation to come to a standstill, it has become more necessary than ever to ship essential goods responsibly. All over the country, people are struggling to procure necessities such as groceries, masks, sanitizers, medical equipment, baby food, etc.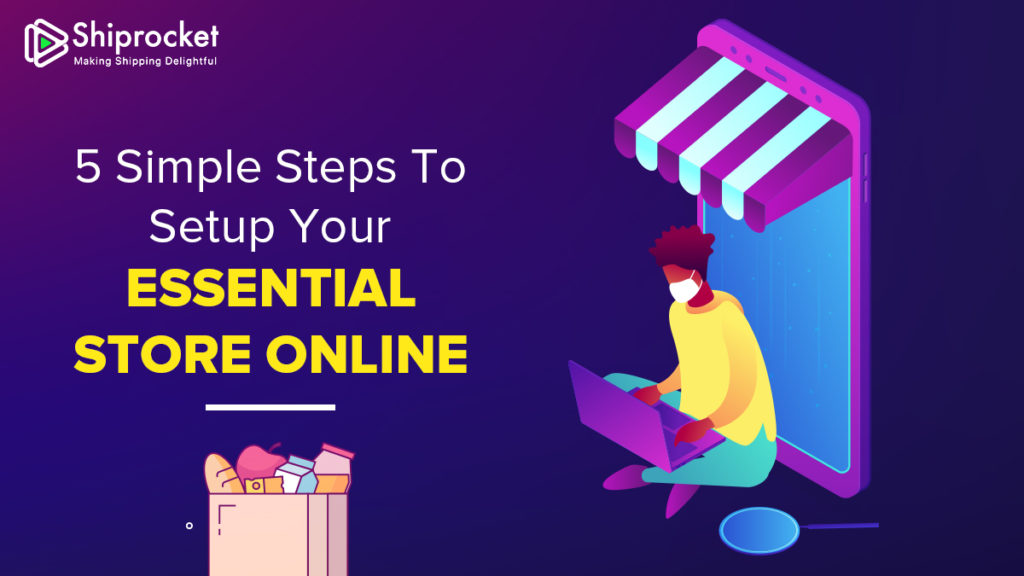 If you are a seller who has the resources to sell these essential goods, now is a great time to set up an online store and begin shipping them. Here is a brief process to get you started with setting up your store and successfully sell essential products across the country.
Step 1: Setup Your Website/Marketplace
Setting up your website is an effortless task that can be completed by you in a few steps. If you are someone who is just entering the eCommerce business, we would recommend that you start by quickly setting up a store on websites such as Shopify, Woocommerce, Bigcommerce, etc.
If you are already an active eCommerce seller, you can add another segment to your website stating the sale of essential goods. This can facilitate your existing customer base to purchase from your store.
Also, you can set up your marketplace store with Amazon and other websites that are also currently still selling essential items.
You do not require high-end technical expertise to set up a store on these websites. Just follow the necessary steps, add a theme, list of products, and you are good to go.
Ensure that your website is easy to navigate and the products can be located easily. Do not incorporate a lot of ads, unnecessary offers, or other relevant information as this website is purely to help people who might be in an emergency.
Step 2: List Your Products
Once you have the basic framework of your store set up, you can start listing your products. If you are beginning to sell and market places such as Amazon, make sure you list products appropriately so that they fall under the bracket of essential goods.
List products under appropriate categories and ensure that they are easy to locate by your customers.
As these products are fast-moving, you will have to keep a close check on your inventory and warehousing operations to ensure that your website/marketplace and your backend operations are in complete sync.
Step 3: Write Appropriate Descriptions & Add Images
Once you have listed your products, make sure you add appropriate product descriptions and the correct product images. This is vital because most people who will be shopping from your online store will be customers who earlier purchased these essentials from physical stores. Hence, to make sure that these people can buy smoothly, the images easily and the description must be spot-on.
Use as many realistic images as possible in a and do not edit them a lot. They must resemble the product and its features correctly. For the product descriptions, write about their specifications in detail. For example, if you are selling a glucometer, make sure to include the make, model, brand, number of strips you're selling alongside, and what all is included in the box in your product description.
Step 4: Set up Shipping
The entire exercise of setting up a store online is of no use if you do not set up appropriate shipping. Always opt to ship but shipping solutions in these critical times as they allow you to send with multiple courier partners. This means you can get an extended reach, a dedicated support team, and a fleet of courier executives to deliver your product. Opt for contactless delivery and also educate your buyers about the same.
You can set up an account with shipping solutions like shiprocket as they are working with courier partners like Delhivery and Shadowfax to make sure you can deliver essential goods to home buyers.
Step 5: Get Permissions in Order
When there is a lockdown in the entire country, and there are restrictions on the movement of goods, you must get all permissions sorted before you begin a business. The government has various provisions for people who are making efforts to ship these items to the general public. Therefore, get all your permissions in place to avoid any setbacks later.
For shipping essential products with Shiprocket, following documents and permissions need to be furnished to our logistics team:
GST compliance
Valid invoice
Company Authorized Letter
Authorization letter from FSSAI (Optional)
Copy of Drug License (Optional)
Name, Number, and Pickup Location
Want to ship essentials? Cick here or call 011- 41187606
Final Thoughts
If you are an eCommerce seller or an off-line seller who wants to make essential goods available to their customers, now is a good time to do so. You can set up your store in a few easy steps and start contributing. Always remember to take adequate precautions and always sanitize yourself and your surroundings.
FAQs (Frequently Asked Questions)
Can I ship essential items with Shiprocket?
Yes, you can ship all your products with Shiprocket.
What will happen if the courier partner loses my shipment during transit?
You can secure your shipments with us for up to Rs. 25 lacs against lost and damaged shipments during transit.
Should I connect with Shiprocket if some products are missing from my order?
In case of missing products, you must contact the seller only.
How can I get early COD remittance from Shiprocket?
You can get COD remittance within two days of order delivery by activating Early COD in your Shiprocket account.
Calculate Your Shipping Costs Now