25 Best Practices For Running An eCommerce Website
Running an eCommerce business is a full-time task. There is more on your plate as a business owner than on anyone else. While the rewards are indeed fruitful, there is also a large amount of hard work involved in the task.
More to this is the never-ending market competition that brings about a massive challenge for budding businesses. Since you're selling tangible products, you have to be online and fight the competition no matter how extreme it might be. Only then will you be able to sustain your business in the market.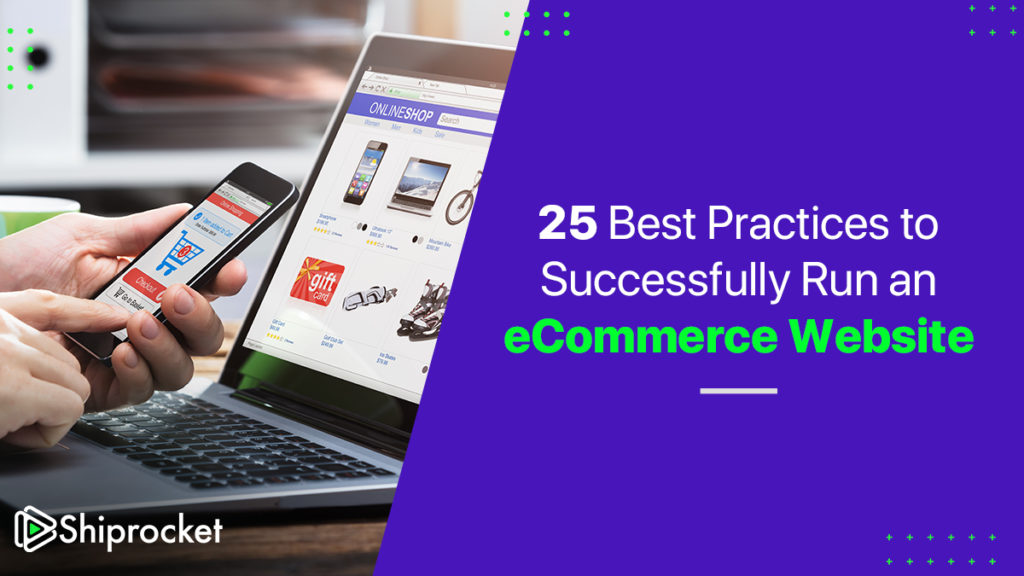 Regardless of how long you have been running your eCommerce business, there is always this race to maximize conversions. This also happens to be a direct measure of the success of your business. But customers in today's world are rational and well informed before making a purchase.
For this reason, you have to perform well in every corner of your eCommerce business. But figuring out where to start and what to improve on can be a tough nut to crack. Don't worry, we've got you covered! Take a look below to find the 25 best practices for running an eCommerce website like a pro-
Buy Hosting from a Reliable Service
The first and foremost thing you can do for your eCommerce website is to buy hosting from a reliable service. We're asking you to do this because speed is one of the most critical factors for conversions. Customers will leave your website. It takes time to load on their screens. Statistics suggest that a delay of one second in the page load time can lead to a 16% decrease in customer satisfaction. By purchasing premium hosting you keep yourself at bay from such issues.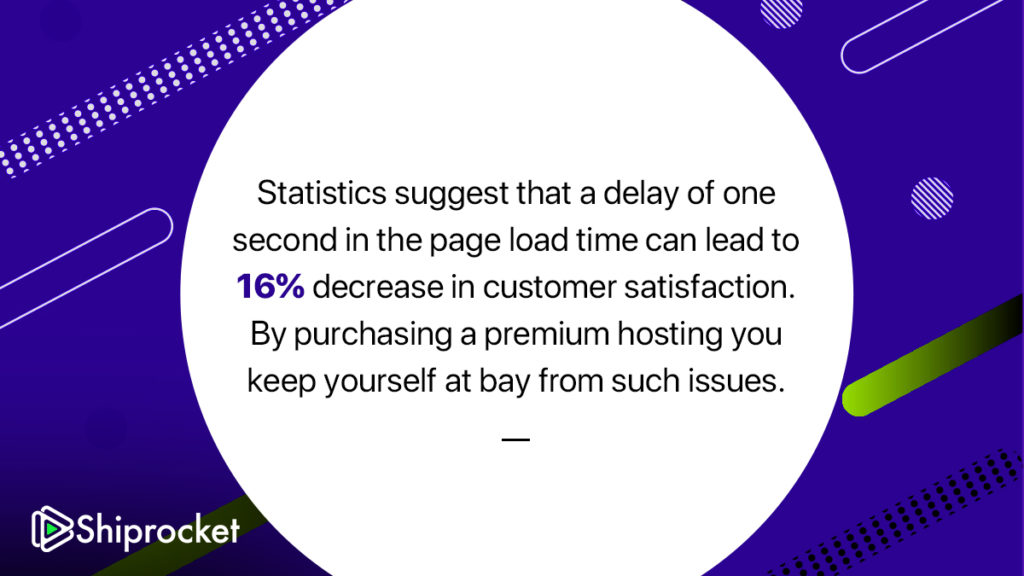 Don't Clutter Your Website
One of the damages that eCommerce website owners often do is add too much information to a landing page. More straightforward websites make it easier for the customer to spot relevant sections of your content or the CTA. If there's too much content on the website, your customer will not find the drive to read or take action. Ensure that when the customer lands on your website, it's your CTA that draws their attention. Statistics suggest that 53% of the websites have CTAs that take more than 3 seconds to locate. Make sure you do better.
Make Your Menus Easy to Read
Menus are a great way to make your products stay organized on your website. Make sure you have clear and distinct menu options that help the buyers find the right product. Too many categories can have an adverse impact on your website, and your customer might feel confused. Instead, go for more straightforward and most widely accepted menu options.
Add a Visible Search Bar
A search bar makes the customers' journey much more comfortable in the online world. With simplified menu items, your customers might want to look for a specific product on your website. For example, while your menu says 'Women's Tops,' your customer might want to look for a tank top. Having a search bar on the website can facilitate easier access to your products and save your customers' time.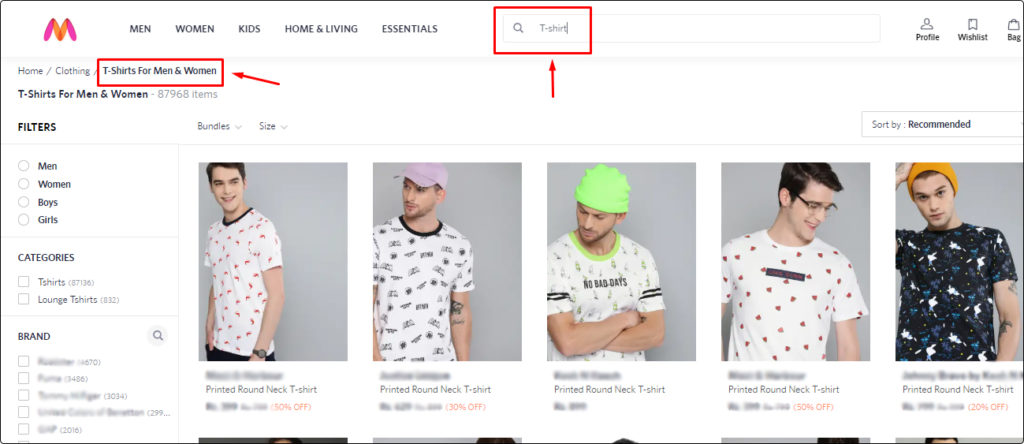 Develop a Loyalty Program
Developing a loyalty program for your website would mean rewarding your customers' loyalty. There is no better feeling than watching a loyal customer continue shopping from your store. With a loyalty program, you could offer them some discounts or coupons upon collecting a certain number of points. Take a look at Myntra's attractive Loyalty Program-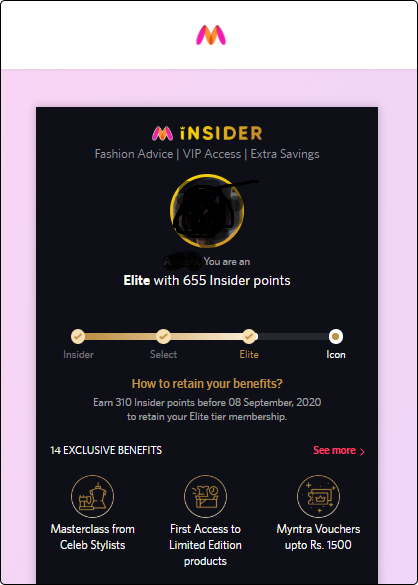 Focus on Building Customer Trust
Adopt a customer-first approach to your website. Remember that customer trust is the only thing that will take you a long way in business. Make sure that earning trust remains your foremost priority for your business. This helps in building long-lasting relationships with the customer. Research indicates that 81% of people are influenced by their family and friends while making a purchase decision.
Simplify Your Checkout Process
One of the best things that you can do for your website is to simplify its checkout process. This is because once someone decides to purchase from your store, they must do it in a few steps. If you're finding it amusing, statistics suggest that 28% of customers abandon carts because there are so many steps in the checkout process. Make sure you don't make such a mistake.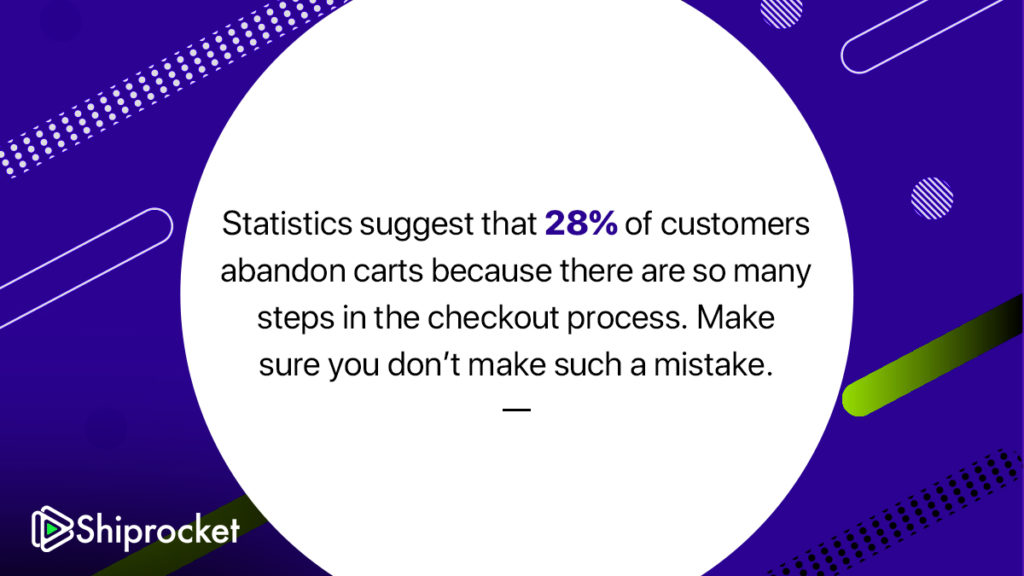 Enable a Guest Checkout Option
For a faster checkout process, make sure you have a guest checkout option. Many customers might not want to register on your website as they need to purchase a product urgently. Enable a guest checkout option not to sound annoying to people who are willing to checkout without registering.
Use Email Marketing to the Rescue
Be it abandoned carts, no purchase in a while, or a discount coupon, leverage the best email marketing for your business. Email can help you make up for the loss encountered on an abandoned cart. For this reason, partner with an email marketing platform that can help you automate such emails for you.
Pay Attention to the SEO
The need for search engine optimization goes without saying. Make sure your website is SEO friendly to draw people who come looking for products from a search engine. In other words, 46% of customers start their purchase journey through Google. If your website isn't SEO friendly, it won't rank high in the list, and your customer will end up purchasing from your competitor.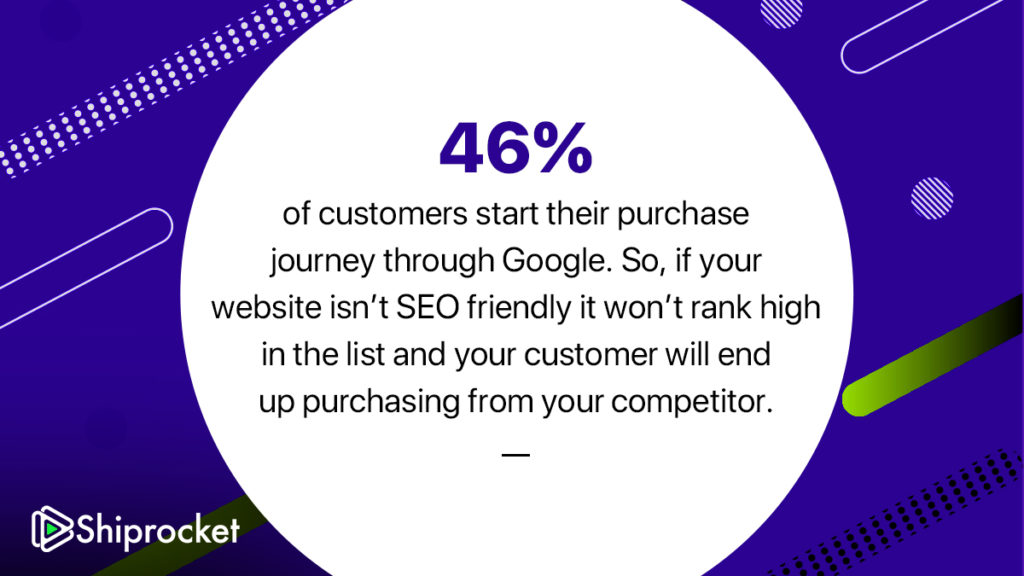 Invest in Content Marketing
Establish thought leadership in the world of your business by writing blogs on your website. This also helps in validating a customer's purchase decision. For example, you could write blogs on '10 ways to tie a scarf this winter', or '5 summer dresses you can't go without wearing'. Blogs can help bring additional traffic to your website and increase the chances of a sale.
Sell the Experience
It might sound very distinct, but people seldom want the products. Instead, they want experiences. When someone buys a formal shirt, they look forward to looking professional. Similarly, when someone wants to purchase an air conditioner, they want relief from the hot temperature. Capitalize on your customer's experiences and sell as if no one wants your product but is craving experiences.
Focus on Repeat Sales
The customers who have already purchased from you shouldn't be left alone. Remarket to them through various channels. If your experience has been good, there is no reason why they won't shop back from you. Statistics suggest that remarketing can help increase your business sales by up to 50 percent.
Accept Wide Payment Options
More payment options directly add to more customer satisfaction. In the world of choices, why shy away from partnering with a few more. By providing a few more payment options, you can win over your customers' loyalty. Be it wallets like Paypal, PhonePay, PatTM, etc., or cards like MasterCard, VISA card, Ru-pay card, etc., offer as many options as you can.
Provide Fast Delivery
Logistics form a critical factor in the success of your business. Offer fast delivery options to your customers, and make sure you mention this clearly on your website and the checkout page. Many customers abandon carts or do not create a purchase if they don't offer faster delivery options. Try partnering with a logistics solution like Shiprocket to help you deliver your products the same day and the next day at the lowest costs without any hassles.
Entice Customers with Free Delivery
56% of customers abandon carts when faced with unexpected shipping costs. Since the market is so competitive, there is always a seller who provides customers with a free shipping option. If you don't, your customers will probably move away from your business. To avoid this, partner with a logistics aggregator like Shiprocket that helps you ship for as low as Rs 23/500 grams. If you incur low costs on shipping, you can pass the same benefits to your customer.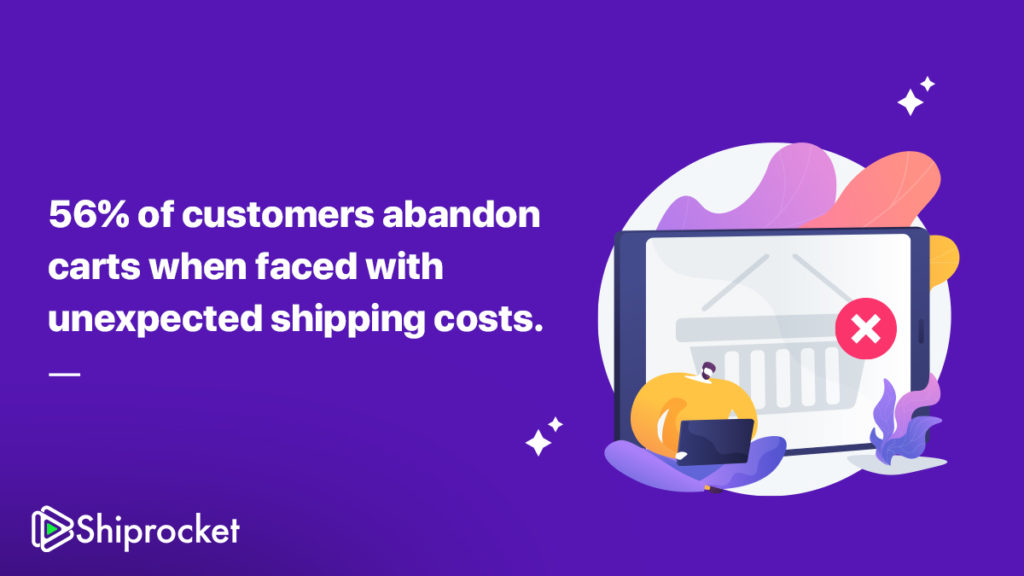 Write Informative Product Descriptions
Product descriptions are the real steal deal when it comes to eCommerce. While it's difficult to sell something just by mentioning its name, a product description can do the task for you. Make sure you write good short product descriptions and to the point. Highlight the key benefits of the products and the value it would impart to a customer's life.
Disable Any Ads
If there's one thing that you must stay away from on your website, it is ads. Some eCommerce websites find it an excellent option to sell their extra website space for additional earnings. But, this damages the entire experience of the customer. Don't add any ads to your website as they look like spam. Statistics suggest that 82% of customers feel that online ads are bad for their shopping experience.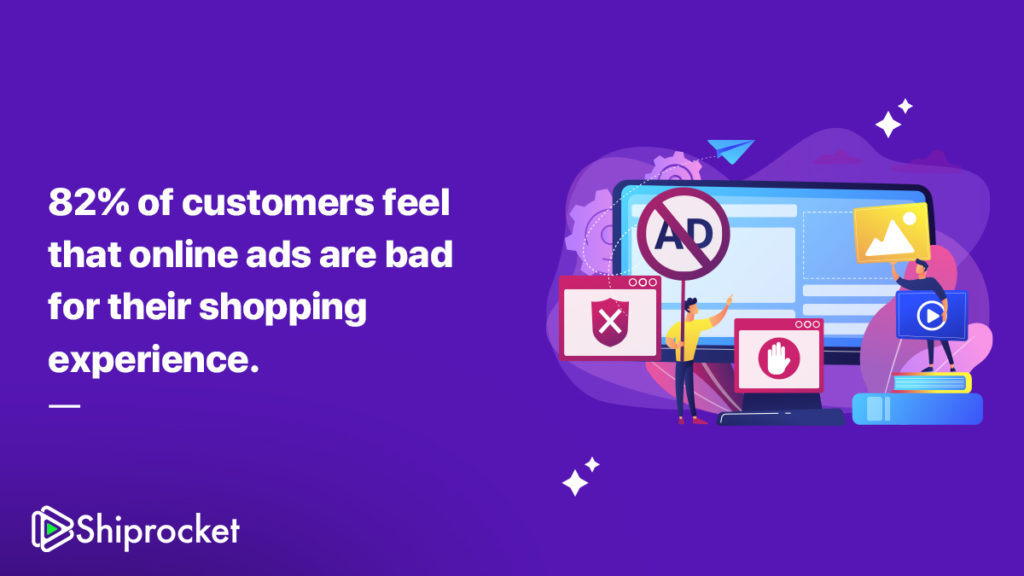 Optimize Pages for Mobile Phones
A majority of customers like to purchase their mobile phones. In other words, the world of mCommerce is becoming bigger and bigger with each passing day. As an eCommerce business owner, you can optimize pages for your mobile and make them responsive. This also helps search engines rank your website higher.
Conduct an A/B Testing
Performing A/B testing is advised for monitoring your customers' performance and learning from it. There's always room for improvement when it comes to maximizing conversions. By testing and analyzing several vital parameters, you can understand what's working for you and what isn't.
Display High-Quality Images
While a website doesn't give the feel of a product like a brick and mortar store, there's no reason it shouldn't try to do it. By this, we mean adding high-quality product images to your website. If your customers can't see your products clearly, how will they make a purchase? Since eCommerce relies on product images, make sure you're not compromising on its quality.
Ask for Customer Reviews
Leverage user-generated content to market yourself to your customers. To begin with, add testimonials on your website that helps in reinforcing the purchase decision in the mind of the customer. Customers trust other customers, which is why this practice works best in the eCommerce scenario. As your customers to review your website and products, also to establish social proof.
Give Video Demonstration
If there's one thing that you need to know about customers, they love videos. Be it of a product or some new piece of information, leverage videos for your website. Videos can also help you create great experiences for your customer. Brands like Amazon and Myntra offer a video right beside the images of the product. This allows the customer to get the look and feel in a much better manner.
Focus on Creating Experiences
If you focus on creating experiences, you will never go out of business. Most successful brands create an experience for the customer instead of just offering products on their website. One of the best ways of creating experiences is by adding high-quality information wherever possible on your website.
Respond to Customer Queries or Comments
If you have a blog and customers leave comments, make sure you reply to them. Do the same for all social media channels, wherever you have your presence. This practice demonstrates the nature of care and value towards the customer. In case a customer writes about negative feedback, reach out to them through your customer support.
Running an eCommerce website is undoubtedly tricky, but it can make it seamless for you and your customer with these strategies. Remember to opt for a renowned logistics partner that helps you deliver your products seamlessly and at low costs at your customers' doorsteps. Checkout Shiprocket's services that help you ship at Rs 23/500 grams to over 27000+ Pin codes in India. Let us know in the comments below if you've tried any of these strategies for your business.
Calculate Your Shipping Costs Now