6 Myths Uncovered About Brand & Strategic Marketing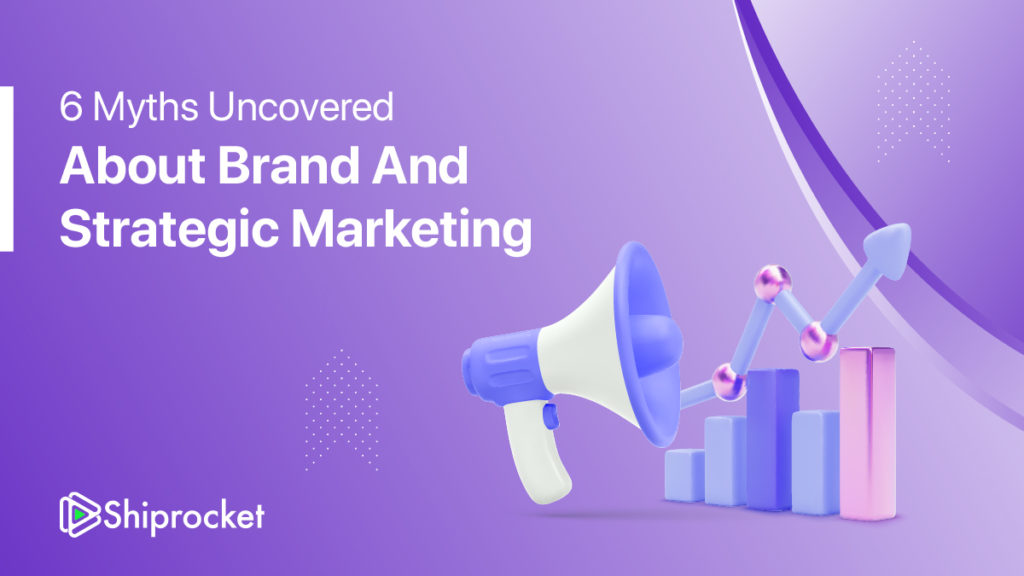 Often due to gaps in knowledge or preconceived notions about branding and marketing, online sellers are unable to utilize the power of branding and strategic marketing for their company. However, branding and marketing are essential to take business to the next level.
To help our online sellers clear their misunderstandings, we have uncovered the most common myths regarding branding and marketing. So, get started.
What is a Brand?
The phrase "brand" refers to a commercial and marketing idea that allows consumers to recognize a specific firm, product, or person. Brand is intangible, meaning it cannot be touched or seen. As a result, it aids in the shaping of public impressions and opinions about a business, its products, and persons.
Brand often uses identifying markers to help build brand identities in the marketplace. It adds significant value to a firm or an individual, giving them a competitive advantage over competitors. As a result, many businesses seek trademark protection to protect their brands.
Most Common Myths About Branding
MYTH 1: Brand is Just a Logo & Tagline
Not at all! A brand is a promise, perception, expectation, persona, and a plethora of other intangibles encased in creative design. People's perceptions of an organization's products, service, reputation, advertising, messaging, voice, and visual identity make up a brand. It's job is to form a link that will result in more power and profit than what even the product or service can provide.
MYTH 2: Brand is Optional
This is perhaps the most widespread branding myth: if you don't put in the effort to build a brand, you don't have one. However, this is not the case: whether you intend it or not, a brand lives in the minds of your consumers. It is essential to have a brand identity to make it recognizable in the marketplace and help differentiate your organization and products from the competitors.
MYTH 3: Brand can be Everything to Everyone, Everywhere
Developing a target audience and determining how to contact with them is integral for any branding strategy. After you've gone through that, you can start defining your brand with your target audience in mind.
MYTH 4: Brand is Developed Only Once
Brand is ever growing – it changes, grows, and adapts to the settings in which it lives. Your offer may evolve, your audience may grow older or younger, or the market context may move. To mitigate this transition, your brand is an asset that must be preserved.
MYTH 5: Brand's Success Can't Be Measured
Evaluating brands is more complex than measuring things like social campaign involvement or the level of frustration experienced by those forced to sit in meetings that last longer than intended. However, this does not rule out the possibility of measuring its success. Baselines are the numbers or the collection of numbers which tells the current state of the brand and through which we can measure the brand success.
MYTH 6: A Successful Brand can Figure Out What it Stands for
Customers are becoming increasingly distrustful of organizations and analyze discrepancies between brand promise and brand reality closely. Inconsistency in how your brand acts and communicates can be highly harmful to your reputation, putting your brand's loyalty in danger.
What is Strategic Marketing?
Strategic marketing is what companies do when they have a well-defined, documented marketing strategy that guides all of their activities. It is long-term in character and serves as the foundation for all marketing decisions.
A marketing strategy will have some particular goals and objectives in mind. Still, it's all about gaining a sustainable competitive edge that will allow the company to grow profitably in the future.
Most Common Myths About Strategic Marketing
MYTH 1: Small Businesses Don't Require Marketing
It's easy to see why this concept is so popular. Small businesses don't have nearly as much time or money to devote to marketing as compared to more prominent corporations. This isn't to say that marketing is a waste of money or time. Marketing for small businesses demands more thought and planning to make the best use of your marketing budget.
MYTH 2: Marketing is Easy & Can be Done by Anyone
If you want to see your marketing efforts pay off, you'll need a lot of work and devotion. And, no matter how much you try to prevent it, it will cost you money. It's tempting to choose less expensive marketing tactics to expand your organization, but a successful procedure is far from free. Quality is more important than quantity, and careful marketing consistently produces good results.
MYTH 3: Strategic Marketing & Advertising are Same
Advertisement is used in conjunction with a range of different marketing strategies. Advertisement goes hand-in-hand with a variety of other marketing methods. After being caught by an ad, SEO and tailored content will push people to continue exploring your products and services.
MYTH 4: Strategic Marketing Only Acquires New Customers
Getting consumers is only half the battle; logic implies that keeping them is the other half of the marketing equation! Customer retention is no laughing matter; even large organizations battle with it.
MYTH 5: Marketing Delivers Fast Results
The most popular and effective organic marketing methods, such as SEO implementation, are notorious for taking months to provide significant effects. It can also be seen with paid marketing, such as sales funnels, where gaining a qualified lead can take some time.
MYTH 6: Quality Products Sell Themselves
No, they don't! There is a lot more competition out there than you might think. Even if you work in a highly specialized area with up to 30 million rivals, you can bet that someone else is selling what you're selling.
Conclusion:
In a world filled with marketing fallacies, one thing is sure: a brand's return on investment on marketing cannot be underestimated. With an almost continual flood of marketing material, customers are looking for more from brands – a connection, a relationship. Your brand will be more appealing to target audiences, strengthen what it stands for in their minds, and inspire higher loyalty if you combine a significantly different experience with distinctive brand assets. However, to move audiences down the path of loyalty and generate brand equity, brand-building necessitates dedication and consistency.
Calculate Your Shipping Costs Now