How Shiprocket Helped Coastal Cashew Handle Their Customers Well
The dry fruits market in India offers an excellent opportunity to people who want to start their own business. People nowadays are willing to compromise on taste for a better and healthy lifestyle. This recent shift in lifestyle and more and more people wanting to adopt healthy habits is why there is tremendous growth in the dry fruits market.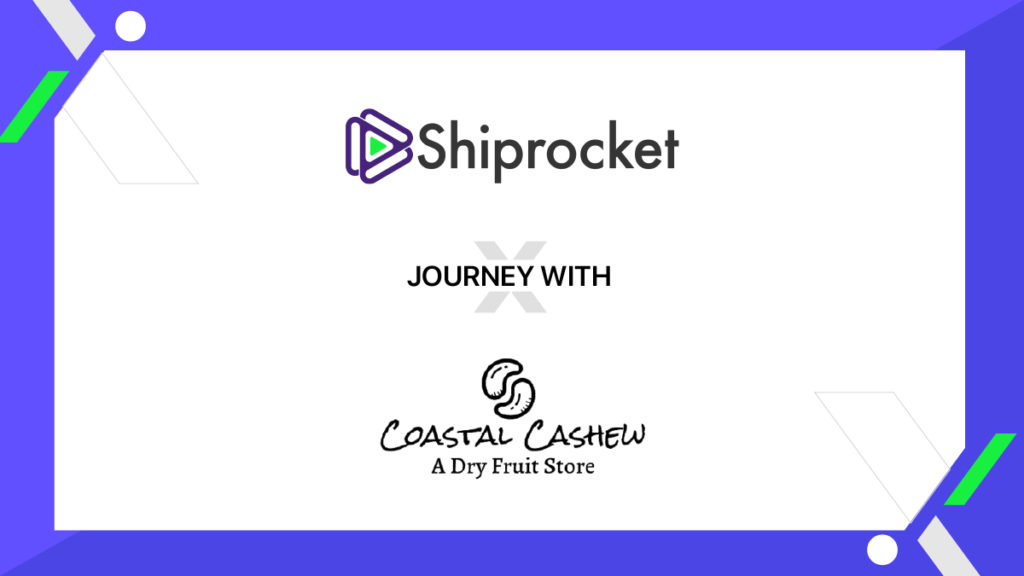 Also, the Indian dry fruit market was expected to grow to Rs 30,000 crores by the end of 2020. These vast numbers only show the scope for new business owners who want to try their luck in the dry fruits market.
The worldwide pandemic and lockdown have also not been able to stop people from living a healthy lifestyle. With people shifting online to meet their daily needs, they have also started to buy dry fruits online. This, in addition, has also opened the gates for traditional dry fruits sellers to take their business to new selling channels and fulfill customers' requirements throughout the country.
With an online dry fruits business, a buyer from Delhi can buy dry fruits from Jammu and Kashmir. And similarly, a seller from Punjab can sell his products in Tamil Nadu. And not just this, breaking the national boundaries, one can sell their products internationally as well.
About Coastal Cashew
Coastal Cashew is an online dry fruit store that ships its products across all Indian states at factory prices. Coastal Cashew is a well-known brand for the best quality dry fruits. The brand has its roots in Palasa, Andhra Pradesh, which is a hub of cashew nuts.
The brand is being run by a brother duo who joined their father's business to support him. Luckily, the business turned out to be a giant one; they credit all the success to their customers.
Challenges Faced by Coastal Cashew
Like any other brand, Coastal Cashew also faced several challenges. Their biggest challenges were not serving the customers on time and having fewer delivery options.

"We lacked faith among customers initially. And lack of cash on the delivery option made it more difficult for us to win their trust."
Coastal Cashew also faced difficulties in arranging packaging material.

Starting With Shiprocket
Once brand Coastal Cashew started with Shiprocket, shipping products became convenient and easy for them.

Shiprocket has great prices, and providing a personal key account manager is an excellent initiative. They understand customer requirements very well.
Coastal Cashew finds multiple shipping options, in-town delivery, and postpaid services to be Shiprocket's best services.

"Shiprocket has helped our business a lot. It has helped us deliver our products on time. Also, with the cash on delivery option, we are able to win the trust of our customers. The real-time tracking of products also helps us know the whereabouts of our products. Besides, the sales overview helps us in future planning of inventory."
During this stern time when the entire country is fighting against a worldwide pandemic and lockdown has also been placed twice, the brand Coastal Cashew is supplying dry fruits all over India.
In their endnote, brand Coastal Cashew says, "we want to thank Shiprocket for supporting us in this. Shiprocket is one of the best services provides in India. It is great that they have started the postpaid wallet recharges as well. When Shiprocket came up with cash on delivery, we saw our business grow to the next level. With their initiative to make high-quality packaging material available at a relatively low cost, Shiprocket is helping businesses like us a lot."
Calculate Your Shipping Costs Now