Complete Guide On The Benefits & Usage Of Combo Offers!
Combo offers work in an analogous manner as discounts and deals. The purpose of any combo offer is to allure the customer and catch his attention so that a browsing session can be converted into real-time sales for your Website. We understand that you work hard to attract and retain customers, to enlarge the scope of your Website. Kartrocket thus makes a constant effort to offer options and applications that can help you enhance the visibility of your website and bring more customers to your doorstep.
Why should you offer Combo Offers?
Combo offers is one of the most alluring modes of offering benefits to your customers and make them feel more wanted on the platform.
Makes the Customer Loyal
There is indeed no denying that a customer who feels special and is given the impression that he is important for the platform, will be able to connect more efficiently and fondly with your platform. Combo offers are the additional form of discount that you may offer to your customers and make them more loyal to your Website.
Gives More Visibility to Customers
Combo offers are the best way to keep your website offerings moving and visible to the customers. The net result of a combo offer being proposed to the customer is that products which did not have as much visibility earlier will now be brought to the notice of the customer.
Move Dead Stock
It is obvious that some of the products on your website, do not gain as much visibility as others. This could be due to lack of utility or ignorance of the brand of the product. However, since it is your Website, you must keep the stocks running. Too much piling stocks can lead to disruption of normal business operations. The best way to ensure this is to offer combo offers tempting prices to the customers.
Boost Sales
The tempting prices that you offer on a combo offer will give the result of increased sales of multiple products at once. Tapping a customer for infrequent products can be tough but can be easily achieved with combo offers.
Sanity Check Before Applying Combo Offers
A product should be in only one category. In case a product is in 2 or more categories the discount will apply for the category rule which was added first or based on priority when defined properly.
Specify the priority if applying multiple rules, as it defines which rule needs to be checked first. If 2 rules are valid on the products that are added the cart then the rule with the higher priority would be applied.
Types of Combo offers
There are 3 offers available in our combo offer app these are as follows:
Buy X Get Y products Free
It means the customer will get Y number of products free on buying X number products but in cart, there should be X+Y products. Customer will get only Y lowest price products as free.
Buy X number of products & Get a freebie
It means a customer will get a freebie product that will get automatically added to the cart on buying X number of products.
Buy Product worth Rs X & Get a freebie
It means a customer will get a freebie product if their order total becomes equal or greater than Rs. X.
Buy X Get Y products free –
Buy X number of products & Get a freebie –
Buy Product worth Rs X & Get a freebie –
You can apply these offers at a different level as per your requirement:
Store Level
At this level, the combo offer will apply all over the store.
Category Level
At this level combo offer will apply only to the selected categories, an offer will not apply to un-selected categories.
Product Level
At this level offer will apply only to products that will be added by merchant itself.
You can also define the rule's priority for these offers accordingly, offers will apply as per the rule priority.
A new setting has been introduced which is defined below:
Setting name: Count Product quantity
What this means is that suppose when we apply a rule i.e. Buy 2 & get a freebie, you now have a setting by which you can decide if you want the customer to get a freebie when he buys 2 quantity of same SKU or he has to buy 2 unique products to get the offer. When the setting is set to Yes, rules will apply even if the customer adds multiple quantities of the same product.
How to Set-Up Combo Offers?
Case1: Buy X and Get Y free
When you want to apply the rule "Buy X and Get Y free" condition. In this case, Buy 2 & Get 1 rule is explained.
Req Settings:
Select Combo offer name "Buy X and Get Y free" and then click on Add Rule
Select Applicable on – Store level
Label field: Merchant can add any name on the label say "Buy 2 Get 1"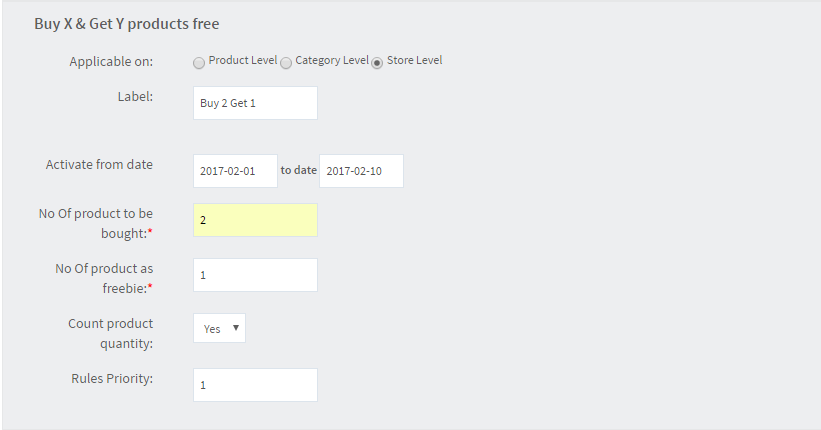 Store level:
For X>Y: It means the merchant will add X value (greater value) in "No of products to be bought" and Y(smaller value) value in "No of a product as freebie". As in this scenario on buying 2 products customer get 1 free product. The merchant can add any numeric value accordingly.
Frontend screenshot:

As shown in the screenshot above we have selected setting Count Product quantity as Yes
The customer will get 1 product free whose price is lowest among 3 products added. The rule will apply only when there are 2 products in the cart. In this case, we have selected 2 quantity of the same SKU & as per rule the price of only 2 products is charged.
When Count Product Quantity is selected as No the SKU's added in cart should be different for the rule to work and the lowest prices product among the three becomes free.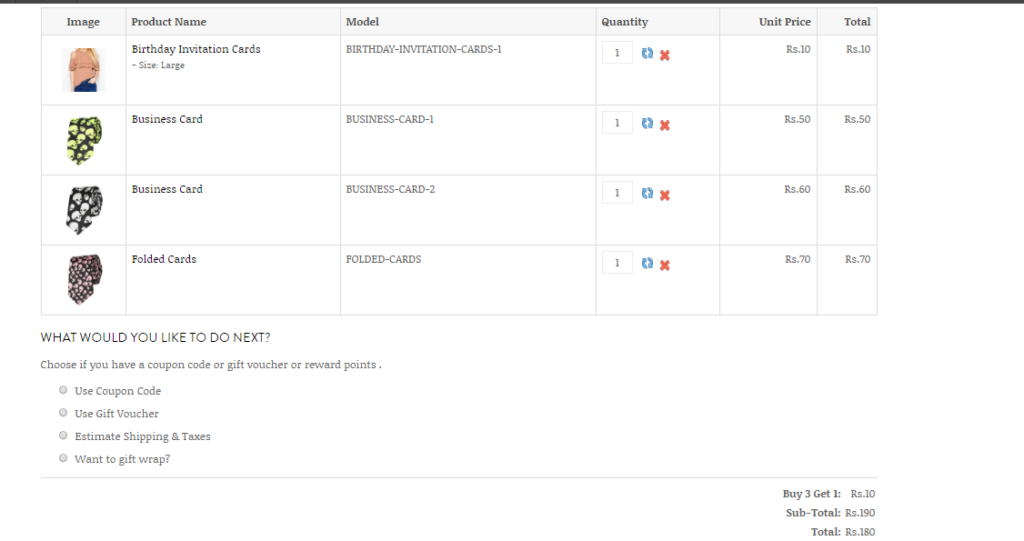 Category Level
– Category box will open when you select the category radio button. You can select particular categories on which you want to give the offer.
– On the cart page, the rule will only apply for selected categories.
– The rule would work in the similar way as defined for store level.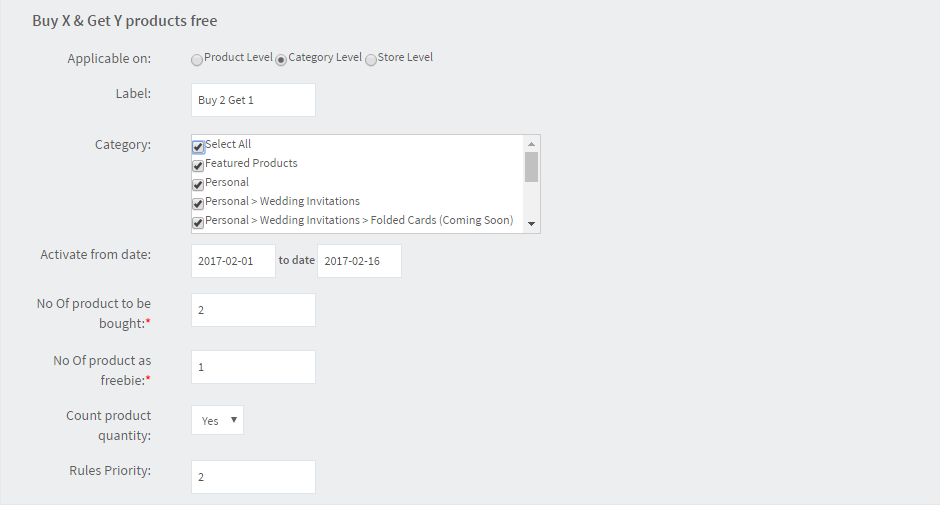 Product Level
– To apply any rule on few specific products, select Product level in Applicable On.
– In Product, Sku box merchant can add any number of SKU's separated by commas (,).
Customer will get the free product only on buying these selected SKU's.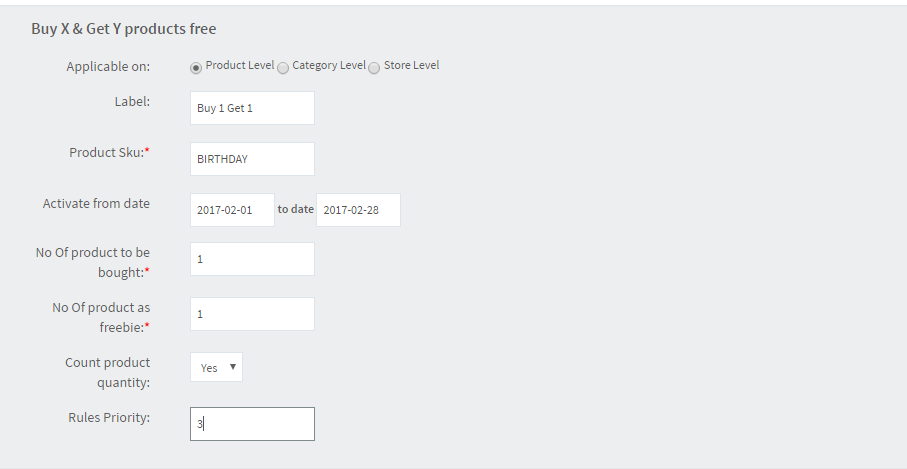 Important: Activate from date/to date – If you want that the offer should apply for the limited time period then you must add the appropriate dates in it.
The **same condition for X X X=Y: As per this condition merchant will add equal values in "Product to be bought" & in "Products as free". Like on buying 1 get 1 product free having lowest price or same value.
Case 2: Buy X & Get a Freebie
When you want to sell the products with offer "Buy X & get a Freebie". In this case on buying 2 products customer should get the SKU defined in the rule as the freebie.
Req Settings
Store Level
Please see the screenshot for settings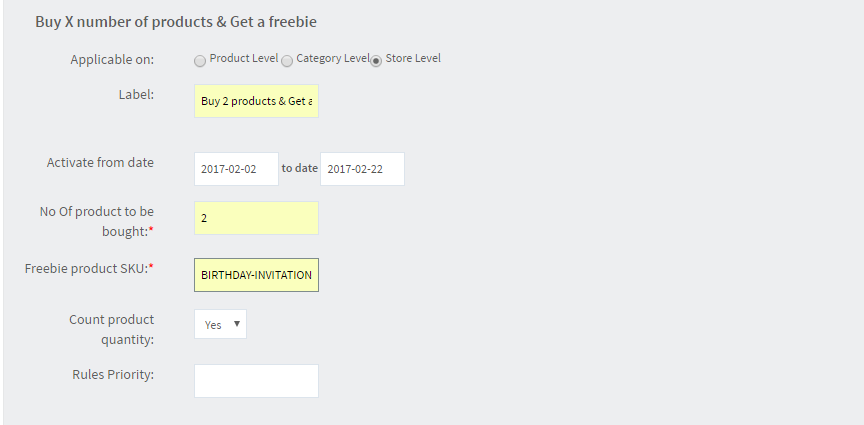 **Enter freebie product SKU, which you want to give as free. As per this rule, freebie product will automatically add into the cart as the condition meet. The condition, in this case, is that on buying any 2 products from this store customer will get the mentioned SKU as the freebie.
*Since Count Product Quantity is Yes, even if the customer adds any product with 2 quantity this offer will apply.
Category Level
Please refer the below screenshot for the settings of this rule. As per the rule, the offer will apply only to Featured Products category.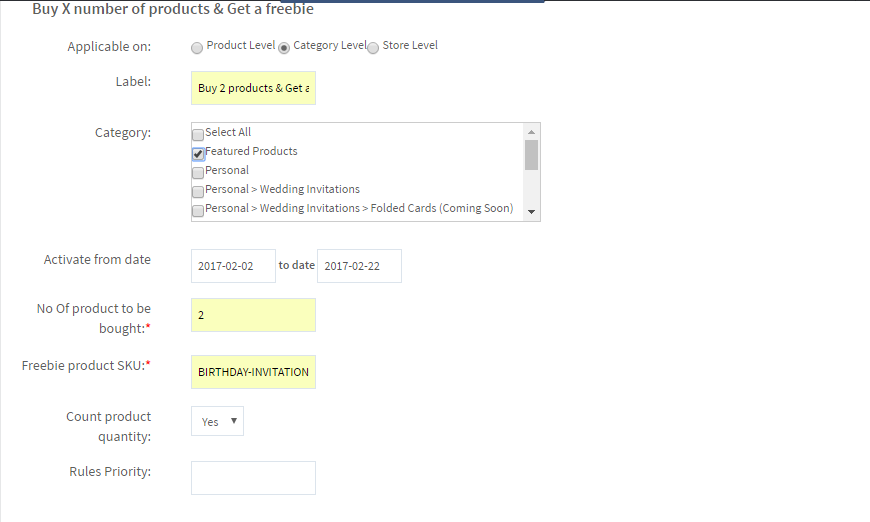 Product Level
*** The SKU's separated by ','must be entered in Product SKU fields, as per the defined rule the offer will apply when any 2 SKU's from the ones entered in this field are added to cart. So, as per the rule freebie is added to the cart directly.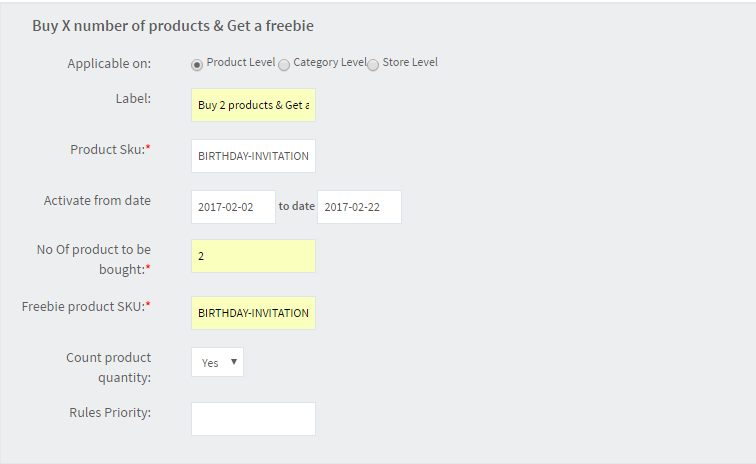 Case 3: Buy product worth Rs X & get a Freebie
When you want to sell the products with offer "Buy product worth Rs X & get a Freebie" If you want that the customer must get a freebie product as order total become equal or greater than Rs 500 value.
Store Level
Please see screenshot below to see how to configure this rule. In this case the customer will get the freebie product when he adds the products to cart worth Rs 500.
**Enter any value in the Order total field on or above which merchant wants to provide the offer.
Category Level
In this case, the rule is applied only to the selected category.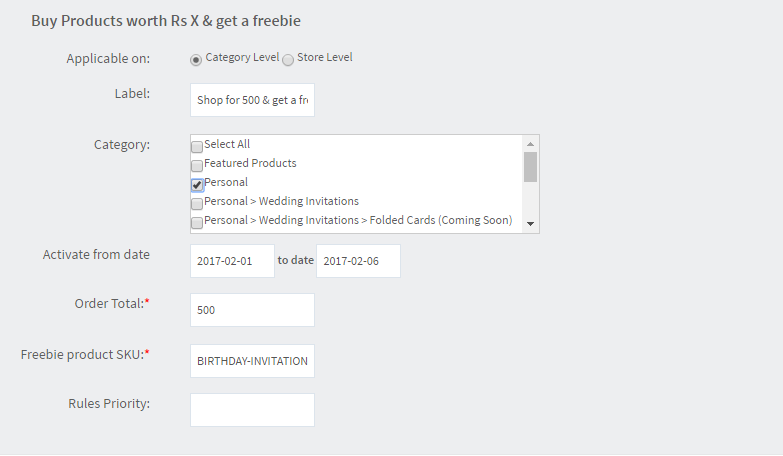 Note: This feature works for all registered or unregistered customer. As the condition met offer automatically gets applied as per the priority defined.
Step-by-step process to activate Combo Offers feature
• Log in to your Kartrocket account by entering your User ID and Password.
• On the left panel, click on the Marketing tab.
• Under the Marketing Tab, select the 'convert traffic' option.
• Four top sections will appear from where you'll have to select combo offers.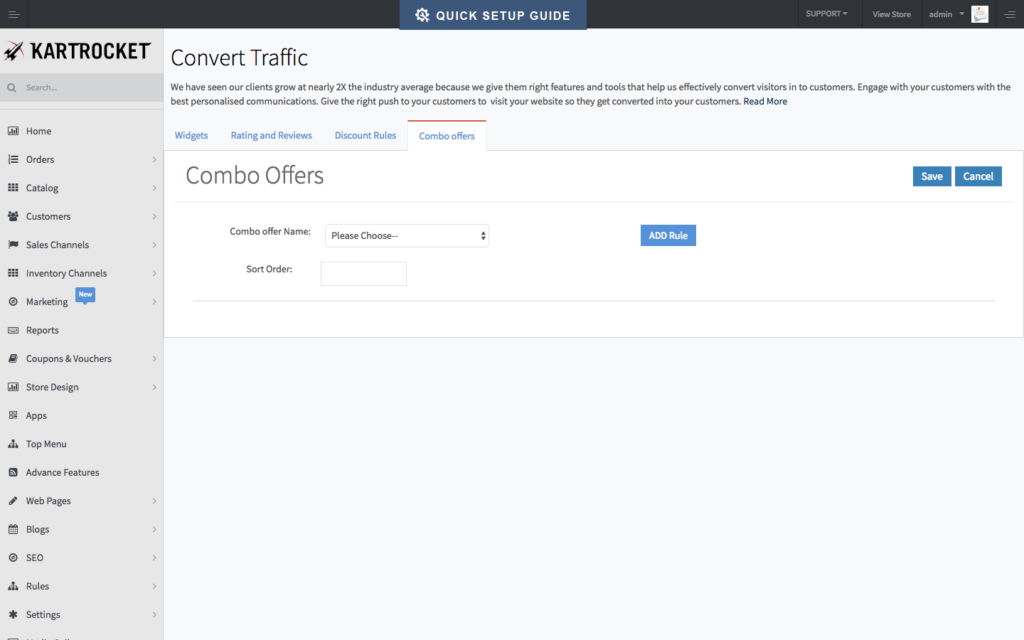 • After, this please choose the type you want to run from the drop-down list that appears.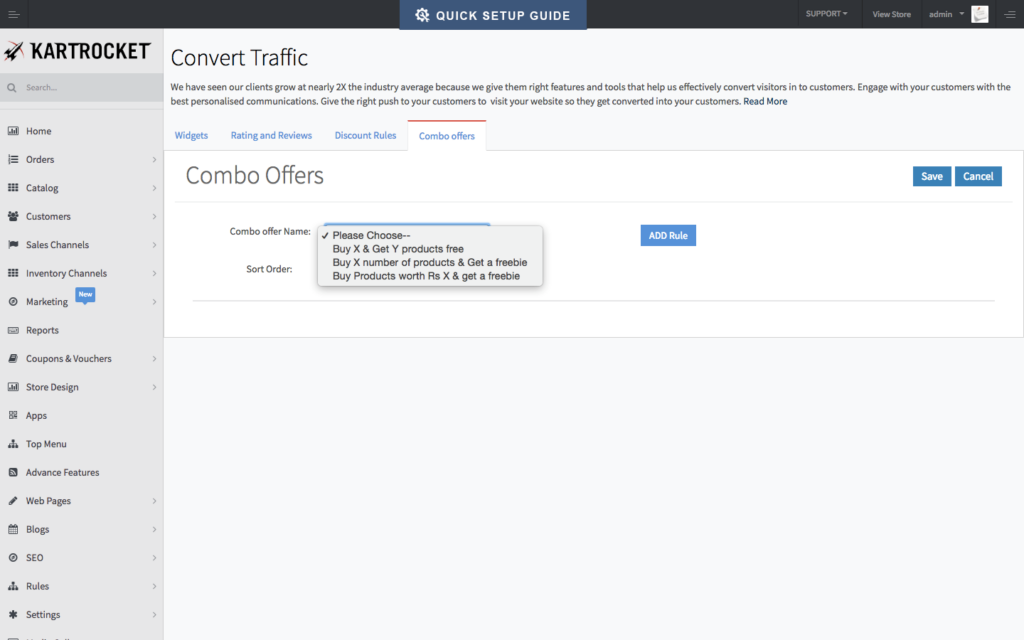 • First Combo offer is Buy X and Get Y products free. Second Combo offer is Buy X number of products and gets a freebie and the Third Combo offer is Buy Products worth Rs. X and get a freebie. You can select either one of these and press on Add Rule. Once done click on Save and activate your Combo Offer, as desired.
• Follow the steps explained in the previous section to do the desired setting of the selected offer.
By engaging customers through these combo offers on your eCommerce website, you can ensure that they feel satisfied and rewarding to shop with you. You can even beat your rivals in the process if your customers, in fact, fell inclined towards your Website and not theirs. Combo offers are also seen as a necessary staple item retaining and adding customers and are actively being brought into use by major Websites across the globe. In this scenario, it becomes pertinent to equip your website with these features as well, if you really want to stay in the race.
Wrapping Up
Use the combo offers rules and app on your website to bring those customers on your Website, who previously used to shy away from shopping online. See you sales boom, not only for the regular products but also for those that are uncommon and viewed less.
KartRocket has empowered 3000+ entrepreneurs, SMB's and retailer with their online stores. It is not just a website builder platform, it's an end to end eCommerce solution with all the features you require to create an online store, run & grow your online business.
Calculate Your Shipping Costs Now