Make Your eCommerce Shipping Accessible With Shiprocket's Mobile App
In today's fast-paced world, there is a mobile application for everything. Want to order food? There are a hundred apps out there. Moreover, the guys who deliver your food have a separate app to coordinate with the company. Why not? That small application icon makes your life so much easier. You can carry it with yourself everywhere and use it just anywhere!

Your eCommerce operations deserve no less. Order fulfillment is crucial for your business and its profits. Hence, to make things easier Shiprocket has created its iOS and Android applications. Dig in deeper to see the importance and utility of these applications.
Mobile Applications – A Simpler Way To Process Orders
Imagine you are sitting in a cafe far away from your warehouse, and you see a notification on your phone that says you have received a Rs.10000 order. You're overjoyed.

But, there is a condition. The order needs to be shipped right away so that it can reach the buyer in time.

What do you do? Let go of your order because you can't process it instantly? Wrong.

You simply grab your mobile phone, open the Shiprocket app, add a new order and voila! Your order is ready to ship.

That is how convenient and easy eCommerce shipping becomes when you use a mobile application.

There other reasons why mobile applications are a good fit for your business. Some of them include:
Accessibility
An app truly makes eCommerce shipping effortless as it is available with you all the time. A mobile phone is much easier to carry, and you can make changes to your shipments at any point in the day and process orders easily.

Ease of use
It goes without saying that mobile applications have a more interactive interface. They make eCommerce shipping straightforward and mimic the online platform in all functions. Thus, you can conveniently process all your shipments from one platform and have the same record across all platforms.
Faster fulfillment
A mobile app follows the trend of a unilateral flow. Hence, each step is quickly followed by the next, and you can process your shipments faster. This saves you time and enables you to ship a higher number of orders daily.
What do these mobile applications offer?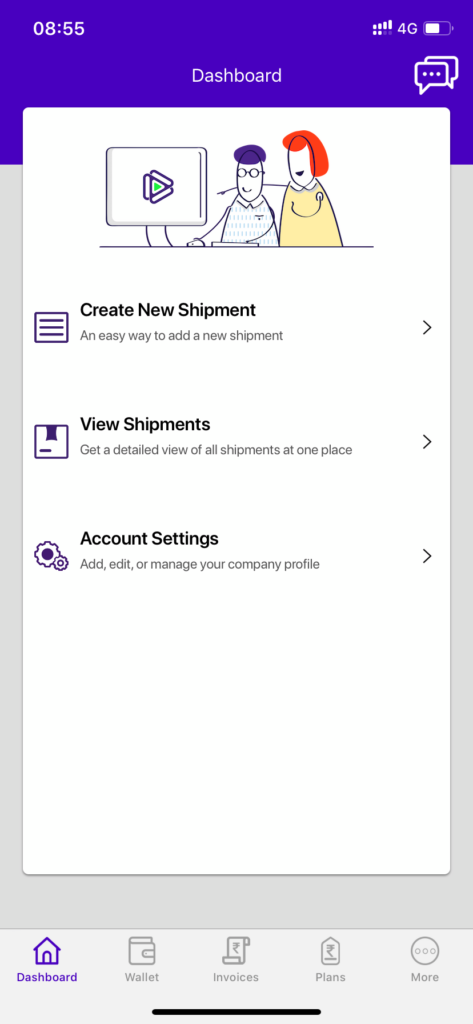 Create new shipments
With the mobile application, you can easily create new shipments by adding all the necessary details. These include the pickup location, delivery pin code, weight, dimensions, mode of payment, order value, and quantity. Further on, you can choose a suitable courier partner and ship your order.
Keep track of shipments
Check the details of any order under the 'view shipments' category. Stay updated about the status of every shipment and process them faster. Filter them according to their shipping status, i.e. invoiced, ready to ship, pickup scheduled, etc., payment status, courier, and date.
Recharge your wallet & maintain logs
Recharge your wallet on the go with your mobile application. Enter the desired amount and add money in a few clicks. Not just this, also get a log of all the recharges. So, you can tally your funds at any point in time.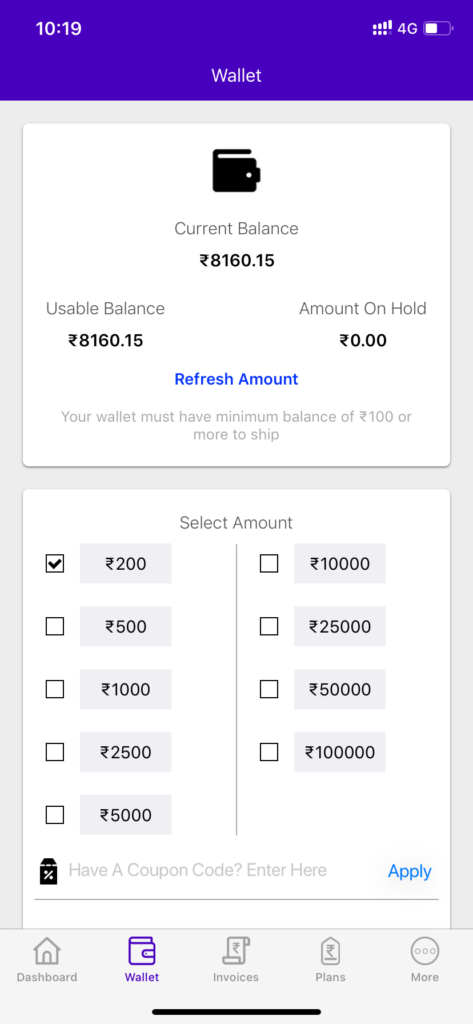 Upgrade your shipping plan
Experiencing an increase in shipments? Want to switch to Shiprocket's basic, advance, or pro plan? Do it in seconds from the mobile app. Upgrade your shipping from anywhere and ship seamlessly at any time of the day.
Calculate shipping costs
The app contains a shipping rate calculator which you can use to calculate the shipping costs of any parcel. Just enter the pickup and drop location pin code, payment mode, the weight of the shipment, dimensions, and order value.
Choose your preferred courier partner
Select the courier partners you'd like to see in the recommendations. Go to courier settings and deselect the courier partners you don't want to ship with. This way, your process is streamlined, and you receive the most suitable recommendations.
Decide what goes on the label
Pick the label format and choose what information you display on the label. You can choose to display or remove the order value, shipper's mobile number, and shipper's address from the label. Other than that, you can also enable or disable SMS and Email communications for the buyer through the app.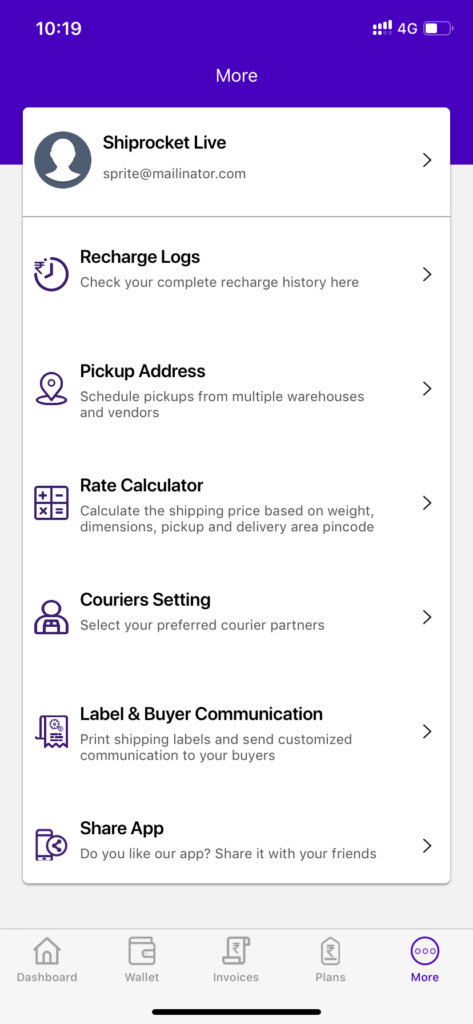 All invoices in one place
View all invoices in one section of the app. Refer to any invoice at any point in time and always stay updated with all necessary information.
Add and update pickup address
Shiprocket gives you the chance to schedule pickups from multiple locations in the country. In the app, you can add, subtract, or edit the pickup address to suit your needs. Also, you can edit your primary address from within the application itself.
Final Thoughts
A mobile application is a powerful tool that will facilitate your business to reach the next level. A complete availability will enable you to ship faster and wider. Download Shiprocket's Android and iOS to experience a thorough shipping experience.
Download our mobile application:

Calculate Your Shipping Costs Now