Ultimate Checklist To Choosing the Best Shipping Solution
A good shipping system is the backbone of every successful eCommerce business. There are many vital aspects and strategies to run an online business. And, shipping may be down on your priority list, but it can make or break your business.
eCommerce businesses are based on the concept that the customers will order products online and have them delivered in the comfort of their homes. Thereby, having the best shipping solution is essential to the success of an eCommerce business. Putting an effective eCommerce shipping strategy in place is one of the most impactful steps you must take.
Choosing the best courier service to ship your sold products can be a big task. An effective eCommerce shipping solution can assist you in pulling your orders from multiple shipping channels into a single and simple software. It also allows you to view all your eCommerce orders in a single screen. You can batch your orders together and create shipping labels as per your carrier accounts.
A good eCommerce shipping solution helps you reduce the order fulfillment time that you might spend in navigating between the multiple channels and software to create labels. It saves you from the laborious task of copying and pasting the shipping information individually.
Shipping software like Shiprocket offers far more advantages than just being the convenient platform that connects you with various carriers. It aids you in setting up a robust and effective workflow. Moreover, it offers features like batch shipping, courier recommendation engine, automation rules, real-time rate calculator, auto sync and more. These features can help in making shipping a cakewalk for you.
But what does a perfect shipping solution look like? Here's the complete checklist: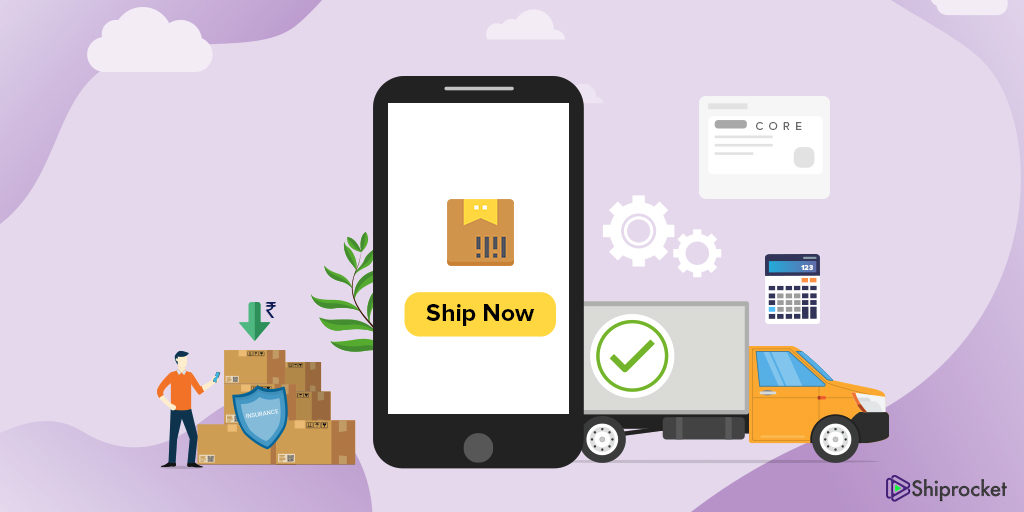 Automation is the Key
Automation is not just the future of logistics but almost all industries in the market. The automation enabled services not only simplifies the logistics operations but also provides unlimited opportunities to small sellers as well. They manage your orders that are undergoing the process of shipping. Undoubtedly, in the initial stages, you may have a handful of orders but the risk of mismanagement and error is high. But with automation, sellers can manage their return orders, non-delivered orders and more using self-boarding panel.
Shipping Rate Calculator
Usually, every courier company has a different eCommerce shipping rate system. A great eCommerce shipping solution like Shiprocket helps to determine the best option for a package. A rate calculator is an effective tool that helps to keep the shipping costs less. It lists all the available rates for each of all the connected couriers at once.
Courier Recommendation Engine
CORE is the proprietary software of Shiprocket. This machine learning based engine helps to determine the best courier partner for a shipment. The recommendation is based upon the pickup and delivery performance, COD remittance and return order management. For instance, if you are confused about choosing the courier partner between the available options, then this engine will do the work for you and tell you the most suited one as per your requirements.
Batch Shipping
Batch shipping is one of the best time-saving features. Printing multiple labels at a single point of time can cut down multiple hours of work. To print all the labels together, you can combine all your picked orders into a single batch. The time can further be saved by printing, creating invoices and shipping together.
Insurance
eCommerce courier services often don't provide any insurance coverage on lost or damaged goods. With a shipping solution like Shiprocket, you can ship hassle free by getting your products insured up to Rs. 5000.
AI and data backed platform
With the development of technology, AI is transforming almost every industry. It helps in streamlining the entire shipping process. AI and Big Data help in collecting information and lets you make informed decisions. It also assists you in delivering a far better shipping experience to your customers.
Seamless Order Tracking
An eCommerce shipping solution provides an Integrated API. It ensures that you and your buyers get regular updates about the whereabouts of your orders and are also informed at all times over emails and SMS.
Discounted Shipping Rates
Often courier companies offer you discounted or negotiated rates depending on your shipping volume. However, an eCommerce shipping software can offer you better discounts simply by signing up for their services. Also, you get a variety of options to choose from. Using multiple carriers can give you a wide scope to negotiate your rates.
Conclusion
Before choosing the best shipping solution, it is recommended that businesses analyze their needs first. Different businesses have different shipping requirements as per their products. Some people use shipping software to organize their drop shipping and manufacturing while others use it for time-saving automation options and so on. Whatever your situation might be, we would recommend you to opt for the free version of the shipping software available and then find the one that's right for your business.

Calculate Your Shipping Costs Now