eCourierz vs Shiprocket: The Battle Of Becoming The Best eCommerce Logistics Solution
eCommerce shipping might seem like an automated process, but a lot goes into it right from the start. From managing inventory to choosing the perfect courier partner, negotiating the shipping rates, providing order updates to the customer, and more, it is a tough nut to crack.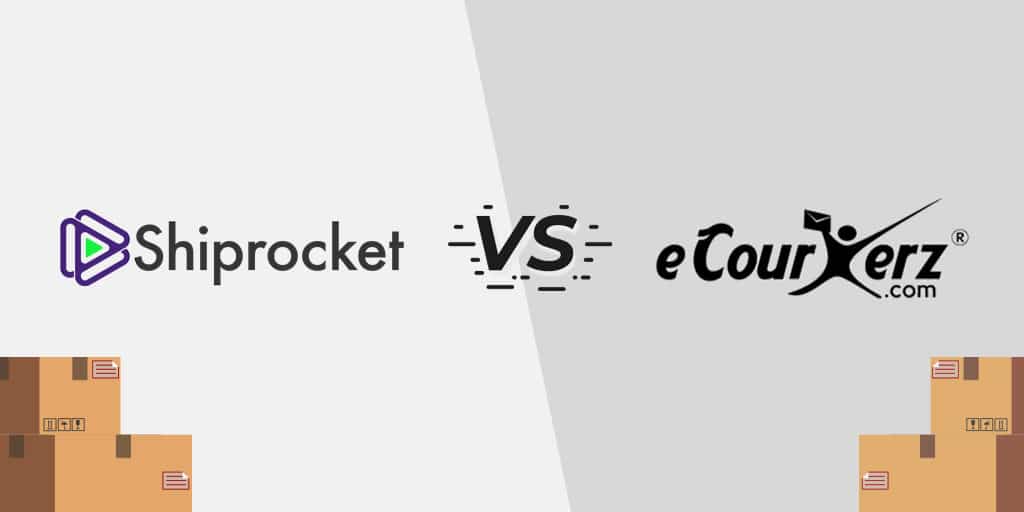 And as if all this wasn't enough, eCommerce returns add to this burden of complicated tasks. Ultimately, it comes down to your logistics platform, which is responsible for taking care of your business' logistics and not just delivering orders to the customer.
So, does your courier have it all?
Whether you've just started shipping or looking for the top logistics solutions for your business, you've landed at the right place. We give you a fair comparison of price and features of two popular platforms in eCommerce logistics- eCourierz and ShiprocketRead on and discover the best one for your online store!
Features
Here is a feature comparison of the Shiprocket and eCourierz-
Plans
Shiprocket
eCourierz does not offer any subscription plans.
Shipping charges
Return costs
COD Charges
These processing charges are for receiving payments via the Cash on delivery mode from the customer.
Platform features
Why Shiprocket?
Shipping is one of the most crucial parts of the order fulfillment process, which is why you must select your shipping partner carefully. With Shiprocket you not just get a complete solution for managing your business logistics but also a partner that helps your business grow.
Here's why Shiprocket is the best shipping platform for you
Hyperlocal Delivery with SARAL
Shiprocket offers you delivery services with its hyperlocal delivery app, SARAL. With SARAL, you can ship orders within a small geographical area of 50 km with delivery partners like Dunzo, Wefast, and Shadowfax.
You can provide the same day and next day delivery of orders like personal care items, groceries, food, medicines, etc. also, Saral has a pick and drop service that helps you send anything like gifts, personal items, flowers, cakes, etc. to an address.
With hyperlocal delivery, you can reach nearby customers directly and optimize your delivery strategy by a good margin.
Store Inventory With Shiprocket Fulfillment
If you ship pan India and want to reduce your delivery time, delivery costs, and store your inventory close to your buyer's location, you can do it with Shiprocket Fulfilment.
Shiprocket now offers end-to-end integrated warehousing, inventory, and logistics management solutions for businesses where you can store your inventory in our warehouses and we will take care of all the operations for you.
With Shiprocket fulfillment, you can reduce the delivery time to 48-72 hours for intra-city & intra-zone deliveries. Since your products will be stored in our warehouses, you won't have to struggle with other operations like picking, packaging, and first-mile operations. Everything will be taken care of at our end.
At Shiprocket Fulfillment, the processing rates start from Rs. 11/unit and the best part is that there is no storage fee if your product ships within 30 days!
Finest Packaging Material with Shiprocket Packaging
Packaging can be stressful if not handled correctly. It is often the reason why the shipping is delayed or damaged when it reaches the seller. Hence, you must sign up for material that is of good quality & sustainable.
Shiprocket offers its own line of packaging under the name of Shiprocket packaging. You can purchase packaging material such as corrugated boxes, and courier bags with pockets for shipping your order is. The best part is that these will be delivered at your doorstep without any additional shipping cost. Also, there are no minimum order requirements for purchasing these products.
Along with this, Shiprocket offers a package master feature in its panel where you can map your SKUs with your Packaging material to streamline the process and reduce any weight discrepancies arising due to packaging. You can maintain a uniform process for packaging and optimize your order fulfillment process.
Courier Recommendation Engine
Ever been caught up in a paradox of finding the best courier partner for your shipment?
Well, the courier recommendation engine is there to solve the biggest challenge in shipping!
Shiprocket's CORE helps eCommerce sellers find the best courier for a particular shipment based on their shipping priority. The machine-learning-based tool also considers the following parameters before suggesting a courier company.
Return rates
Delivery time
Cost-effectiveness
NDR Dashboard
I'm sure you've dealt with non-delivery – eCommerce business' biggest nightmare. Return Orders. But, they are inevitable. However, with Shiprocket's NDR management tool, managing undelivered shipments has never been easier.
Not only can you keep an eye on your undelivered shipments but also know the reason behind them. Here are some other features of the NDR panel-
Take actions for undelivered orders in real-time
Let your buyer choose their order delivery date
Record undelivered order feedback via automated IVR & SMS
This practice, in turn, reduces the chances of a return shipment. And relieving the burden from your shoulders, Shiprocket can help you reduce return orders up to 15%.
Post Shipping Experience
If you care about the relationship you share with your customer, then you must travel the extra mile to provide them with an everlasting experience. With Shiprocket as your logistics partner, you can sit back and relax, while we deliver parcels with superior customer experience for you. You also get to-
Send customized tracking pages to customer
Add your brand's logo to the tracking page
Share best selling product banners with your customers
Get a performance check from your customers via net promoter score
Postpaid Payment Plan
One of the key benefits one gets with Shiprocket is the flexibility to pay for shipping orders. Who doesn't like the facility to ship orders and then pay for them later?
At Shiprocket, you can ship orders with complete freedom and pay for them from your remittance.
Easy, isn't it?
Now that you've got a fair comparison of the price and features of both the logistics platforms, it'll be easier to choose the best one. You can also check out more features of Shiprocket here.
Enjoy hassle-free shipping!
Calculate Your Shipping Costs Now