How Does eCommerce Logistics Work?
Managing Logistics is the greatest challenge for any eCommerce company especially in a country like India with a vast territory. With the advancements in eCommerce, even the logistics industry is witnessing innovation and implementing technological support to cater to such high demands.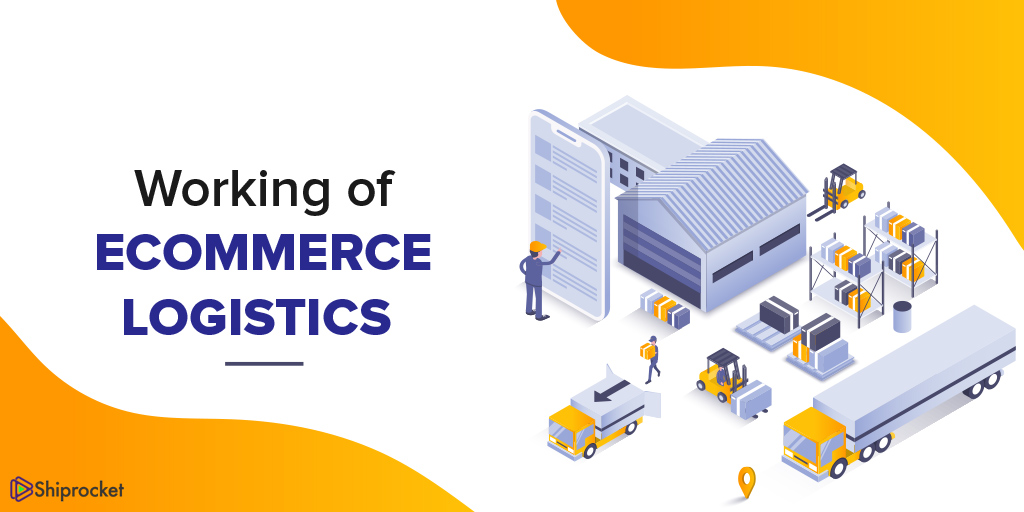 And now it is possible for online buyers to track their consignment from the date of dispatch from the factory or warehouse till its' delivery at the consignee's address. The task of delivering shipments becomes even more strenuous during weather disturbances such as the rainy season or when extensive areas get flooded and many bridges are damaged.
Before the advent of the eCommerce industry, retailers sourced goods either from manufacturers or distributors. And now that we have a plethora of online shopping stores, the intermediaries cease to exist, leading to deals directly done between the supplier and end-user: C&F (clearing and forwarding agents), distributors, dealers, and retailers have no role in this direct selling process.
With these intermediaries removed, eCommerce shipping has become an essential part of supply chain management and emerged as a highly specialized service with the majority of them being managed by eCommerce companies themselves.
How Does eCommerce Logistics Work?
eCommerce logistics is a congregation of various processes such as inventory management, warehousing, packaging, labeling, billing, shipping, payment collection, return, and exchange that work in synchronization leading to a supply chain. All these put together turn into an exigent task, that requires a full-proof strategy to be accomplished.
Apart from these, eCommerce logistics also requires a thorough knowledge of territories, roads and road conditions, regulations regarding the movement of goods, and transport laws. The principal purpose of creating a logistics unit is to deliver parcels much faster, safer, and more accurately.
The eCommerce Logistics Company Functions in Two Directions
Forward Direction – Distribution and delivery of goods to buyers.
Reverse Direction – Exchanging or replacement of defective, damaged, or wrong shipments.
Both these processes become easy if logistics are managed and controlled by an eCommerce company.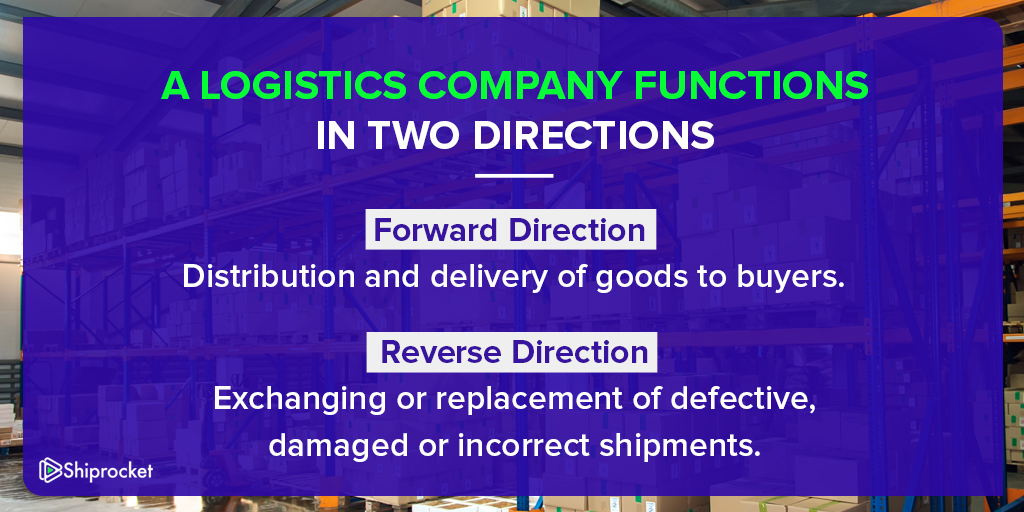 Working in the Forward Direction
Receiving the order on an eCommerce store

Providing a payment option

Preparing inventory

Packaging the item

Preparing its invoice

Dispatching the order
Handing over the parcel to the courier company
For an eCommerce company logistics in the forward direction involves receiving an online order, arranging for the item, packaging, preparing its invoice, arranging the payment, dispatching, and delivering the item to the customer's doorstep. The time between receiving the order and its distribution depends on the availability of the material and the location of the consignee. For specific locations, a separate delivery charge could be applicable
From the time of dispatch until delivery of a consignment, it is the responsibility of the seller to notify the exact location of a shipment to its respective consignee through tracking SMS or email notifications.
Payment collection is essential for any eCommerce business owner, analogous to a retailer. An online retail company should have multiple payment options for a better customer experience such as debit/ credit cards, bank transfers, and COD (cash on delivery). In a country like India where buyers are more comfortable with dealing with physical money, the COD option is of utmost significance.
Working in Reverse Direction
In spite of the best efforts the possibility of incorrect or damaged shipments cannot be ruled out. In such situations efficient reverse logistics is essential. It is the responsibility of logistics to take back these defective or damaged materials and replace them with proper order that satisfies the customer within a reasonable time. A hassle-free exchange or replacement process goes a long way in building trust between the buyer and an eCommerce company.
Interpersonal Relationship
For any logistics or online retail company-customer relationship is critical. This relationship is established by delivery boys who are the face of an eCommerce company to buyers. Delivery boys must always be well-behaved and patient with customers. Attention must be paid to complaints with assurances of rectifying them soon. It is advisable to have delivery boys with a cheerful disposition.
What are the types of payments in eCommerce logistics?
There are prepaid and COD payments in eCommerce logistics
Does Shiprocket take care of reverse eCommerce logistics?
Yes. Shiprocket handles reverse logistics for your business with multiple courier partners.
Will courier companies pick up orders from my warehouse or business office?
Yes. Courier companies pick up orders from your pickup address.
Calculate Your Shipping Costs Now