How Shiprocket's Hyperlocal Delivery Services Can Help Deliver Essential Items At The Second Wave of COVID-19 Outbreak
All of us have been fighting the global pandemic of COVID-19 that has hit the world to an extent that most countries are observing a complete lockdown, including India. In such a situation, where people are locked inside their homes, online shopping is one of their top preferences when it comes to grocery shopping or essential items such as medicine delivery, masks, sanitizers, and so on.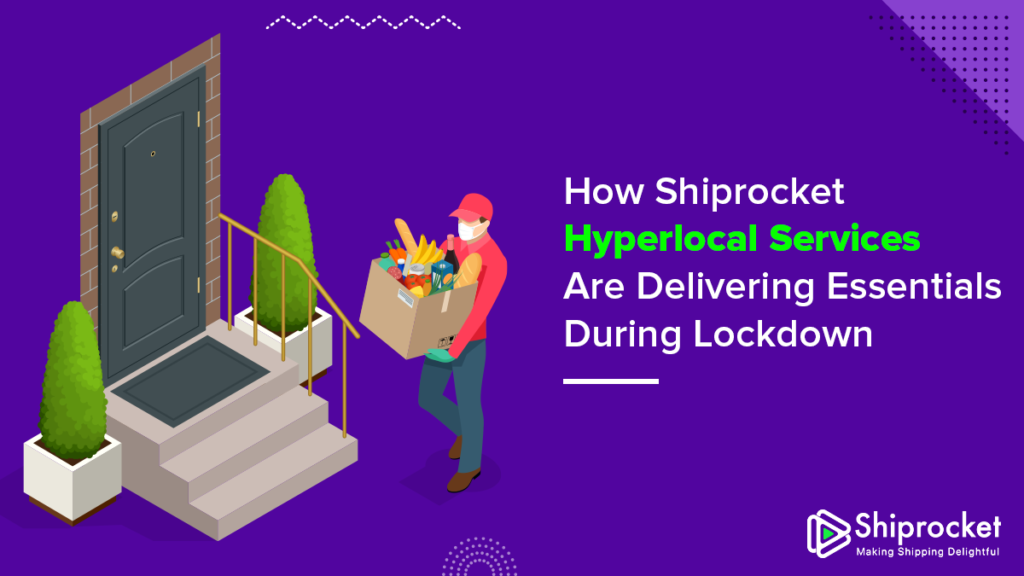 With the advancement of technology, and with several eCommerce companies offering fast delivery of products, no customer would now want to wait for more than a few hours or maximum a day to get his order at his doorstep. Therefore, it becomes crucial to have a delivery service in place that can help you deliver these items on-time and effectively.
To remain ahead of the curve, and help customers across the country by making essential items such as grocery products or medicines available, you must adopt a hyperlocal delivery system.
What is Hyperlocal Delivery?
Hyperlocal refers to a small area or a specific demography. In this type of delivery model, the seller acquires requested products locally and delivers those items to customers residing within the same locality. Let us take an example to understand this better-
Let's say a customer is using Grab to place an order for groceries. Grab (which is acting as the aggregator) receives the order and passes the order details on to a courier partner. The courier partner, then, allocates a delivery executive to procure the requested item from a local brick-and-mortar store and makes sure it reaches the customer on time.
This kind of delivery model has several benefits for eCommerce sellers:
Deliver products at an unbelievably faster speed to your customers

Minimum Efforts Required – Hyperlocal delivery models can become a boon for your eCommerce business, as you hardly need to invest anything in building or maintaining a dedicated mobile application. Also, the delivery will be taken care of by the delivery partner of the aggregators. Hence, it becomes easier for businesses to deliver with minimal effort in terms of fleet management or technical infrastructure.

Increased competitive behavior – This system creates pressure on eCommerce businesses to raise their efficiency level and business standards. Hence, customers can expect a better quality of goods or services at competitive rates.

Function through a single device –

Life becomes easier when you can do all the errands using a smartphone. Be it shopping or availing a range of services (plumbing, house painting, etc), you can do it with a mere tap on your smartphone.
Shiprocket Hyperlocal Delivery – Your One-Stop Solution To Sell Groceries In Your Neighbourhood
To ensure the continuous availability of groceries and other essential items to everyone in need, Shiprocket has introduced its hyperlocal delivery services.
Shiprocket's hyperlocal delivery allows you to sell essential items such as grocery products, medicines, masks, sanitizers, etc. to customers residing in a radius of 50 km from the pickup location. To start shipping your essential items, all you need to do is sign up on the Shiprocket platform and fulfill hyperlocal orders with a range of courier partners.
As of now, you can ship your hyperlocal orders with our experienced courier partners Shadowfax Local, Dunzo, and Wefast. Soon we will have onboard with us Grab to join the team.
Read more about Shiprocket hyperlocal deliveries here.
SARAL – The Hyperlocal Delivery App
The best part about hyperlocal delivery is that they are accessible. They make the delivery process simplified and help you deliver items quickly.
Thus, the process of placing a hyperlocal delivery must also be equally convenient. Also, it must give you the flexibility of choosing the type of payments, scheduling deliveries, etc.
You can do all this, with SARAL!
SARAL is Shiprocket's hyperlocal delivery mobile application and is already available on the Android play store.
SARAL gives you the option to schedule deliveries directly from your mobile phone within an area of 50 km within the city.
It is a multilingual app that lets you schedule hyperlocal on-demand deliveries for your orders. You can choose from multiple delivery partners that include Dunzo, Wefast, and Shadowfax. After successfully scheduling deliveries in a few simple steps, you also get the option of live tracking to provide your buyer with adequate information about the whereabouts of their order.
It also has a special pick & drop service through which you can send packages like gifts, flowers, groceries, documents, etc. to your loved ones.
Watch this space to know more about SARAL and it's offering. You can download it here.
The Final Thought
In essential items related to eCommerce businesses, especially at a time of lockdown, the transit time for goods has to be minimized as much as possible. For the goods to remain fresh when they reach the customers, they have to be shipped from the same city and have to be packaged and dispatched in ergonomic packing. The best way to ensure safe and reliable transport of such goods to the customers is to tie up with Shiprocket for the quality and reliability of the service. This will ultimately boost your business when it is required the most.
FAQs (Frequently Asked Questions)
Does Shiprocket offer hyperlocal delivery?
You can deliver your hyperlocal deliveries with courier partners like Dunzo, Shadow Fax, and Borzo.
Can Shiprocket help me deliver essential items?
Yes, you can deliver all your essential items across India with us.
How can I ship hyperlocal deliveries with Shiprocket?
You can start shipping by logging in to our website or downloading our App. Create your account and start shipping.
Can I offer multiple payment options for hyperlocal delivery?
Yes, you can offer your buyers the freedom to choose between COD and prepaid payment options.
Calculate Your Shipping Costs Now