Future of eCommerce in India: How dynamics will Change in the Next 5 Years
By the time you are done reading this blog, a few people would have completed several eCommerce transactions. A few clicks here and there, and they'll be set to receive their parcel in a day or two. It even spares people from going out, leaving the comfort of their room, and scouting for the product. Indians have shifted towards the convenience of online payments for day-to-day transactions. Over the years, the growth of eCommerce has been fostered and it is transformed into a billion-dollar industry.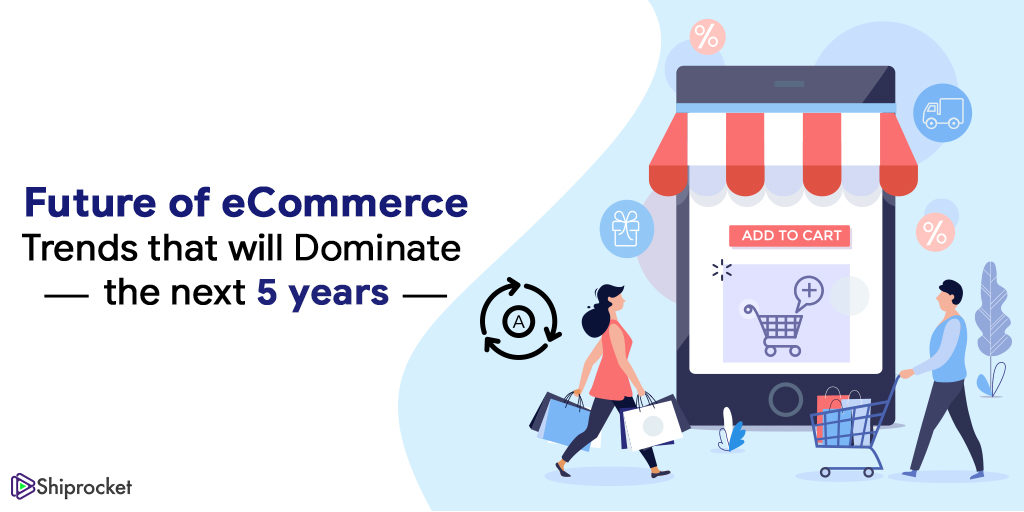 eCommerce has come a long way since its inception. The eCommerce industry began with a few small companies like Flipkart (now a giant) and has now escalated to MNCs like Amazon and Walmart. The future of eCommerce has never looked this promising.
As per a report by financial services expert Morgan Stanley, the eCommerce sector is expected to increase by about 1200% to $200 billion by 2026, up from $15 million in 2016. This is sure to bring a positive change to the industry waiting for a miracle to turn around.
Why the Dynamics of eCommerce are Changing?
Below are a few reasons why the dynamics of eCommerce are changing:
Digital India Campaigns: The Indian government tried hard with the "Digital India" campaign to provide an enhanced online infrastructure by increasing internet connectivity in remote areas. It seems that their efforts have started paying off. The number of internet users is growing rapidly. The smartphones are now available at throwaway prices, internet plans are really cheap and online users are converting into eCommerce customers every day. This initiative of government has ensured that eCommerce is heading in the correct direction.
Streamlined Logistics: Logistics in India is becoming much more streamlined than before. The courier companies are looking for smarter ways to deliver seller's goods by setting up sound logistics services. The eCommerce companies have GPS tracking applications in place to tighten the noose around logistics companies. Also, the companies are now opting for courier aggregators like Shiprocket. The courier aggregators offer shipment services at lower costs with efficient tracking.
Safe Payment Gateways: One-touch payments, instant transfers, e-wallets, and more are the latest trends that one can witness. Remembering the passwords and security answers are a thing of the past. Indian banks provide enough support to the users to make the payments more safe and streamlined.
Easy Returns and Exchange: Product returns and exchanges are no longer such a big problem. Massive returns and exchanges added to the logistics cost which was an additional burden for eCommerce companies. But, with the advent of courier aggregators like Shiprocket, the RTO (return to origin) rates are 10-15% less than the forward charges. This has enabled eCommerce companies to offer better services to their customers.
What Does the Future of eCommerce Look Like?
India is on the road to digital development. The fact that it is a boon for eCommerce as the potential for internet users turned shoppers is vast. But, losses have become an everyday norm. Every other day an eCommerce website turns up, and they have to invest heavily to market and promote it. Undoubtedly, the Indian government is doing its best to develop eCommerce in India, but still, there is a long way to go.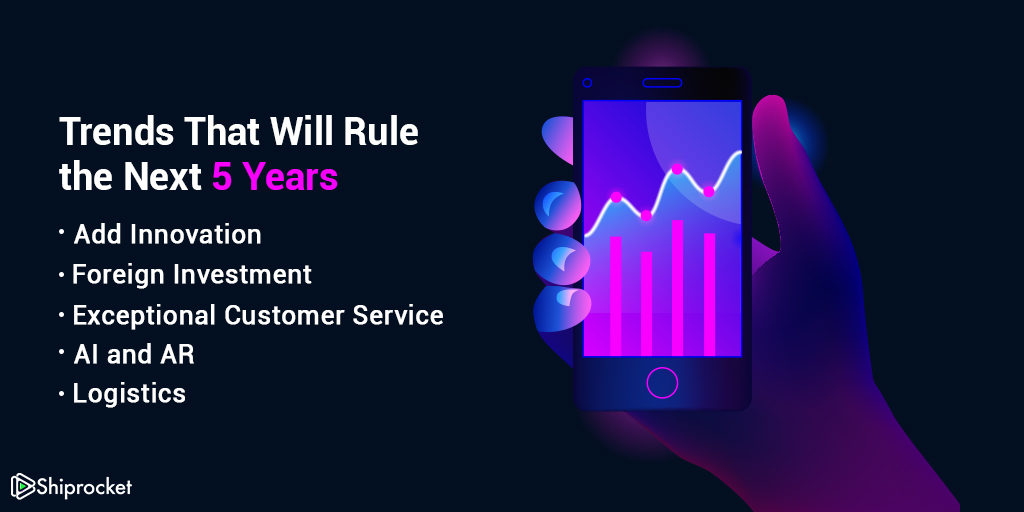 Below are a few things that you might observe in the next 5 years:
Add Innovation
Innovation is the key to revolutionizing eCommerce in India. It will help eCommerce companies to increase their outreach. This is one of the major goals that all eCommerce companies must strive for.
For instance, users have never been fond of ads on websites. Indeed, they look for ad-free content. So, it's time to change things for advertising altogether. The basics need to be changed, and they should be made worth watching and viewing. 'Getting them hooked up to it is the idea!
By using new ad formats, customers can be saved from having bad experiences with ads.
Foreign Investment
Foreign investment will be a powerful factor in the upcoming years. They have proved to be the biggest challenge for Indian companies, who need to intensify their efforts several notches higher.
Exceptional Customer Service
A customer is a king. And, exceptional customer service is the key on which Indian online customer thrives on. SMEs can learn from the big players like Amazon and Walmart to keep customer service at the fore. Customer service along with co-operation from the government will take eCommerce to another level in India.
AI and AR
Before making a purchase, customers often have certain queries and qualms. Therefore, eCommerce businesses and websites have already started offering 24*7 live chat support that provides instant solutions. Chat support has become a necessity for websites. But, AI-powered chatbots will be even smarter. The real-time engagement will help in generating more revenue and brand reputation.
Augmented reality is becoming more integrated into eCommerce. The applications of AR will prove to bridge the gap between physical and digital experiences. AR includes Chatbots. They provide an instant solution to customer problems and swiftly take them through the sales funnel.
Logistics
When it comes to eCommerce, logistics are really important. Enabling a more powerful system for shipment and tracking is the need of the hour. The users and sellers both want to cut down the logistics costs. The choice of courier partner profoundly impacts the eCommerce businesses. Hence, the courier recommendation engine shall rule the future. They help you find the most appropriate courier partner by analyzing them on various metrics such as delivery time, reverse pickups, shipping charges, etc.
Conclusion
The next 5 years will not witness an end to the brick and mortar shops. But, there will be a few twists and turns. eCommerce will improve and grow in the best interests of the shoppers. The use of AI, chatbots, social media platforms, etc. will contribute to the development of eCommerce to another level.

All these trends will dominate the next 5 years. As an eCommerce seller, how many out of these are you prepared for? Understand the pros and cons of each of them before you begin to adapt!

How can businesses deal better with NDR and RTO?
You can automate and improve the NDR management process with Shiprocket's NDR module. Also, you can assess the buyer's address with Shiprocket Sense and check if it is a high-risk RTO order. Furthermore, you can verify the order and address details with Shiprocket Engage. These technologies will revolutionize how businesses ship in the near future.
Can I get a courier recommendation with Shiprocket?
Yes. With Shiprocket's CORE (Courier Recommendation Engine) you can get the most suitable courier recommendation for each shipment.
Can I integrate Shiprocket with my website or marketplace?
Yes. You can integrate your website or marketplace into the Shiprocket account and import orders automatically. This can help you ship orders faster and also process bulk orders in one click.
Calculate Your Shipping Costs Now